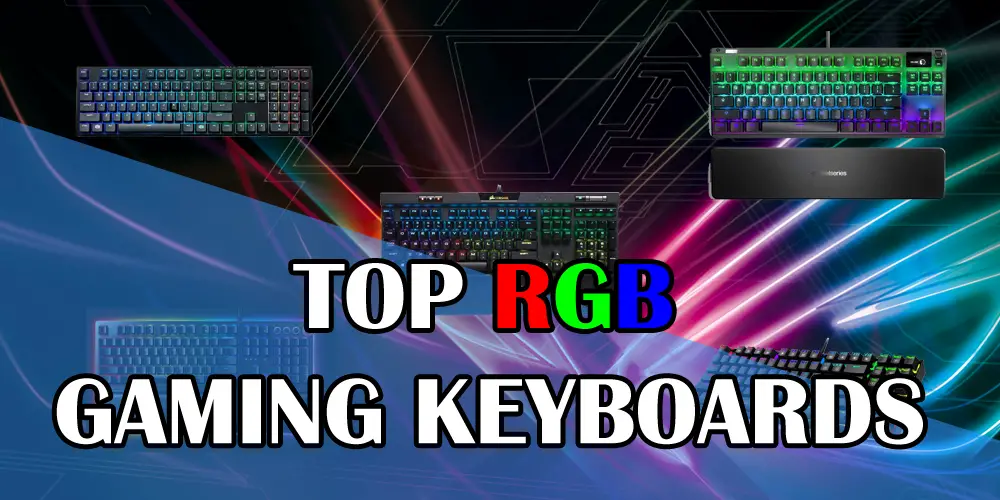 Introduction
Not only the PC components but the peripherals today use a customizable RGB lighting system that is way better than ever before. Nowadays, it is becoming senseless to spend $100 on a mechanical or a gaming keyboard but not to get RGB lighting. Although, it's upon the taste of the user but the majority of gamers like RGB lighting, myself included.
This made manufacturers to continuously improve and provide better RGB lighting effects with multimedia features on a single keyboard. Today, not only popular brands like Corsair, SteelSeries, Razer etc. are making RGB keyboards but there are dozens of unpopular brands which provide affordable options, although with some fewer features. As I have already written several articles on RGB, this one should never be left because the keyboard is bigger and covers a good amount of portion on the desk.
In this post, I have listed out the top 6 RGB keyboards that range from $40 to $200 to give you several choices to make from. These keyboards will fulfill your desire of RGB lighting along with great performance that will make you compel to game more and type more.
TBI Pro X64 Ultimate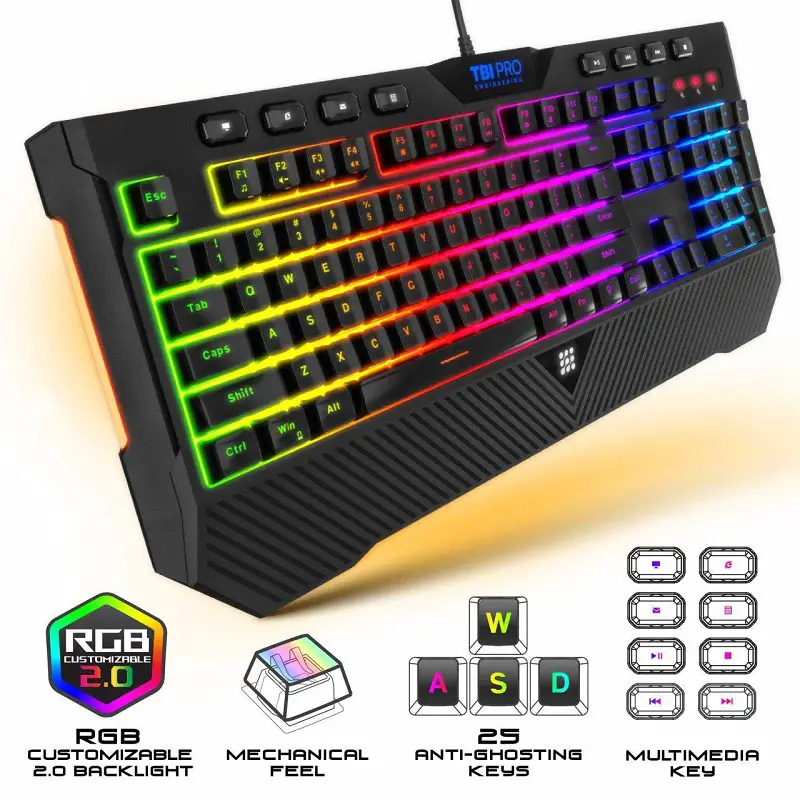 TBI Pro X64 Ultimate although is only a $40 keyboard, it brings some great and premium features you won't find on a popular branded gaming keyboard under $50. The keyboard uses membrane keys which feel like mechanical in pressing and make a clicky noise. It provides anti-ghosting for up to 25 keys at the same time which is more than enough and 8 separate multimedia keys for functions like, play, pause, stop, next/forward and more.
For lighting, it uses RGB customizable 2.0 backlight which features 7 different modes you can switch between and can also switch it on or off using a dedicated ON/OFF key. The keyboard also uses Win Lock key which is very beneficial in gaming where pressing the windows key accidentally won't make your game to the background. It also comes with a wrist rest which is not found on cheaper keyboards. Go for it if you never had a taste of RGB before and want to go for something more affordable.
---
Redragon K552-RGB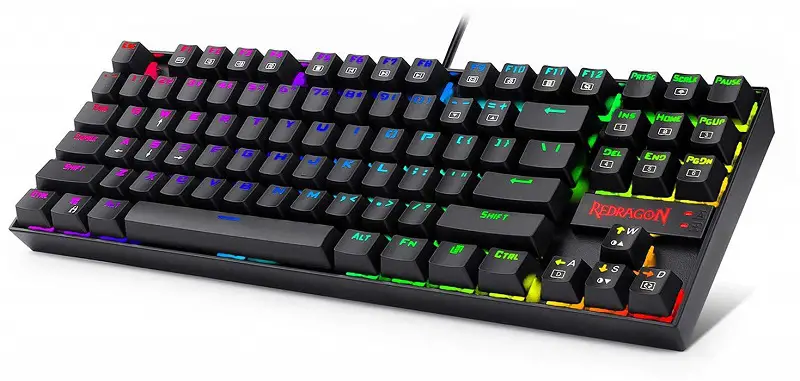 Redragon is not an unpopular name and I have myself used mechanical keyboards and gaming mice from this brand. It surely does give you good value for the price but doesn't compete directly with the top brands. This K552-RGB keyboard is the one you should look for if you want more premium feel and compactness so that you can move your mouse freely on the pad.
As it's an 87 key keyboard, you won't get some of the dedicated keys you find on other keyboards on this list. But you surely will get Cherry MX Blue equivalent mechanical keys which make a good amount of clicky noise. The keyboard has better RGB lighting than the previous one and features Rainbow effect, programmable lighting, 5 different lighting modes and more. As it's mechanical, you will get more reliability and more maintenance-free operation.
---
Corsair K70 RGB MK.2
Now we come to the more popular branded keyboards and Corsair excels in this. I am currently using two different Corsair mechanical keyboards one of which is the Corsair Strafe mechanical RGB keyboard. There are several different types of RGB keyboards from Corsair and almost everyone is good but the Corsair K70 RGB MK.2 is a little bit different in terms of additional features.
It features an RGB Corsair logo at the top and dedicated multimedia keys. The keyboard also has a volume roller which is easier to use and at the top left side, there are brightness as well as windows lock keys. This keyboard has a brushed aluminium body which makes it look more premium and the wrist rest at its bottom is detachable. The RGB lighting of this keyboard can be controlled using iCue software and there are numerous different types of effects which you can choose from or you can add different effects at the same time.
You can also assign different colours or effects to different keys or a particular section. You can make 1/3rd of your keyboard to display the Rain effect, 1/3rd as Rainbow and 1/3rd as Visor. So, there are limitless options to choose from.
---
Cooler Master MasterKeys Pro L RGB

Cooler Master MasterKeys Pro L RGB gives a great competition to the Corsair keyboards but it lacks great looks although you might prefer it over the others. This is a simple looking mechanical keyboard with Cherry MX Blue switches and you can choose from Blue, Red and Brown according to your needs. This keyboard features 104 key layout but unfortunately doesn't have dedicated multimedia control keys like the Corsair K70 has but still fulfills all of those functions with the use of F1-F12 keys.
You just have to press the FN key along with them to get the required job done whether it is changing the lighting effects or some other programmed function such as disabling windows key or switching between videos. This keyboard although has dedicated software for controlling the RGB lighting, there is one more advantage of it over the Corsair K70. From the F1-F4 keys, you can change the effects as well as the colours just from the keyboard without even entering into the Cooler Master Software. And one more additional thing which Cooler Master has provided is the availability of this keyboard into two different versions: 104 Keys, Ten Keyless.
Check out its review from Paul's Hardware Youtube channel:-
---
SteelSeries Apex 7 TKL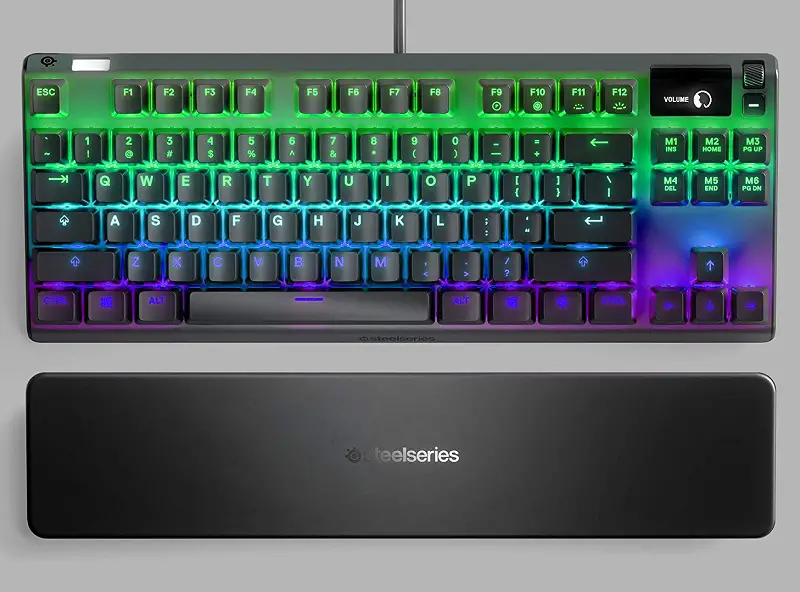 Another tenkeyless masterpiece keyboard that features unique features is from SteelSeries. Literally, it's the best tenkeyless keyboard you will find today. It's compact yet has every option to do whatever you want to. It has a dedicated multimedia control system with an LCD display that shows the info real-time. The small clickable roller can be used to change volume and settings such as start, pause, rewind, skip, brightness etc.
It has RGB backlighting which can be controlled through the SteelSeries Engine 3 although there are 5 different onboard profiles to choose from to save time. It has per-key RGB illumination just like the Corsair K70 and lights are brighter. The keyboard has a detachable wrist rest and an illuminated USB port to connect an additional device. It's although tenkeyless, it's still expensive sitting at $130 but really something that you will admire.
---
Razer Huntsman Elite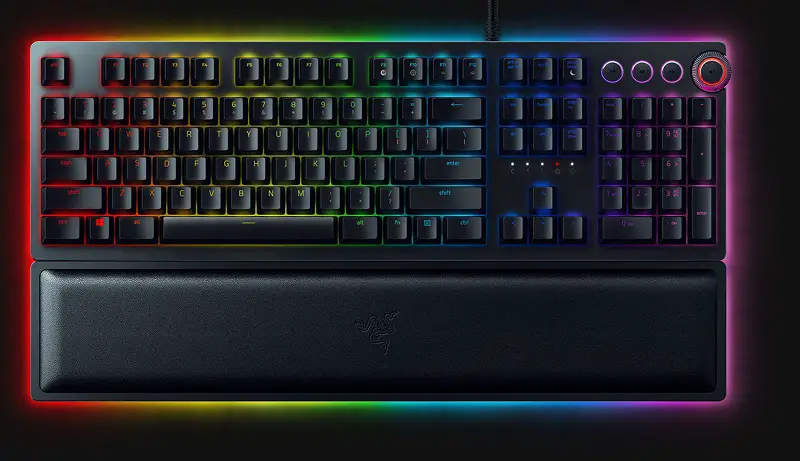 Razer has already shown us great mechanical RGB keyboards such as Razer Blackwidow Chroma but the Huntsman Elite is another masterpiece to its catalogue that can't go without our appreciation. The design is great with the volume roller that is placed horizontally. Besides it, there are multimedia keys that also light up with RGB lighting.
The whole keyboard along with the wrist rest illuminates using the RGB backlighting which is the feature only present on this keyboard among the listed ones. The Razer Synapse will let you control the lighting along with other Razer peripherals like mouse or mousepad. This keyboard uses Opto-mechanical switches which are faster than traditional Cherry MX keys and provide fast response in gaming. So, it will be a good choice for gamers.
---
Conclusion
The keyboards with RGB lighting look gorgeous and I recommend going with one if you have more than $30 to spend. The keyboards on the list cover the common range for buyers in terms of pricing and you can choose anyone according to your budget.