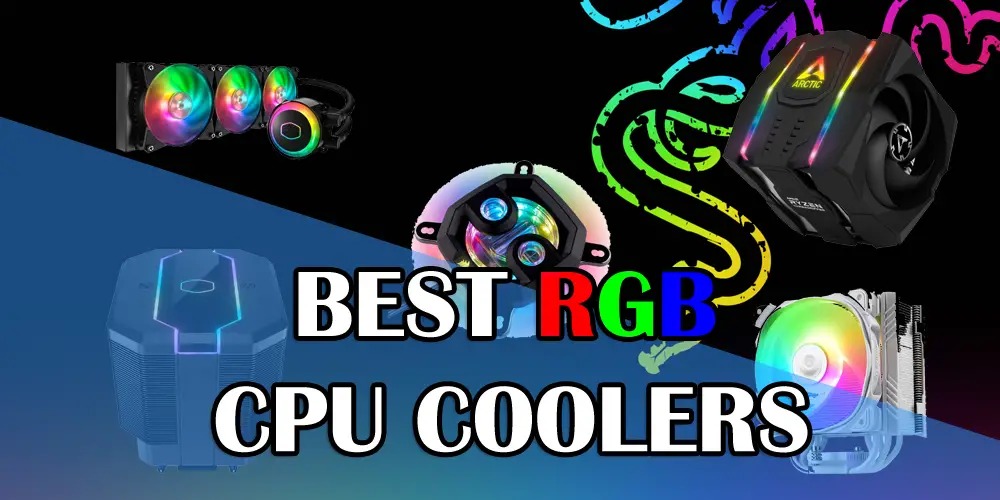 Introduction
CPU coolers are one of the most essential PC components and it does play an important role in overall system performance. However, most of the times users tend to get performance along with a touch of aesthetics. So in this topic, we will provide you with the best CPU coolers that are awesome when it comes to performance and also it provides you with the latest trendsetter i.e. "RGB".
Now obviously it looks cool if you are having a nice case to display that RGB lighting of your hardware equipment but at the same time, many will stick to the non-RGB ones. Therefore this topic is aimed at those who are considering getting performance along with aesthetics.
Before digging deeper inside, let us get a brief idea about what kind of coolers we will be covering in this topic. CPU coolers are broadly divided into two categories, the first being the air-cooled and the second one being the liquid cooling. Now liquid cooling again is of two types, open lube and closed lubes. We won't be discussing their difference here but will we provide the best coolers that have superior performance and a nice RGB touch in it.
When it comes to Air Cooler, there isn't a good range of options but still, there are few options from which one can choose their model. Some of these offer most compatibility while others are specific to certain processor socket type. Depending on your requirements, you can make a choice.
---
AIR-COOLED
Cooler Master MASTERAIR MA620M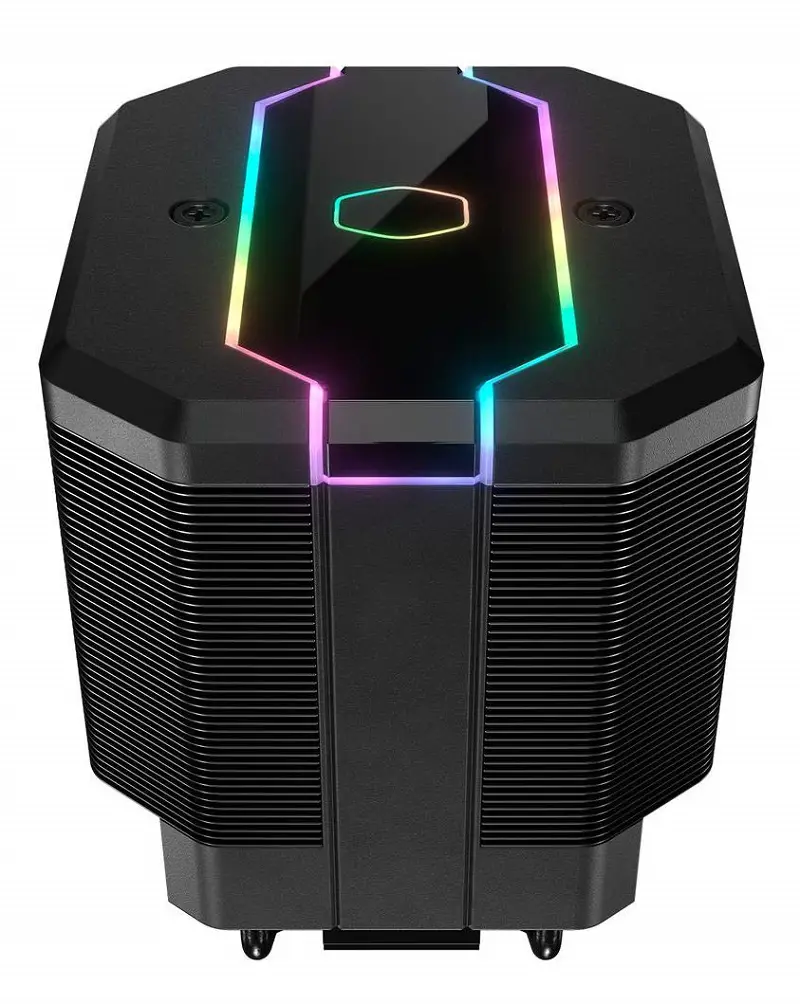 Cooler Master is well known for its computer components, and they are providing us with reliable hardware components for quite a long time. The Masterair MA620M is the latest CPU air-cooler that offers superior performance and a nice touch of RGB.
In terms of performance, the Masterair MA620M comes with a combination of 2 sets of heatsinks that allows bigger and more spread out the surface area. It has 6 Heatpipe arrays that allow enhanced thermal conductivity and the uniform layout distributes heat over more evenly across heatsinks.
The Masterair MA620M comes equipped with a new SF120R fan which can be used either for silent operation or maximum cooling performance. Apart from that it also contains an ARGB controller that allows controlling the lighting effects. Further, the MasterAir MA620M supports most of the modern-day CPU socket types like LGA2066, LGA2011-v3, LGA2011, LGA1151, LGA1150, LGA1155, LGA1156, AM4, AM3+, AM3, AM2+, AM2, FM2+, FM2, FM1 and is backed by 5 years of warranty.
---
Cooler Master MASTERAIR MA410M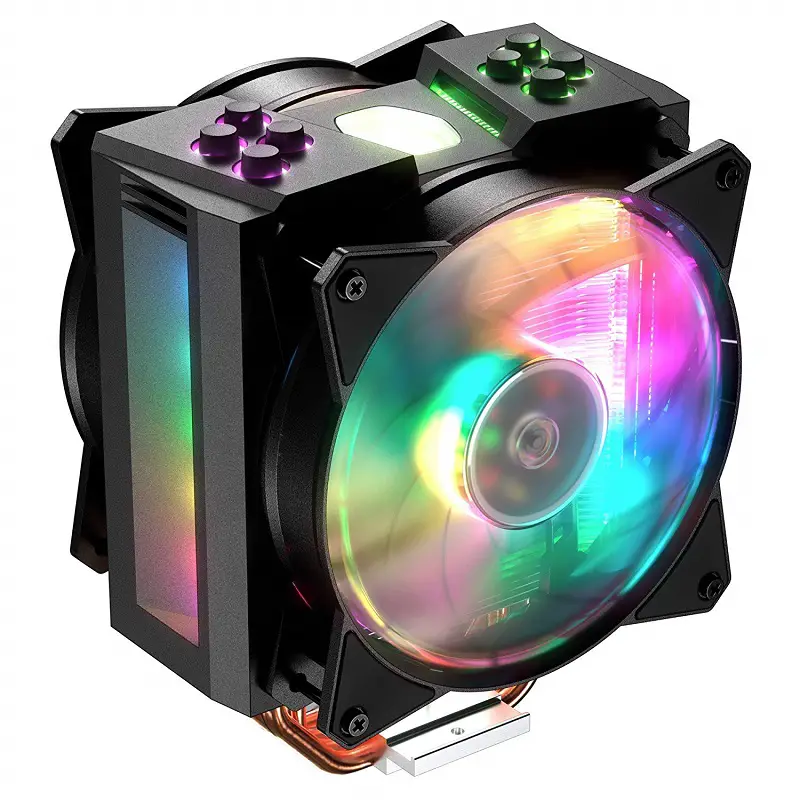 The Cooler Master MasterAir MA410M is the next one in this list. It is made up of hexagonal fin cutout which is design to dissipate heat faster for maximum cooling efficiency. The innovative design is worth mentioning and can draw quite an attention.
The MA410M comes with dual pre-installed MF120R fans which are arranged for push-pull setup and it helps to exhaust the hot air from the heatsink quickly out of the case. The cooler is equipped with a thermal sensor that detects the CPU temperature and displays the same through color lighting effects. If the CPU is at max load then the color will turn to red and at an ideal temperature, it will be blue.
The MA410M comes with Continuous Direct Contact Technology 2.0 (CDC 2.0) which can create 45% more contact surface area on the cooler base compressing heat-pipes together resulting in increasing heat dissipation compared with its previous-gen CDC 1 technology. Further, the armor is also illuminated by 28 addressable RGB LEDs for full-color customization.
The MA410M can support a wide range of CPUs such as LGA2066, LGA2011-v3, LGA2011, LGA1151, LGA1155, LGA1150, LGA1156, LGA1366, AM4, AM3+, AM3, AM2+, FM2+, FM2, FM1. It also comes with an RGB controller and is backed by 5 years of warranty.
---
Deepcool FRYZEN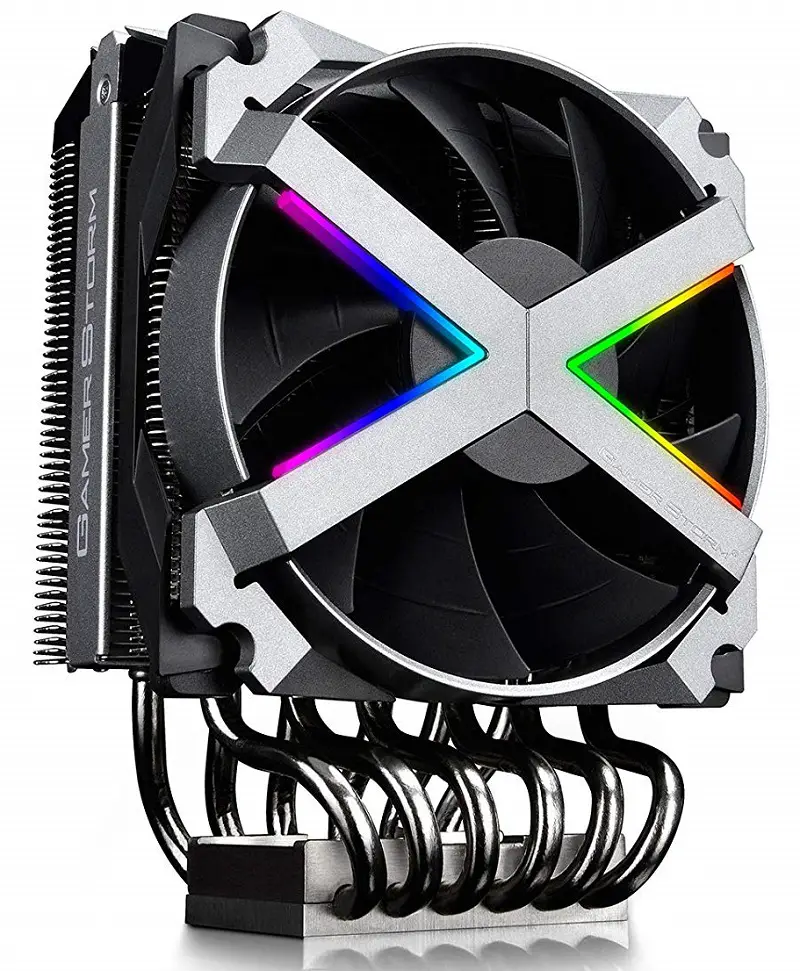 As the name symbolizes, this CPU air-cooler is specially designed for the AMD Ryzen™ Threadripper™ series processor and supports the TR4/AM4 and mainstream AMD socket types. However, still, the FRYZEN comes with a unique look and can quite offer a power pack performance.
The FRYZEN features a huge copper base with a parallel arrangement of 6 boot-shaped heat-pipes to ensure extreme heat dissipation. It is built with an all-aluminum housing along with inverse double-bladed fans offers twice the air pressure and performance.
Further, the FRYZEN comes built-in with16.7M true colour RGB flowing light series with 5 effects on the top cover and fans are capable to produce up to 36 different modes and can be easily controlled with a wired controller or motherboards with synchronized lighting control via an addressable RGB function. It is backed by 1 year of warranty.
---
ENERMAX ETS-T50 AXE ARGB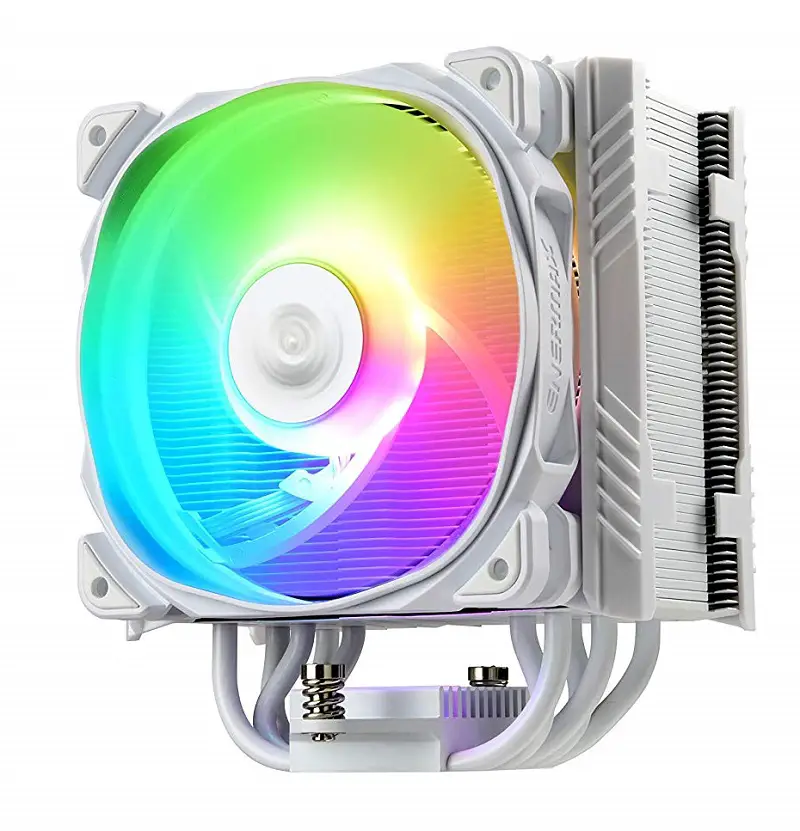 Enermax ETS-T50 AXE is next in the line-up. It is a side-flow CPU air cooler, supporting 230W+ TDP and synchronizing with addressable RGB enabled motherboards. It is made in such a way that it allows users to adjust airflow direction to enhance the system's cooling performance. It also comes attached with a high-pressure blade fan that can generate stronger airflow to cool down the heatsink rapidly.
The heatsink is designed in such a way that it can create dynamic airflow and increase heat dissipation with the use of Vortex Generation Flow (VGF) design and Pressure Differential Flow (PDF) design. The ETS-T50 comes with a fan in which the blades centralize dispersed airflow to the centre of the fan and create extremely high air pressure and high airflow while maintaining silent operation.
It also comes with a  rotatable grill that can be used for preferred airflow direction. Further, the fans are ARGB and can support Addressable RGB lighting synchronization via motherboard or the user can directly plug the PWM power cable to connect the fan and will be able to create constant rainbow RGB lighting effects removing any requirements of dedicated software.
---
ARCTIC Freezer 50TR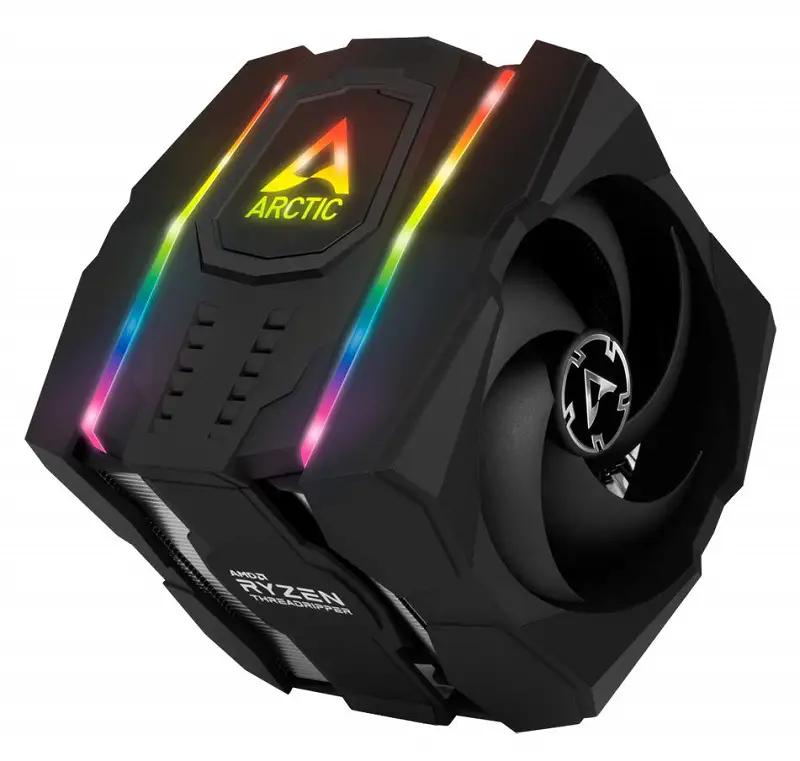 Although the Arctic Freezer 50TR would be a nice collection for a PC Enthusiast, however, due to its limited support of CPU sockets most users won't find this one much of use. However, users currently having Ryzen Threadripper processors might want to have a look at it.
The Freezer 50TR blends perfectly with its surroundings giving that ambient lighting effect from its top. It is a dual-tower CPU cooler with two P-series fans in a push-pull configuration which makes certain that the CPU remains cool no matter what a user throws at it.
It comes with 8 U-shaped Direct-Touch Heatpipes that ensure better heat distribution and faster heat dissipation along with an asymmetrical twin-tower providing a wide surface to optimize the cooling further. The Freezer 50 TR comes equipped with two P-fans working in a push-pull configuration and it is a  combination of a 120 mm and a 140 mm fan aimed at increased air-flow and providing minimal noise during operation.
Being a massive Cooler itself, it also offers enough clearance for higher RAM modules. Further, the Freezer 50TR is equipped with  ARGB which offers full lighting customization and one can control the same via motherboard with other ARGB types of equipment.
---
AIO LIQUID COOLERS
Now let us move our way towards the AIO Liquid Coolers. There are plenty of options to choose from but as we said earlier, we want a cooler that can produce high performance along with nice aesthetics. In the case with that of AIO Liquid Coolers, most of them can be fitted with ARGB Fans to get the RGB effects. Thus we have selected our picks considering two main things, both the pumps and fans or even pumps should have proper RGB illumination.
NZXT KRAKEN SERIES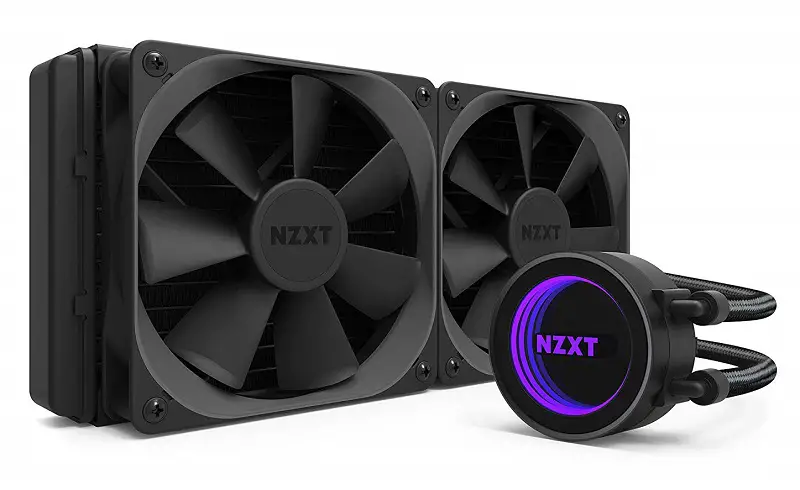 The NZXT KRAKEN Series AIO Liquid Coolers can be considered as one of the best AIO coolers to this day. The Kraken range starts from 120mm and goes all the way up to 360mm. The most unique thing about the Kraken Series coolers is their beautifully illuminated pumps.
The build quality of these coolers is top-notch and they offer excellent results when it comes to performance. The best part is that depending on your requirement, you can choose the cooler that is best suited for you. If your PC case can support 360mm rads, then the Kraken X72 should be your preferred choice.
The ring illumination of the pump can be controlled via CAM software to get stunning visuals and if you want more lighting effects then the best way to do the same is to replace the stock fans with Aer RGB 2 fans which will increase the taste of RGB without compromising performance.
Moreover, the entire RGB accessories and the illumination of the pump can easily be controlled via CAM software. Further, the entire series provides the option for fan & pump control except for the M22. And when it comes to durability, the entire KRAKEN series except for the M22 is backed by 6 years of warranty while the M22 is backed by  3 years of warranty.
---
Cooler Master MASTERLIQUID Series
Cooler Master MASTERLIQUID Series are the next choice when it comes to delivering performance and aesthetics. The Master Liquid Series ranges vary from 120mm and go way up to 360mm. Different editions are also available. But the most noteworthy of them are:
MasterLiquid ML360R RGB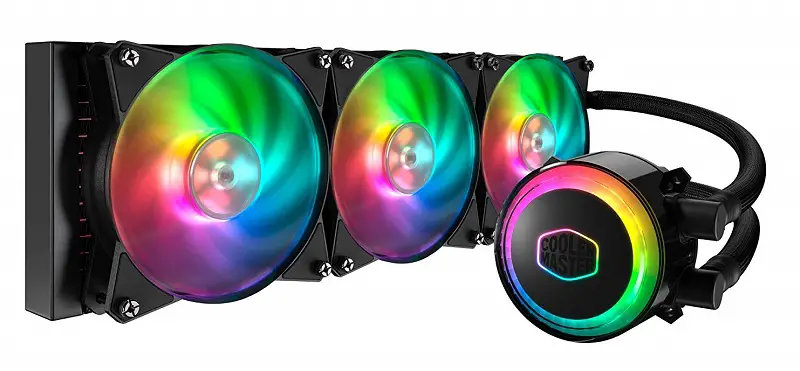 The MasterLiquid ML360R comes with RGB illumination in both CPU block and as well as in the Fans. It also comes with a brand new pump design along with 12 addressable RGB LEDs on the CPU Block and eight addressable RGB LEDs on each fan which can produce 16.7million colour options.
The MasterLiquid ML360R features a dual-chamber pump along with double layer tubing and three MasterFan MF120R ARGB 120mm fans. The AIO supports all the latest sockets along with back-end compatibility for older CPU sockets.
Further, it allows the user to configure the coloring option as per their choice via the motherboard software or with the Cooler Master's MasterPlus+ software for complete ambient illumination control and for users who don't have RGB headers in their motherboard, Cooler Master is providing a new addressable RGB controller alongside. The MasterLquid ML360R is backed by two years warranty.
---
MasterLiquid ML240R RGB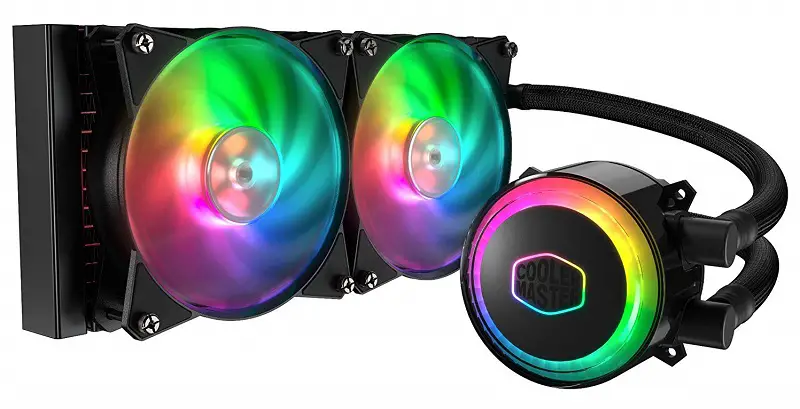 The Master Liquid ML240R RGB can be coined as the younger sibling of the ML360R. The ML240R consists of a 240mm radiator with two MF120R ARGB fans. he CPU block consists of 12 addressable RGB LEDs that can be controlled using the MasterPlus+ software. The RGB effects can also be controlled by the software provided by Asus, ASRock and MSI motherboards.
The CPU block has a dual-chamber design and has a diffuser to produce uniform lighting. The pump has a rated voltage of 12VDC and produces noise lower than 15dBA while the fans at max speed produce noise close to 30dBA. These fans operate at a wide speed range of 600-2000RPM +-10% and produce a good airflow of 66.7 CFM.
---
MasterLiquid ML120R RGB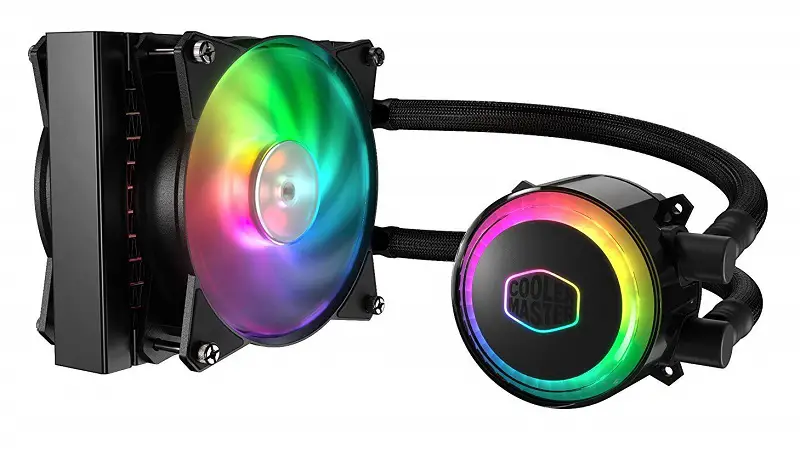 The ML120 is a 120mm AIO Liquid cooler and is aimed for budget builds. It shares the same technology with that of its elder siblings. If a user is having space issues or is currently on a budget then this can be their's obvious choice.
---
Thermaltake Floe & Water Series
When it comes to Thermaltake, they offer a wide range of AIO starting from 120mm and go up to 360mm and side by side they offer different variations of RGB illumination to choose from. The RING and DX series are the top-notch products in their line-up and following them are the water series aimed at users who need to have a 120mm AIO.
Floe DX RGB TT Premium Edition Series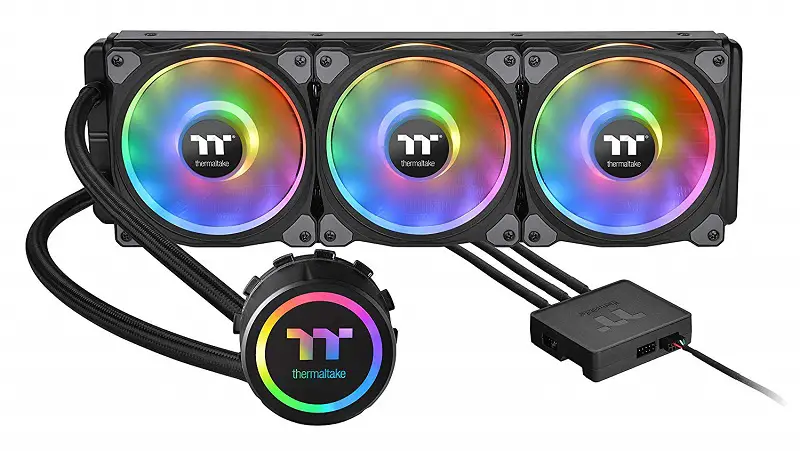 The Floe DX RGB TT Premium series offers powerful performance, durability and, amazing illumination. They are available in 240mm, 280mm and, 360mm variants. It comes with remarkable Riing Duo addressable RGB fans and water-block.
TT Premium certifications applied only to products that pass the design and hardcore enthusiast standards. They are meant to last. Along with this, it also comes with TT RGB Plus that combines the most advanced addressable LED lighting with TT RGB PLUS Software and further, they are compatible with Amazon Alexa.
Floe DX RGB TT Premium series comes equipped with Riing Duo RGB TT Premium Edition Radiator Fan with a 16.8 million colour combination to choose from. It comes with a Digital Lighting Controller which can accommodate up to 5 devices simultaneously. Further one can connect up to 16 controllers to the software which is quite useful when someone is planning to showcase their build using Thermaltake's equipment.
---
Floe Riing RGB TT Premium Edition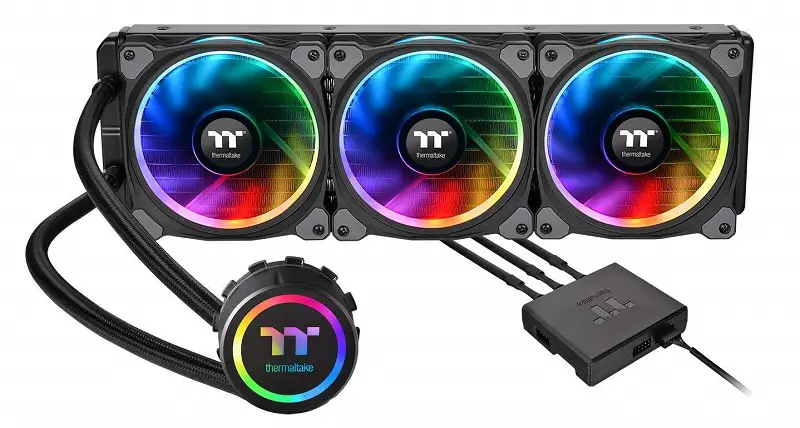 The Floe Riing RGB TT Premium Edition also shares similar features as that of the Floe DX RGB, and the only notable difference is their illumination. Performance-wise both of them are almost identical. The Floe Riing RGB TT Premium Edition comes with Riing Plus RGB TT Premium Edition Radiator Fan whereas the Floe DX RGB TT Premium series comes equipped with Riing Duo RGB TT Premium Edition Radiator Fans.
The Floe Riing RGB TT Premium Edition is available from 240mm and goes up to 360mm. It also comes with Tt LCS Certification and has features like TT RGB PLUS Software and app to make things easier. It also supports the Thermaltake AI Voice control.
---
Custom Liquid Coolers
Custom Liquid Coolers are meant specifically for Hardware Enthusiast's who want to build unique systems and showcase their setup. If an individual thinks about going with Custom Liquid Coolers, then they must keep one thing in mind that is Custom Liquid Coolers required periodical maintenance. RGB illumination depends on the user's choice.
Depending on the user's requirement and preference, one can choose from the different options that are available from different OEM's namely Corsair Hydro X Series, Thermaltake Pacific Series, Cooler Master Maker 240, etc. These OEM's are offering different models and equipment options for a user.
Corsair Hydro X Series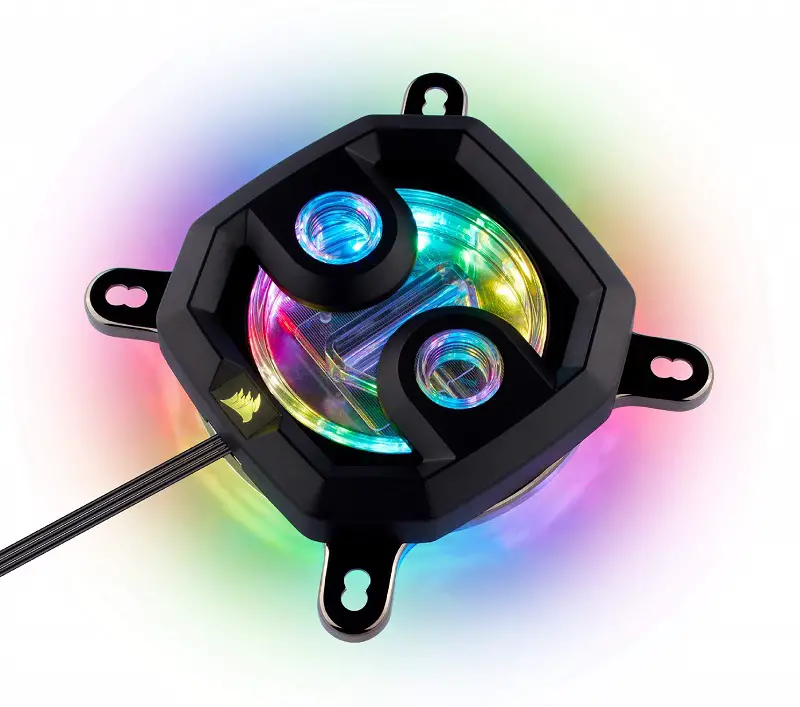 Corsair Hydro X Series offers an individual with a wide range of options to choose from. Users who are considering a full liquid cooling setup can choose to go for liquid-cooled GPU block also. The range varies 120mm and goes all the way up to 480mm. Corsair Hydro X series also offers the user a choice for different tubing requirements and fittings.
You will get the opportunity to use the Hydro X XC7 RGB CPU water block which stands out in RGB lighting and your favourite RGB Corsair fans such as Corsair LL120 which are one of the best RGB Corsair fans.
---
Thermaltake Pacific Series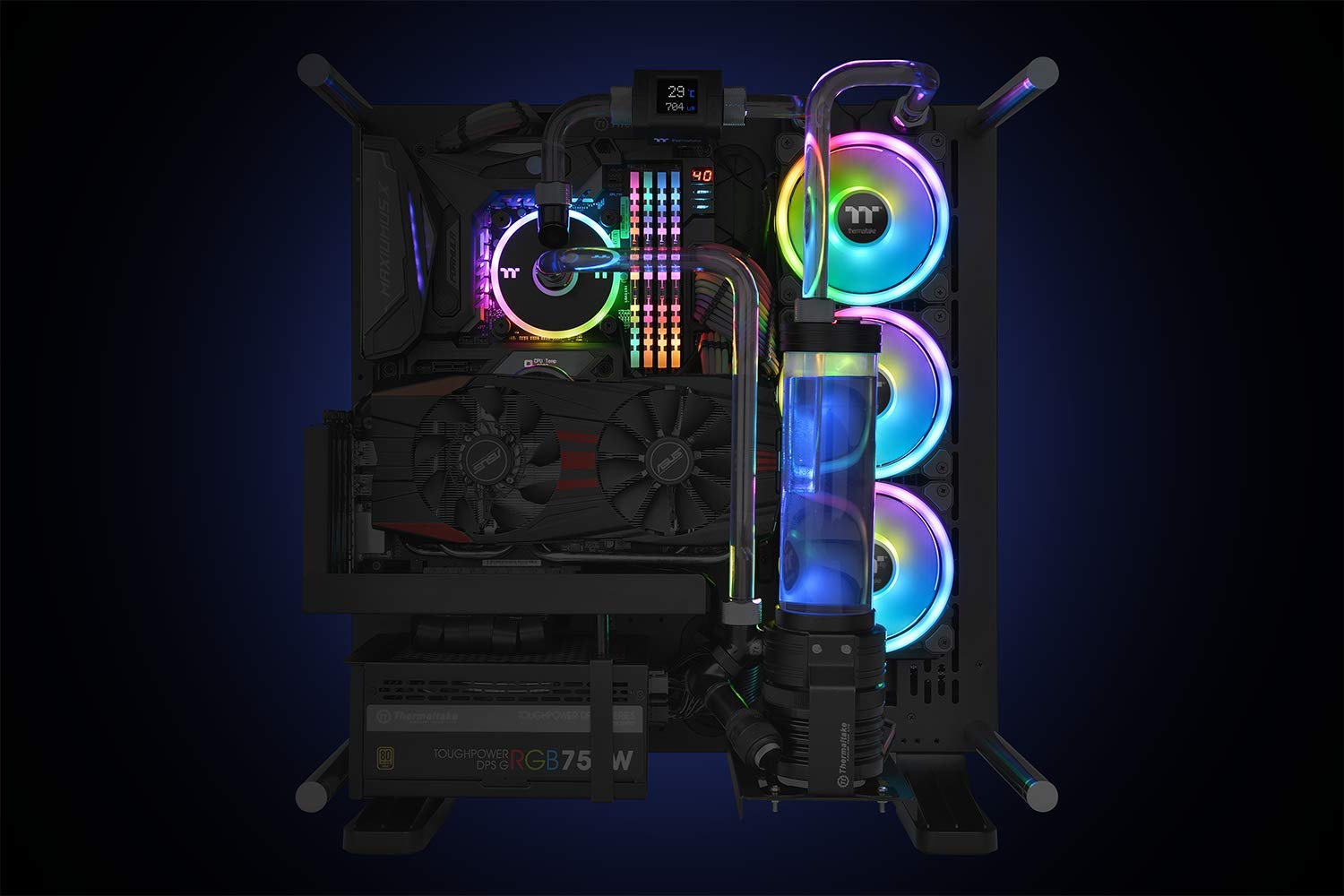 The Pacific series offers a lot of options to choose from. Their range starts from 240mm and goes up to 360mm. There are different options for tubing and fittings. Moreover, the ARGB fans are a real catch in this case.
---
Cooler Master Maker 240
Currently Cooler Master is offering only one option for the Custom Liquid Cooling option, the Maker 240. With a 240mm radiator along with two 120mm MasterFan Pro RGB and compact yet simple build. We would like to see more options from Cooler Master in future days.
---
Conclusion
The choice for best RGB CPU coolers depends totally on the user's requirement and preference. We have listed a few of the products that we think would be the perfect choice for an individual to select from depending on the cooling types they are considering to go for.