There are many among us who are willing to upgrade their PC or are looking to build a high-end PC. Whatever the scenario is, one thing is quite certain, if you are having a high-end system, you would most likely need a proper cooling solution, especially a good CPU cooler that results in an optimized performance of your system.
Hence, in our today's topic, we will list out those CPU coolers that are best suited for Intel Core i7 12700K. Intel has gained back its lost stage with the release of the Alder Lake CPUs. The Core i7 12700K is the best in terms of overall performance among all the Alder Lake series. It is powered by two new microarchitectures, one that increases maximum performance, and the other one is responsible for peak efficiency.
What Does Intel Core i7 12700K Offer?
Intel Core i7 12700K features 12 cores (8 x Performance Cores, 4 x Efficient Cores) along with 20 threads. It offers a base clock of 3.6GHz on the Performance Cores and 2.7GHz on the Efficient Cores. It comes with a boost frequency of 4.9GHz on the Performance Cores and 3.8GHz on the Efficient Cores.
The Alder Lake processors also feature Iris XE GPU meaning, you will have inbuilt graphics as well. They also support the latest DDR5 memories as well. Apart from the cores, they also come equipped with 25MB of L3 cache to back the cores up. Last, but not least, it comes with a TDP of 125W along with a maximum turbo power draw of 190 watts.
Therefore considering the TPD we would seek decent CPU coolers that can handle the beast in most situations. We will list out the best of both CPU Air Cooler and AIO Liquid Cooler. But before digging ahead, keep in mind, the TDP often mentioned in the product specification doesn't necessarily mean it is the highest limit. With overclocking, it might increase.
Also, the overall cooling potential will depend on your PC chassis alongside your other cooling components and your hardware. However, no need to worry about that as in this topic we will try to cover every corner and bring out the best option for you.
Best Air CPU Coolers
In this listing, we have two CPU coolers that will suit best with the Core i7 12700K. The first one in the line is Noctua NH-D15 Chromax (Black). It is accompanied by Dark Rock Pro 4. Also, we have another one in the CPU Air Cooler, the ARCTIC Freezer 34 eSports DUO. Therefore, let us analyze what makes them the best choice for Intel Core i7 12700K.
Noctua NH-D15 Chromax.Black
CHECK AMAZON PRICE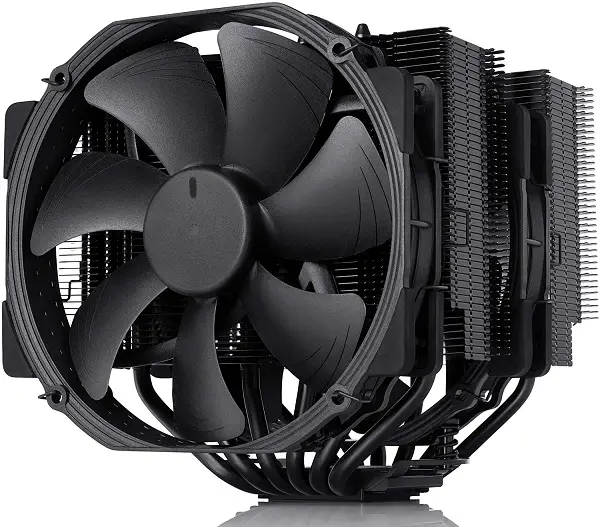 When we talk about top-tier CPU Air Cooler, we can't ignore the Noctua NH-D15 Chromax. I personally prefer the all-new black design. But one can go even with the normal variant as well. In terms of specification, the NH-D15 Chromax features an all-black option with a black-coated heatsink, black fans with black anti-vibration pads, black fan clips, and black mounting parts.
The NH-D15 is capable of performing similarly or even better in comparison with that of some Liquid AIOs. The Noctua NH-D15 Chromax features six fine-tuned heat pipes in a dual tower design. As a result, it has better room for heat distribution alongside superior airflow.
However, the Noctua NH-D15 Chromax comes with a hefty design and a price tag. Therefore it might hinder your RAM profile.
Dark Rock Pro 4
CHECK AMAZON PRICE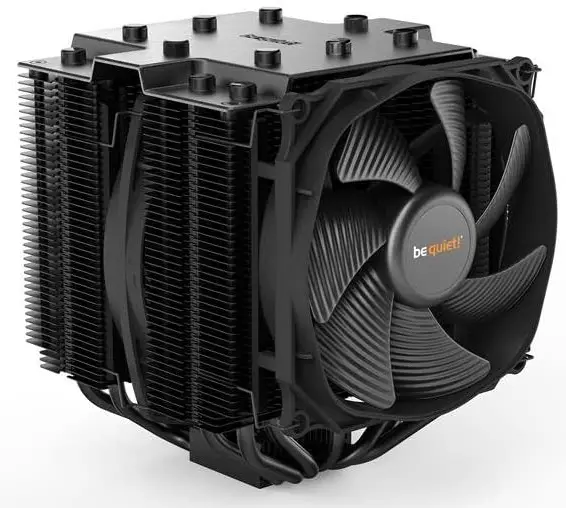 The Dark Rock Pro 4 is our next best option for Intel Core i7 12700K. Be Quite! is well known for its superior yet silent performances. The Dark Rock Pro 4 offers a TDP range of up to 250W. It is also a good option if you are looking for a room for overclocking. It comes equipped with two Silent Wings PWM fans that produce only 24.3dB(A) noise even running at 100% PWM.
It features seven 6mm copper heat pipes allowing maximum heat conductance. It features a double-tower layout and also offers enhanced RAM compatibility. One can add another 120mm fans to it increasing the overall cooling potential.
In terms of pricing, the Dark Rock Pro 4 is available for 90$. If you are looking for a silent yet powerful CPU Air Cooler, then make sure to check it out.
ARCTIC Freezer 34 eSports DUO |
Best For Casual Loads
CHECK AMAZON PRICE
Under the price range of just 50$, the Arctic Freezer 34 eSports DUO can be considered one of the best possible CPU Air Coolers. Note that this is not ideal for overclocking but rather for normal operations considering that your case has enough airflow.
It comes with a TDP of 210W and features interactive color combinations. It comes in a Single Tower design along with 4 heat pipes. It is equipped with 2x BioniX P-fans to ensure optimized airflow. With a noise level of 28dB(A), it is more on the louder side but also offers superior performance.
And when compared in terms of performance, it offers almost similar performance to other superior CPU coolers. It also offers unhindered clearance for RAM. Therefore, if you are looking for a thematic PC build with a budget-friendly CPU cooler, you should take your chance with Arctic Freezer 34 eSports DUO.
Best Liquid AIO CPU Coolers
When things narrow down to AIOs, the first and foremost factor that plays a crucial role will be your PC chassis. The choice will come down to the compatibility factor with that the radiator size of your chassis. Therefore, in our selection of the best AIO's will, we list out a 240mm, a 280mm, and a 360mm AIO.
Corsair iCUE H100i RGB Elite
CHECK AMAZON PRICE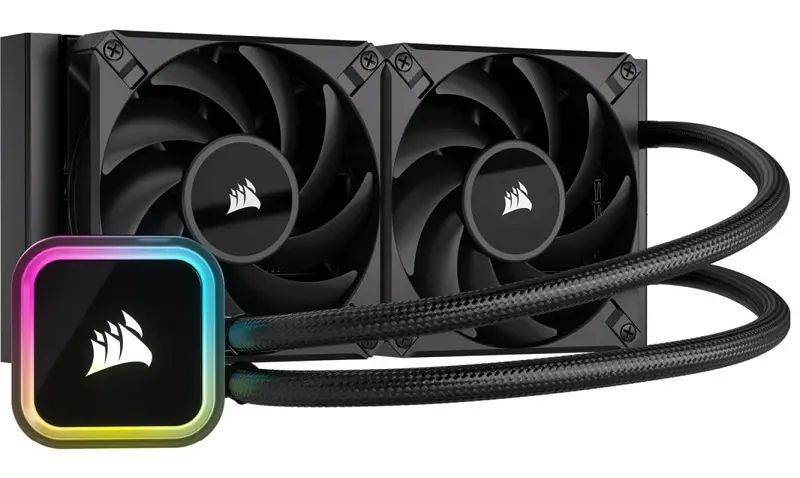 The iCUE H100i RGB Elite is the upgraded version of the most popular AIO from Corsair. It features powerful, low-noise cooling along with the inclusion of a 240mm radiator, two CORSAIR AF120 PWM fans, and an RGB block.
This AIO delivers satisfactory performance with the help of an improved design and high-speed fans that can operate between 450-1850RPM of speed throwing a decent airflow of up to 59CFM. So, definitely not the best out there but if you want something good on a budget, then it won't disappoint you.
Kraken Z63 RGB
CHECK AMAZON PRICE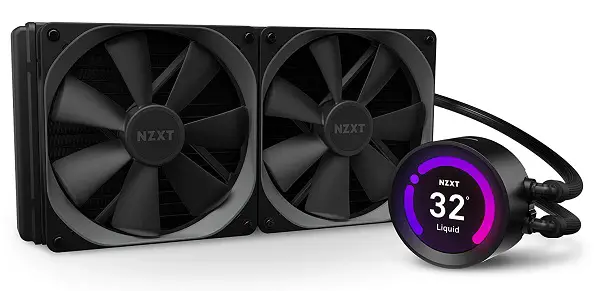 The all-new Kraken Z63 RGB is a 280mm AIO featuring a superior touch of aesthetics. It is available in a dual-color design. It also features a 2.36" LCD display allowing users to customize it via the CAM software. It includes 2x 140mm Aer RGB 2 radiator fans with fluid dynamic bearings. The tubes are built with nylon mesh helping in strengthening the rubber tubing to protect from leaks.
Bringing up the performance evaluation, NZXT Kraken Z63 can offer superior performance at low noise levels. The Aer fans offer power cooling performance along with adding up a nice touch to aesthetics. It is further backed by 6 years of warranty.
MasterLiquid ML360 Illusion
CHECK AMAZON PRICE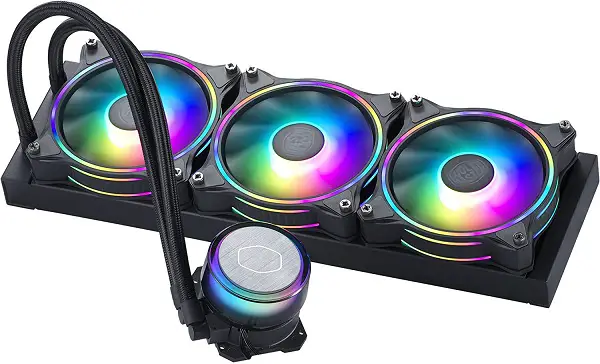 When it comes to AIO coolers we sure can't miss Cooler Master. Affordable yet superior in performance, the MasterLiquid ML 360 illusion is our next pick for a 30mm AIO. It features a translucent pump along with MasterFan MF120 Halo and an expanded surface area.
The key point of the ML360 Illusion is its new design features. It comes with 12 Addressable Gen 2 RGB LEDs integrated into the all-new translucent pump. It also includes 3rd generation Dual Chamber Pump ensuring optimal performance.
In terms of performance, it can definitely take the heat. Also, the MF120 Halo fans add up a nice touch of aesthetics alongside superior performance.
Final Words
There is also quite a number of CPU coolers that should fit in with the Intel Core i7 12700K. However, the ones that we included in our list are quite capable of handling the CPU. These CPU coolers will suffice your day-to-day needs with room for moderate overclocking.
As we mentioned above, the overall cooling potential of your PC will also affect the cooling performance, hence you need to choose your CPU cooler accordingly. Furthermore, we didn't refer this cooler to those who are looking for serious overclocking.