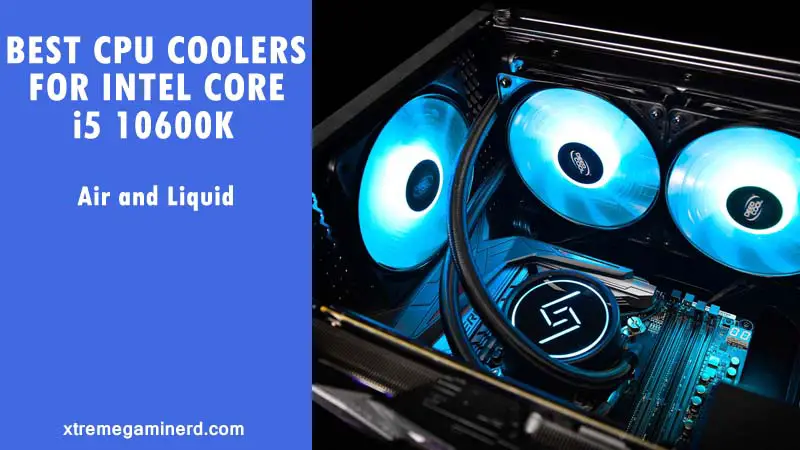 Intel's Comet Lake i5 10600K has replaced the 9600K as being the fastest i5 processor ever made. Intel has been making some drastic changes to its newer generation processors since the 8th generation CPU series which can be said is a result due to AMD's rising share in the CPU market due to the Ryzen processors.
As compared to the 9600K, the 10600K features 6 cores and 12 threads instead of 6 threads which now makes PC overall faster in gaming as well as productivity. Hyperthreading makes multitasking easy and provides better performance in CPU-oriented programs. If you want a PC that can process the videos faster, render 3D images even faster and stream the gameplay live without any slowdown, then consider this $250 awesome CPU that is aimed towards providing the best gaming performance.
10600K is an unlocked processor and needs an aftermarket CPU cooler as the overclockable processors from Intel don't come with a stock heatsink. Also, it's no sense to buy an unlocked processor use the garbage stock heatsink for overclocking that will create more difficulties.
Right now there are numerous types of CPU coolers on the market ranging from as low as $20 up to more than $200 with some featuring great aesthetics while others focused on silent operation. For the i5 10600K, I recommend the following 4 CPU coolers that all you need for overclocking your CPU to get more potential from it and I recommend these Z490 motherboards for easy overclocking of 10600K.
Best Budget Air Cooler
I really like the approach of Noctua CPU coolers. They are simple-looking, yet unbeatable in performance and quiet operation. I believe that if you go with a budget CPU cooler, then go for the performance rather than aesthetics.
The NH-U12S is a perfect choice for overclocking a six-core processor like the i5 10600K and can handle even an 8 core processor like the i7 10700K. This cooler features a single tower aluminium heatsink with 5 copper heat pipes all of which are painted black. Black colour is best when it comes to absorbing heat and the heat pipes on this cooler are embedded inside the metallic base that transfers heat to the aluminium heatsink.
It uses a powerful and quiet air-pressure Noctua NF-F12 120mm fan that has been one of the most recommended cooling fans ever. It will be almost dead silent and you will have to put your ear on your side panel to actually hear its sound properly.
This cooler will also fit in most of the cases as it requires 160mm of clearance. It has a clearance of up to 41mm from the base up to the starting of the heatsink which is enough for most of the RAM modules but it won't even interfere with the space of any DIMM slot. So, whatever specs you have, you can just go with this cooler without a second thought.
---
Best Air Cooler
When it comes to comparing 95% of the CPU coolers, it's difficult to declare a winner by unanimous decision, but the Noctua NH-D15 has been the king of all the air CPU coolers for around 5 years. Noctua NH-D15 Chromax.black is nothing but the all-black version of the same cooler which means better heat absorption and dissipation than ever.
The cooler features a dual aluminium heatsink tower with 6 copper heat pipes which connect both the heatsink to each other and the base. The cooler comes with 2x 140mm pre-installed NF-A15 fans which are bigger and throw a lot of air to eliminate heat from every place on the heatsink. The cooler can equip one more fan in between if you want to but two fans are still sufficient.
For any processor, be it the i5 10600K or even the i9 10900K, with this cooler you can go for strong overclocking without thinking too much about it. It although will be noisier than the NH-U12S but is still quieter than most of the AIO coolers and will be competing with them head to head. Make sure you have a big enough case that supports dimensions as mentioned above because it is huge and is also very heavy.
---
Perfect Fit
For just $10 more than the cost of Noctua NH-U12S, you can also buy the ML240L RGB V2. It's one of the latest AIO coolers in the industry and features a 240mm radiator with inbuilt RGB lighting. Each of the LEDs is addressable and hence you will get many effects and presets to use from. There is also a $10 cheaper 120mm AIO cooler with the same design which si ML120L RGB V2 but by spending $10 more, you will be able to unlock your CPU's potential even more.
As compared to most of the dual towers coolers, it performs better and is a better choice for overclocking but do remember that it still doesn't beat the NH-D15 in Thermal tests as and the same goes for the 120mm version which is shown by Kitguru and Tweaktown but the results are quite surprising because it does a beautiful job in maintaining temperatures better than most of the AIO coolers under $80.
Its water block uses a dual-chamber pump and its radiator uses the Sickleflow 120 RGB fans that provide high air pressure and are comparatively silent to most of the 120mm fans out there. For those who don't like the looks of an air cooler and want better aesthetics along with a better performance at overclocking, then this one is a perfect choice. As it as an RGB cooler, it also comes with a controller through which you can change the LED colours and modes, and as a user of Cooler Master AIO coolers myself, I know that they are very reliable in everything they provide you with.
Related:- Best graphics cards for i5 10600K
---
Best No-Compromise Cooler
Thermaltake Floe Triple Riing 360 is the ultimate AIO cooler of all time. It might be overkill for someone but if you want no compromise in cooling, then be ready to spend some extra bucks. This cooler has been tested by many techs and most of them have similar results in cooling. Even on an 8 core or a 10 core processor, this cooler doesn't disappoint and is best for long operation on high clock speeds.
It doesn't only beat most of the 240mm and 280mm coolers that are more expensive but also performs quieter. On full load with an overclocked processor, this doesn't go beyond 32db as shown by Tweaktown and Tomshardware which is amazing considering that it has 3x120mm fans and a pump.
You will also get RGB inbuilt lighting on the pump and fans which can be controlled using the hub provided with it. The only problem you may face with it is the installation. Not every case has room for a 360mm radiator, but if your case has, then this is something that will totally future proof your PC where you can upgrade your processor from i5 10600K to something like i7 10700K or i9 10900K.
---
Conclusion
Options are many, but you can only buy one, so buy something that is worth your money. Not every RGB or fancy looking cooler is good but if you can get aesthetics with performance at the same time, it's definitely better but the priority should always be the performance.