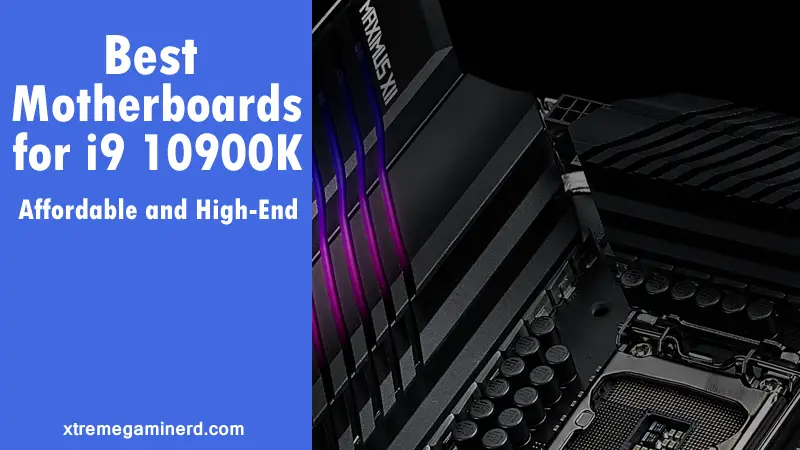 We all know that despite AMD being on the front line because of its great 3rd Gen Ryzen processors, AMD wasn't able to beat Intel's i9 9900K in gaming no matter how many core CPU you would use, Intel was and is still currently ahead in purely gaming tasks and that's a different matter that we recommend AMD, 3rd gen processors, over them due to their capability of competing head to head to Intel's 9th gen processors in gaming and beating them in overall productivity for the price you pay.
Intel i9 9900K was the fastest gaming processor you could buy which no other 12 core or 16 core processor would able to beat. Intel has released another gaming monster for $500 taking over the 9900K and putting each and every processor ever released behind it by improving itself to gain 5-10% performance in gaming in most of the cases.
Unlike the 8 core, 16 thread CPU 9900K, i9 10900K is a 10 core, 20 thread processor with base and boost clock speeds sitting at 3.70GHz and 5.30GHz. However, the CPU is now equipped with Thermal Velocity Boost Frequency along with Max Turbo Boost. Intel explains the Thermal Velocity Boost Frequency as follows:-
"Intel® Thermal Velocity Boost (Intel® TVB) is a feature that opportunistically and automatically increases clock frequency above single-core and multi-core Intel® Turbo Boost Technology frequencies based on how much the processor is operating below its maximum temperature and whether turbo power budget is available. The frequency gain and duration is dependent on the workload, capabilities of the processor and the processor cooling solution."
That said, the processor needs a good motherboard to achieve good clock speeds using the TVBF and don't worry about the temperatures, it's much better than the i9 9900K and should be under control with a good AIO cooling. You can check out more about it from Linus's video below:-
Here are the top LGA 1200 motherboards for i9 10900K we recommend in 2020 for achieving the best results:-
Asus is currently at the top for making the best Z490 boards and this list has 3 of the best Z490 motherboards for i9 10900K. Asus ROG Strix Z490-E is the cheapest and best motherboard for i9 you can buy for the most performance per dollar spent. The board though costs only $300, it is actually equivalent to the $100 more expensive Z490 Apex motherboard from Asus which has some more features.
It has a powerful 16 power phase VRM with very good heatsinks that use a copper heat pipe extended to the chipset. The board also features inbuilt RGB lighting and some RGB and ARGB headers for connecting RGB devices and peripherals. It has 3x PCI-E x16 slots that support up to 2 way SLI and 3 Way CrossfireX.
The board does have some troubleshooting features onboard like a Q-LED LCD display and EZ debug LEDs. There are, however, no onboard Power/Reset buttons. But surely it has a lot of options at the I/O where you can find a BIOS USB port and a BIOS Flashback button for easy update of Bios.
For internet connectivity, it has an inbuilt wifi adapter with Wifi 6 support which is of course very trending in the Z490 motherboards. Overall, this board is a very good package for i9 10900K for the least price. If you go below it then you will have to compromise with a lot of things especially the overclocking capability.
The Maximus XII Apex features a strong 16 power stage VRM that is similar to the Z490 E as I said earlier. Even the heatsinks are similar. The design, however, is a little different with some good upgrades. The design is really unique and has the most onboard features for $400. This is literally the motherboard you would need for advanced overclocking of i9 10900K with advanced tweakings.
The board has a lot of switches for toggling things ON/OFF if something goes wrong. This makes troubleshooting easy without resetting everything. It has Q-LED display, Power/Reset buttons, safe mode switch, MemOK!, Bios Flashback button, Clear CMOS button, Ln2 mode, Retry button, and whatever you will need.
Along with so many troubleshooting features, it doesn't lack anyway in aesthetics. There is a parallel line design with RGB lighting that makes it look sick. The board has 3x M.2 slots for SSDs and 2x PCI-E x16 slots that support 2 way SLI and 2-way Crossfire X. For internet connectivity, it comes with Wifi 6 and an Intel 2.5Gbps LAN.
At the I/O, there are 2x PS/2 ports and the reason is the full support for peripherals in Windows XP. As it is made for breaking overclocking records, Asus has put every possible feature on it without pricing it ridiculously.  If you ask me for the best overall Z490 board for i9 10900K, then go get this one without a second thought. Only proceed to buy any other board if have got some more cash to spend for more powerful VRM.
Gigabyte too has some great boards but the most appealing choice is the Aorus Xtreme which has some unique features that only a few Z490 boards have. The board has two LAN ports: One is a 10GbE and the other one is 2.5GbE. This is seriously very very fast and amazing for high-speed internet. Along with these LAN ports, you do get an inbuilt Wifi adapter with Intel Wifi 6 support.
There are 16 power phases in the VRM with 90A Smart Power Stages and Tantalum Polymer Capacitors Array for high-end overclocking that will be more reliable than overclocking on the two Asus boards listed above. These have very dense heatsinks on top of them for passive cooling. Similar to the previous two boards, it has a copper heat pipe which is very thick to cool down the VRM more effectively, however, it doesn't extend to the chipset which of course I don't think will need it considering the massive heatsink covering half of the lower portion of the motherboard.
There are a lot of onboard features such as LCD code display, Power and Reset buttons, OC button, 2x Bios switches and for Bios, you get a Q-Flash Plus button and a Clear CMOS button. The board has 3x PCI-E x16 slots for multiple GPU configuration which supports 2 way Nvidia SLI and 2 way AMD CrossfireX. The board has a neat design due to the aluminium cover which covers most of the PCB. It also features inbuilt RGB lighting which is, of course, expected at a hefty price of $800.
This board is the top choice for i9 10900K for advanced and very strong overclocking but the only concern here is its price which is really high compared to the performance boost percentage it will provide you over the Apex.
Related: Best USB Type C Cables
Meet the big brother of the Z490 Apex, ROG Maximus XII Formula which is designed to take overclocking to the next level using the combination of a powerful VRM and water block design. This board features a 16 power phase design over which you can easily install a custom EK water loop. For the most part, it is similar to the Apex except that it has two LAN ports one of which supports 2.5Gb and the other supports 10Gb bandwidth.
It has all the advanced troubleshooting features that include the Q-LED display, Power/Reset buttons, Retry button, Bios Flashback, and Clear CMOS button. Apex, however, has some more options as listed above. I don't have any complaints with this board as it is not as overpriced as the Gigabyte Z490 Aorus Xtreme and will cost you $500. It falls between the Apex and Aorus Extreme considering the performance and should be great to use with i9 10900K.
Related:- Motherboard Cable-Connection Guide
MSI MEG Z490 Unify is one of the best affordable high-end boards for i9 10900K that features a 6 layer PCB design and 16 power phase VRM design with a 90Amp smart power phase which is really a seriously good thing for overclocking. This is available on the $800 Gigabyte Aorus Extreme however, this board does have some downgrades from the Aorus Extreme but for only $300, this is a motherboard that can potentially let you do everything you would want to.
It has all the basic onboard troubleshooting features like Q-LED display, EZ Debug LEDs, Power/Reset buttons, and Bios update and clear options at the I/O. It has 8x USB ports including a Type C and a PS/2 port for more compatibility in different scenarios. It also comes with a 2.5G LAN port and Wifi 6 for internet connectivity. Except for the RGB LEDs and advanced VRM cooling solution, it has all the good things. The heatsink on the VRM will, however, should be fine as it has a design that will allow a lot of air to pass through it and has a copper heat pipe at the base connecting the two aluminium heatsinks.
With 3x PCI-E x16 slots, it also supports 2 Way Nvidia SLI and 3 Way AMD CrossfireX and has 3x M.2 slots for fast storage devices. Honestly, it's very difficult to choose between this one and the Asus Z490-E but I recommend going with this one as it has a little better VRM for overclocking.
There are some other good motherboards from MSI like this one but they are overpriced such as the MSI Z490 Ace which is almost identical to the Unify but has inbuilt RGB lighting and nothing additional with a price increase of $100. So, not worth it. MSI Godlike is another beastly motherboard with some good upgrades but costs a whopping $900+, so, I don't recommend that also.
Related:- best motherboards for i5 10600K
Conclusion
For a beastly processor like i9 10900K which costs $500, you shouldn't go for anything you find a Z490 chipset on. A strong VRM is very crucial for overclocking and with advanced overclocking you will definitely run into some trouble which can only be sorted out using the onboard troubleshooting features. Support for highly overclocked RAM is also important to reach the best possible performance number. The above-listed motherboards are best for their prices and I have provided the reasons why you should go with them and not the other boards which should clear some doubts regarding the motherboard selection but you can always use the comment section below in case you have something to discuss or have some queries.