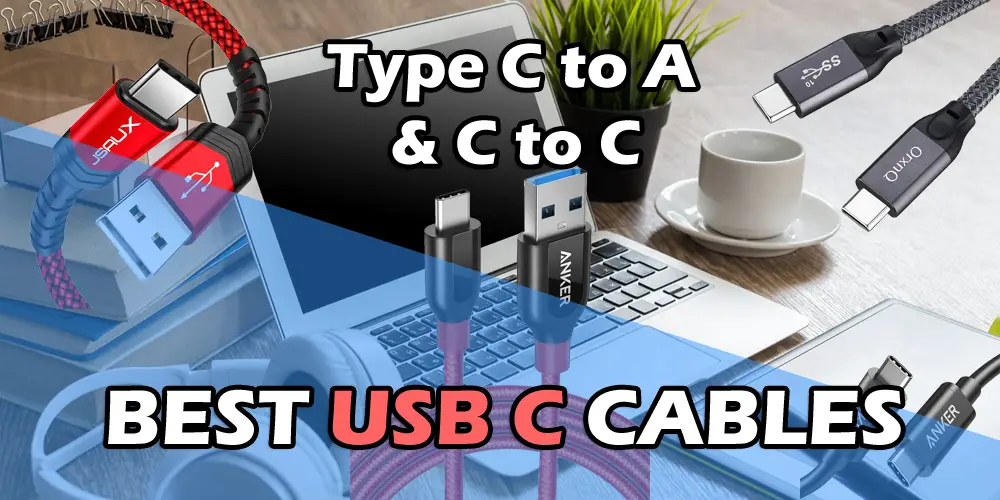 Introduction
USB was released in 1996 long back when most of the people weren't bothered that much about "Fast-Transfer, Fast Charging" and stuff like that. USB is used to connect peripherals devices to each other or to computers and has been evolving for a long time. Most of the peripherals we use today come with a USB connector for ease in connection to the computer. Now that too is evolving to provide faster transfer speeds and more reliability.
Currently, USB Type-A connections are the most popular ones which are most commonly used in homes but USB C has been becoming the trend nowadays due to its faster transfer and faster-charging speed for peripherals and mobile devices. USB Type C port is smaller and provides speed from 5Gbps up to 20Gbps where you can currently get the USB Type C cables with up to 10Gbps speed for your devices such as Macbook, Android Phones, Tablets and Gaming Laptops.
Know the difference between USB C to A and C to C
While there are so many different types of USB C cables that end up to a different connector, we will talk about the most common of them. There are two types of USB C cables- USB C to A and C to C and it is important to know the difference between the two. You might be searching for a USB C cable that provides fast charging for your mobile phone that has a USB C port and you end up buying a USB C to A cable and a charger having a USB A port, then you have wasted your money because that is several times slower than a USB C to C cable in charging.
On the other hand, if you have a device that has a USB Type-A port and you have another device that has USB Type C port, so you will have to buy the USB C to A only. But if you have for example a device like a Charger Brick with Type C port and an Android or Laptop with USB C port, then you have to go with a Type C to C cable.
Type C to A cable can provide from 480Mbps up to 10Gbps speed while a Type C to C can provide speeds up to 20Gbps. Also, with Power Delivery, you can charge your device with much faster speed as it has the capacity to provide up to 100 watts compared to the 15W of USB C to A cables. Depending upon your requirement or budget we have provided you with different options in each category.
---
Best USB C to A Cables
AmazonBasics USB Type C to A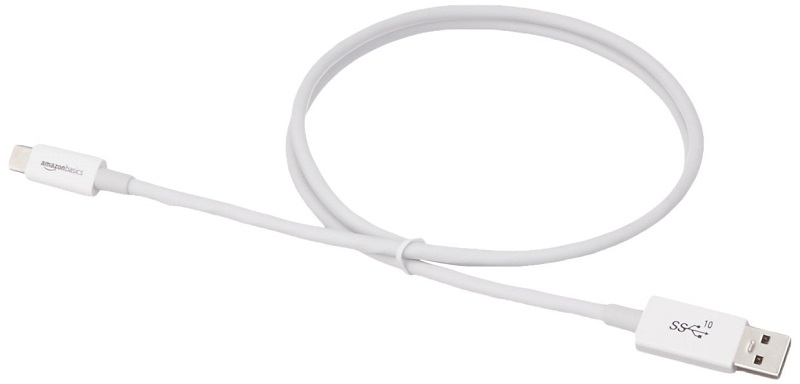 While USB C to C cables are superior to the C to A cables in terms of charging and file transfer, don't think that there is no such C to A cable that can compete with a C to C cable. Amazonbasics sell a Type C to Type A cable that is one of the best you can find in the market. It features a powerful USB 3.1 Gen 2 standard which supports up to 10Gbps of data transfer and provides 3A fast charging. You can use it with your Chromebook Pixel, Macbook and several other USB Type C devices for these two purposes which are hard to fulfill with most of the USB C to A cables.
---
Sharllen USB C to A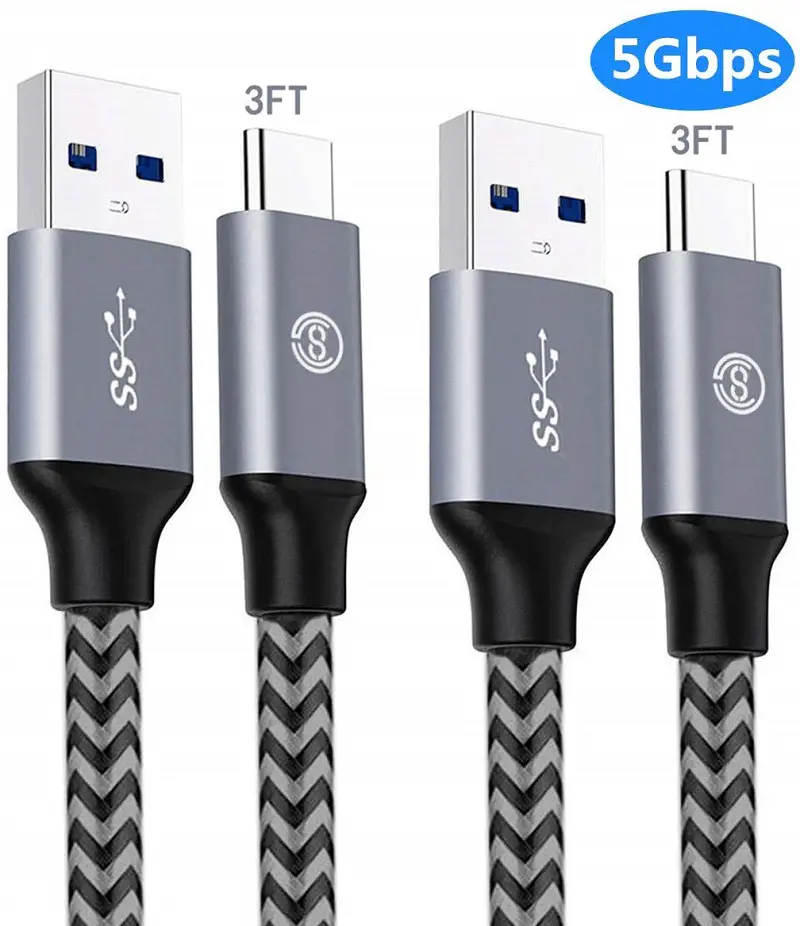 For those who don't have a requirement for a really high transfer speed but still want something that is more affordable and can do the job quicker than most of the USB C to A cables, then the Sharllen USB C cable is made for you. This cable provides up to 5Gbps of transfer speed and has a well-built cable with the help of nylon.
As compared to the Amazonbasics cable it will be more reliable and more resistant to breaks due to nylon braiding. For charging it provides 5V/3A charging that provides up to 15W of power supply enough for charging most of the mobile phones quickly.
---
 Anker Powerline+ USB C to A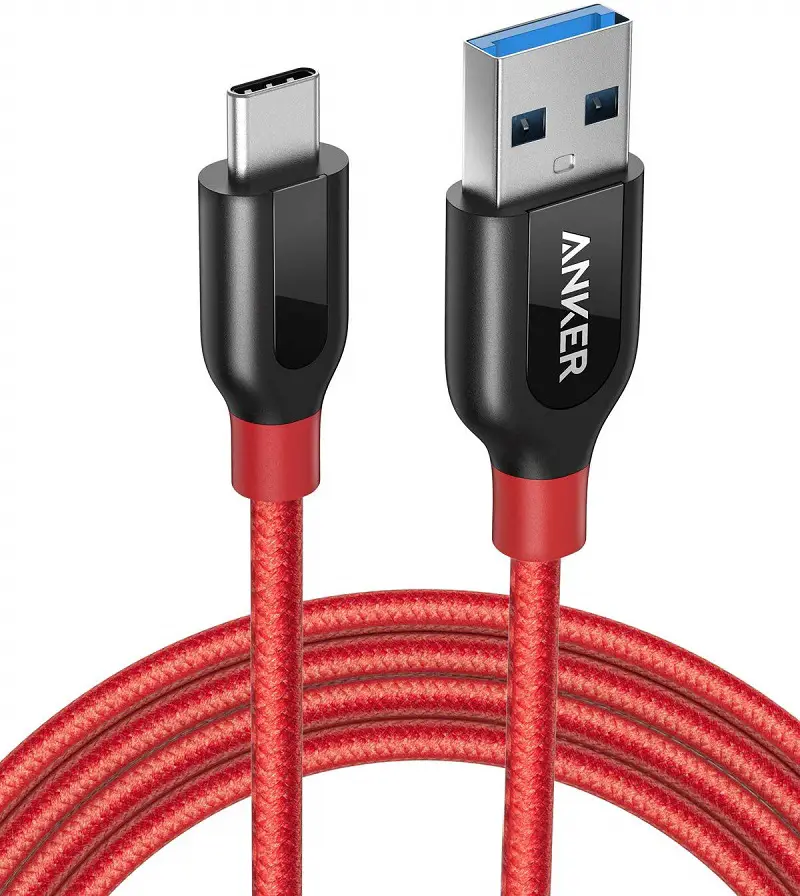 Anker's USB C cables are the most popular ones in the industry due to the high quality and reliability it gives you over the other cables. The Anker USB C cables are generally more expensive than its competitors but you do get something that really works very close to the described specifications.
One more reason for its expensiveness is its lifetime warranty which lets you spend the money on it without a second thought. The cable has nylon braided exterior and 3 feet of length which if you don't want then you can buy the 6 feet one. It will be only 3 dollars more expensive but if you have a requirement where your device is to be kept far away, then that will be a good option. Its transfer speed is up to 5Gbps as it is USB 3.1 Gen 1 and it charges at a rate similar to the above-mentioned cables.
---
JSAUX USB Type C to A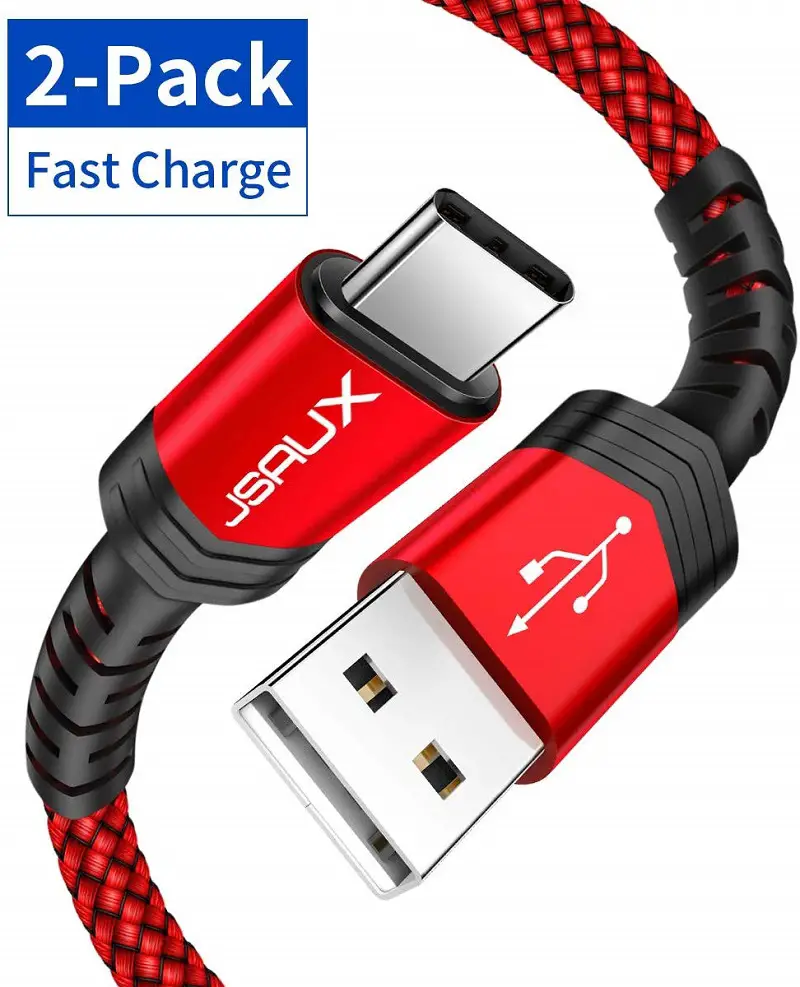 For those who don't have a great requirement for fast transfer speeds but want more cables for a low price, then consider the cables from JSAUX which is also a good competitor to Anker in producing quality cables. This is a combo pack with 3.3ft+10ft cables for connecting the devices that are close as well as far in a room. These cables provide up to 480mbps of transfer speed and 15W of fast charging.
The cables use nylon braided exterior coating along with a rubber coating at the joint of cable and USB connector that is flexible enough for resisting breaks in the cable. These are available for $11 or you can also buy 6ft+6ft cables for a dollar less price.
---
Best USB C to C Cables
Anker Thunderbolt 3.0 Cable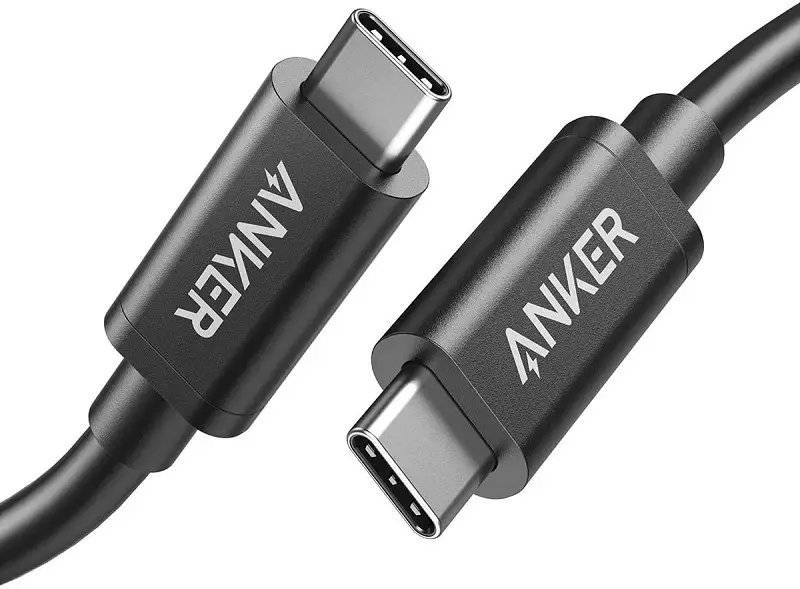 It's not that you will only be limited to 10Gbps transfer speed. If you buy the Anker Thunderbolt USB C to C cable, then get ready to witness the transfer speed of up to 40Gbps. This is the max you will get with a USB C cable and that's why it is much more expensive than all the other cables. It will cost you at least $30 but if you want to have everything in a single cable, then don't think again to buy it. Not only it provides fast transfer speed, it also provides up to 100W of charging that is what you want to have to charge your laptop.
With this cable, you will also be able to stream up to 5K video on a single display and 4K video on two displays. Even if you have a device that supports only up to USB 3.1 Gen 1, this cable will still work as it is backwards compatible but I don't recommend it in that case as there are other good choices for much less price.
Anker Powerline II USB-C to USB-C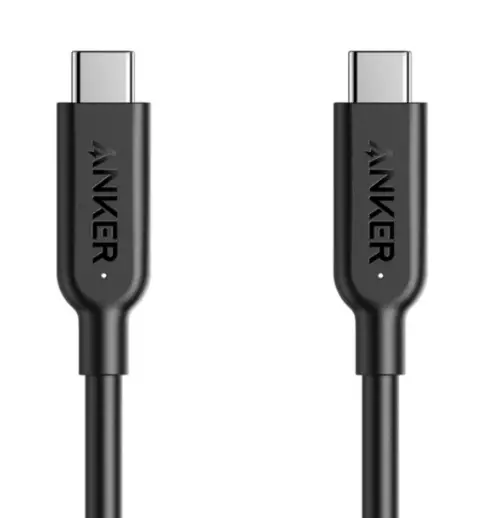 While the Thunderbolt USB cable isn't for everyone as very few devices has Thunderbolt USB C ports, but in case you don't have a ThunderBolt USB C port, you can still get up to 10Gbps transfer speed and stream a 4K video if you have a USB C port on your device that supports 3.1 Gen 2 standard. Again, I am recommending an Anker product. Anker Powerline II USB C cable is very fast and backwards compatible. You will also get a 100W charging support with this one which will quickly charge your Macbook, iPad, and Android devices that support Power Delivery charge.
Orxnq USB C PD Cable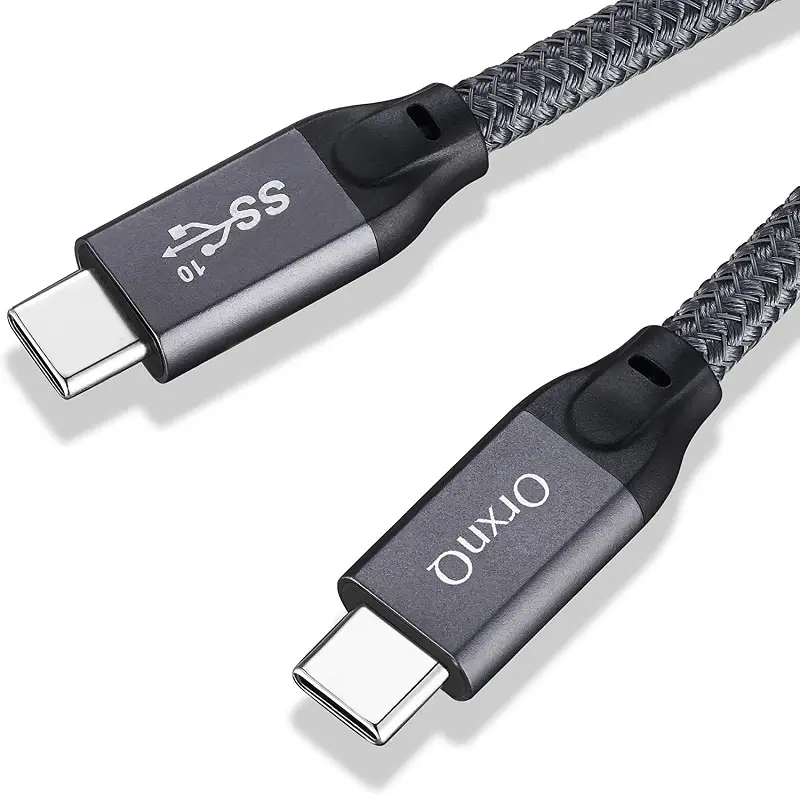 If you want a very affordable USB C cable that provides great features like 10Gbps transfer speed and 100W charging, then go and buy the Orxnq USB C Power Delivery cable that has everything you would want for your device. This cable uses Nylon braided cord and you can certainly stream a 4K video with it. It is available for only less than $15.
AmazonBasics USB Type-C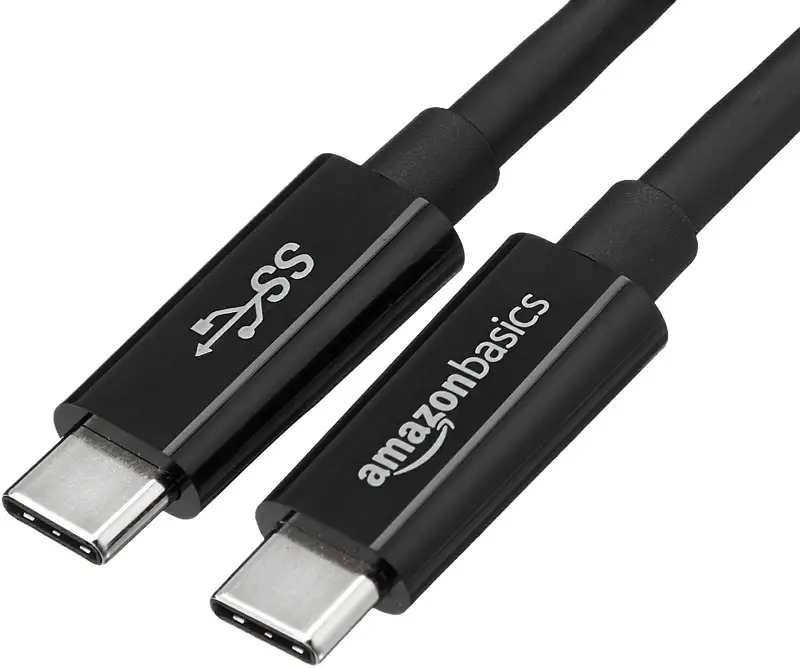 While the Anker Thunderbolt and Powerline cables are the top recommendations but if you have a device that only supports up to Gen 1, then there is no use of buying a fast USB cable with a transfer speed of more than 5Gbps. Amazonbasics though provides good quality cables, they are a little pricier than the competitors.
This cable should be ok with almost every USB C device for file transfer as well as charging. As there are devices that don't support 100W charging, using a 100W charging solution can damage them.
Why USB C?
While everyone doesn't have a device with a USB C port, it's now time that when you upgrade to your phone or laptop, you should get with one. It will be even better if you get a Thunderbolt USB C port that is way faster although very few devices have it.
USB C port features up to 10Gbps speed if it features a USB 3.1 Gen 2 standard and that is very fast comparing it to the Mini-USB port. With C to C cables, it is even better than the C to A because not only you will get faster transfer speeds, you will also get 100W charging support which is the way to go for laptops.
Also, USB C port is easy to plug in because both the upside and downside have the same output design while USB Type-A port can be only plugged in through only one way which is quite annoying.
Some Important FAQ
Are all USB C cables the same?
No, USB C cables are of two types- Type C to A and A to C which I have already mentioned before the list but there are more types of USB C cables today that end up in different connector on the other end like HDMI, lightning, micro USB, Ethernet port etc. Also, USB C cables can be Thunderbolt or not.
Do all the USB C cables charge fast?
Not necessarily. There are USB C to C cables which charge with only 18W. However, the fast charging USB C to C cables can support charging with up to 60W or 100W. The USB C to A cables, however, don't go above 18W.
What is better lightning or USB C?
While lightning cable are thinner and more durable, there are a lot of advantages that USB C cable has over it. USB C cables can easily handle much more wattage than lightning cables and are more suitable for charging larger devices. You can check more about it here.
Do longer cables charge slower?
Yes, as the length increases, the charging power decreases and it also depends upon the quality of wire used in the cable.
How can I use USB Type C to HDMI?
For this purpose, you will have to buy a Type C to HDMI cable which is easily available on Amazon.
Sources Used:-
Wikipedia- History of USB
Belkin- Power Delivery of USB C Cable