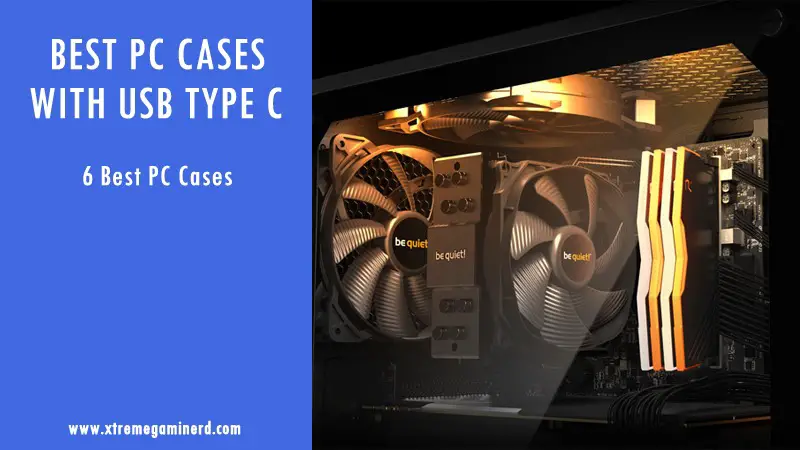 USB Type C port is very handy when it comes to connecting your phone or laptop. The best placement of this port is of course at the front panel of your PC case and as a user of a phone with a USB Type C port, I would love to upgrade to a PC case that has a USB Type C port at the front to charge my phone easily.
Most of the PC cases don't come with USB Type C port but they come instead with Type-A ports but fortunately, many manufacturers have taken the step in the right direction and launched cases that come with a Type C port along with Type-A ports. This gives you double benefits and among those limited cases, I find the following 6 cases that are best for building a PC whether it is for gaming, work or higher-end work.
The USB Type C port on these cases will be very handy for your use and you can get a well-designed case with this port for as low as $100 and also for up to $250 if you want more features that include better airflow, more storage system, better cable management and premium quality materials.
Let me know which case you liked the most in the comments section below!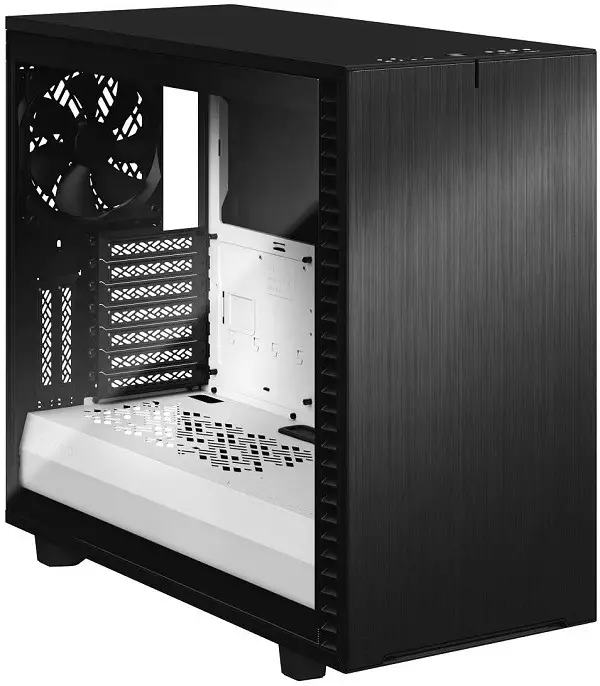 A very simple looking yet very modernistic PC case that is rich with premium features and comes with a lot of USB ports at the front panel. The Fractal Design Define 7 is among the cleanest cases for building your PC in. It has a total of 4x USB Type-A ports at the front panel, two of them are 2.0 and the rest two are 3.0. The Type C port is given near to the Audio and Mic jacks.
It has a brushed aluminium front panel that is my favourite type of texture and has a large tempered glass side panel for you to look inside at your components. From the outside, it's totally black but from inside, it is all white. Therefore, it will be an ideal choice for any PC build with a Black/White colour theme. The case can host long graphics cards and tall CPU coolers and has big routing holes with rubber grommets for easy and clean cable management.
It also comes with a full-length PSU shroud that hides the PSU and its cables along with 3.5″ hard drives. At the back of this case, Fractal Design has equipped it with 3x straps for easy holding of cables together and for cooling, it comes with 3x 120mm pre-installed fans. It is not only a good case in looks but will also be silent most of the times under full load.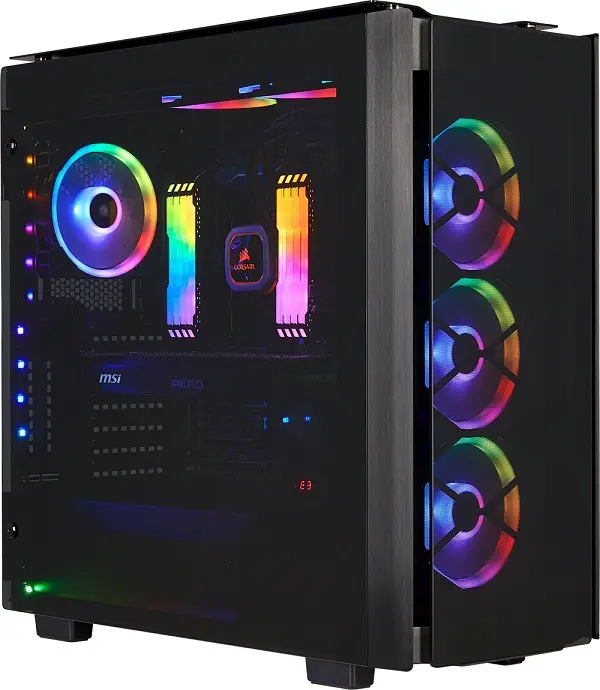 Corsair 500D RGB SE is a premium and expensive mid-tower PC case that was upgraded from the Corsair Crystal 570X that I use personally. However, it is an upgraded version that eliminates the limitations of the 570X. The case now has more clearance at the front for airflow and has a PSU shroud with a covered front opening for hiding your cables perfectly.
Unlike the 570X, it has an additional USB port along with two USB Type-A ports at the front panel. This is the Type C port which you need. The top panel on it is changed from the tempered glass panel to a metal panel that has ventilation holes for air exhaust.
This case is heavy and has tinted tempered glass panel at the side window and at the front panel making the lighting inside more attractive. It has two versions, one is the non-RGB and this one is the RGB SE that comes with 3x 120mm pre-installed RGB Corsair ML fans. These are controlled via a Corsair controller installed at the back and 3 more fans can be added to it.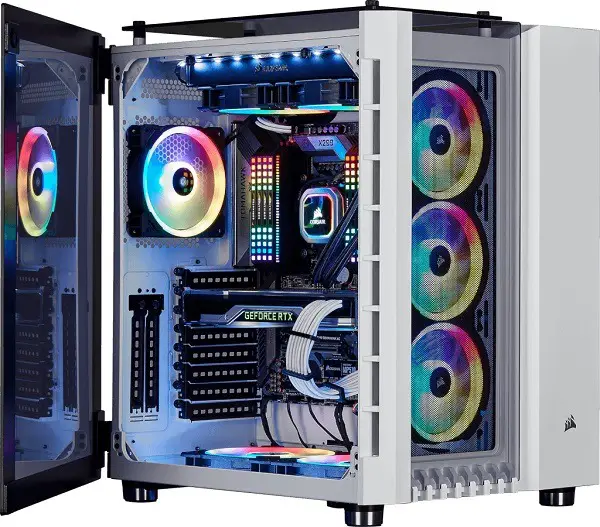 The 680X RGB from Corsair is a beast and is among the top premium cases for hosting a lot of components that includes up to 7x storage devices, very tall CPU coolers and long graphics cards. It has a 2x USB 3.0 Type-A and 1x USB Type C port on the top. The case has two different sections for installing the components.
It is wider and acquires more space on the desk than most of the mid-towers. The first section has pre-installed RGB 3x 120mm PWM fans for aesthetics and intake. There are 3 tempered glass panels that include the front, side and top for a clean look.
The power supply is to be installed in the second section which is hidden from the view and also has storage slots for hard drives and SSDs. This makes easy cable management and thanks to the numerous routing holes with rubber grommets, you can plan and organize the cables as you like.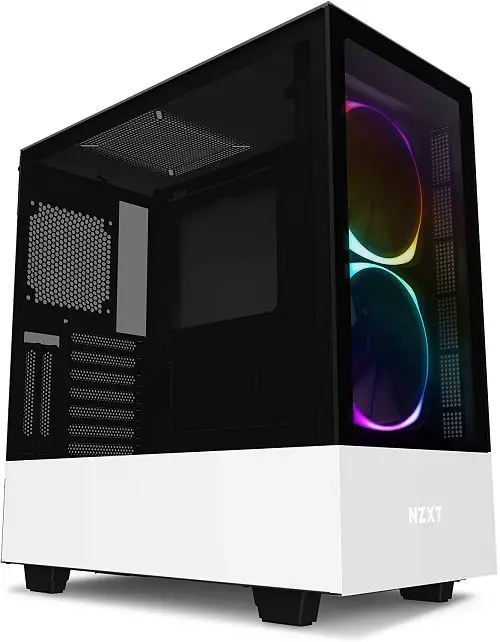 NZXT is the first one to revolutionise the way modern PC cases are designed. The first NZXT case that changed the perspective of most PC builders on what they should expect was the S340 on the design of which NZXT released dozens of cases in the following years. The H510 Elite is among those which still holds up to the trend and is among the most sold cases right now.
It has one USB Type-A and one USB Type C port at the top. So, it might not be a very handy case for some if they have the requirement to connect 3-4 devices from the front panel but like most of the users, I use the rear I/O for most of my peripherals which is also the case with many PC builders.
The case has a transparent window panel at the side and front which gives a clearer look inside. This Elite version comes with pre-installed 2x AER RGB 2 140mm fans that can be controlled via NZXT Smart Device V2 and NZXT Cam software. This case has a unique cable management system at the back that channels your cables in a particular way for easy side panel enclosure and a long wide cover at the main section for hiding most part of the cables.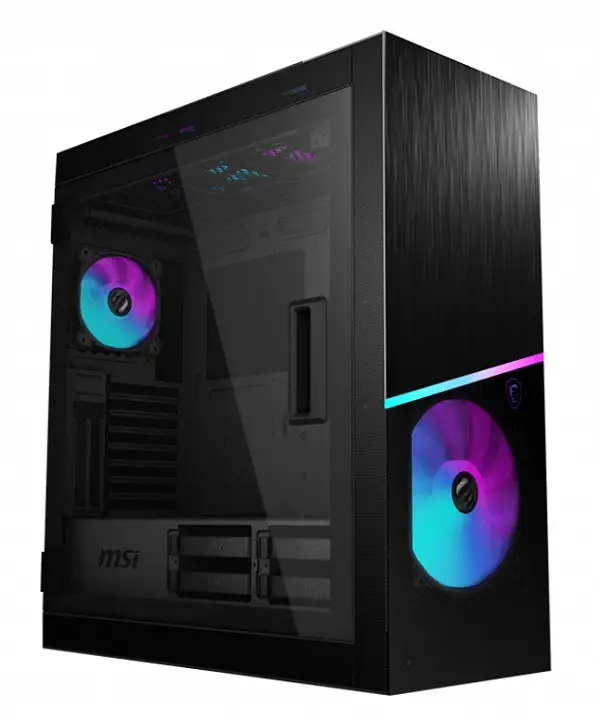 MSI is not very well known for PC cases but it recently started manufacturing its own branded cases to provide a good competition to the already popular PC case manufacturers. The MPG Sekira 500X is although infamous but has an appealing design an enthusiast PC gamer can't reject.
For those who want to connect multiple USB peripherals at the front, here you have 4x USB Type-A ports and 1x USB Type C port for connecting peripherals without going at the back of your case. Beside these ports, it has a LED button for changing the lighting effects of the pre-installed 4x RGB MSI fans. These fans are not regular 120mm fans but 3 of them are 200mm fans that are installed at the front and top that will provide massive airflow.
Half of the front panel allows cool air inside while half of the panel is covered with a brushed aluminium panel that increases the beauty of this mid-tower. Inside it, you will find a full-length PSU shroud with 4x 3.5″ HDD bays and 3x 2.5″ SSD bays at the back.
For many, it won't fit their budget, but if you are willing to pay $250, then why not? Just go for it! But in case you want a cheaper option, MSI has the Sekira 100R which has some downgraded features but has USB Type C port at the top. It comes at a price tag of $120 which is less than half the price of Sekira 500X.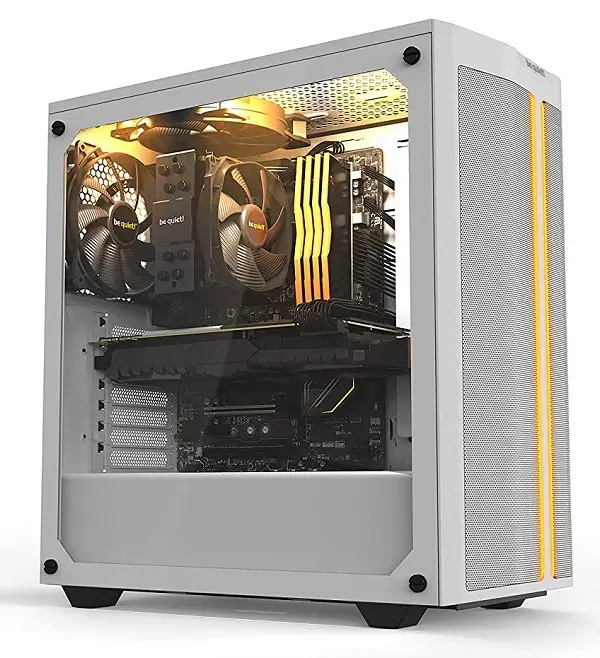 The Be Quiet 500DX is love at first sight. It's currently among my favourite Top 3 best budget cases of all time. The case is designed very well because the original Be Quiet Pure Base 500 failed in thermal tests as it had very limited airflow from the front. The 500DX, on the other hand, is great for any PC build whether you overclock or not.
The case has a single USB Type-A and Type C ports at the top of the front panel. You will be able to connect only two devices on it which is not as good as some of the premium cases we saw above but at a price of $100, this is still good especially keeping in mind that it has very good aesthetics and airflow.
At the front panel, the case is equipped with two RGB LED strips that can be controlled by the LED button provided at the top of the front panel. Not only that but the RGB lighting is even equipped at the inside for lighting up the room inside the case.
For cooling, you will get 3x 140mm Pure Wings 2 fans, one at the rear, one at the top and one at the front for balanced airflow. There is a PSU shroud at the bottom just like we have in the cases listed above it which hides all the unnecessary cables and hard drives. So, it is a full package under $100 which you can't refuse and a good choice for building a gaming PC on a budget.
Let me know what do you think about these cases!