Cases
Best Airflow PC Cases in 2021
Xtremegaminerd.com is a participant in Amazon Associate Program and is supported by the readers. The qualifying purchase you make through our links may get us some commission and doesn't cost you an extra penny.
---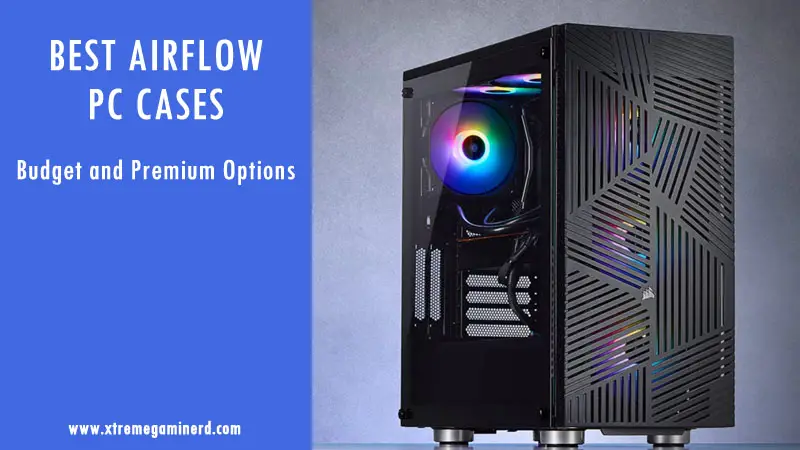 It's 2021 and PC builders are more aware of cooling and stuff than ever before. Before it was just a trend to build a fancy looking PC without even caring for airflow although there were some who were always wanting their PC to be cooled down effectively to achieve good performance for a longer time. Airflow has been the issue in cases since 2017 where we saw a series of different cases with blocked airflow from the front but now as the companies started listening, we have dozens of cases with the finest airflow without lacking on the aesthetics.
Before you check out our list of coolest PC cases, understand some important terms and functionalities explained below.
What you need to know before choosing a good Airflow Case?
Before proceeding to the list, you need to consider the following three points:-
1. Positive and negative airflow- Positive airflow is determined by the amount of cool air taken in the case by the intake fans and the negative airflow is determined by the amount of hot air that is taken outside of the case by the exhaust fans. To maintain a steady and stable temperature inside, one must strive for balanced airflow. If a case only has negative airflow, then it means it will not be cool as it should be and if there is too much positive airflow, the result will also be similar.
To choose a case, it must have an equal number of intake and exhaust fan slots or if it doesn't have an equal number of intake/exhaust fan slots then we need to use the same amount of fans for both intake and exhaust. If suppose, there are 3 fan slots for exhaust and 2 fan slots for intake, then we will use 2 fans for both exhaust and intake to maintain the balance.
2. Amount of Ventilation- Ventilation directly affects the cooling capacity of a case. If a case has a lot of slots for intake and exhaust fans but doesn't have enough ventilation at the front or bottom, then there is no use of having so many fans.
There are cases like Corsair 570X and Phanteks P400 which can support several fans for intake and exhaust but due to the lack of proper ventilation from the front and top, the temperature inside remains hotter than the cases which have meshed panels. Although, meshed panels will accumulate dust easily but if they have dust filter installed, then it will be easy to clean them without worrying so much.
Related:- Best Airflow Case Fans
3. Compatibility- After airflow and ventilation, comes the compatibility of components. A case may have both of the above-mentioned features but if it can't support large CPU coolers, several storage devices or long graphics cards, then it's still useless. Most of the people buy good airflow cases because of having so many components that generate a lot of heat. So, productivity workers and overclockers need a lot of space for installing their required components and also need good ventilation for proper cooling.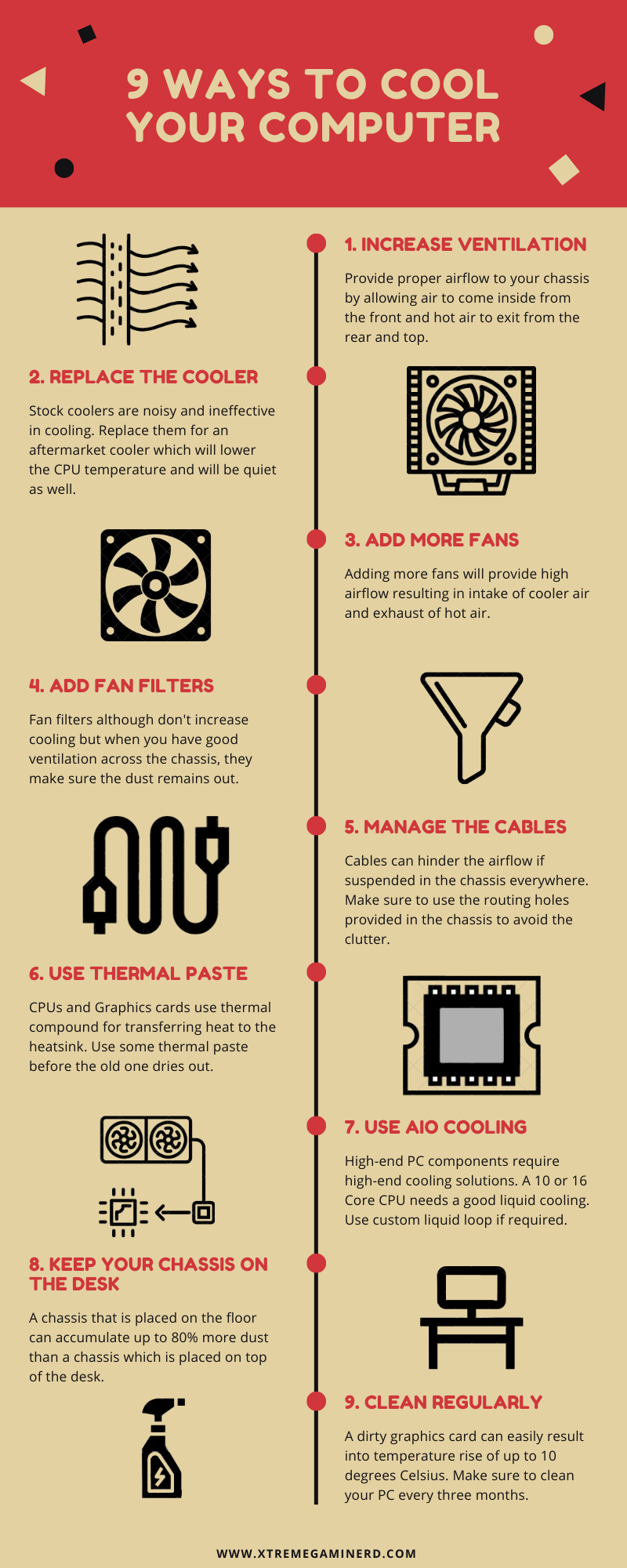 Our Favourite Picks from the List
Case
Image
Links
BEST BUDGET
Corsair 275R Airflow
BEST OVERALL
Thermaltake Core X31 RGB
TOP CHOICE
MasterCase H500M
---
Rosewill Gaming Challenger S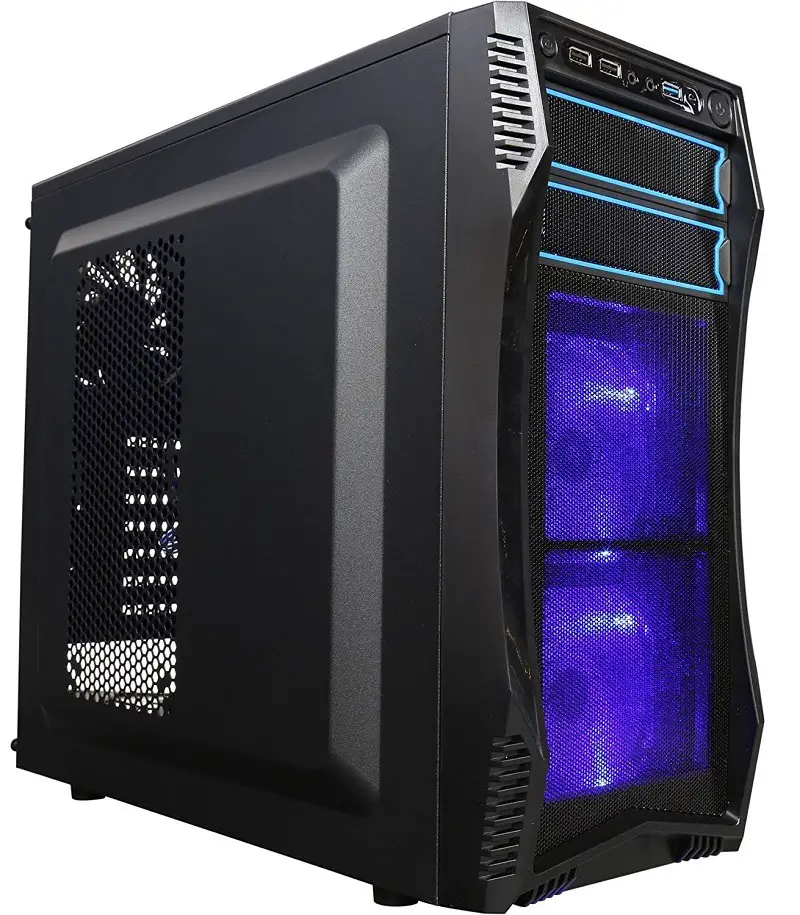 Detailed Review
The least and the best under $60 I can recommend is the Rosewill Challenger S. It's an awesome case for airflow despite being cheaper than most of the airflow cases. Well, it's cheap because of its construction.  The material used in this case is neither of that good quality nor it's poorly made. It's just intermediate which is justified for its price.
But due to its features, it made to the list of budget airflow pc cases. First of all, the compatibility is very good. You can install a full ATX motherboard in it and long graphics card too. The case comes with 2x 5.25″ ODD bays and 3x 3.5″ HDD bays that are tool-free. Not bad. The space behind the motherboard tray is also enough for routeing thick cables and the cutout for installing new CPU coolers is also big and will let you swap your CPU coolers without taking out the motherboard.
At its side panel, it has ventilation through honeycomb mesh on which you can install 2x 120mm fans for even more airflow. This case doesn't have any transparent window panel to make it better in terms of cooling. The case comes with 2x 120mm pre-installed BLUE LED fans at the front and 1x 120mm pre-installed Non-LED fan at the rear. So, you don't have to buy fans for proper cooling although the quality of those fans are not that good. They are just basic. And you can also add two more 120mm fans at the top for creating a good balance in airflow but that's just a preferable option.
In total, this case can have up to 7x 120mm fans that will create so much airflow in the case that it will never heat up in any circumstance. This case is good especially for the people who live in hot areas. The front and top have dust filters but the bottom and side panel doesn't so it means it will accumulate some dust overtime quickly although not that much as the front side still has a good resistance against dust and you can clean your front panel every month for proper and cleaner operation.
---
Cougar MX330-G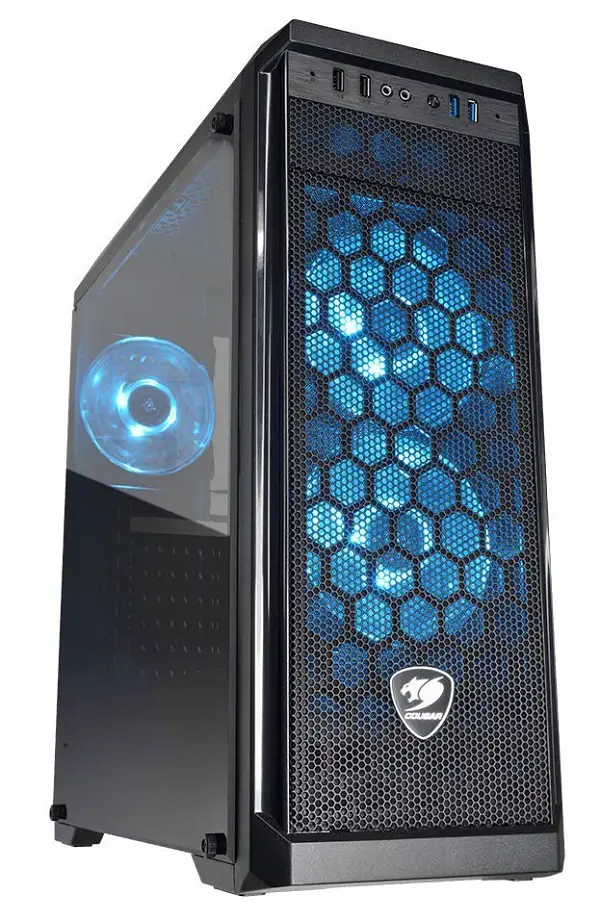 Detailed Review
While most of the airflow cases with the latest trend of full-length PSU shroud and LED fans are expensive, Cougar has a good option for those who don't want to spend more than $60 and want all those features. The MX330-G is a well-designed mid-tower chassis that is equipped with everything you would want in 2020.
For aesthetics, you will have side tempered glass panels secured with four screws and along with that, you will get 3x 120mm blue LED fans pre-installed: One at the rear and two at the front. The case is highly ventilated from the front and uses honeycomb mesh to allow a lot of air for intake. The top of the case too has good ventilation and provides dust-free operation with the help of a dust filter. You can install 2x 120mm more fans at the top for a proper airflow which is highly recommended and you can also swap up the front fans for a radiator.
The case has a full-length PSU shroud that will hide all that ugly extra cables along with power supply and hard drives. The case has slots for SSDs at the back which will also be hidden from the sight. It also has enough space for installing a long graphics card as it has a total clearance of 350mm but if you choose to install a radiator at the front, then you will get lesser space which I believe is still enough because of we don't use 350mm long graphics cards.
For cable management, the case has numerous routing holes not only on the motherboard tray but also in the PSU shroud that helps to plug in the front panel USB, Audio and Power/Reset cables. These routing holes, however, don't come with rubber grommets which provide a neater look to the build. But again, consider the price, it's the top choice for $60 we can recommend on this list.
---
Corsair Carbide Series SPEC-02
Detailed Review
I have used this case in my builds and also reviewed it in some of my posts like in Best Corsair Cases. I have personally built in this case for my friend and it's worthy of making to this list. Though the SPEC-02 is now a comparatively older chassis and a little-upgraded version of the SPEC-01 but it's still one of my choices for building a cool PC. The design and ventilation are almost the same but there is one more slot for adding a 120mm fan at the bottom beside the PSU.
There are other SPEC cases from Corsair like Corsair SPEC-04 and DELTA but they have limited airflow from the front. So, I decided not to include those latest versions instead, I used the old yet the best option for airflow.
For cooling, it has the capability of supporting 2x 120mm fans at the front, a 1x 120mm fan at the rear, 2x 120mm fan at the top and 1x 120mm fan at the bottom, all totalling to 6 fans that provide balanced airflow. Unfortunately, it doesn't have any slot on the side panel for installing more fans but the 3-3 fan configuration for intake and exhaust is commendable. The case comes with 2 pre-installed fans only. One is at the front that has RED LED and the rear one has No LED. Both of these fans are quality ones and if you want to increase the quantity you should consider installing an equal number of fans for intake and exhaust for better airflow.
The case also has good ventilation at the front. As many cases despite having 2 or 3 fan slots at the front don't have proper ventilation, they either have the gaps for airflow at the sides or a the top/bottom but it limits the airflow just as Phanteks P400. But this one has a dust filter along with good ventilation on the front panel. At the top side or bottom side, it doesn't have any dust filter, so it will accumulate dust easily.
As for compatibility, it has good support for long graphics cards, tool-less HDD installation and a good location for SSD bays which are in the HDD cage. Cable management is also fine. It's not that spectacular because there are some flaws like not having a separate cutout of routing the CPU cable but there is some fine space at the back of the motherboard tray but don't expect it to be the cleanest.
Related:- Best Mid-Tower Cases
---
DeepCool TX Mid Tower TESSERACT SW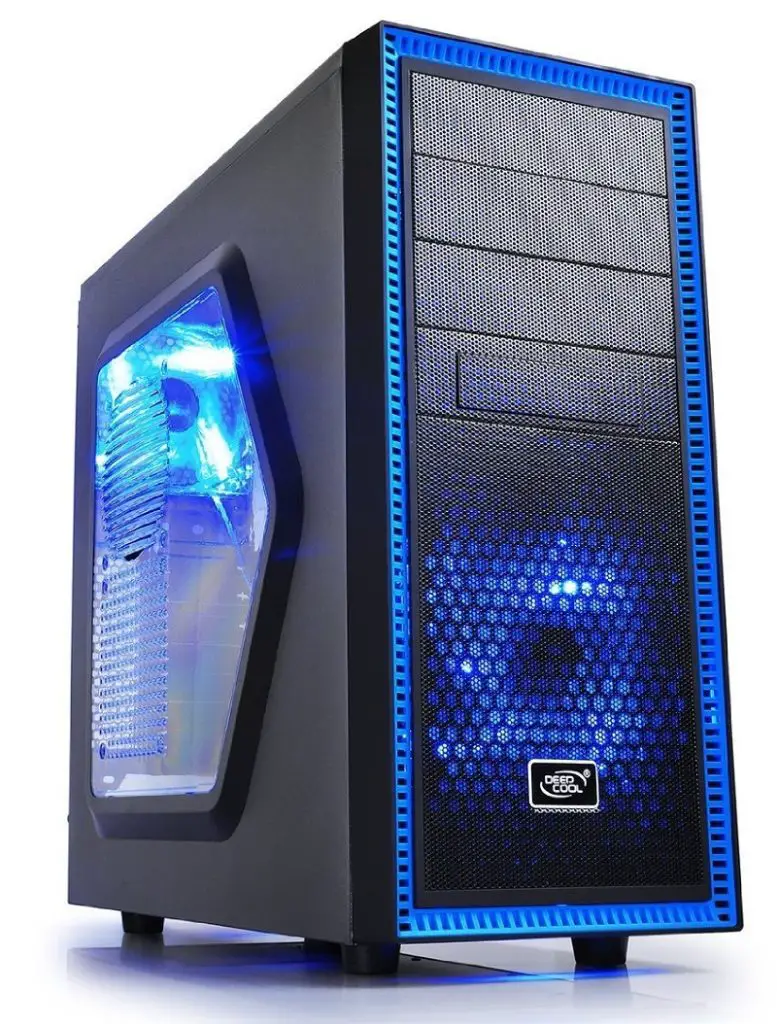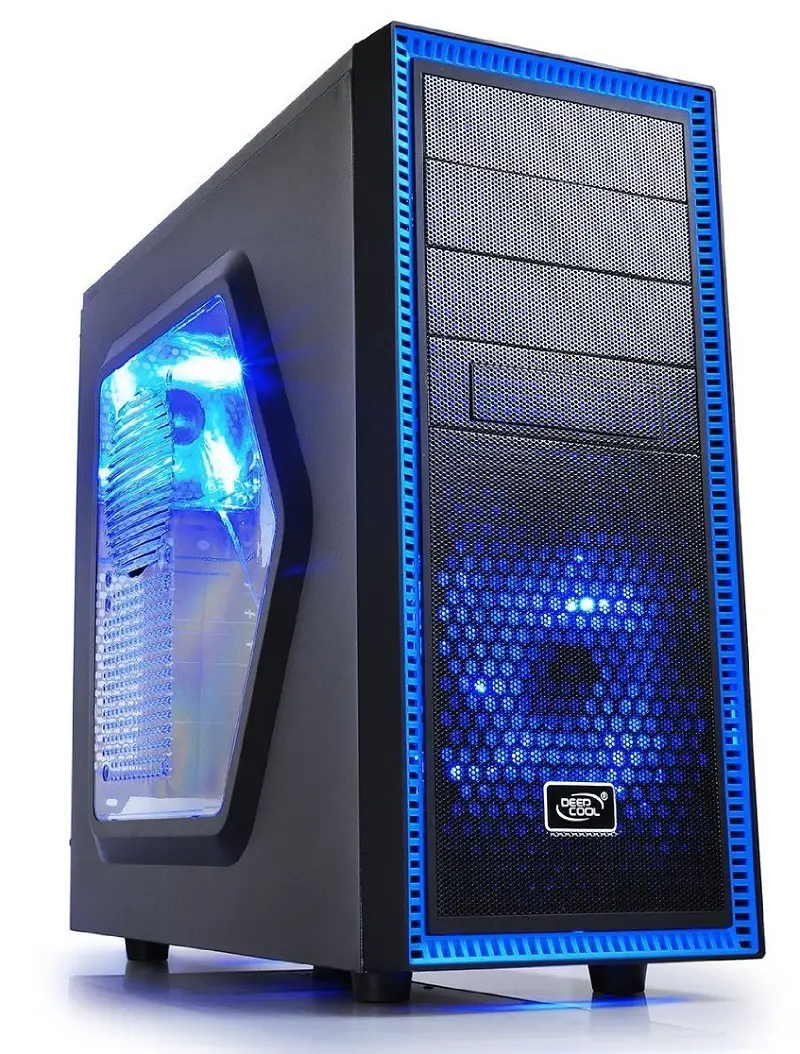 Detailed Review
At the same price as that of Corsair Carbide Series Spec-02, a good case is available from DeepCool. DeepCool isn't known for awesome cases and it doesn't produce better quality cases than Corsair or Cooler Master but for people who are on a budget and want more for less, then DeepCool has some good solutions.
DeepCool Tessaract SW is a fine quality case made up of SPCC and Plastic that is used in most of the budget cases. It can support all form factor motherboards and basic components just like the above-mentioned cases.
This case has very good support for storage devices and comes with 7 drive bays for installing up to 4 HDD's and 3 SSD's and all of them are tool-free. So, you can just plug and play. The case, however, is not long enough to support very long graphics cards. It "CAN" support long graphics cards but you may face problem in wiring and installing the storage devices. 2 Fan graphics cards although can be installed with ease.
Cable management is also just fine. Not spectacular. The motherboard tray cut out for installing the CPU cooler is not big enough but you can do it with some difficulty. There are a lot of routing holes in the motherboard tray which is a good thing for using Mini-ITX, Micro-ATX and ATX motherboards. You can route the cables from wherever you want.
Now coming to its main feature which is cooling, it really gives a very good value here. There is a meshed front panel which has good ventilation from top to bottom and comes with pre-installed 120mm BLUE LED fan for intake. At the rear, it comes with one more Blue LED fan for exhaust. Although the quality of DeepCool fans is not that great but both can be seen through the side transparent panel and even there, you will find two more slots for installing 2x 120mm fans. So, along with good aesthetics, it also has good intake capacity.
But as usual, we have to see whether it provides balanced airflow or not. If you install two more fans at the side panel, then you will have 3 fans for intake, so you must need 3 fans for the exhaust for proper airflow and fortunately, it has that feature. It comes with the support for installing 2x 120mm fans at the top. Although, you cannot install radiator at the top because of the clearance issue but you can install 1x 120mm radiator at the rear just like the Corsair Carbide Series SPEC-02.
So, overall it has better components compatibility especially when it comes to storage devices and great cooling with all-around airflow feature.
---
SilverStone
Technology
RL05BR-W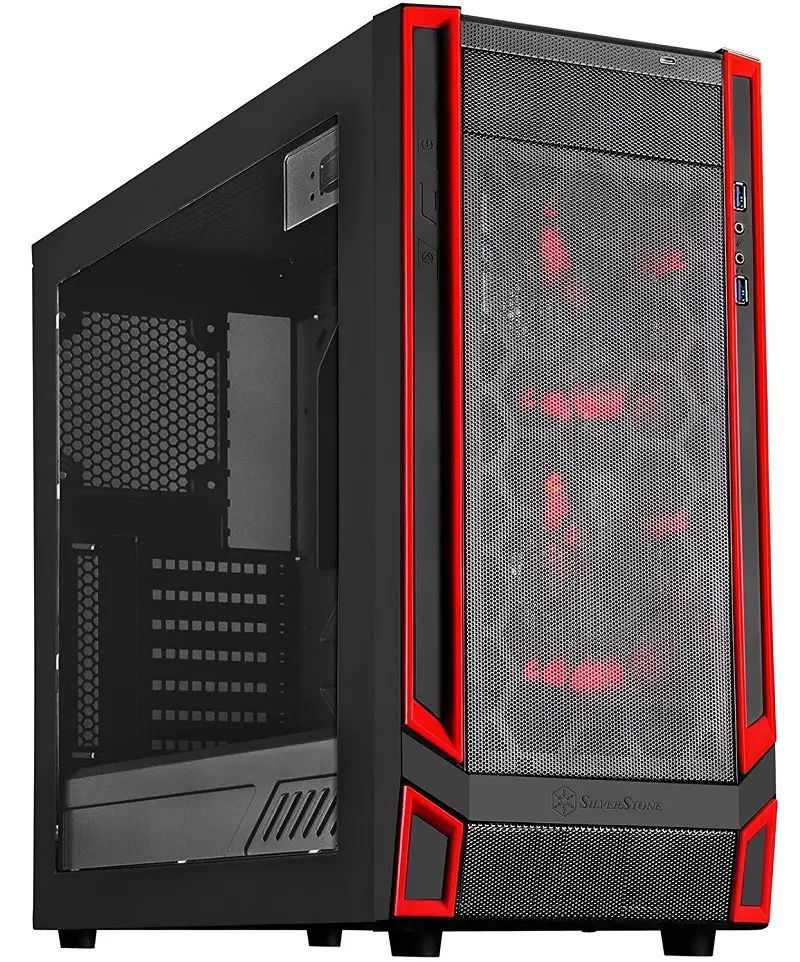 Detailed Review
Unfortunately, this case did not get so much popularity as the others. The reasons may be many but putting those aside, We will focus on what it delivers and how is it for the money.  Silverstone is definitely the producer of one of the best Mini-ITX cases and this one is best for airflow without a doubt. Everything, in this case, is good and I don't find any major CON's in it.
There are two pre-installed 140mm RED LED fans at the front for intake. Those are bigger and better than the 120mm fans that are present in the previous above-mentioned cases. The front panel is meshed and has a dust filter to stop the accumulation of dust easily inside the case. You can also install a radiator instead of only fans which are great for CPU cooling.
The case is 6Kg heavy and the material is just fine. Still, it's better than the previous cases. But the price is also more. For the increase of price, it comes with better airflow and the top of the case also has support for 2x 120/140mm fans or 240/280mm radiator. The bottom of the case also has one dust filter for the PSU that is very much needed.
So cooling wise, it's far better than the above cases but let's look at its component compatibility. It can support very long graphics cards as there is no drive cage at the front and those are present inside the PSU shroud where you can either install 2 HDD's or 2 SSD's. There are also two more drive bays for SSD's above them. But you are limited to max 4 storage devices at one time. So, you cannot have too many storage drives at the same time in this case. But other than that it has a PSU shroud which covers every cable and a separate cover at the motherboard tray for hiding the ATX power cables and other cables properly similar to the NZXT S340.
There is an additional USB type C port at the front along with two USB 3.0 ports and the design from every angle looks great. I definitely recommend this case for $70 and should be the priority of anyone who wants the best airflow case for this price.
---
Corsair 275R Airflow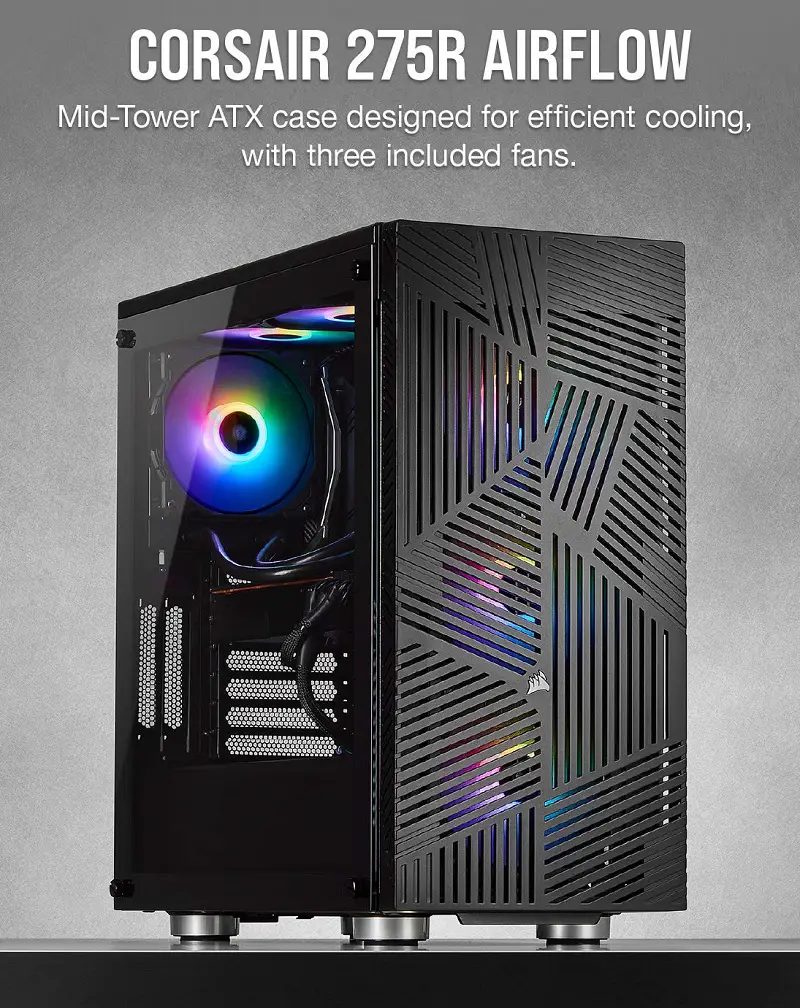 Detailed Review
Do you want something that is unique and also cheap? Do you want a Corsair case, White or just plain black in colour?
Then take a look at this gorgeous mid-tower chassis from Corsair that provides a unique way of cooling through the front panel. The 275R Airflow stands for its name and provides a slatted front panel that lets the air inside through different angles making it easy for the air to reach every corner of the case. This case has great support for fans and radiators with up to 6x 120mm or 4x 140mm fans to choose from.
You can install up to 360mm radiator at the front and up to 240mm radiator at the top. It comes with 3x 120mm pre-installed fans that are unfortunately non-LED and considering the price it comes for, it is justified. The case has a PSU shroud that spares enough clearance at the front to install the radiator and at the same time hides the power supply, cables and hard drives easily. Unlike the other cases, the case supports up to 4x SSDs at the same time instead of only two which can be mounted at the back.
To have a look inside, you will get a tempered glass side panel which is the norm right now and for making the build neat and clean, you will have big routing holes with rubber grommets that will hide the cables effectively. The case, fortunately, has a very big cutout on the motherboard tray which is very beneficial in installing a new CPU cooler without taking off the motherboard from the case.
This is our Editor's Choice in Best Budget Airflow Cases which you should definitely buy if you own less than $100.
---
Fractal Design Meshify C TG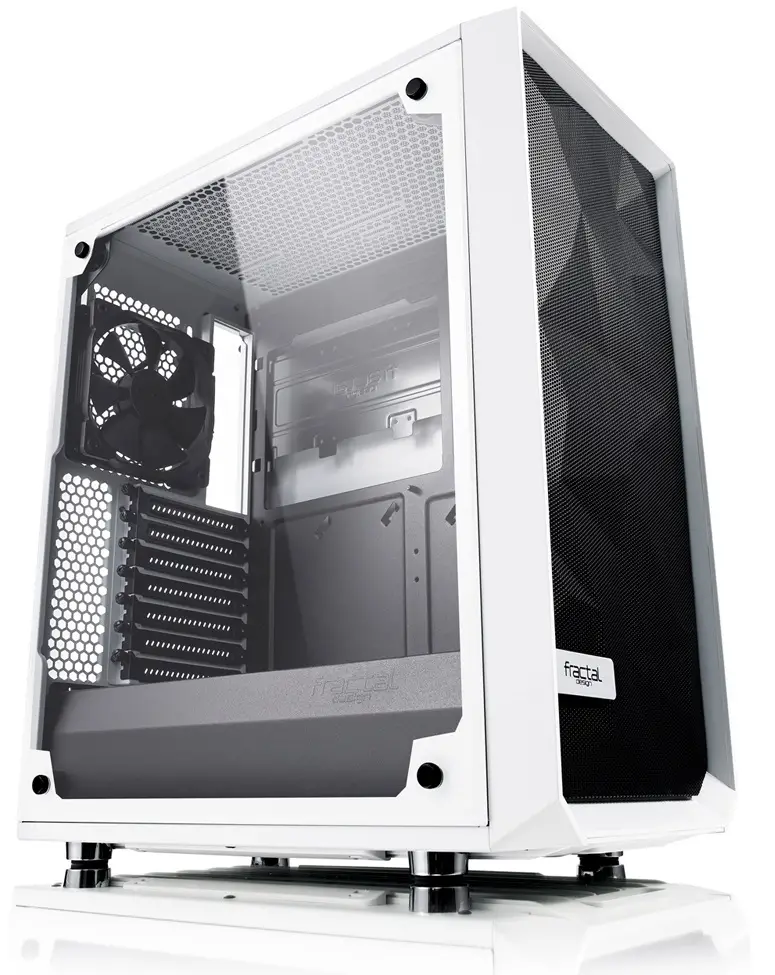 Detailed Review
If I can choose a perfect case for you under $100, then I will recommend the Fractal Design Meshify C TG is also among the best mid-tower case you can find right now. This is a deal-breaker and consists of every feature that you would want and need. The case is taller than it is wide and saves a good amount of space on the desk but this doesn't let it decrease its compatibility. It can take AIO coolers, custom liquid loops and long graphics cards. The interior and the exterior are at its best and I like the White version of this which has a white exterior and Black interior. There are a total of 5 versions of this case including a black one but I like this one the most.
The case uses an excellent design for installing the components, especially the storage devices. The full-length PSU shroud hides the power supply and can host 2x 3.5″ hard drives while the back of the motherboard tray can host 3x 2.5″ SSDs. For cable management, there are 2 big routeing holes with rubber grommets. There are also some routeing holes on the PSU shroud that are very helpful in connecting the front panel connectors to the motherboard. As for the cooling, this case doesn't hold back anywhere. The front panel features an angular design which Fractal Design claims increases the intake. There are dust filters at the front, top and bottom so that the case accumulates less dust.
Unlike the Meshify S2 case which is although bigger and packed with features, you can take advantage of good airflow by installing up to 3x 120mm/2x 140mm fans at the front, 2x 120mm/140mm fans at the top, a 1x 120mm fan at the bottom and 1x 120mm fan at the rear. The case already comes with two 120mm fans pre-installed- one at the front and one at the rear.  For AIO cooling, you can install up to 360mm radiator at the front and up to 280mm radiator at the top. Therefore, cooling wise it doesn't fall back and provides the maximum support. The material quality, as well as the aesthetics of this case, is 10/10 for the price.
---
Cooler Master MasterBox TD500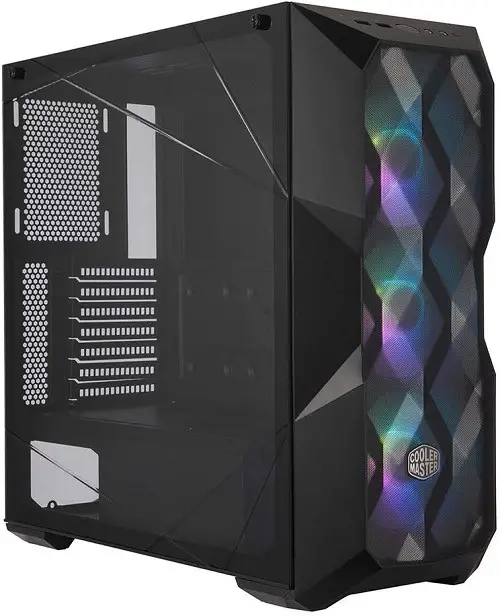 Detailed Review
The new MasterBox TD500 isn't that behind of Meshify C and features a similar front panel in order to create an ideal airflow to cool your components. While some area of the front is covered by the opaque material, there is still around 80% of the vented area that you will need to cool your chassis from inside.
It features a tempered glass side panel with some random design and has two thumbscrews on the top to secure it properly. It has a very long PSU shroud that will hide your cables and power supply but leaves sufficient space in the front for radiators to be installed. So, you can either keep those 3x 120mm ARGB fans for amazing airflow and for also maintaining the aesthetics, or you can water cool your CPU for reaching new overclocking heights.
The hot air can be exhausted through the rear and through the top by installing a single 120mm fan at the rear and up to 3x 120mm fans at the top, making the airflow balanced. For supporting your components, it has an adequate amount of clearance from CPU cooler to the graphics card and provides ample space for your cables to be managed at the back.
As there are multiple routing holes throughout the whole motherboard tray with rubber grommets in the main area, you will have no problem organizing your cables as you wish. It's therefore, definitely a worthy case to be put on this list.
There is another similar case from Cooler Master which has a little different design than this one. That is the MasterBox MB511 ARGB which features vented front panel and pre-included ARGB fans. You can check out that too if you want some alternative from Cooler Master.
---
Corsair Carbide Series Air 540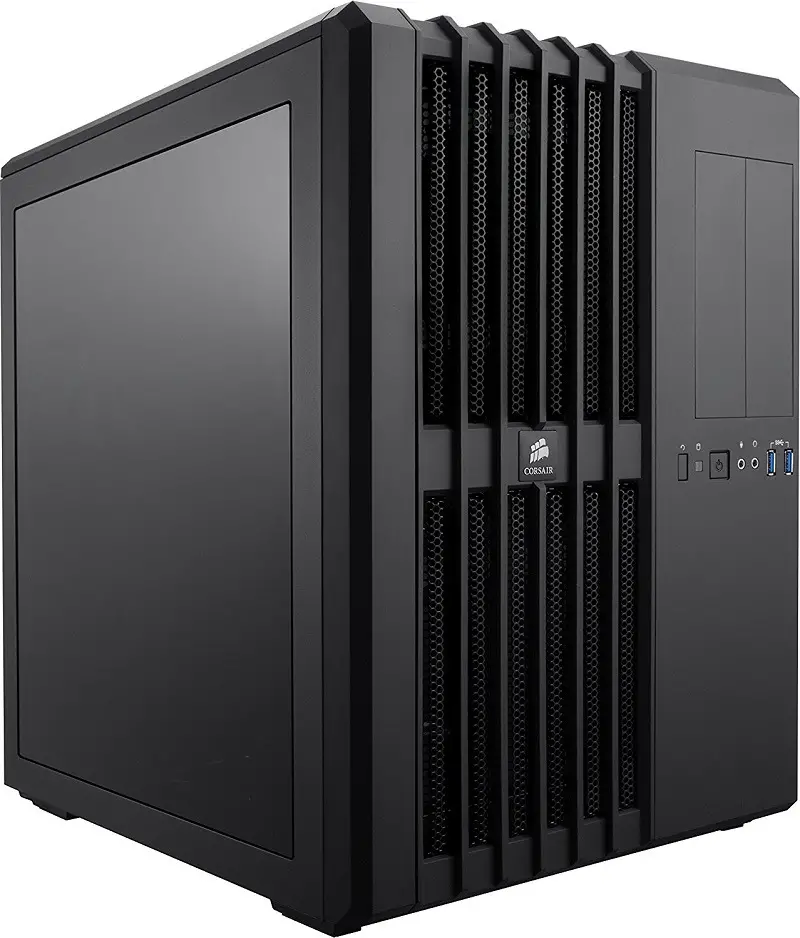 Detailed Review
When you need the cases with the best airflow then Corsair has several cases like these. Among them is the Corsair Carbide Air 540 ATX cube which also has a smaller version for mini-ITX form factor motherboards. This case is very innovative and has a unique design when comes to installing the components.
The hard drive bays and the SSD bays are at the back where the power supply will be installed and therefore only the beautiful components like graphics cards, radiator, ram, motherboard etc. will be seen through the transparent window. It can support a lot of radiators at the same time and perhaps it's much easy to do custom water cooling inside it.
For cooling, it has ventilation from front to the top and comes with pre-installed 2x 140mm Fan at the front which can be interchanged to either 3x 120mm fans or a 240/280/360mm radiator. But then you won't be able to install a very long graphics card as some clearance issue may occur. But at the top, there is a lot of space for installing even a dual-fan radiator and you can even install very thick radiators which are used for custom water loops.
This case can have 6x 120mm fans or 5x 140mm fans at the same time and supports several storage devices at the same time. As most of the wiring stuff goes at the back, cable management is very easy due to the large empty space present at the back. Rubber grommets are huge Pro in this case and are present for routeing cables from different directions. This case is all the way one of the best airflow cases right now in the market although it's not cheap and comes for around $140.
Another alternative you can go for is the Corsair 280X or Corsair 680X if you want a similar design but the airflow of that case isn't good as it uses tempered glass panels instead of ventilated or meshed panels.
---
Thermaltake Core X31 RGB Edition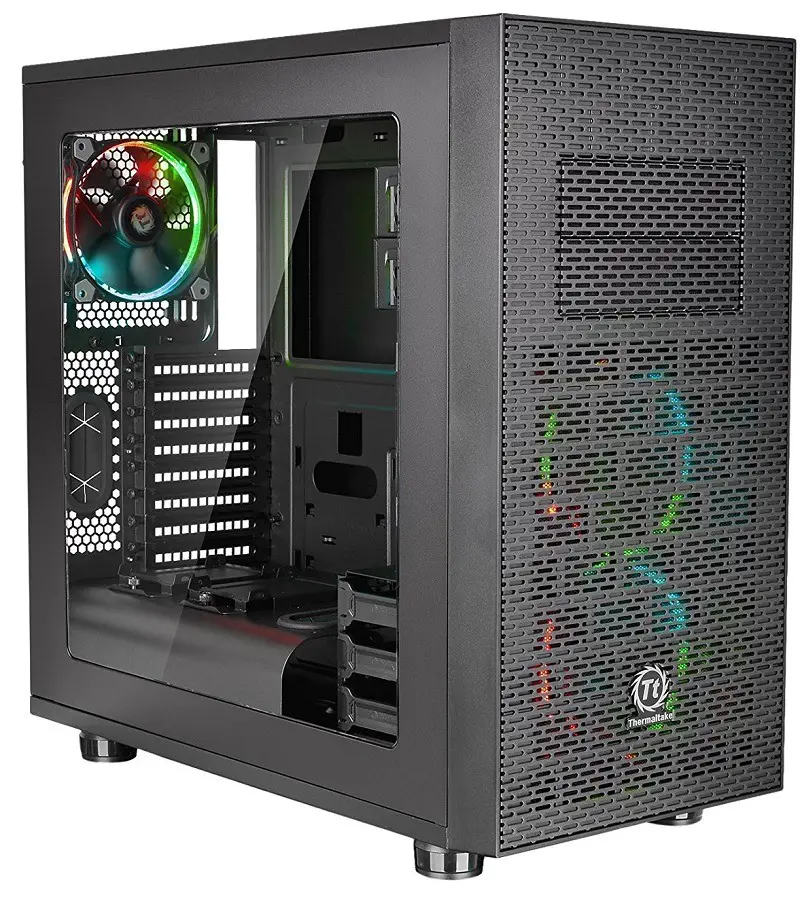 For $100, I find the Core X31 to be the best case both for airflow and customization. The reasons for choosing this case over other cases with the same amount of fan slots are modular design and better ventilation. You can take apart almost every drive cage and even the PSU shroud from it to build in it accordingly.
For people who want to do custom water loop will definitely need this case because even if you remove all the cages you will still have drive bays at the backside of the motherboard tray where you can install hard drives and SSD's. In front, you will still be left with plenty of space for custom water loop and great ventilation for sending the heat out, out of the rear and top of the case where you can install up to 4x 120mm fans collectively.
The top also supports 3x 140mm fans and has a dust filter. Not only the top but the bottom, the front also has dust filters for preventing the dust accumulation. Fan support is astonishingly not limited to the front, top and rear but you can also install up to 2x 120mm or 2x 140mm fan at the bottom beside the PSU. The airflow will be ridiculously high, in this case, leaving no room for overheating whatsoever.
For $100, This is the best case which is modular, having great airflow and also comes with 3x 120mm TT RGB fans pre-installed. I use the TT Riing fans myself in my personal rig for radiators and those are one of the best PC fans I have ever used.
---
Thermaltake Commander C36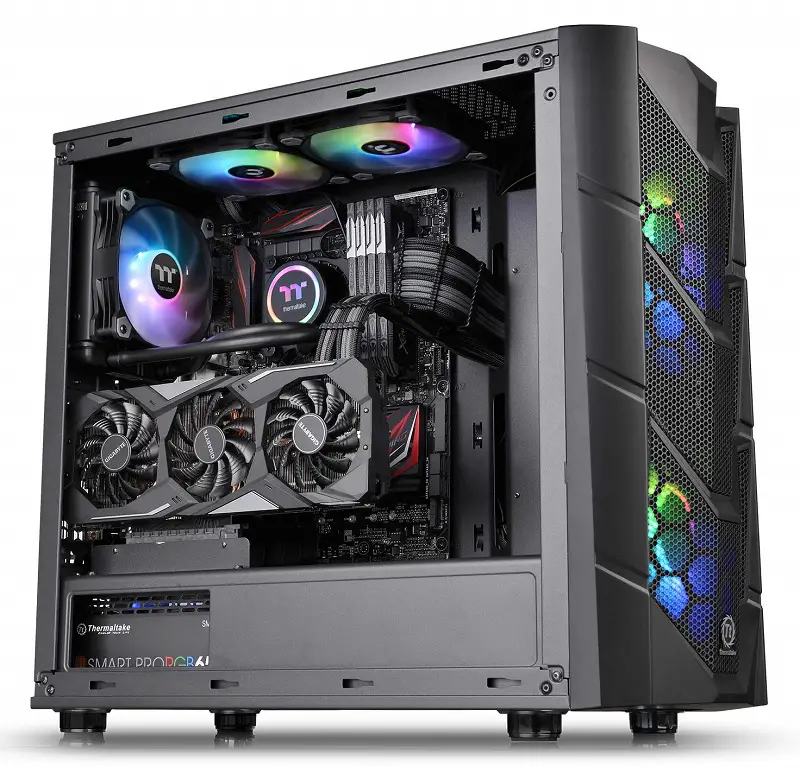 Detailed Review
While most of the cases above provide either 120mm fans or 140mm fans for cooling, the Commander C36 from Thermaltake has pre-installed 2x 200mm ARGB fans that are controllable through a controller already present inside the chassis. This case is cooled by those massive fans that draw air through the honeycomb mesh front panel while maintaining cool aesthetics.
The case comes with huge support for fans, AIO coolers as well as custom liquid solutions which will ensure that your system never gets heated up even after long hours of operation which will eventually result in better lifespan and better performance. The case has a full-length PSU shroud with a cut-off at the side to show off the PSU as well while hiding all the unnecessary stuff inside it like cables and HDDs.
For storage devices, it has 5 slots in total that can be used in different ways. You can either install 4x SSD and 1x HDD or you can have 2x SSD with 3x HDD. The case can support long graphics cards and tall CPU coolers as well if you opt for air cooling and as I mentioned above, for aesthetics the fans can be controlled using a single switch at the top which provides 8 different modes to choose from.
---
CoolerMaster MasterCase H500M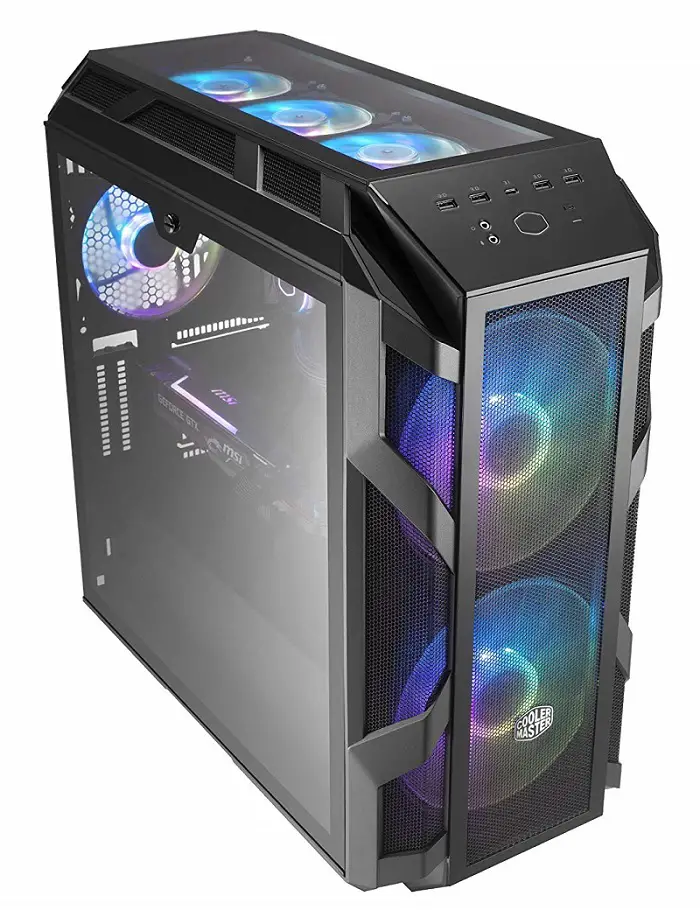 Detailed Review
Cooler Master MasterCase H500M is the revised edition of the original H500P which also got a revision for the front panel but this one adds some more features to the case which helps in both aesthetics as well as airflow. This case costs $200 due to the premium quality materials used in it and the features it has been equipped with for components support as well as cable management.
Our Senior Editor Subhanka has reviewed this case and is using it in his personal computer and believes that it lives up to its name and is worthy of being included in the Half series that CoolerMaster has specifically made for high airflow. The front panel uses a quality mesh design that features more width from the sides which results in increased airflow and the middle part can be interchanged with the glass panel if you want to limit the dust intake. In both the cases, the case performs absolutely great in terms of cooling and as the case is equipped with 2x 200mm ARGB fans, you will be enjoying both the great airflow and multiple coloured lighting effects.
Inside it, there is a lot of space for installing tall CPU coolers, AIO coolers as well as long graphics cards that will get clearance up to 412mm. It also uses a Graphics card support arm that helps the graphics card not to sag which looks odd. With a full PSU shroud, you can hide all the cables inside it and also host your hard drives which is now a norm in most mid-tower cases. Behind the motherboard tray, you will find the covers that allow you to hide cables properly even if you don't use the back panel. That's also a good addition.
There are multiple features that are still needed to be discussed but it will be better if you read our full review of this case that will let you decide if this case is worth the money or not.
---
Advantages of a good Airflow Case
Advantages are several. Not only your components remain cooler but their life also increases drastically. If you push the hardware to its limit without proper cooling, then it may fry easily and I have seen people's graphics cards fry due to lack of ventilation. I also remember my motherboard getting so hot that it made the side panel feel like burning because of the lack of the means to drive that hot air out from inside. But I remember, when I put a single case fan at the rear, that problem was solved. So, it is obvious that the more components you add, the more heat it will generate and you will need a good cooling solution for your case.
FAQ
Which fans to use in Airflow Cases?
This is a very good question. For good airflow, you don't only need good ventilated cases but also good fans that will drive out a lot of hot air from inside and also bring cooler air inside. Personally, I have used CPU fans like Thermaltake Riing SP fans, Corsair AF, SP and HD series fans, Deepcool, Cooler Master and Antec fans and I found out that the best fans among these are the Corsair AF series fans. You can literally test them with your hands. The amount of air they throw is far better than the SP series fans and Noctua NF series fans are even better. So, be sure you use only AirFlow fans from brands like Corsair or Noctua for best performance. They are very efficient and silent.
Also, more and more fans are being released on a monthly basis. So, there are a lot of new fans from Arctic, Corsair, Cooler Master and many others that will help you achieve your desired airflow in the whole system. These fans are now equipped with RGB lighting effects and have better technology which is worth every penny.
Do NZXT Cases have good airflow?
Short Answer- Most of the NZXT cases have limited airflow due to the opaque front panel and no ventilation. This is the reason we didn't include any of them on our list. But they are still good for building a PC because they bring a minimalistic design to the table.
If you want a detailed analysis, check our article- NZXT Cases and Airflow.
Are Open Air PC cases good?
Though the open-air PC cases don't have any issues of overheating, they collect a large amount of dust in a very short time which again results in higher temperatures. If you can maintain your open-air PC case properly, then there should be no problem in using one but it's hard to maintain them on a daily basis as I have used TT Core P3 myself and I was forced to change due to dust accumulation.
Or you can also create your own custom PC case by modding the front panel for more ventilation. It's difficult but it's a permanent solution to create a continuous airflow.
Does cooling your computer makes it faster?
Yes, it makes it faster on some occasions. Suppose you have overclocked your CPU or GPU and it's going close to the critical temperature, cooling it properly will result in lower temperatures that will help the CPU/GPU retaining its clock speed. If it reaches the critical temperature the CPU/GPU will automatically downclock making your system slower.