PC building is not just about assembling all the parts and going straight into your game. It is how you decide its functionality. PC heating is among the major issues that lead to lower performance and decreases PC parts' lifespan.
Airflow has been the issue in cases for many years when we saw a series of different cases with blocked airflow from the front. With the advancement of PC hardware, this issue is now fixed with airflow-specific cases that have started to enter the market regularly.
After checking out more than 50 top PC cases, I have listed around half a dozen cases that excel in airflow and will keep the performance to your expectations. On top of that, each of these comes with great components compatibility and a neat cable management system.
Best PC Cases For Airflow
---
Cougar MX330-G Pro
Buy on Amazon
Buy on Newegg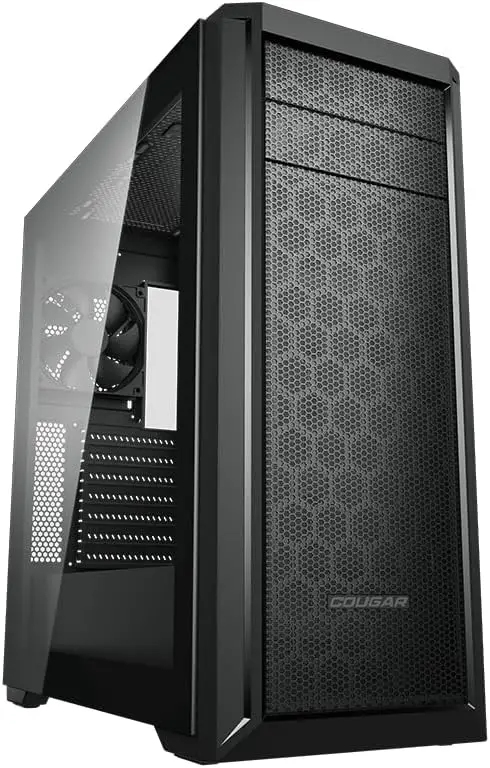 While most of the airflow cases with the latest trend of full-length PSU shroud and LED fans are expensive, Cougar has a good option for those who don't want to spend more than $60 and want all those features. The MX330-G Pro is a well-designed mid-tower chassis that is equipped with everything you would want now.
For aesthetics, you will have a screwless tempered glass side panel and along with that, you will get 3x 120mm slots for fans at the front. The case is highly ventilated from the front and uses honeycomb mesh to allow a lot of air for intake.
The top of the case too has good ventilation and provides dust-free operation with the help of a dust filter. You can install 2x 120mm more fans at the top for proper airflow which is highly recommended and you can also swap up the front fans for a radiator.
Cooler Master MasterBox TD500
Buy on Amazon
Buy on Newegg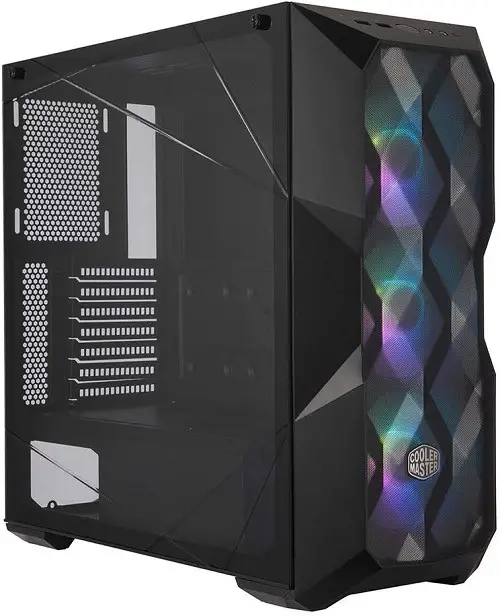 The new MasterBox TD500 isn't that behind the popular airflow cases and features a well-designed front panel in order to create an ideal airflow to cool your components. While some area of the front is covered by opaque material, there is still around 80% of the vented area that you will need to cool your chassis from inside.
It features a tempered glass side panel with some random design and has two thumbscrews on the top to secure it properly. It has a very long PSU shroud that will hide your cables and power supply but leaves sufficient space in the front for radiators to be installed. So, you can either keep those 3x 120mm ARGB fans for amazing airflow and for also maintaining the aesthetics, or you can water cool your CPU for reaching new overclocking heights.
The hot air can be exhausted through the rear and through the top by installing a single 120mm fan at the rear and up to 3x 120mm fans at the top, making the airflow balanced. For supporting your components, it has an adequate amount of clearance from the CPU cooler to the graphics card and provides ample space for your cables to be managed at the back.
There is another similar case from Cooler Master which has a little different design than this one. That is the MasterBox MB511 ARGB which features a vented front panel and pre-included ARGB fans. You can check out that too if you want some alternatives from Cooler Master.
Fractal Design Meshify 2 Compact
Buy on Amazon
Buy on Newegg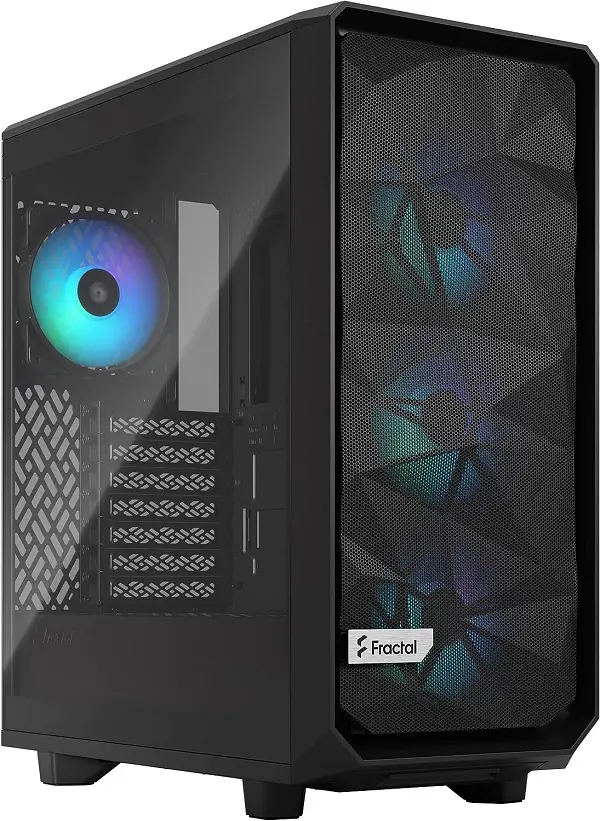 Much similar to the TD500 from Cooler Master, Meshify 2 Compact features an angular front panel mesh that increases the airflow from the front and allows the cool air to reach every part of the case. While it is the redesigned chassis on the design of the original Meshify C, it is more compact and will be best for small desks.
It comes with a fully tempered glass side panel without any screws and utilizes a bolt-free latching mechanism for easy panel removal and re-attachment. Here you will get a full-length PSU shroud to cover your storage drives and the cable mess and on the top, you get sufficient space for medium sized-components.
One of the best things about this case is that you get 4x Pre-installed ARGB fans both at the rear and the front which avoids any unnecessary purchase of chassis fans and you can start using your case right away.
Antec Performance 1 FT
Buy on Amazon
Buy on Newegg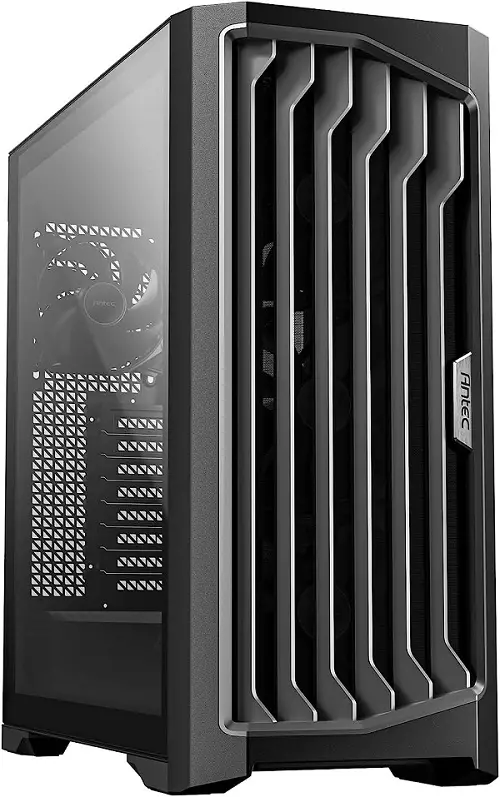 While not so cheap the Antec Performance 1FT ensures a high airflow inside the case through a fully ventilated panel and allows the air to enter from the bottom of the case. The PSU shroud is also ventilated unlike most mid-towers out there. This will make sure that your GPU also gets cool air directly from the bottom and the rest of the air can be circulated.
This is a top-notch chassis for installing bigger components including the flagship RTX 4090 Founders Edition card which is a hard-to-fit GPU in most mid-towers. That said, there is ample space inside to install a big air cooler or even AIO coolers with multiple areas for putting the radiators.
Perhaps one of the coolest features of this case is the real-time CPU temperature monitor display on top of the case which is rare in PC cases. Apart from that everything from cable management to aesthetics is satisfactory.
Thermaltake Commander C31 TG
Buy on Amazon
Buy on Newegg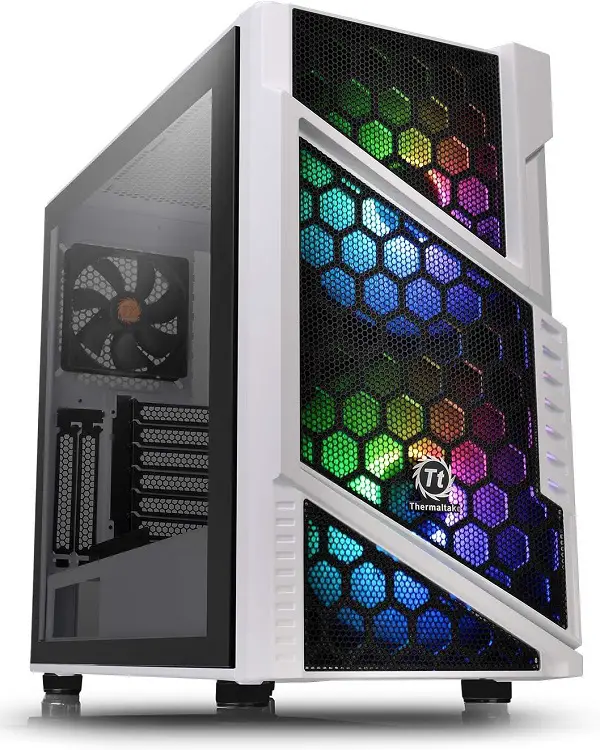 While most of the cases above provide either 120mm fans or 140mm fans for cooling, the Commander C31 from Thermaltake has pre-installed 2x 200mm ARGB fans that are controllable through a controller already present inside the chassis. This case is cooled by those massive fans that draw air through the honeycomb mesh front panel while maintaining cool aesthetics.
The case comes with huge support for fans, AIO coolers as well as custom liquid solutions which will ensure that your system never gets heated up even after long hours of operation which will eventually result in a better lifespan and better performance. The case has a full-length PSU shroud with a cut-off at the side to show off the PSU as well while hiding all the unnecessary stuff inside it like cables and HDDs.
For storage devices, it has 5 slots in total that can be used in different ways. You can either install 4x SSD and 1x HDD or you can have 2x SSD with 3x HDD. The case can support long graphics cards and tall CPU coolers as well if you opt for air cooling and as I mentioned above, for aesthetics the fans can be controlled using a single switch at the top which provides 8 different modes to choose from.
CoolerMaster MasterCase H500M
Buy on Amazon
Buy on Newegg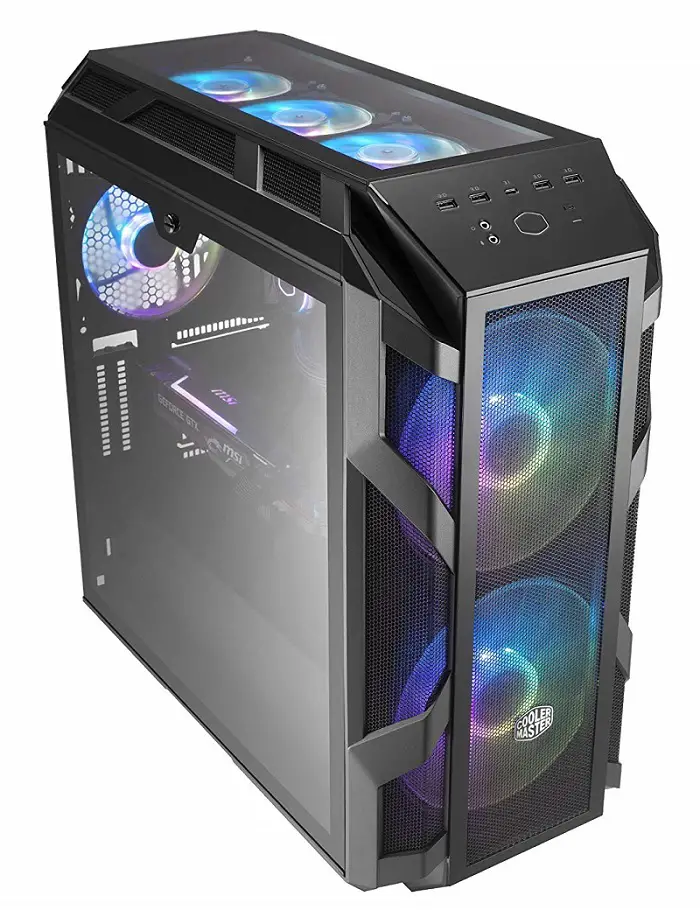 Cooler Master MasterCase H500M is the revised edition of the original H500P which also got a revision for the front panel but this one adds some more features to the case which helps in both aesthetics as well as airflow. This case costs $180 due to the premium quality materials used in it and the features it has been equipped with for components support as well as cable management.
Our Senior Editor Subhanka has reviewed this case and is using it on his personal computer and believes that it lives up to its name and is worthy of being included in the Half series that CoolerMaster has specifically made for high airflow.
The front panel uses a quality mesh design that features more width from the sides which results in increased airflow and the middle part can be interchanged with the glass panel if you want to limit the dust intake. In both cases, the case performs absolutely great in terms of cooling and as the case is equipped with 2x 200mm ARGB fans, you will be enjoying both the great airflow and multiple colored lighting effects.
Inside it, there is a lot of space for installing tall CPU coolers, AIO coolers as well as long graphics cards that will get clearance up to 412mm. There are multiple features that are still needed to be discussed but it will be better if you read our full review of this case which will let you decide if this case is worth the money or not.
NZXT H9 Flow Dual-Chamber
Buy on Amazon
Buy on Newegg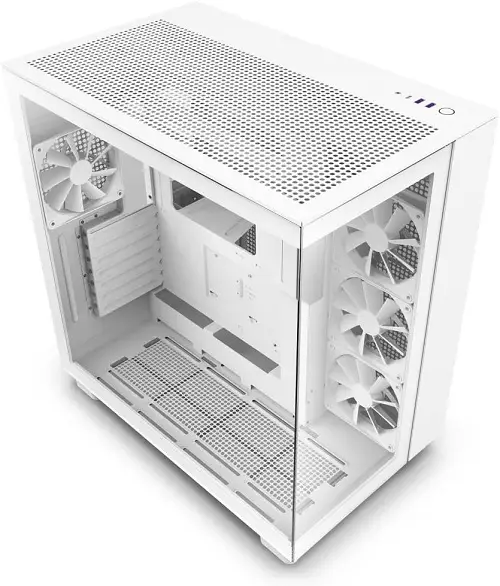 Last but not least, NZXT has succeeded in producing a case that is totally different from its standard minimalistic-looking cases. Normally NZXT cases have problems with airflow but this one is specially designed to intake the maximum amount of air through different directions.
The H9 Flow comes in a Dual-Chamber design for those who have no space issues on their desks. This case will provide the neatest build as half of the stuff is in the hidden chamber that will include your PSU, storage drives, and cables. The primary area will host the mobo, CPU cooler, GPU, and coolers allowing you to see them through the two side tempered glass panels.
Unlike a standard mid-tower chassis, here the air intake is from the side which allows installing a big AIO radiator and gives you similar slots on both top and the bottom of the case. This is the best you can get for $160 and I don't think there is any other case that can beat it for this price considering you want to have the full package.
Frequently Asked Questions
Which fans to use in Airflow Cases?
As more and more fans are being released on a monthly basis, there are a lot of new fans from Arctic, Corsair, Cooler Master, and many other brands that will help you achieve your desired airflow in the whole system. These fans are not only awesome in throwing a lot of air but are packed with features like RGB/ARGB lighting that can sync with other components.
Do NZXT Cases have good airflow?
Short Answer- Most of the NZXT cases have limited airflow due to the opaque front panel and no ventilation. This is the reason we didn't include any of them on our list. But they are still good for building a PC because they bring a minimalistic design to the table.
If you want a detailed analysis, check our article- NZXT Cases and Airflow.
Are Open Air PC cases good?
Though the open-air PC cases don't have any issues of overheating, they collect a large amount of dust in a very short time which again results in higher temperatures. If you can maintain your open-air PC case properly, then there should be no problem in using one but it's hard to maintain them on a daily basis as I have used TT Core P3 myself and I was forced to change due to dust accumulation.
Or you can also create your own custom PC case by modding the front panel for more ventilation. It's difficult but it's a permanent solution to create a continuous airflow.
Does cooling your computer make it faster?
Yes, it makes it faster on some occasions. Suppose you have overclocked your CPU or GPU and it's going close to the critical temperature, cooling it properly will result in lower temperatures that will help the CPU/GPU retain its clock speed. If it reaches the critical temperature the CPU/GPU will automatically downclock making your system slower.
Related: Best Mid-Tower Cases