If you are building yourself a gaming PC for the first time or just upgrading your PC chassis as your current chassis is not enough for your requirements, this article will provide you with the list of the best Mid-Tower PC cases that you can currently own in 2023.
The PC case catalog is expanding at a rapid pace every year but not every case makes it to the final list of "Chosen" mid-tower cases. This is due to several factors that include compatibility issues, not enough airflow, low-quality material, etc.
The following list is made up of only those mid-tower cases that fulfill almost all the demands of a PC user and personally having some good experiences with different types of cases, I can advise you on what you should look for.
So, without wasting any more time, let's start with the first one.
Phanteks Eclipse G360A
Buy on Amazon
Buy on Newegg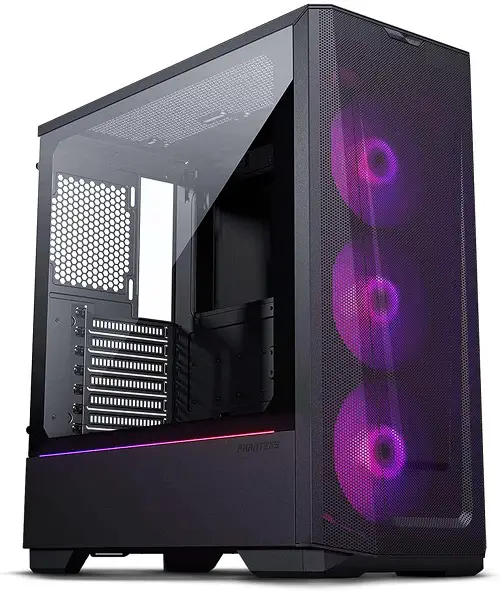 Eclipse G360A is simply one of the best if not the best budget mid-tower case right now. The case has enough space to work with and can accommodate a lot of intermediate-sized components that include up to 160mm CPU cooler in height and up to 400mm long graphics card.
The case has a full-length PSU shroud to hide all of your extra cables and mess that you don't want to show. In it, you can install radiators up to 280mm in size at the front and up to 240mm at the top. There is enough clearance in both places but it will be better to install at the front as the front panel here is fully ventilated to bring a lot of cool air from the front.
The case comes with three 120mm D-RGB fans pre-installed at the front panel and it is recommended to install at least one fan at the rear and one/two more fans at the top if extra cooling is required. Both the front and top panels have enough ventilation to make a balanced airflow which will benefit you in summer.
The back of the case is where most people find it difficult when building a PC and mostly it is due to cable management. Phanteks has equipped this case with enough clearance near the front panel where you can find two velcro straps to hold your thick cables. This is indeed very handy and from that very area, cables like the 24-pin ATX motherboard cable, front-panel USB 3.0 cable, and other wires can be routed successfully to the motherboard.
If you want cables from the bottom or top, the PSU shroud and motherboard plate provide a few more routing holes that although aren't big but will get the job done. Considering its cost which is only $99, minor issues like these can be ignored.
NZXT H510 Flow
Buy on Amazon
Buy on Newegg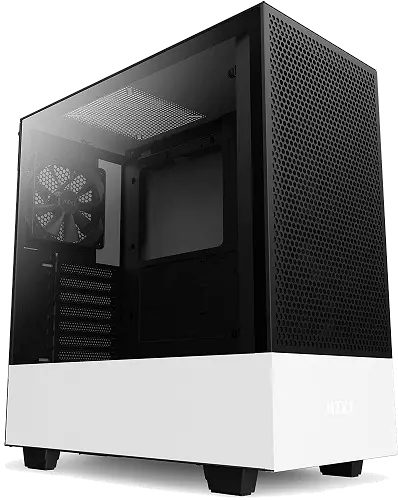 NZXT H510 Flow follows almost the same route as the Eclipse P360A except that it is much different in design. This is inspired by the original NZXT S340 from 2014 but several new changes have been made since then. This particular edition is what you should look for if you want one of the best mid-tower cases under $100.
It's certainly not the best airflow case but due to having a newly designed fully ventilated front panel, it can have a good amount of cool air for intake. The case looks simple yet modernistic and uses good quality material for its build mostly which is SGCC Steel and a side tempered glass panel. The standard way of opening the side panel is also changed from 4 thumbscrews to just one at the back.
Cable management is also a breeze in it and unlike most cases, it comes with a metal bar near the front panel that hides all the cables perfectly and no matter where you want to route your cables from, that metal bar will hide them well. At the back, NZXT has equipped it with a special cable management section where you can fit your cables and secure them through the velcro straps.
There are two SATA SSD mounting brackets at the back which is the only CON it has against the Eclipse P360A which has 3. Nonetheless, you can use the drive bay inside the PSU shroud to install either SATA SSD or SATA hard drives.
Be Quiet! Pure Base 500DX
Buy on Amazon
Buy on Newegg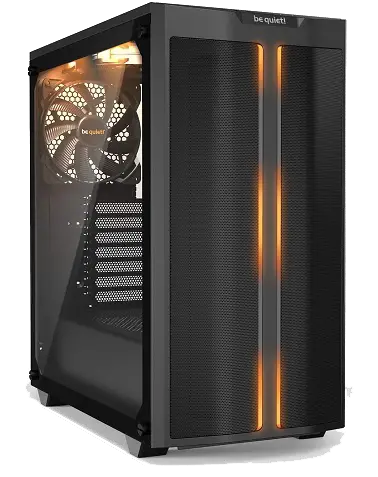 Pure Base 500DX type of cases are hard to find. It is a combination of great aesthetics, silent operation, and good compatibility. Unlike most cases, here the cable management system differs with the help of a detachable cover near the front panel.
This cover holds your SATA SSDs and at the same time hides the cables coming from the front. Although it doesn't feature Velcro straps at the back, you can use Zip ties to secure cables and if you want to route cables through the top and bottom, you can do so easily.
Cable clearance might not be comparable to that of NZXT H510 Flow or Phanteks Eclipse P360A but compatibility with the components is really amazing. You can install a 360mm radiator at the front or you can just keep the three 120mm Pure Wings 2 fans that come pre-installed in it. The front panel is fully ventilated and is easy to clean as it is made up of solid plastic.
Right in the center, two RGB LED lines run from the top to the bottom to increase its looks which is unique to this case and can be controlled using the button on the top. Moreover, you can sync all the components with RGB lights with these LED lines.
For storage, this case might be unbeatable for its price. Apart from the cable cover, you can also install two more SSDs at the back and two more in the hard drive bay at the bottom which really gives you an upper hand over the two cases previously mentioned. At a cost of nearly $100, it is worth every cent.
Musetex TW8-S6-B
Buy on Amazon
Buy on Newegg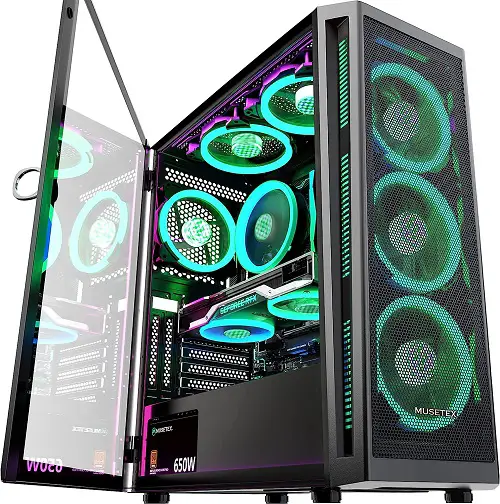 It is not always the truth that only cases from popular brands are good. Sometimes, the underdog brands outperform bigger ones when it comes to the price-to-performance ratio. Musetex mid-tower case's biggest advantage is the pre-installed fans. Not two or three but 6x 120mm fans, that too ARGB that are controllable through a button on top that can switch through 19 different modes. This is enough for many to prefer this case for around $100 considering that other features of the case are good as most budget mid-tower cases are under $100.
This is definitely the best budget mid-tower case due to its compactness which at the same time doesn't hinder the installation of components. You can install long graphics cards measuring up to 325mm and up to 5x SSDs. The PSU shroud extends towards the front but that doesn't allow you to install a radiator at the front which is definitely a big CON if you like to install an AIO rad at the front instead of the top for cool air intake. Anyways, if you prefer the top panel, then you can install up to 280mm rad at the top.
The next best thing about it is the side-tempered glass opening and closing mechanism. Musetex has dropped the thumbscrew idea completely and the panel opens through a simple circular latch while still attached to the other side like a window.
MSI MPG GUNGNIR 110R
Buy on Amazon
Buy on Newegg
If I were to buy a mid-tower for myself, it would be the GUNGNIR 110R. Hands down it has the best design whether you consider its interior or exterior. Unlike most cases, the case is elevated a little bit to allow cool air to come from the bottom. It avoids suffocation for the PSU and makes it easy to clean your desk.
From the inside, I just fell in love with this case. It features a big motherboard cut-out that eases the process of changing the CPU cooler without removing your motherboard altogether. Routing cables is also easiest due to the big routing holes present on the top, side, and PSU shroud. Build quality is also fantastic with reliable and durable material and its best-looking part is the front panel.
It comes with a triangular design where half the front panel is covered with opaque material and half with tempered glass. The problem with this design is that the airflow is reduced to only from the top, bottom, and sides whereas we know that the front area is the best for cool air intake.
Nonetheless, it is the only major CON I find in this case but personally, I would still go with this one if I had $100 in my pocket.
Cooler Master MasterBox TD500 Mesh
Buy on Amazon
Buy on Newegg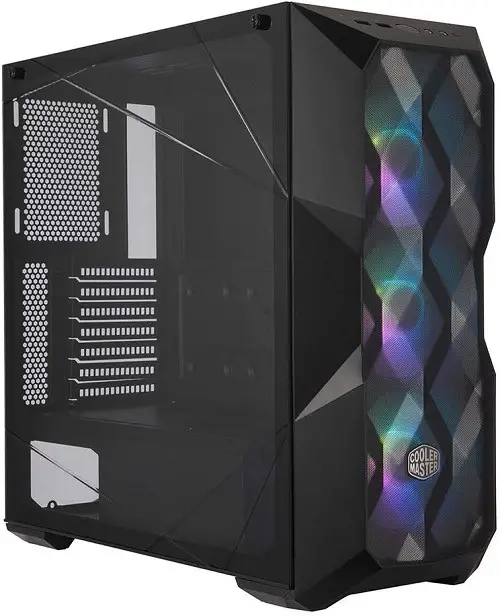 I believe that MasterBox TD500 Mesh is one of the best cases for AIO and water coolers. Whether you want to install a 240, 280, or 360mm rad, it is super smooth in this case. The front panel design allows installing radiators easy as the radiators won't be occupying space inside but rather only the front panel. This allows a lot of space inside the case to work with and cable management becomes a breeze.
Also, the front panel allows a lot of intake air as the panel is fully vented and designed with polygonal mesh. The case comes with 3x 120mm ARGB fans pre-installed and you only need to buy fans for the exhaust.
There are multiple rubber grommet-covered routing holes that make cable management easy and there is still enough space left on the right to do a custom water loop. The PSU shroud doesn't end at the front but provides ample space in the front if you want to install even thicker radiators.
For installing storage drives, you have dual slots for 2.5″ SATA SSDs at the back and dual 3.5″ cages for SATA hard drives or SSDs in the PSU shroud.
Corsair iCUE 5000X RGB
Buy on Amazon
Buy on Newegg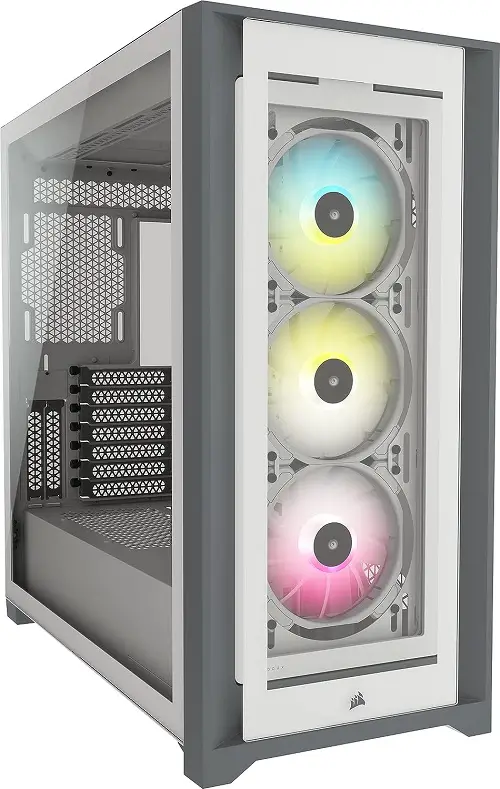 iCUE 5000X RGB is a highly modular chassis with premium build quality. Not many cases come with PSU shrouds in two pieces where one piece can be removed or added based on your preference for installing radiators or fans. For installing radiators, there are two options too. Whether you want a different look or you want more cooling performance, you can switch the side for installing your radiator at the front or at the side panel near the front panel.
It is also perfect for installing AIO coolers on the CPU or even for installing liquid-cooled graphics cards. Both the top and front support up to 360mm radiators and the case comes with 3x 120mm pre-installed SP RGB Elite fans out of the box. These are controllable via the iCUE Lightning Node CORE that comes with the case and you can further customize each fan through Corsair iCUE software.
Not to mention, the case has a fantastic cable management system at the back where you can use multiple velcro straps to secure your cables in one place. This case is bigger than most mid-towers featuring dimensions of 520mm x 520mm x 248mm(LxHxW)and should be as you will be paying a premium price of $190.
Cooler Master MasterCase H500M ARGB
Buy on Amazon
Buy on Newegg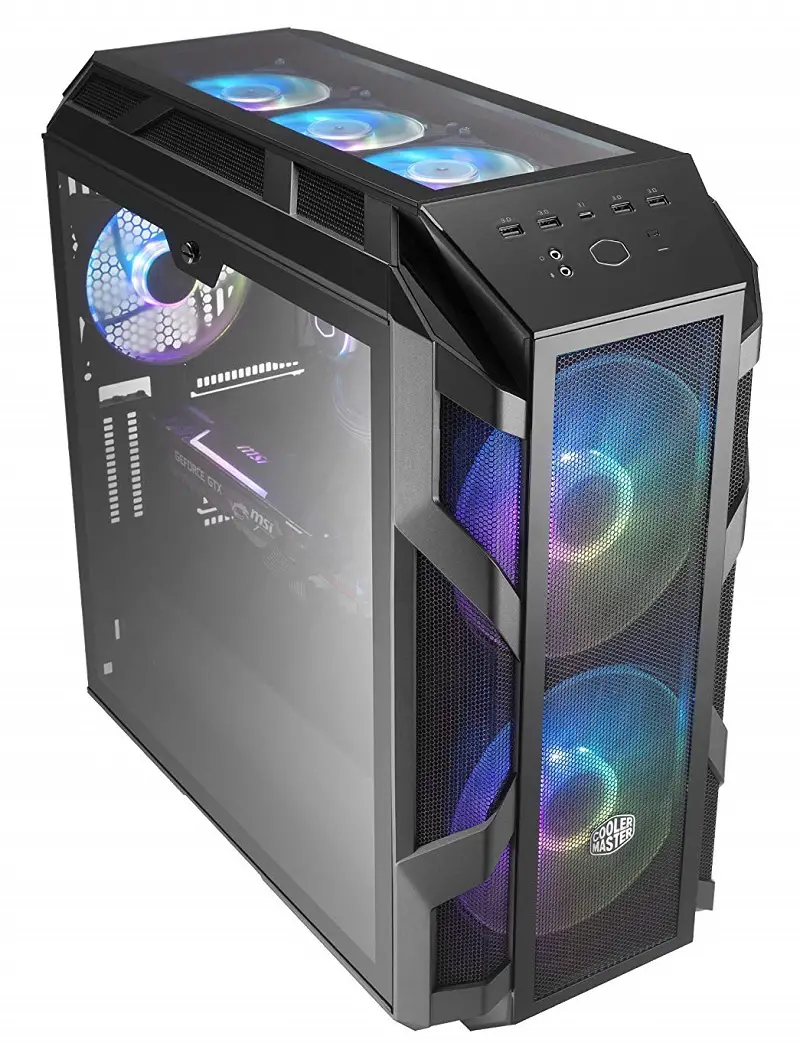 Lastly, the king of all mid-towers, the MasterCase H500M ARGB is where your search should stop. If you are not satisfied with any of the above-listed mid-towers for your needs, then maybe H500M will give you what you are looking for. Our Senior Editor Subhanka has reviewed this case and according to him, it hardly has any noticeable flaws.
The case is big and comes with an exceptional cable management system. The case comes with a cable cover at the back which not only hides the cables from sight but also eases the process of securing the back panel smoothly. However, the best feature of this case is the airflow. The failure of the original H500P was due to the blocking of intake air through the non-vented front panel. Cooler Master redesigned that case and here we have a fully vented front panel that helps those massive dual 200mm ARGB fans to draw a lot of cool air inside.
Additional features such as vertical GPU mount and GPU support stand are also provided to let you install GPU vertically and to eliminate any GPU sag. This case is definitely on top of the line and the best value premium option if you are willing to pay $180.