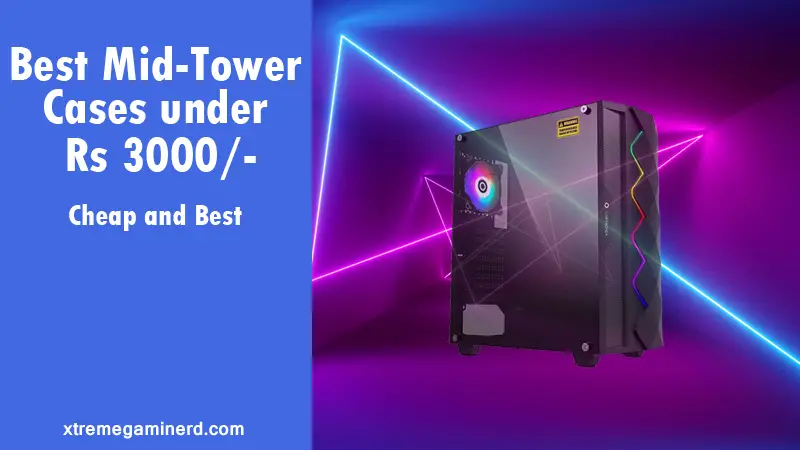 Most of us know how good the mid-tower cases are that are made by huge brands like Cooler Master, Corsair, Thermaltake, and NZXT. The only thing that deters us from buying those cases is the shortage of money. Generally speaking, a good mid-tower case from these brands will cost at least Rs 5000 and can easily go up to Rs 20,000 which is insane considering the fact that most of us have the budget to build a budget Gaming PC which has a cost starting from Rs 20,000 up to Rs 40,000.
Yes, there are enthusiasts too but they don't need advice on choosing the best case under Rs 3000 as they are able to buy an expensive mid-tower case. This article is for only those gamers who want to get the best of aesthetics and functionality in a case in just under Rs 3000. A Rs 3000 case may seem like a poor choice but currently, there are so many good options online that it will actually become difficult for you to choose from them. Most of them have differences here and there a little bit but those will matter the most when you start building your PC.
This is where I suggest you to read the reviews of what I believe you should be taken care of when choosing the right mid-tower case to avoid the mistakes I did when I started to build my own gaming systems. If you want detailed advice, then you can watch my video below which is in Hindi and make your choice accordingly but I suggest you to also check out the recommendations in this list as the video is gonna be there for a while but the article changes regularly according to the options available online especially on Amazon.in.
Top 5 Mid-Tower Cases Under Rs 3000/-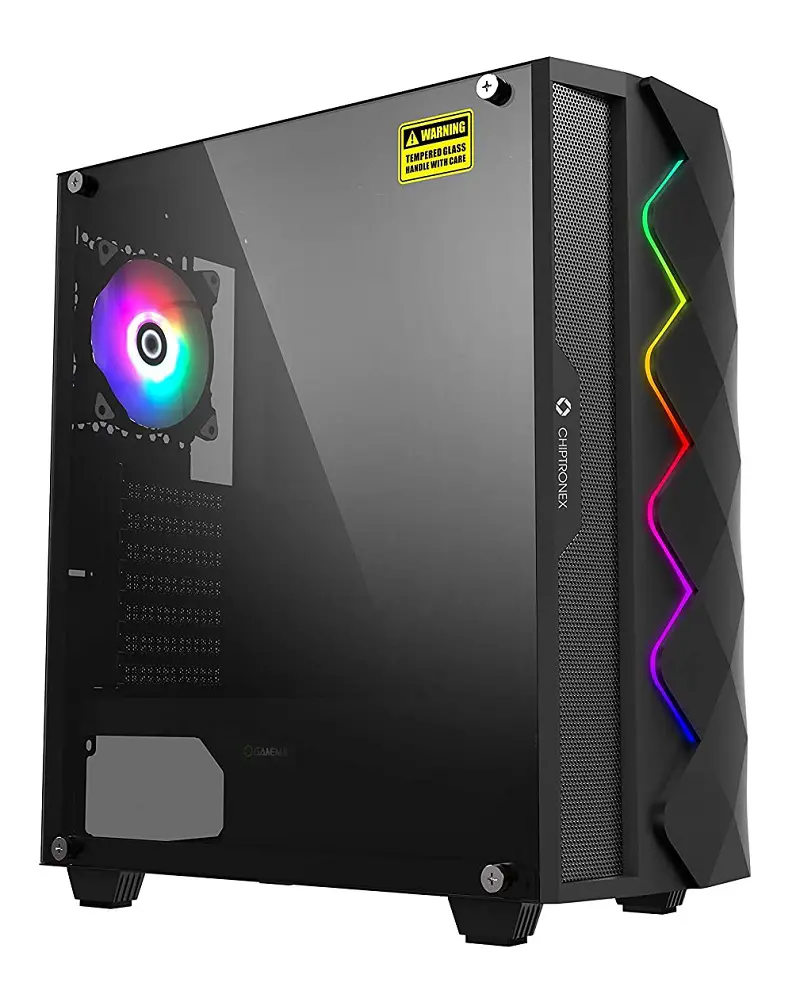 Chiptronex Spline RGB mid-tower case surprisingly brings some premium features which no other Rs 3000 case brings to the table. That includes a big motherboard tray cutout and a GPU bracket. Although GPU bracket is additional and not compulsory but this shows that the manufacturer has made it keeping in mind that you can also build a powerful gaming system in it using a heavy graphics card.
Graphics cards generally sag due to weight if they use a heavy heatsink and if its fans are either big or are 2-3 in quantity. The motherboard tray cutout in it shows how identical it is to the Phanteks P400 and the cable management system is also very much similar. While the P400 is more expensive, it also brings some good quality material not present in the Spline RGB and that's totally fine considering its price.
This case also features an RGB LED strip at the front panel case and 30% of the panel using a ventilated area for air intake. The case also has an RGB pre-installed fan at the rear and space for installing 2x 120mm fans at the top and 3x 120mm fans at the front. For aesthetics, it features a 4mm tempered glass panel that is secured by thumbscrews and a full PSU shroud to cover all of your unused cables, power supply, and hard drives.
It has enough clearance at the back for managing cable which is very much needed for a neat and tidy PC build and I suggest that if you have Rs 3000 in your pocket, then just go for this case except if you are really short of cash then I would suggest taking a look at cases listed below that will save you a couple of hundred rupees.
---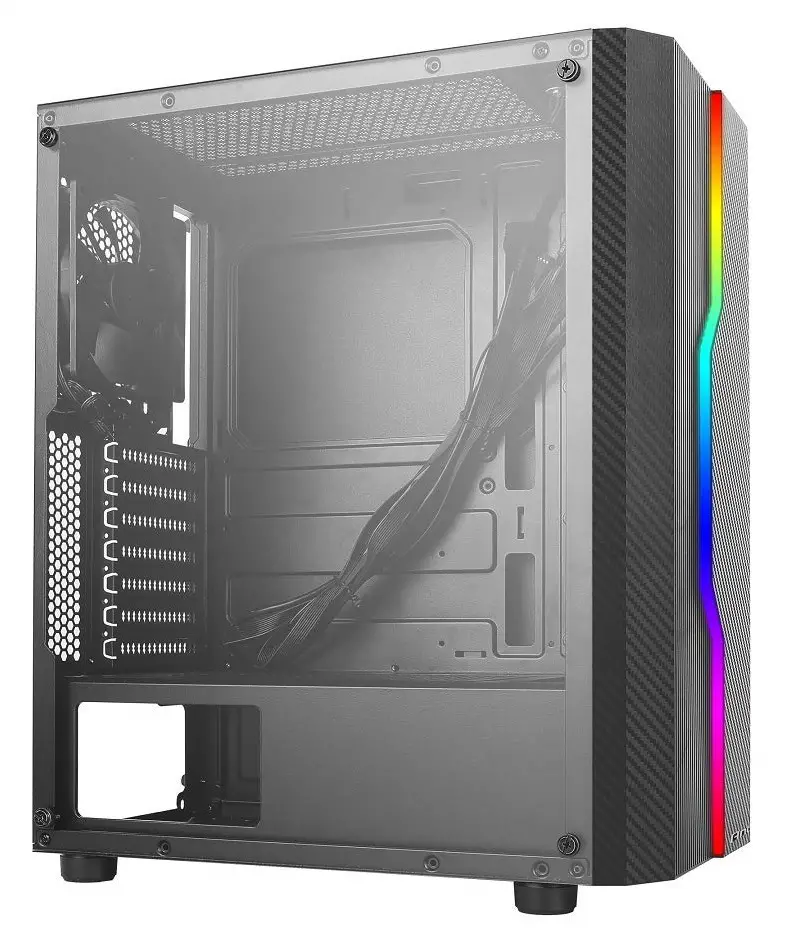 Antec unlike the other unpopular brands on the list is definitely ahead in producing budget cases and this NX230 NX is an ideal example of how a Rs 3000 case should be. It not only is able to equip all of your components that include tall CPU coolers with up to 160mm in height and long graphics cards up to 300mm in length but is also very compact.
The case has a big motherboard tray cutout for installing custom CPU coolers without taking your motherboard out and has routing holes at appropriate places. The only issue is that it would have been better if the routing holes are bigger. Two routing holes which are at the top are not found in every cheap mid-tower case which is necessary for connecting the EPS connector cable and connecting chassis fans from other sides if your motherboard has 2 or more fan headers at the top right.
It has an RGB LED strip at the front along with a greatly ventilated half front panel which will throw a lot of cool air inside if you install 2 or more 120mm fans. For exhaust, a non-LED fan is also pre-installed at the rear and you can install up to 2 more 120mm fans at the top for a balanced airflow system.
Related:- Cool down a hot graphics card in 6 easy steps
---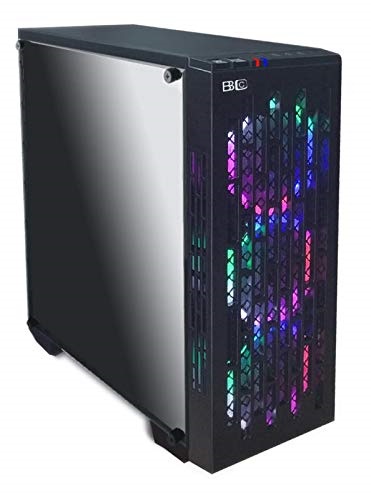 For massive airflow and to eliminate all the possible overheating issues, I suggest you go for this BBC-8867 Gaming mid-tower chassis that features a greatly ventilated front panel that has ventilation at the front as well as sides. This will ensure that if you install fans at the front which are not included with the case, your system will run cooler even in very hot summers.
The case features an acrylic side panel that is easy to handle and is secured by thumbscrews. From inside, it has enough space for installing long graphics cards, decent tall CPU coolers, and has a couple of routing holes at appropriate places for easy cable management. It too has good clearance as compared to most of the mid-tower chassis under Rs 3000 and you can tie them using a zip tie at the back for a neat build. You can refer to our guide on cable management to learn how to do it properly.
This case will cost you around Rs 2400 on the date of writing of this article and will be ideal for a budget gaming build in terms of functionality and aesthetics. As compared to all the cases on the list, this one has the most airflow capability but remember that your total cost will increase as you will have to buy fans separately. Also, there is one more major CON which I believe can affect the cooling. It's the lack of fan slot at the top. While the rear fan will be Ok for dissipating most of the hot air generated inside, it won't be as effective in exhausting hot air as other cases in this list but regardless of this I still consider it as one of the top airflow cases for under Rs 3000.
---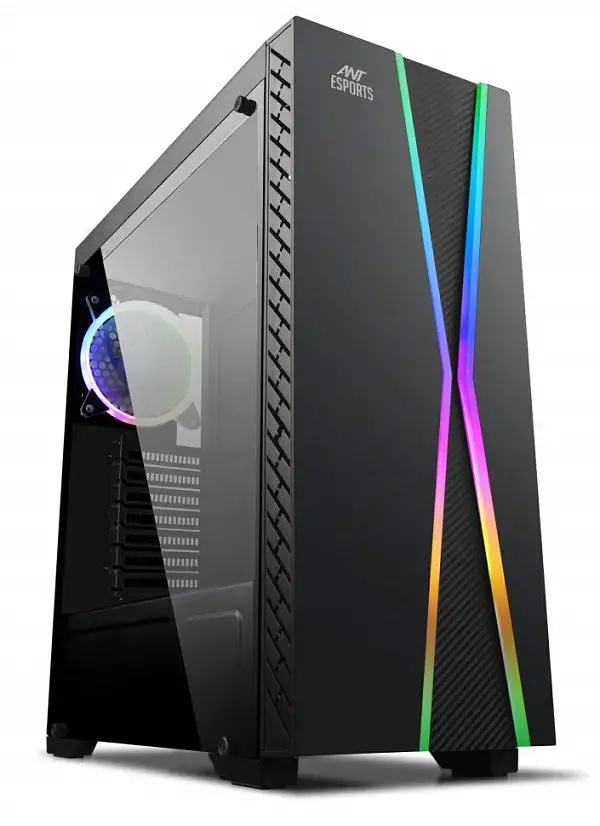 ICE-200TG from Ant Esports has good hundreds of positive reviews on Amazon.in and is worthy of your buy for under Rs 3000. The case has very pleasing aesthetics that includes two RGB LED strips at the front that make a good design along with the zigzag pattern in between. The front panel has ventilation at the sides but unfortunately can't take cool air inside directly from the front, so as compared to the BBC-8867, it's airflow will be low but still sufficient if you are going to use a custom CPU cooler and one or two fans at the front and better if you add two or at least one fan at the top for exhaust.
It too has a full-length PSU shroud that will hide your power supply, cables, and hard drives. You can also install 2x SSDs at the back and there are more than enough routing holes to manage your cables properly. The case, however, I think lacks the cable routing hole at the top left side from where you can connect the EPS connector on your motherboard which is present in the Chiptronex Spline RGB case. It's important for a neat build and also because many budget power supplies don't have enough long EPS cable to route through the back diagonally.
On its PSU shroud, you will find two cutouts for cable routing and that is what you will need for connecting the front panel cables and PCI cable to the graphics card without creating a mess inside. It's also capable of equipping radiators at the front, thanks to the clearance provided at the front of the PSU shroud. Don't forget to check out the detailed review of this case in my vide listed at the beginning of this article.
---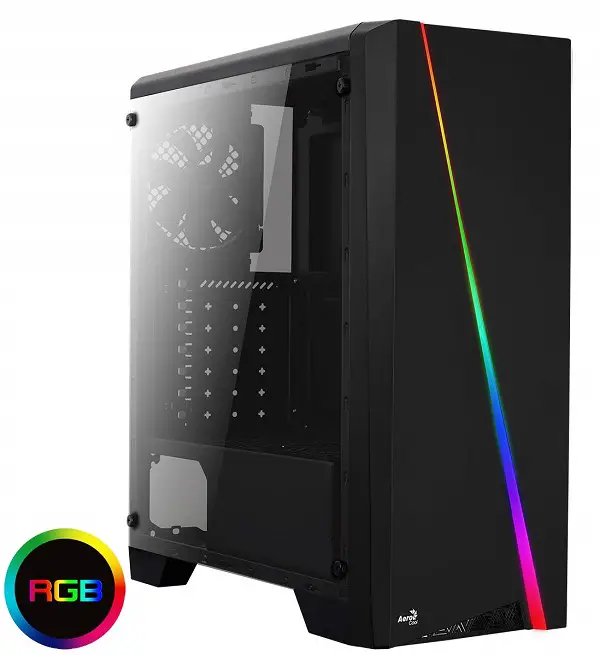 Aerocool Cylon RGB is not the best choice for Rs 3000 but definitely better than all the other cases under Rs 3000 except the 4 mentioned above it. There are some minor things which I dislike in this case but overall it is very comparable to the 4 cases listed above. It has a LED RGB strip at the front and a little ventilation at the bottom which is what I don't like. There is no other ventilated area on the front panel due to which it isn't recommended for a high-end PC build with radiators and overclocking.
The case, however, has a good interior with enough space to install decent sized CPU coolers and long graphics cards. It has a PSU shroud that is almost touching the front panel. In the front due to lack of enough clearance, you can only install 3x 120mm fans instead of a 360mm or a 240mm radiator but you can definitely install a 120mm radiator.
At the top, you can install a single 120mm fan but almost every case above it can have 2x 120mm fans installed at the top. The case, however, has support on the PSU shroud for installing 2x 120mm fans but I wouldn't recommend these except if your graphics card is overheating. These are the only cons I find in this case but the support for storage drives is better than any other case on the list with up to 3x 2.5″ drives and 2x 3.5″ drives. You can also install up to 3x 2.5″ drives if you are skipping the hard drives.
---
Conclusion
I have checked dozens of cases under Rs 3000 and around 8-9 cases I have reviewed in the video. These are the top 5 cases I have found out to be the best for the price. Do leave a comment on what do you think about these cases or even if you have something to discuss. You can also leave out your query below if you need some suggestions.