Guides
Types of motherboard- Computer motherboard Guide
The component motherboard is named "Mother" Board because it connects everything to each other and in this post, I am going to talk about computer motherboards in specific. Although there are so many varieties of motherboards you can find on electronics store, the most common are 4 types. If you are going to build a PC or just want to know which types of motherboards are the most popular and what they do, then I will explain each type with an easy explanation. As I said, there are 4 types of motherboards which are generally used in PCs which are as follows:-
1. Mini-ITX
2. Micro-ATX
3. ATX
4. E-ATX
These are the common terms which represent their form factors. Form factors represent the sizes of the boards and their features. The smaller the board is, the lesser the features are. This is a common thing but there are exceptions where you can find more features on a smaller board than on a bigger one.
Let me explain how each one of these looks and what features they generally have.
Mini-ITX motherboard
From the name itself, you can guess the size. Generally, it's smallest form factor which is used in PCs people use for day to day purpose. Take a look at how a modern Mini-ITX motherboard looks:-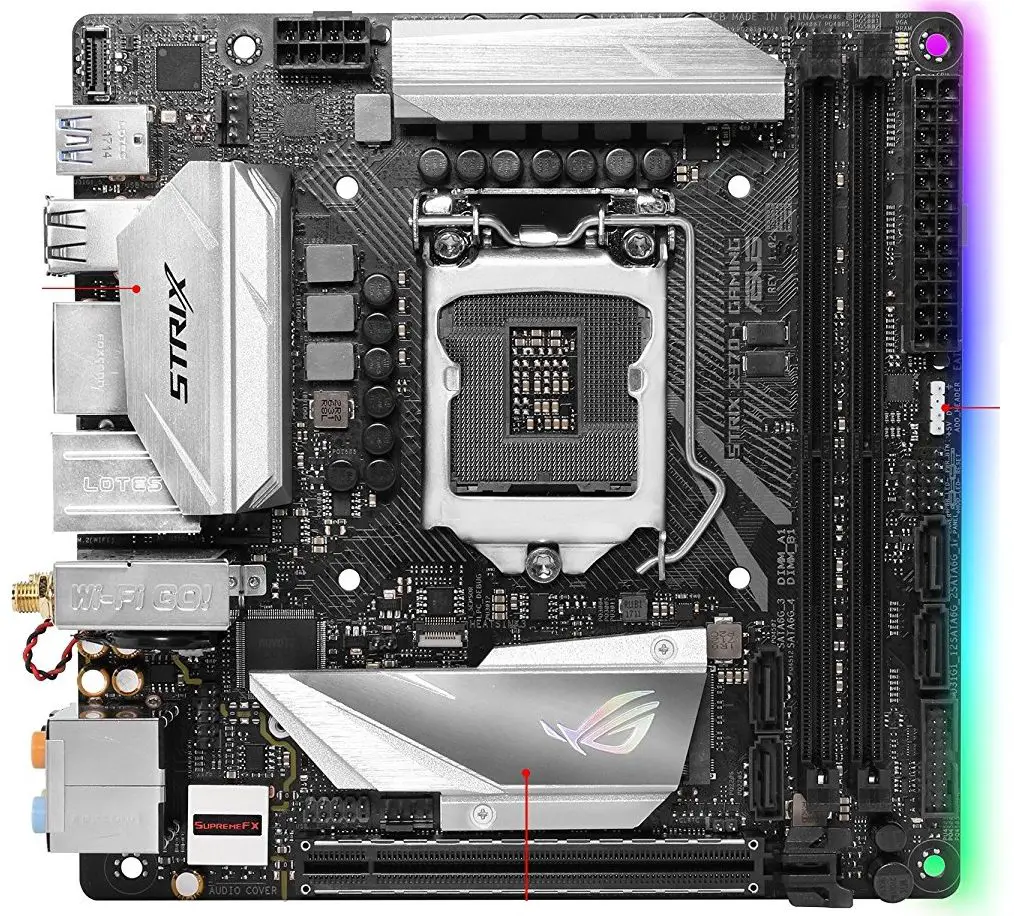 This is a very small motherboard which has limited features but not necessarily the minimum. A Mini-ITX motherboard measures around 17x 17 CM or 6.7 x 6.7 Inch in dimensions. Computer cases which support Mini-ITX motherboards will have the screw holes at the exact same position no matter which case you buy and these dimensions are fixed.
Why a Mini-ITX is motherboard used?
Mini-ITX motherboard is used to save as much as space possible providing all the basic features a bigger board can provide. Some people prefer building a PC in a Mini-ITX case which is also much smaller than an ATX case and provides a compact solution to those who don't have enough space for their PCs.
Features
A modern Mini-ITX motherboard sports the same sized socket as a bigger board but some ports and slots are decreased in quantity. There will be never more than 1x PCI-Ex 16 Slot on a Mini-ITX motherboard and never more than 2x DIMM Slots for memory. Almost every ITX board has only 4x SATA ports for storage and a few Fan headers. But features like Overclocking may vary. Basic budget ITX motherboards don't have unlocked chipsets but expensive one may have unlocked chipsets which are used for overclocking the processors.
Micro-ATX motherboard
A Micro-ATX motherboard is bigger than the ITX motherboard and smaller than an ATX motherboard. Generally, it has dimensions as 24.4 x 24.4 CM or 9.6 x 9.6 Inches. But some motherboards may have dimensions as 9.6 x 8.1 Inches or 24.4 x 20.6 CM depending upon the slots and ports they come with. A modern mid-high end Micro-ATX motherboard looks like following:-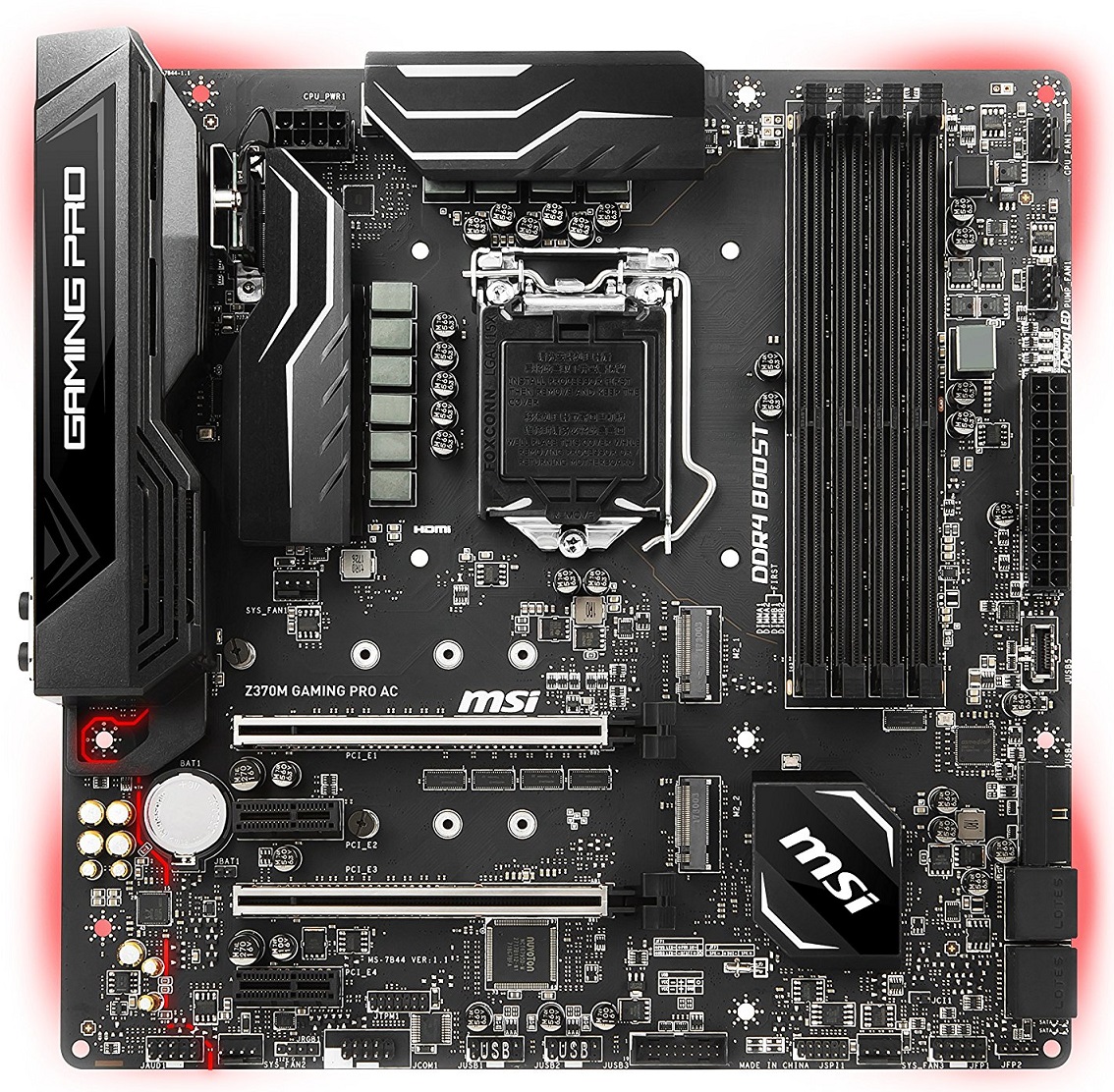 Why a Micro-ATX is motherboard used?
A Micro-ATX motherboard serves both the purpose of good features and compactness. As it is bigger than an ITX motherboard, it sports more slots and ports while remaining smaller than a Full ATX motherboard. The size also varies making it a flexible form factor.
Features
Depending upon the dimensions the number of PCI slots and Memory slots differs in quantity. A Micro-ATX board can either have 2x DIMM slots OR 4x DIMM slots which makes it wider or narrower. Similarly, a particular Micro-ATX board can have only 1x PCI-Ex 16 slot but the other one can have up to 3x PCI-Ex 16 slots. These boards come in a variety of features ranging from budget to high-end having great VRM section, big heatsinks, more fan headers and more storage facilities.
ATX Motherboard
The standard ATX form factor is the most popular because it has every feature which can fulfil almost every requirement, be it for a gaming or productivity. An ATX motherboard is larger than a Micro-ATX and smaller than an E-ATX motherboard. A modern ATX motherboard looks like as follows:-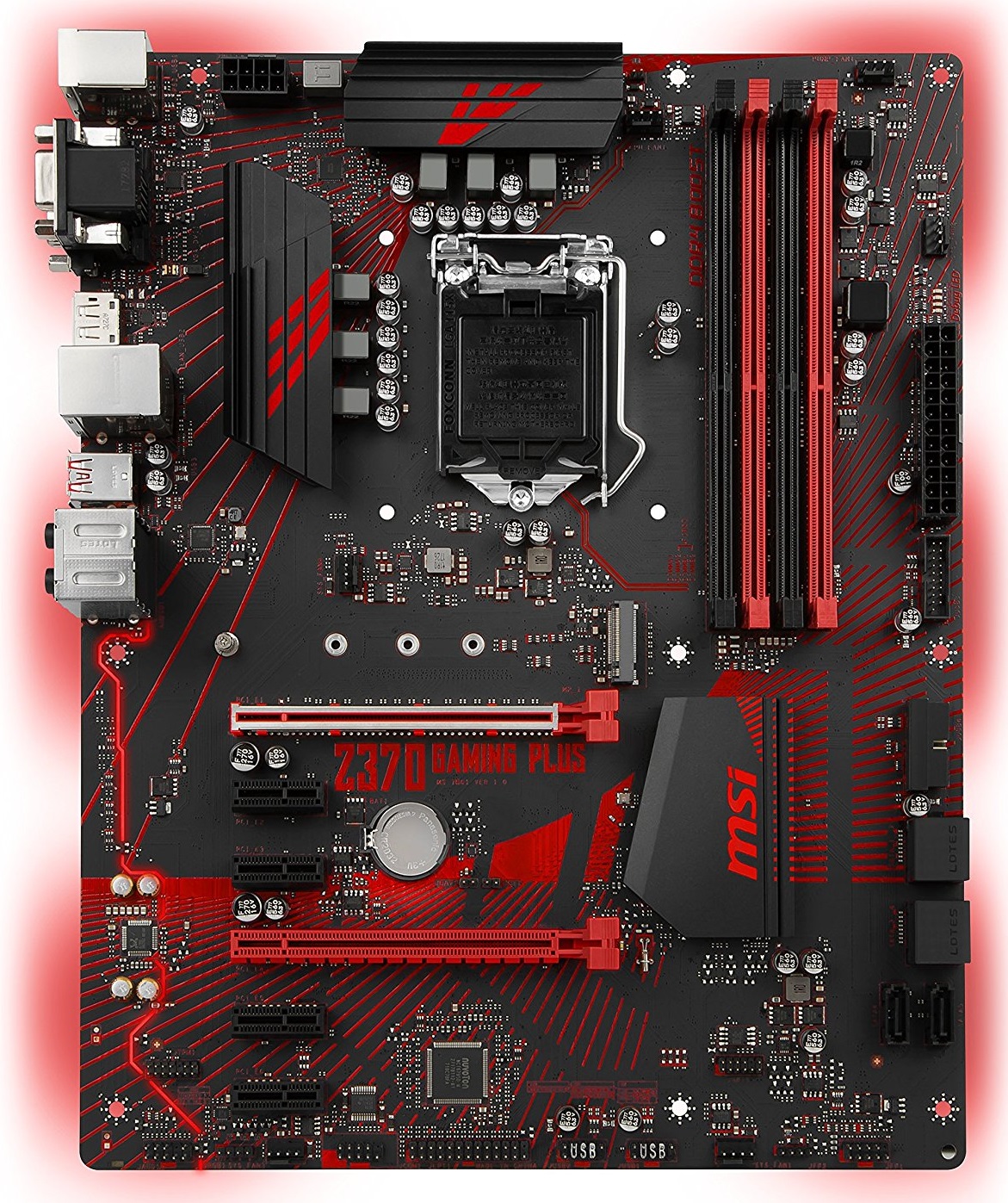 An ATX motherboard packs in tons of features with a lot of upgradability that is enough for several years depending on the user's needs. More ports and slots are available as compared to Mini-ITX and Micro-ATX but it costs more than the two form factors mentioned above. General dimensions of an ATX motherboard are 12 x 9.6 Inches or 30.5 x 24.4 CM. Almost every Mid-Tower can fit in an ATX motherboard without any problem.
Why an ATX is motherboard used?
An ATX motherboard provides almost every feature which an enthusiast may need including overclocking, a lot of storage support, high-end CPUs, More memory, Better cooling etc. An ATX form factor motherboard is good for those who don't have any space problem and have a good sized CPU cabinet that takes more space than a Micro-ATX or Mini-ITX case. Also, ATX motherboards look better in design and fill up the interior of a chassis.
Features
One of the best advantages of an ATX motherboard is that it provides several PCI slots and at least 4x DIMM slots that can support a lot of memory. Modern motherboards support more than 32GB of RAM easily. These motherboards may or may not have an unlocked chipset but those having unlocked chipsets have very good VRMs with efficient heatsinks for stable overclocking.
These motherboards, in general, have a lot of fan headers that are used for connecting the chassis fans, radiators as well as custom liquid coolers. Also, these have a lot of SATA ports and other storage devices ports which increases the overall capability of an ATX motherboard to connect more storage devices. Not only that, high-end ATX motherboards have 3-4 PCI-Ex 16 slots that are capable of handling multiple graphics cards.
E-ATX motherboard
An E-ATX motherboard is something not usual and common amongst most people. Many enthusiasts prefer to stay with an ATX motherboard but those who need some serious horsepower and are in the industry where more CPU cores and huge Memory size are needed, E-ATX motherboards come as the best solution. Following is an example of a modern E-ATX motherboard:-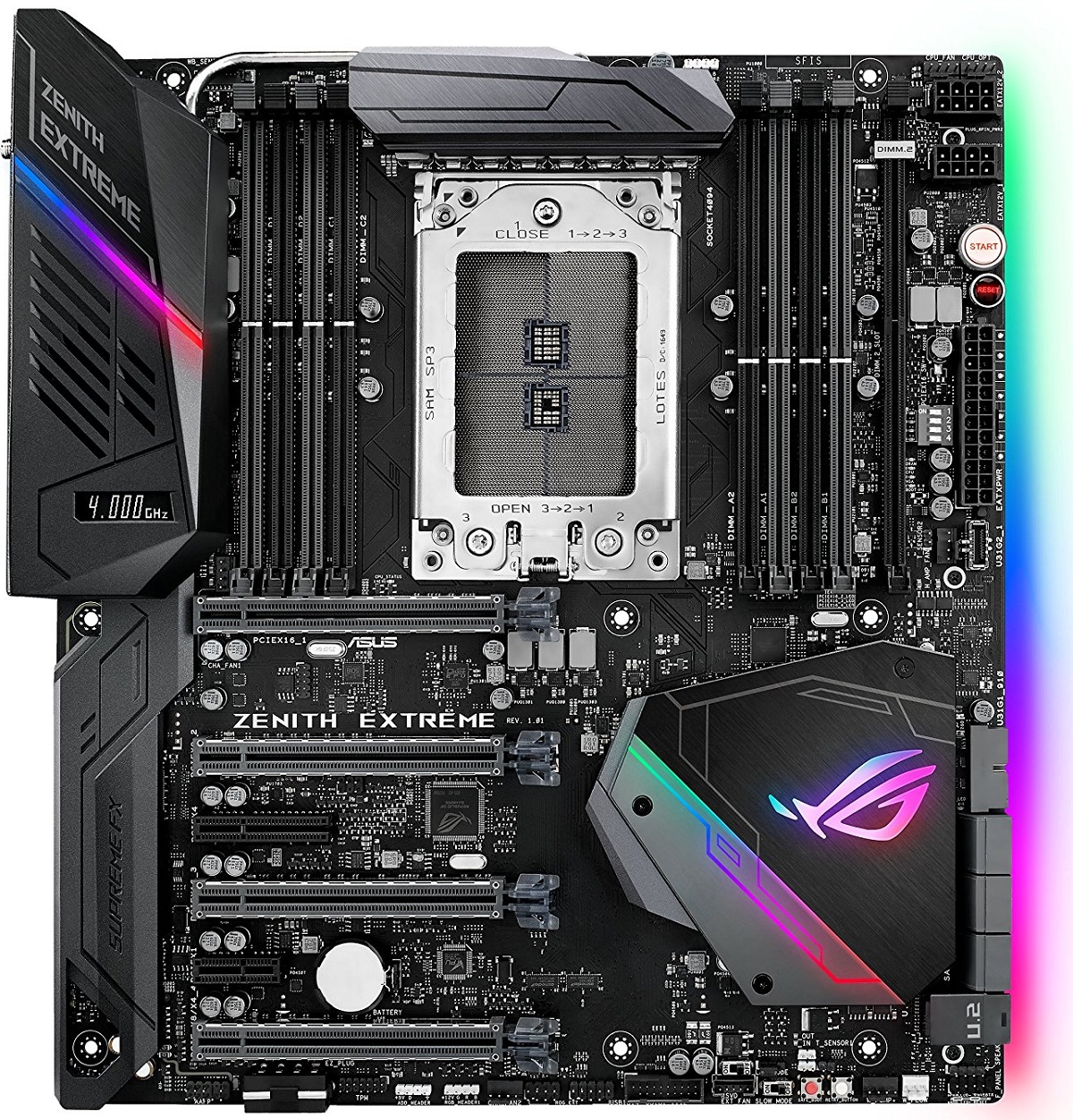 An E-ATX motherboard measures 12 x 10.9 Inches or 30.5 x 27.7 CM in dimensions which is the biggest among the 4 types I mentioned having more width which is due to increased DIMM slots. The capability of an E-ATX motherboard is insane and they do not come into budget category anyways. Their sockets and processors are different and are much more powerful.
Why an E-ATX is motherboard used?
An E-ATX motherboard has every feature that is needed to do high-end stuff like rendering, video processing and things which a normal ATX board can't do. The limit is not defined and so the cost. A person building a PC with an E-ATX motherboard will have to buy a very high-end processor that will have a lot of cores and threads which are not available in mainstream processors. These motherboards acquire a lot of space and require at least Full-Tower cases which are really huge.
Features
E-ATX motherboards have a lot of PCI-Ex 16 slots, generally 4 or more than that and 8x DIMM slots for RAM. An E-ATX motherboard can support 3-4 Graphics cards in SLI or CrossfireX easily depending upon the capability of a graphics card to be used in multiple quantities. RAM capacity is very high in these motherboards which is generally 128GB in the case of modern motherboards. Most of these have inbuilt wifi, sound cards and onboard troubleshooting features and have very powerful VRM sections for stable overclocking.
Offer Till 31st March