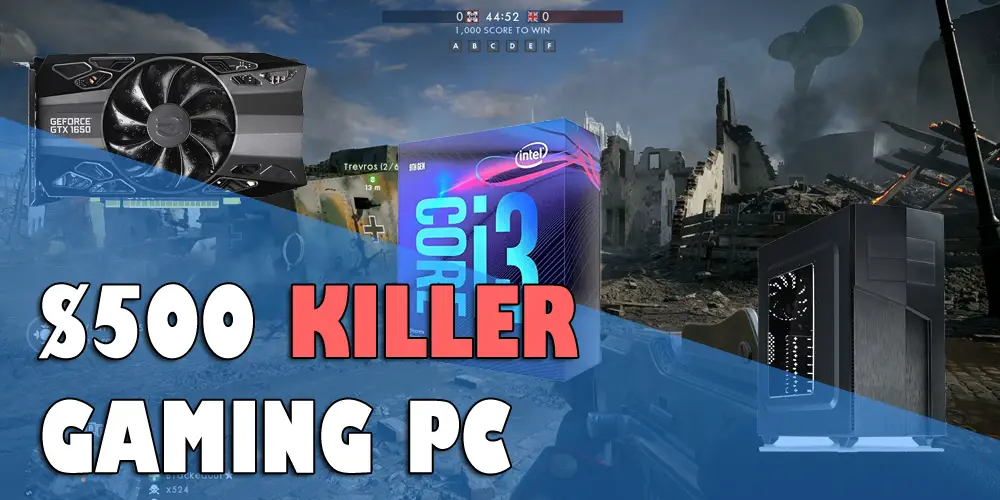 It's 2020 and we have some good components out there in the market. As compared to the previous years, the components are cheaper and provide better value for money. For a mere 500 dollars, people used to struggle to get an equivalent performance to the consoles but right now $500 is what you will need to play almost every game with 60 fps without breaking a sweat.
This year there are some more options to choose from and it may pose some difficulty in front of you due to similar pricing and a little difference in performance between the components of the same category. But we have done the research for you and have listed out only those parts which will ensure that you get the most value for your money.
I named this PC "THE KILLER" due to its capability of killing consoles at this price. Make sure you read everything properly and if you have any doubts, then don't hesitate to ask in the comments section.
"If you want to learn how to build a gaming PC from scratch you can get my guide from Here."
PARTS LIST
Components
Images
Check Price
Intel Core i3-9100F
DarkFlash Shadow CPU cooler
MSI H310M PRO-M2 Plus
Viper Elite Series 8GB
ZOTAC Gaming GTX 1650 Super
Twin Fan
Silicon Power 512GB
EVGA 500 W1
DEEPCOOL MATREXX 50
Intel Core i3 9100F and GTX 1650 Super is the perfect combo!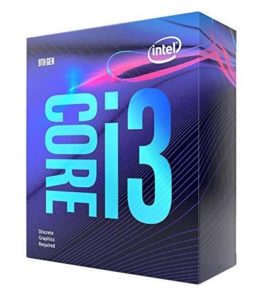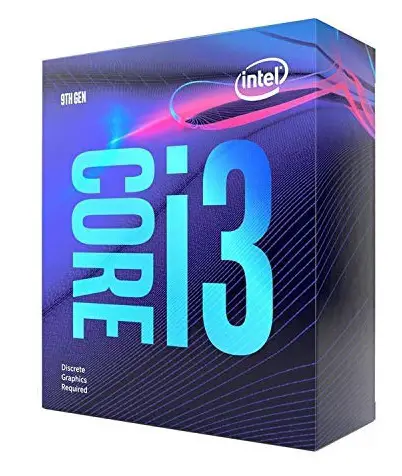 Intel Core i3 9100F is one of the top budget Intel processors in the Core i3 9th gen series which used to cost around $120 but right now is available for only $80-$90. It's built upon the 14nm process technology and provides performance much better than the previous generation at a lower power consumption of only 65W. As compared to the previous i3 generation processors it provides much more value for the money due to 2 more real cores. Although, it has dropped hyperthreading but it's now more like an i5 of 7th gen in performance. It easily beats the AMD counterparts like Ryzen 3 2200G or Ryzen 3200G which are priced similarly and therefore, makes it the best choice for this build.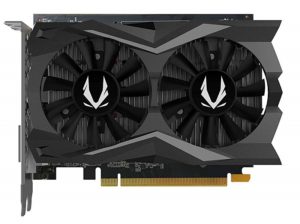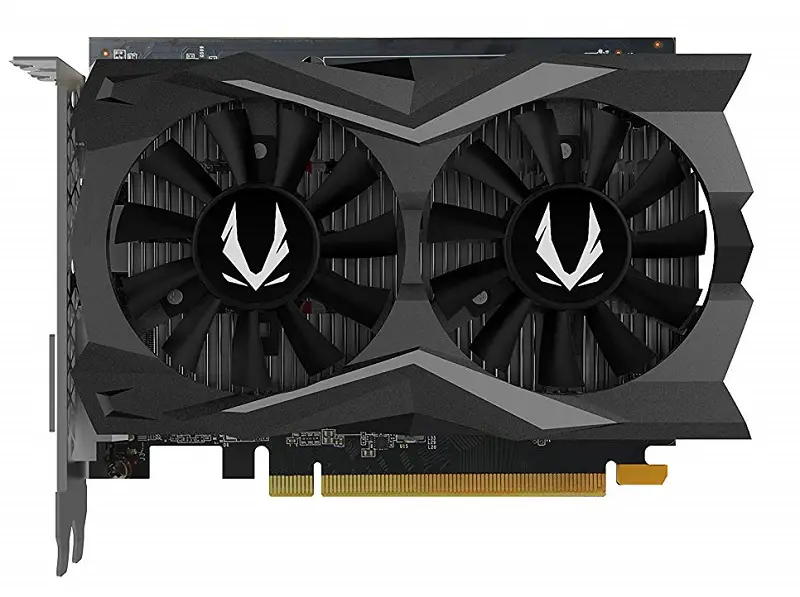 Clocked at 3.6Ghz it features 4 powerful cores similar to the Core i5 but it has 6MB cache memory which is greater than the previous-gen i3 processors. Now to cool the processor, I recommend going with the DarkFlash Shadow CPU cooler which is an RGB cooler that is cheap but will be much better than the stock Intel heatsink. As i3 9100F doesn't come with a stock heatsink, you have to buy a cooler separately but don't worry about the extra expenditure as it will be worth the money.
As far as the performance goes, Intel has improved their Coffee Lake processors much better than their previous generation and when this processor will be combined with a GTX 1650 Super, then it will provide the best value for money. Both of these components are good entry-level products and will not bottleneck each other at all. GTX 1650  Super has 4GB of GDDR6 VRAM which is enough for ultra settings at 1080p and should provide at least 60 fps in most of the games and in eSports games you can expect easily 60+fps on very high settings. GTX 1650 made a good jump when compared to the original GTX 1650 which had a slower memory. It is easily up to 20% faster than the GTX 1650 which is a huge jump for the same price.
Taking a look at other components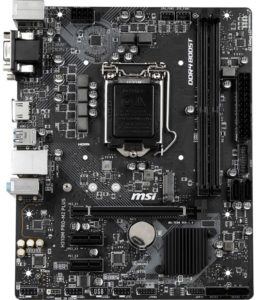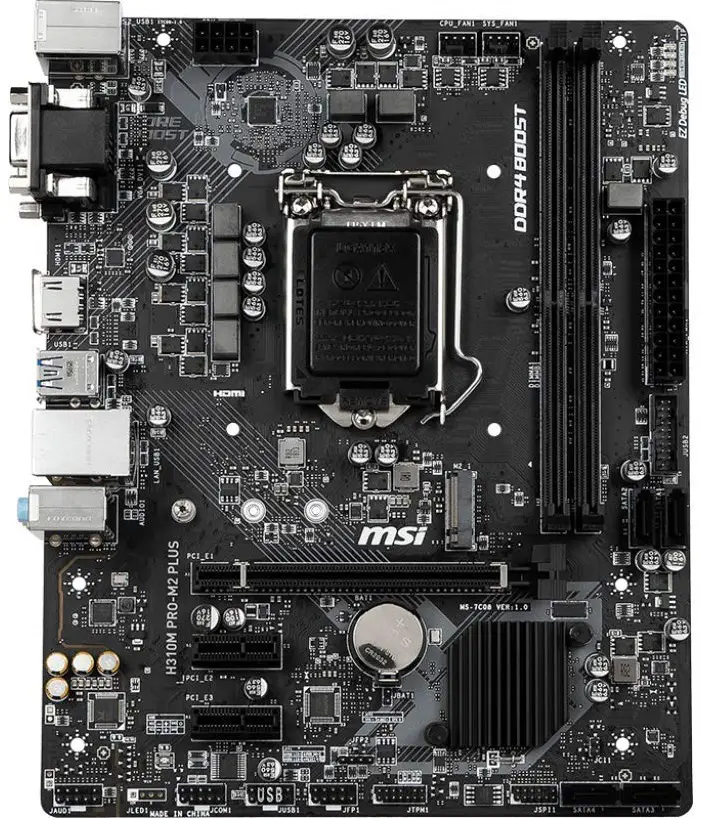 Intel with the release of their Coffee Lake processors also launched different chipset motherboards. As we are trying here to get the most out of the money without spending too much, I have chosen the H310 chipset motherboard for this purpose. The MSI H310M PRO-M2 Plus is an ideal board which has 2x DIMM slots that can support up to 32GB of RAM. As we are going to use 4GB dual sticks from Viper Elite which will make 8GB in total and is going to be enough for playing any game at 1080p without any bottlenecks.
This motherboard although is not meant for overclocking and there is no need for overclocking in this build because i3 9100F is not an overclockable processor. But this motherboard has all the basic ports and slots that will let you install all the components you would want to. You will be able to install sound/wifi cards as well. You will be able to upgrade your storage devices and you will be also able to add an RGB LED strip as it has an RGB header too.
For storage, I chose 512GB of SSD storage from Silicon Power. Right now, the prices of SSD are very affordable as compared to the previous year. For the price of 1TB hard drive, you can get a 500GB SSD which is way faster than the traditional HDD and will boot up your system very fast. It will also reduce the loading times in your games and you will have a very speedy system that you will love much more than a system with a traditional hard drive.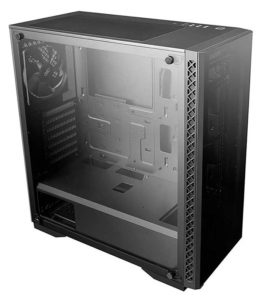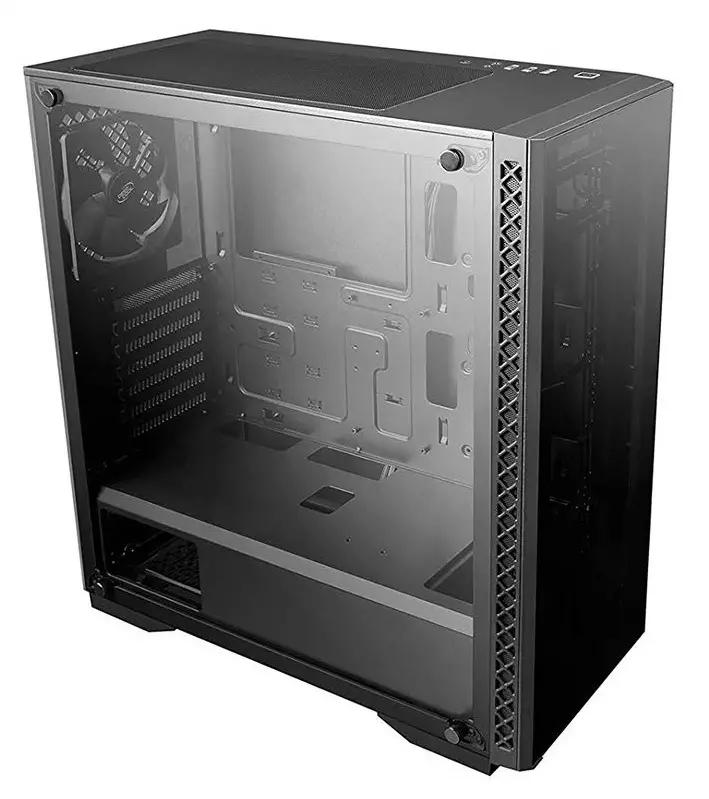 For powering the whole system, we have the EVGA 500 Watts power supply that is rated at 80% efficiency. It generates less heat and provides proper power supply to your components. As all the components used in this build are power efficient you will be able to add more devices in the future without worrying about the power capacity. And finally, for hosting all of these, we have the beautiful chassis from DeepCool which has very decent cable management and space for installing the components without any hardship.
This case only costs under $50 and in my opinion is among the best mid-tower cases for its price. It has a tempered glass panel at the side and also at the front, good clearance for cable routeing, and a dust filter at the front. It is just perfect for this build. I would recommend it over the Corsair Spec series cases because of its low cost and design that features a full-length PSU shroud with a lot of cutouts. Now you just need to get all of these parts assembled to get your system running. I have linked to my computer building guide in the beginning if you want to ease the overall process.
---
Total~ 515 (As of 18th Feb 2020)
---
Recommended Peripherals for this build:-
Monitor: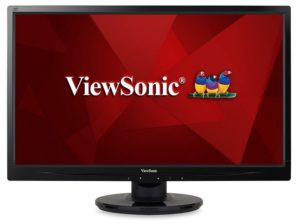 ViewSonic VA2446M: Check on Amazon
24-Inch Full HD 1080p (1920x1080p) 16:9 LED Computer Monitor with DVI-D, and VGA Inputs. 

10M:1 Dynamic Contrast Ratio; Two Built-In Speakers; Compatible with Mac, and Windows; ideal for both laptops and desktops; VESA mountable

3-year Limited Warranty
Keyboard/Mouse: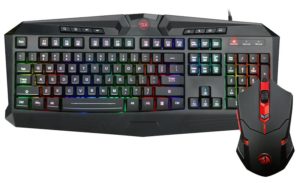 Redragon S101 gaming Keyboard/M601 Mouse: Check on Amazon
Keyboard: RGB Illuminated Redragon Gaming Keyboard: 

Mouse: Ergonomic Redragon M601 Centrophorus Backlit Gaming Mouse 3200 DPI (1000/1600/2400/3200 4 level DPI adjustment)

6 buttons, and an 8-piece weight tuning set (2.4g x 8). Durable smooth TEFLON feet and contoured body for ultimate gaming control. Quality ABS construction and two programmable side buttons
Wifi:
TP-Link TL-WN881ND wifi card: Check on Amazon
Easily setup a highly secured wireless link with WPS

Hassle-free installation

Seamlessly compatible with 802.11n/b/g products

Industry-leading 2-year warranty 
---
Have any doubts? Ask in the comments below
Offer Till 31st March