Quick Reminder
The total cost of our gaming builds generally don't exceed the target budget. We always pay attention to the final cost and each of our builds strictly remains under a particular budget most of the time
If you are looking for a Gaming PC that can absolutely destroy any game at 1080p or 1440p resolution, you will love our $1000 custom gaming build that can literally max out any game with no compromise. Unlike our budget builds, this $1000 Gaming PC uses components that are top-notch in specs and is ready for throwing any game on the ultra settings.
As we carefully select the components of our gaming builds, we also made a fantastic list for this $1000 build that is easier to put together and upgrade in the future. From guiding you to choosing the components to the path of upgradeability, you will find everything you need right here.
Is $1000 Good For A Gaming PC?
With $1000, there is no title in your library that can't be run on our $100 Gaming PC. You will be able to get consistent 60+fps at 1440p resolution and much higher on 1080p. This machine is for hardcore gamers who want to get the best eye candy with buttery smooth gameplay. By choosing our recommended parts for your build, you will be able to upgrade your PC without spending a lot of money or the need to change another component needlessly.
In order to have a balanced configuration, it is necessary that you divide your $1000 in a way that the budget for each component is set to a fixed price range. This will stop you from going to extremes in each component category and hence, no bottlenecks. Here is a brief guide on how to choose and what to buy under $1000.
Processor
The processor is the primary component of your PC that does the most operations. For our $1000 build, we are going to reserve at least $150-$200 for the CPU. This should get you at least a decent 6-core processor with hyperthreading. Going below 6 cores is not sensible at all and upgrading later will be harder.
Motherboard
While the motherboard does not affect the gaming performance directly, it is best to choose a locked chipset motherboard if the processor is also locked and vice versa. We will reserve around $80-$130 for the motherboard that comes with sufficient slots, ports, and connectors for easy upgrade and connectivity.
RAM
Almost every build that costs above $600 should have at least 16GB of RAM. Therefore, we are going with a 16GB kit that is at least clocked at 3000+MHz and installed in a dual channel for fast performance.
Graphics Card
The most important component on which the most gaming load is dependent is the GPU. Setting a budget of $400-$500 for the GPU will be perfect for the $1000 gaming build with at least 6GB of VRAM. The choice of the brand and manufacturer will depend on the current pricing and performance.
Storage Drive
To install your OS, apps, and a couple of big games, you will need at least 1TB of storage space. The storage can be upgraded anytime, therefore, it is not necessary to spend a lot of money on it. Also, we are going with an SSD as it is way faster than the traditional hard drive.
Power Supply
Considering the parts we are choosing for this build, I believe that with 650 watts of PSU, you will be safer for the years to come. A reliable PSU is a must that provides you with protection features from faulty currents and voltages. It should also provide at least 80 Plus Bronze power efficiency and good voltage regulation.
Case
To avoid compatibility issues, it is best to have a mid-tower case. It will be especially beneficial as you can install both Micro-ATX and ATX motherboards. An ATX mid-tower also gives you enough space to install tall CPU coolers and long GPUs.
Parts List For $1000 Gaming PC
Processor

Intel Core i5 12400F
Cores/Threads- 6/12
Clock- 2.5/4.4GHz
TDP- 65W-117W
Overclocking- No

There couldn't be a better sub $200 than the Intel Core i5 12400F CPU that beats almost every processor for its price. The i5 12400F belongs to the Alder Lake family that boasts a design completely different from previous generations. It features 6 performance cores with 12 threads that are clocked at a base clock of 2.5GHz but can reach up to 4.4GHz with turbo boost technology.
It is easily comparable to Ryzen 5600X which is an amazing 6-core gaming processor but more expensive. With Intel Core i5 12400F, not only we are going to stay under our reserve budget for the CPU but we can also save money on an expensive Z690 motherboard as we just need either an H610 or a B660 chipset motherboard.
Graphics Card

XFX Speedster QICK319 AMD Radeon RX 6750 XT CORE
Architecture- RDNA 2
Stream Processors- 2560
Clock- up to 2581MHz
VRAM- 12GB GDDR6

The Radeon RX 6750 XT has huge potential and is currently the top GPU for $400-$500. It replaces the RX 6700 XT and competes very well with Nvidia's RTX 3070 which is right now at least $100 more expensive.
The biggest benefit the 6750 XT has over the 6700 XT is the memory clock speed. It has 12GB of VRAM clocked at 18Gbps on a 192-bit memory bus that brings a total of 432GB/s. It is roughly 5% faster than the 6700 XT but for the same price. It features 2560 Stream processors and a boost frequency of nearly 2600MHz which is impressive.
Combined with the Core i5 12400F, it can max out any game at 1080p as well as 1440p resolution giving you well over 60 fps on both resolutions.
RAM

TeamGroup T-Force Vulcan Z 16GB DDR4
RAM size- 16GB(2x 8GB)
Type- DDR4
Clock- 3200MHz
CL Timings- 16-18-18-38

To completely eliminate all the bottlenecks associated with the memory, 16GB RAM is perfect. As most games won't use more than 8GB of RAM, you will have a lot of gigs left over to run other applications in the background without freezing your computer. To maximize the RAM performance, we are going to use T-Force Vulcan Z 2x 8GB RAM modules in a dual channel that are clocked at 3200MHz with tight CL timings for lower latency.
Motherboard

GIGABYTE B660M DS3H DDR4
Chipset- B660
RAM support- 128GB, 5333MHz(OC)
Storage- 4x SATA, 2x M.2
PCI-E slots- 1x PCI-E x16, 2x PCI-E x1

With an H610 chipset motherboard, you will get a few basic slots and connectors but with the B660 chipset, you will be able to add a lot of storage drives, PCI expansion cards, more USB peripherals, and more RAM modules. The B660 chipset also provides more PCI-E lanes for better support to the components and will unlock more bandwidth for faster data transfer.
It is a locked chipset and hence, you won't be able to overclock which you currently won't need as the Core i5 12400F is also a locked processor. The B660M DS3H supports DDR4 RAM natively and is very cost-effective. For storage, you will get 2x M.2 connectors for adding NVME SSDs, 1x PCI-E x16 slots for GPU, and 2x PCI-E x1 for expansion cards. For SATA drives, there are 4x SATA ports that will allow you to add more storage drives in the future.
Storage

Silicon Power A60 1TB
Brand- Silicon Power
Capacity- 1TB
Interface- M.2
Read/Write- 2200/1600MB/s

To store sufficient apps and games, 1TB of storage space is good to go. I recommend an NVME SSD like the Silicon Power A60 which is cheaper than most 1TB NVME SSDs and runs several times faster than SATA SSDs. Its sequential read speed is over 2000MB/s which will load your OS and games quickly and as you progress by installing a lot of games, you can add another storage drive in the future in any of the M.2 or SATA ports.
Power Supply

EVGA SuperNOVA 650 G+
Wattage- 650W
Power Efficiency- 80+ Gold
Type- Fully-Modular
Warranty- 10 years

A reliable PSU is a must if you want to protect your components and want reliable continuous voltages to the components. The components need a stable voltage and the EVGA SuperNova 650 G+ is fit for this job. It provides tight voltage regulation with very low deviation and a super quiet operation you won't notice.
With 650 watts of wattage, you can add several more storage drives, AIO coolers, or chassis fans without any problem and you can even upgrade to a higher-end GPU or motherboard without changing the PSU. The SuperNOVA 650 G+ comes with an 80 Plus Gold rating that reaches above 90% power efficiency on typical loads and the best part is that you get 10 years of warranty from the company.
Case

NZXT H5 Flow
Type- ATX
Dimensions- 464 x 227 x 446mm
Weight- 7Kg
Material- SGCC Steel, Tempered glass

To put everything together in one place, the NZXT H5 Flow is one of the best mid-tower cases you can buy. It is a redesigned version of the H510 Flow edition but a little bit more compact. It has a fully ventilated front panel that will cool your system effectively by pulling cool air from the front continuously.
It is spacious, and elegant, and comes with a dedicated cable management space at the back for putting all those cables together. You can even use the PSU shroud at the bottom to hide those extra cables from sight and the result will be a neat build that you would want to stare at for hours. This case is available in White and Black color editions.
ORDER THE $1000 GAMING BUILD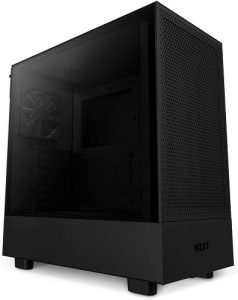 ORDER FROM AMAZON
AMAZON USA
AMAZON UK
---
1440P ULTRA SETTINGS
RAY TRACING CAPABLE
ADEQUATE RAM, PSU & STORAGE
HIGH AIRFLOW CHASSIS
Important Note
Links to Amazon UK and Amazon CA may contain different components depending on the availability and pricing. Most of the time these components will be RAM and Power Supply.
Is The $1000 Gaming PC Upgradable?
The best part of building a gaming PC by yourself is that you can upgrade it yourself. You can easily upgrade this $1000 build by changing any component at any time. However, upgrades should only be done with a careful inspection of the configuration to maintain balance. As this PC uses top-notch components, you won't feel the need to upgrade it anytime soon but if you still want to do it, you can do so by upgrading one or more components at a time.
The first upgrade I would like to suggest is to add another 1TB or 2TB of storage drive for storing more files. The next upgrade can be your CPU which can replace with an Intel Core i7 or i9 CPU from Alder Lake or Raptor Lake CPU. Those CPUs have almost double the core count of i5 12400F and can push any high-end GPU to 100% at gaming.
Other components such as RAM, PSU, and Case won't require any upgrades except if you need more RAM for productivity, more wattage PSU for higher-end GPUs, or a bigger and better case for liquid cooling.
As for the motherboard, it depends on what CPU you will use. If you are going to upgrade to an overclockable motherboard, I recommend getting a Z690/Z790 chipset motherboard that will unlock the core clock of your CPU. A Z690/Z790 motherboard also gives you more PCI-E lanes, more USB ports, more fan headers, and a lot of additional features such as onboard buttons for advanced overclocking.
Best PreBuilt PCs Under $1000
While we always advise you to build your gaming PC on your own, we know that not everyone has the time or the skill to put the components together. Therefore, a PreBuilt Gaming PC will be better for you if you are looking to play video games right away without having to deal with the assembling process. Keep in mind that the value for money with a PreBuilt system can't compete with the custom one and the path to upgradeability is not always easy.
We analyzed a lot of PreBuilts under $1000 and have selected a few that are fit for the purchase. We have a whole dedicated post for PreBuilt Gaming PCs under $1000. So, do check that if you want to save time.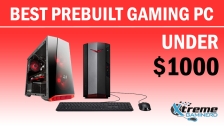 If you are searching for a great PreBuilt Gaming PC under $1000, then you have come to the right place. Generally, we ...
Final Words
If you need any help with building your gaming PC, you can contact us by using the comments section below. If you have any other queries related to choosing a component, compatibility, or troubleshooting feel free to let us know and we will try to sort out your problem in a day or two.
Related: