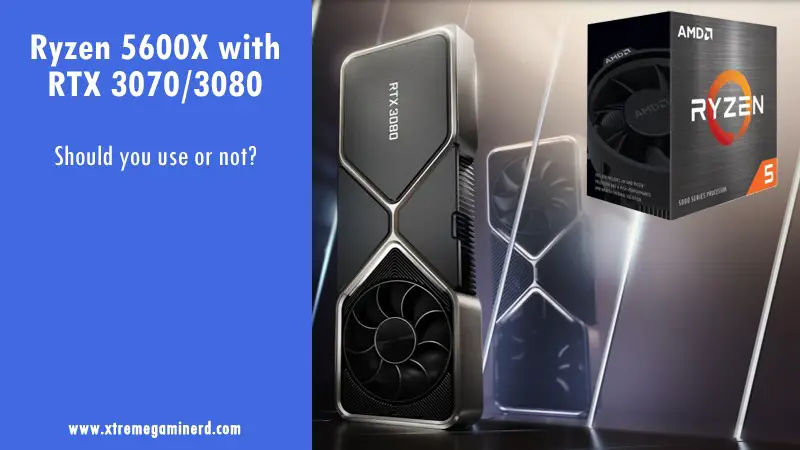 The 6 core, 12 thread monster Ryzen 5 5600X is something which millions of PC gamers have their eyes on to build their gaming PC with. It has beaten all the previous Ryzen processors including those with more cores and also all the Intel 10th gen and previous-gen processors when it comes to single-threaded scores and gaming.
Currently, if we analyze, we don't have any game that uses more than 6 cores and thus the 5600X is sufficient for even high-end gaming stuff. But here comes the interesting part: As graphics card category is also seeing coming of a lot of super high-end cards that we have never seen before, most PC builders are most likely going to use them with higher-end CPUs than the Ryzen 5600X.
But the fact is that the Ryzen 5600X doesn't bottleneck them at all. Using a graphics card like RTX 3070 or even an RTX 3080 with Ryzen 5600X is something that I have seen many PC builders are asking on forums. Fortunately, there are already a lot of benchmarks that show that Ryzen 5600X does not bottleneck the RTX 3070 and 3080 in the least and provide similar fps as you would get on a CPU with more cores and threads.
With RTX 3070
Testing with the RTX 3070 as shown by the Benchmarks for Gamers, most games are able to achieve above 100 fps at 1080p and 1440p resolutions, and above 60 fps at 4K resolution. Also, in every instance, it can be seen that the GPU is utilized nearly 100% which shows that Ryzen 5600X is very much capable of handling the RTX 3070 without any problem.
With RTX 3080
RTX 3080 is around 30% faster than the RTX 3070 and that's a significant difference in performance which requires you to use a powerful CPU with a lot of cores to handle it easily. Ryzen 5600X from the outside seems to be a little inadequate for 3080 but it performs very well with it providing you with equivalent performance to the i9 10900K as shown below.
Ryzen 5600X most of the times remains at around 80% of usage while RTX 3080 also remains in 80-90% range of usage. This shows that both are going well with each other but when you increase the resolution, things will change a little bit. To get the full potential of the RTX 3080, it's recommended to use a processor with a higher core count.
If you use Ryzen 5900X or 5950X, you can expect a 5% increase in the fps but that will increase your cost by several hundred dollars easily. Compared to the performance of RTX 3070 with Ryzen 5600X, you can expect easily around 20% more performance with the RTX 3080 and Ryzen 5600X combo.
What parts to use in the build?
If you are planning to use Ryzen 5600X with any of these two GPUs, then it's recommended to use components that can complement this combo. Now, you need a CPU cooler, Storage drive, Motherboard, RAM, Power supply and a chassis.
CPU Cooler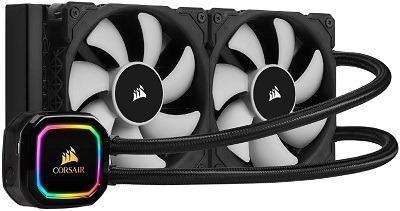 Ryzen 5600X comes with a Wraith Stealth CPU cooler which is sufficient for daily use but not fit for overclocking. For overclocking it without getting yourself in stress or tension, get an AIO cooler like NZXT Kraken X53, Corsair iCUE H100i or EVGA CLC 240mm which are amazing for controlling temperatures for a long duration while maintaining the clock speeds of processors for a consistent performance boost.
If you want an air cooler, then consider our list of best coolers for Ryzen 5600X.
Chassis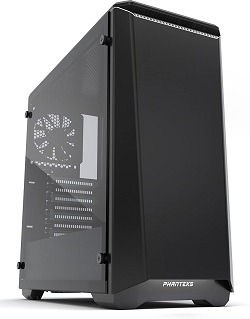 As far as the chassis goes, a mid-tower is the best option to go with. Something like Cooler Master H500/H500M, Fractal Design Meshify C, Lian Li Lancool 205, Corsair iCUE 465X or a Phanteks P400S will be the ideal choice. But as there are many good cases that are good as these ones, there should be no problem in getting one that has matches your taste.
Power Supply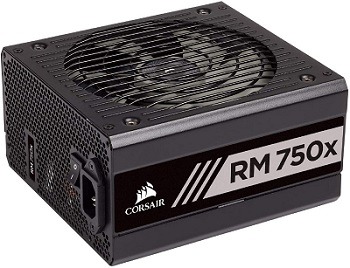 For supplying power to your components, get an 80 Plus gold unit with at least 650 watts of power capacity. My favourite power supplies are EVGA SuperNova G series, Seasonic S12III, Thermaltake Toughpower Grand, and Corsair RMX. You can also check out our recommendations for RTX 3070 and 3080 that are based on the requirements of these two GPUs.
Motherboard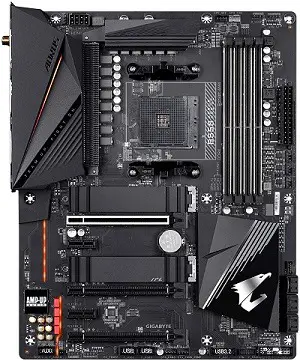 Ryzen 5600X is an overclockable chip and can go above its boost clock of 4.6GHz with a high-end motherboard like Asus ROG Crosshair VIII Hero(Wifi) but that's an expensive board to choose. A B550 chipset board will be sufficient and you can get the Gigabyte B550 Aorus Pro AC which is currently the best motherboard under $200 for any Ryzen processor that is supported on it.
Its VRM consists of 14 power stages and very dense heatsinks for a stable overclock. There are all the slots/ports for installing components and an inbuilt wifi adapter for internet connection. Also, it has 12x USB ports which are rare even on high-end motherboards and it will be perfect for any future upgrades.
Memory
Corsair Vengeance LPX 16GB 3200MHz
16GB RAM clocked at 3000 or 3200MHz will provide ideal results and going with the 3600MHz will be the best choice. Make sure you get a kit with the lowest timings. A 3200MHz RAM kit like Corsair Vengeance LPX with timings as 16-8-18-35 will be ok for decent performance but a kit like Teamgroup Xtreem 3600MHz having timings as 14-15-15-35 will yield the best results but will cost you much more than the Corsair or other kits with higher timings.
Storage

NVME SSD is the best option today and it's significantly faster than a SATA SSD yet alone a traditional mechanical hard drive. It will be reliable and super fast in loading your operating system and games. Sabrent Rocket Q 1TB NVMe has adequate storage capacity and Read/Write speed of 3200/2000MBps. 
Wrapping Up!
Ryzen 5600X is no less than an 8 or 10 core processor when comes to gaming and surely does support RTX 3070 or 3080 without bottlenecking them. With any of these combinations, 100+ fps is guaranteed at 1440p resolution and 60 fps at 4K. Let me know if you have any doubts or comments on the build listed above.