In the modern-day world, any electronic component you are using needs proper juice in order to function properly. In some cases, the source of power won't matter that much while there might be certain devices that need the proper voltage to work in optimal efficiency. Therefore, choosing the best power supply unit for your device or a computer is really an essential thing that many users overlook. But the best practice to keep a PC healthy in terms of performance and longevity, one must ensure to get a proper power supply unit after calculating the full load of the system.
To determine your system load, one can use the various online sites that are available and helps you to get a rough idea about how many watts of PSU would suffice the power requirements of your system. Normally it is advisable to get 100 watts more than that of the calculated data as there are many variables that can play role in a real-time scenario.
Therefore, in this topic, we are going to list out the best available power supply under the 650W category that excels in their performance and also will be a good choice over normal PSU's and can ensure the optimum performance of your PC.
650W Bronze Power Supplies
Our Bronze category is compromised with the best value for money PSUs that are a good option for normal users who don't want to overspend and want to get the job done in the budget.

[box type="shadow" align="alignleft" class="" width="100%"]

Thermaltake Smart BX1 RGB 650W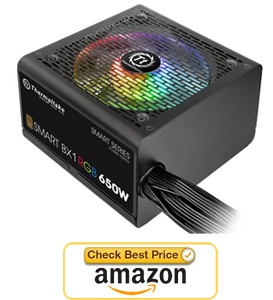 Since currently, RGB is the ongoing trend, hence, I will start the list with an RGB PSU from Thermaltake. The Smart BX1 is one of the best entry-level 80 PLUS Bronze certified non-modular PSU that comes with a 256-colour 10 LED RGB fan.

The Smart BX1 features MAIN JAPANESE CAPACITORS along with an efficiency level of up to 85%. Furthermore, it also comes with a 120mm hydraulic bearing fan superior cooling that can provide the appropriate cooling for optimum performance.

In terms of specification, it comes with 80+ Bronze certification and also offers efficiency up to 88% along with 23A of max output current and also provides <80mV ripple for high stability on +12V, +5V, or +3.3V from 0% to 100% load to ensure a high-quality power supply. The Smart BX1 also comes with a 120mm fan which is RGB illuminated along with a dedicated RGB and is backed by 5 years of warranty.

[/box] [box type="shadow" align="alignleft" class="" width="100%"]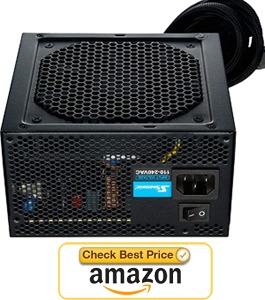 Seasonic is another and probably among the top three PSU manufacturers that offer end-user excellent options when it comes to choosing a perfect PSU for their system. The Seasonic S12III is an excellent PSU that comes with 80+ Bronze certification and can provide around 85% power usage efficiency. It doesn't come with anything fancy but it has the potential to fulfil the power requirements of the system.

The Seasonic S12III 650W comes equipped with a thermal circuit feature along with smart and silent fan control that is capable of balancing between the performance and quiet operation. The maximum power output that the S12III can provide on +12 V is 54A which is quite sufficient for all the components in your system.

Furthermore, the S12III comes with safety and EMC certifications like cTUVus, TUV, Gost-R, CB, BSMI, CCC, CE, FCC, C-tick and also provides the user with 5 years of warranty.

[/box]
650W Gold Power Supplies
In the gold category, we will be listing out the best PSU that is a perfect match for those systems that are aimed at serious performance.

[box type="shadow" align="alignleft" class="" width="100%"]

MWE GOLD 650- V2 (Modular)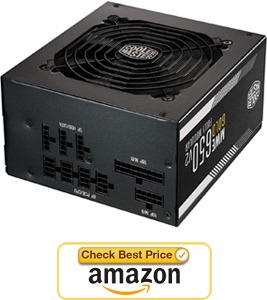 MWE Gold 650- V2 (Modular) from Cooler Master is the very first in the list that comes with 80+ Glod as well as offers a user a fully modular PSU that can suffice the most essential needs of a system. It features full-bridge design coupled with LLC, Synchronous, and DC to DC topology technologies that ensures reliable and stable voltage outputs.

The MWE Gold – V2 features with an upgraded HDB fan that is capable of delivering quiet and effective cooling with a long lifespan and helps a user to get the most out of their PSU. It also comes with additional updated measures that reduce the sound output and the ripple noise steady with <40mv at +12V.

Being fully modular, it will give the user enough room inside his PC with less clutter of unwanted wire and also it comes with equipped with dual EPS connectors in order to ensure universal compatibility with all current-gen motherboards. It is backed by 5 years of warranty which makes it a good choice for users who are looking for a PSU that is capable of giving performance along with reliability.

[/box]

Related:- Best 550 Watts Power Supplies

[box type="shadow" align="alignleft" class="" width="100%"]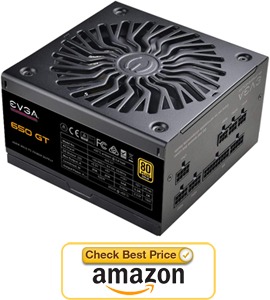 EVGA SuperNOVA 650 GT is an excellent alternative PSU that comes with 80+ Gold certification along with an efficiency rating of 90% at 50% load and an efficiency of 57% at 100% load. It is a fully modular PSU that comes in compact size along with Japanese capacitors. 

The EVGA SuperNOVA 650 GT comes with a 135mm fan that features a fluid dynamic bearing for quieter performance and longer life expectancy. It comes with a ripple noise of <41mV at +12V on 100% load which is quite good in terms of the price point.

The interesting feature of this PSU is the Auto ECO mode that allows the fan RPM to adapts the PSU temperature. The fan will remain off at low temperature and low load. It also offers protection against over-voltage, over-current, overpower, short circuit, under-voltage and over-temperature and is also backed by 7 years of warranty.

[/box]
650W Platinum Power Supplies
The Platinum series consist of a particular PSU that according to us is the best option if you are having a good budget and also looking for the best option available presently in the market. And when we are talking about the best in terms of PSU then my preference goes to be quite!.

[box type="shadow" align="alignleft" class="" width="100%"]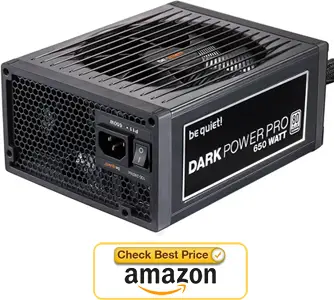 DARK POWER PRO 11 is one of the most advanced PSU presently available with an option to choose for higher wattage. However, the features are uniform no matter which one you choose. It is certified with 80+ Platinum and an energy efficiency rating of up to 94% which is the highest one can get in this wattage range resulting in less power consumption and an overall cooler and quieter operation.

It features an overclocking key that allows the user to switch between four-rail and single-rail operation along with sufficient reserves to support any multi-GPU or multi-CPU configuration. It is equipped with a 135mm Silent Wings 3 fan that provides silent operation even under high RPM. The fan opening is shaped like a funnel that allows an increased throughput of air resulting in higher cooling performance. It also offers the option to connect up to 4 fans that can be directly controlled by the PSU itself.

Under the hood, it is equipped with Japanese capacitors and uses LLC and Synchronous Rectifier (SR) technology that can provide unmatched signal stability and unbeatable power efficiency. It offers excellent voltage stability and ripple suppression at 5V and 12 V providing 5mV and 7mV of ripple noise respectively.

[/box]
Wrapping up
There you go. We have provided you with the list of PSU within 650 Wattage and after you have done reading with it, you can freely decide which suits you the best. But my suggestion is to go at least with Gold certification as in most of the countries it is getting mandatory to have Gold+ certification power supply components and nonetheless, it will also result in more efficient performance.