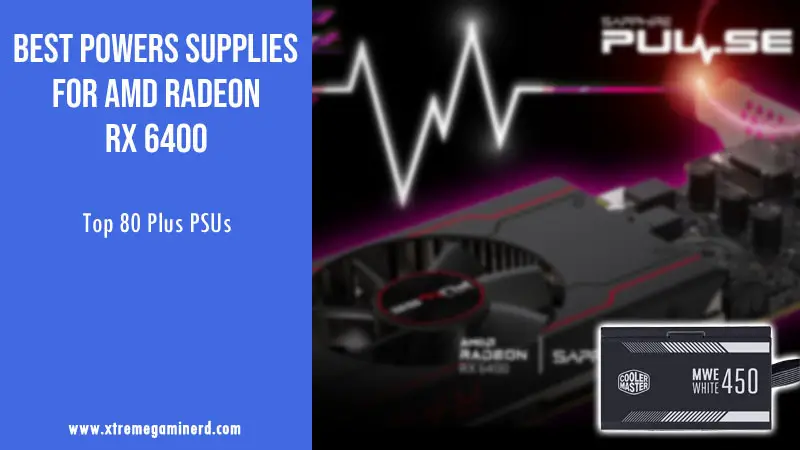 When it comes to power supplies, I never understand how can anyone go so cheap especially when the user has a dedicated gaming GPU installed on their PC. If you are thinking that you don't have a high-end GPU, so you don't need a reliable power supply, you are risking your PC's life.
Even budget GPUs require reliable continuous voltage and protection features that don't physically damage them. Hence, we are looking at what PSU you should get for the Radeon RX 6400 GPU that although doesn't require a PCI-E connector, still needs the power from your PCI-E x16 slot.
AMD Radeon RX 6400 Overview
AMD Radeon RX 6400 is the slowest GPU in the RX 6000 series and is based on the RDNA 2 architecture. It features 768 Stream Processors and a 4GB of GDDR6 VRAM on a 64-bit memory bus that results in a memory bandwidth of 128GB/s. The card features 2.0-2.3GHz clock speeds on the reference design and a TDP of only 53W. Therefore, AMD recommends just a 350W PSU for this GPU.
RX 6400 is aimed at providing 40-60 fps on medium settings at 1080p in modern titles while it is best for those who are looking for high settings and 60 fps in esports games such as CSGO, Valorant, Rocket League, and Fortnite. Also being a very power-efficient card, it is a much more feasible option for gamers who don't own a big wattage PSU.
What To Look In A Power Supply?
Choosing a power supply isn't as simple as choosing a graphics card. When you need the best budget GPU, you can just search on the internet or watch its benchmark videos on Youtube and make up your mind. However, a power supply is a completely different component.
You can't tell how a particular PSU model performs unless you dive deep into its specs and performance numbers which may be difficult to understand at first. So, I am giving a basic idea of what you should look for in a power supply.
Your PSU should have all the necessary cables, particularly the PCI-E cables for powering a GPU. While the RX 6400 doesn't need one, you still need those cables for a future GPU upgrade. The next thing to look for is its wattage which should be sufficient to power all your components and still have room for further upgrades.
Moreover, the PSU should have at least an 80 Plus White power efficiency rating and tight voltage regulation. This will provide a reliable and continuous voltage to your PC components, particularly the GPU. Other factors you can look for are low ripple noise, low fan noise, higher hold-up time, and warranty.
---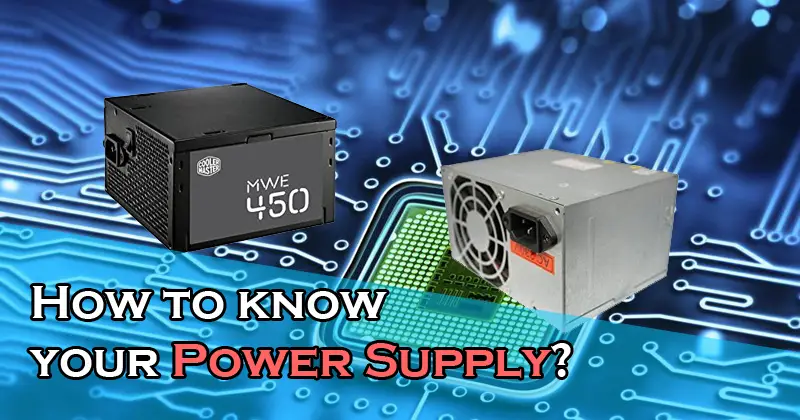 Most PC users want to know their GPU, CPU, and motherboard. However, a lot of people also want to know what power supply they have. The need for knowing this is generally installing a new graphics card or upgrading the system. Therefore, a user must know the ways to identify their power supply unit. Well, […]
0 comments
---
Best Power Supplies For Radeon RX 6400
Thermaltake Smart 430W
Thermaltake Smart 430W takes the spot for being the cheapest PSU while offering a decent and reliable operation. Although its specs aren't something to boast about, it will still get the job done and won't explode like Gigabyte power supplies.
It comes with 430 watts of capacity enough to power the RX 6400 or even power hungrier graphics cards. You will get 2x 6+2 pin PCI-E connectors for GPUs that require external power. Therefore, it will be suitable even if you upgrade your RX 6400 to a better GPU.
The power efficiency is 80 Plus White which gives you around 83-84% of power efficiency on typical loads. Thermaltake offers 5 years of warranty on the PSU which should make it a good choice for those who are very tight on their budget.
EVGA 450 W3
EVGA has a lot of PSU series that fall under different price ranges and the best thing about the company is that it doesn't ignore the budget PSU category. EVGA offers a reliable PSU called 450 W3 that offers all the heavy-duty protections and 80 Plus White certification for more than 80% of power efficiency.
It is non-modular but offers both thick well-sleeved and flat cables for easy cable management. It comes with all the necessary cables to power GPUs that require external power connectors and the company offers 3 years of warranty on the unit.
Cooler Master MWE White 450W
Those who are looking for a more reliable option can have the MWE 450W from Cooler Master. It is definitely a good choice for any budget build as I have used MWE power supplies myself in some of my builds. These PSUs are definitely top-notch in protecting your components especially your GPU from faulty currents and voltages.
The MWE 450 comes with 450 watts of capacity and an 80 Plus White efficiency rating. All the cables are flat for easier cable routing and you will get 2x 6+2 pin PCI-E connectors for powering GPUs that require external connectors.
Thermaltake Smart RGB 500W
The TT Smart RGB 500W takes the aesthetics to next level with an RGB fan. While it may look like an ordinary power supply, the company hasn't compromised on its performance at all. It is very power efficient giving you up to 85% of efficiency on typical loads although it is a standard 80 plus white rated PSU.
Its voltage regulation is also decent with any voltage rail hardly reaching 3% of voltage deviation. The ripple is also low but definitely not on top of the charts which is expected as it is a budget power supply with intermediate quality components. As I stated above, you also get an RGB fan with 15 lighting modes through a button at the back which you won't find on most budget power supplies. 50 bucks are all you need to make it yours if you also care for looks.
EVGA 500 GD
While I recommend going up to 80 Plus Bronze power supplies if you are budget is low but the EVGA 500 GD is a deal breaker that gives you an 80 Plus Gold rating for almost the same price. With this efficiency rating, this unit is capable of delivering more than 90% of power efficiency on typical loads.
Unfortunately, it is not a modular PSU but does come with well-sleeved cables that include 2x 6+2 pin PCI-E cables for GPUs and all other important cables. It is more reliable than any of the PSUs listed above and has excellent voltage regulation and hold-up time. Not only the RX 6400 but the RX 6600 too will go well with this power supply unit.
Wrapping Up
Considering the specs and requirements of the Radeon RX 6400, I recommend staying between 400W to 500W. However, you may go above 500W if you are planning for a big upgrade in the future. Let me know what PSU you are going to get for your build in the comments below.