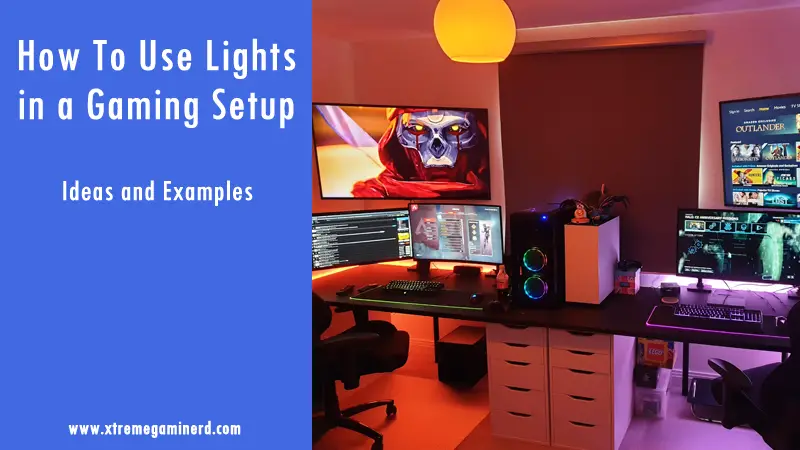 To light up your gaming room with decorative lights is a great idea for an immersive gaming experience. The surrounding lights affect your emotions and by implementing the correct utilization of surrounding lights, you can stay active and healthy for long gaming sessions.
Currently, we are seeing a spike in the trend of using decorative lights in gaming setup as well as in bedrooms. People today opt more for RGB lights and warm lights for a comfy feel than the old bright white bulbs and CFLs. The global LED Lighting market is likely to expand with a CAGR of 13.4% from 2020 to 2027 with the indoor segment being dominative on outdoor having over 69% share of total revenue 1)https://www.grandviewresearch.com/industry-analysis/led-lighting-market.
This is time to rejuvenate your room and gaming setup with better lighting systems that create a comfortable yet productive environment.
The psychological effects of light
Before setting up the lights, it's important to know how and what type of properties you should set for your lights. There are a lot of studies that show that lights do affect emotions and we all know it from our own experience. A room with a light source having 6000K(Bright white) as colour temperature placed at the corner of the room isn't as effective for productivity as a light source with 3000K(Yellowish White) as colour temperature placed on your desk or in the centre of the room ceiling.
What Brightness to use?
Brightness is the amount of light a source gives out. Brighter lights affect the emotions while low light keeps emotions stable 2)https://www.tcpi.com/psychological-impact-light-color/. If you feel sleepy, then a brighter light is the solution where you can feel focused and concentrate on gaming sessions better while it might not be the best idea if you are going to bed shortly 3)https://www.sciencedirect.com/science/article/abs/pii/S0272494413001060.
Low light, on the other hand, is comfortable and allows you to decide and negotiate better. This might be helpful in a long competitive gaming session where you don't want to get yourself fatigued fast. Take a look at the following image. We can clearly say that the first pic with low brightness is better for a comfortable gaming session than with the brightness in the second pic.

The brightness of your monitor and surrounding both matters. The brightness of your monitor should always be more than the brightness of surrounding lights. This will help you stay focused for a long time but don't increase the brightness too much which actually may damage your retina permanently if exposed on a daily basis according to the Chesapeake Bay Waterman Study 4)https://www.brightfocus.org/macular/article/are-bright-lights-damaging-eye.
The pic below where the lights are too bright is a good example of how you shouldn't overdo it.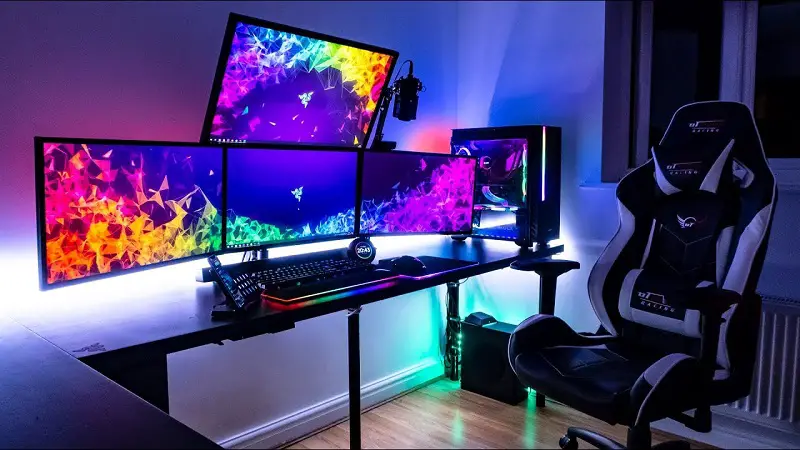 How much Saturation?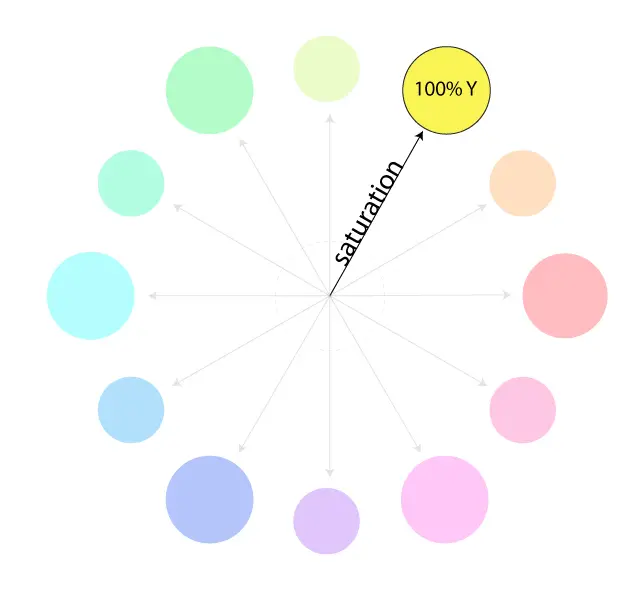 Saturation is the intensity of colour in the light. It's important to know how much colour intensity you should use in environment lighting for a better gaming experience. While a more saturated colour intensifies emotions, it may distract you if the saturation is too high. A very dull colour, on the other hand, doesn't make your room lighting as attractive as it should be. The intensity of the colours in your lighting should neither be too high to distract you nor too low to dampen your emotions.
Related:- Best accessories to perfect your gaming setup
Location
Near the monitor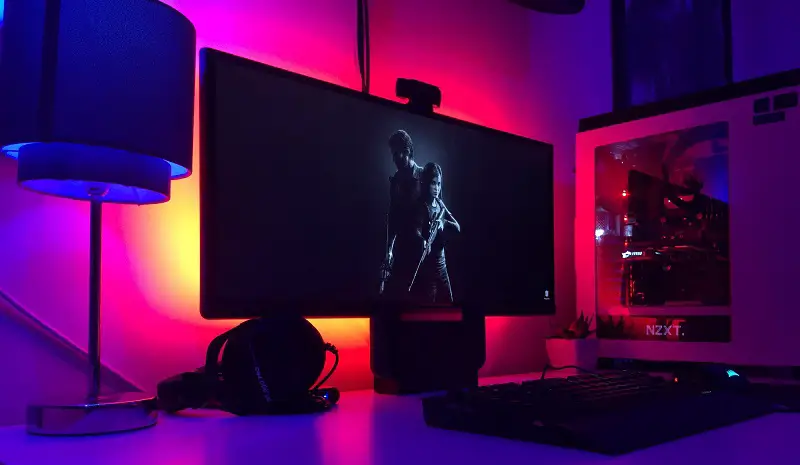 You should never game in a completely dark room and your number one priority for placing one of the lights source is at the side of the monitor or behind it. This lowers the impact of your monitor light glare on your eyes.
On the wall of your setup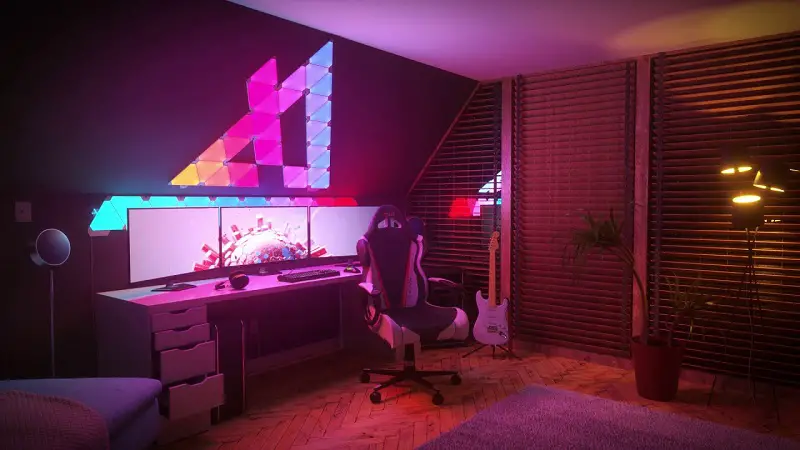 The wall of your gaming setup can be lit up with fancy lights. You can use any of the available lights that I listed in the 'Types of Lights' section. This also lowers the glare of your monitor and lights up your room with various colours.
In the corners of the room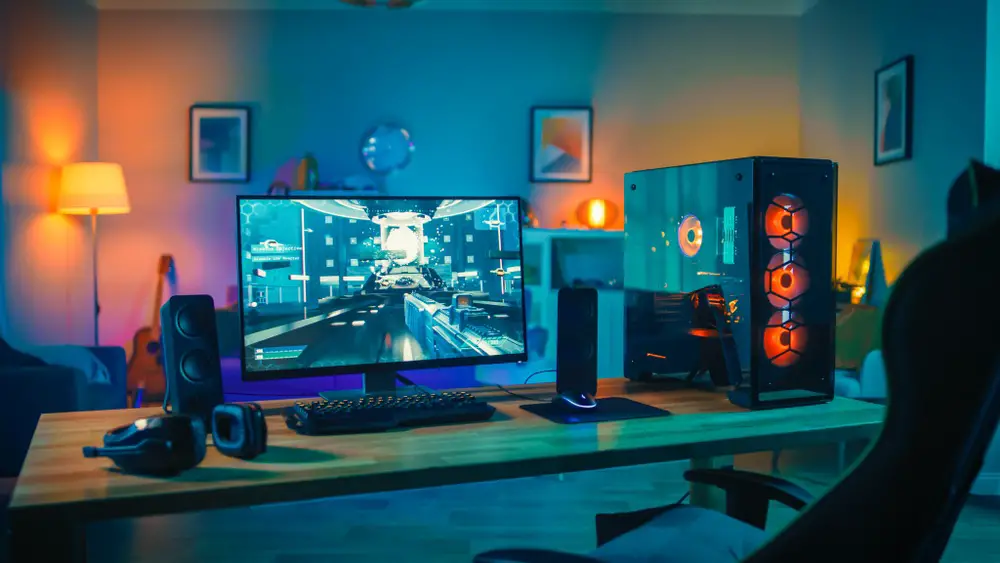 When the corners of the room are dark, the whole environment looks incomplete. Caitlin Murray, the founder and chief executive of Black Lacquer Design, recommends that you should use an oversized floor lamp that is complementary to your surrounding space 5)https://www.nytimes.com/2018/09/18/realestate/lighting-a-room-simplified.html.
Under your desk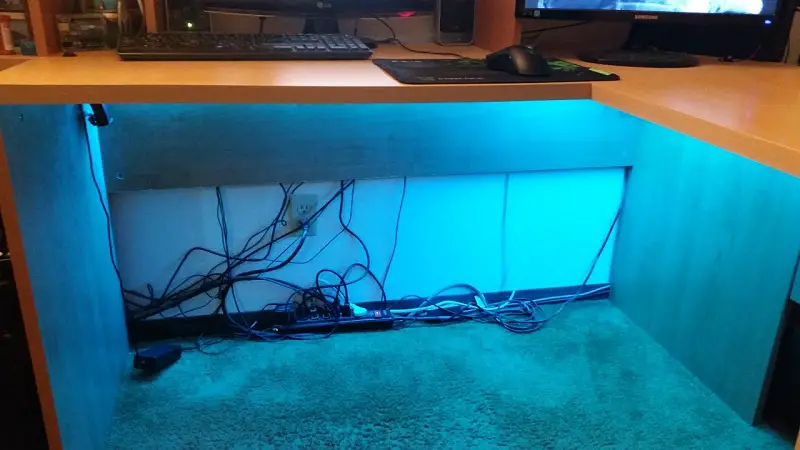 It's one of the most underrated areas of a gaming room and without lighting it up you are missing a lot and it might pose a problem when you need to access the area under the table for some important task like plugging the cables and managing them. You can use LED strips under a table and a single strip is sufficient for lighting up the whole area under your desk.
Types of lights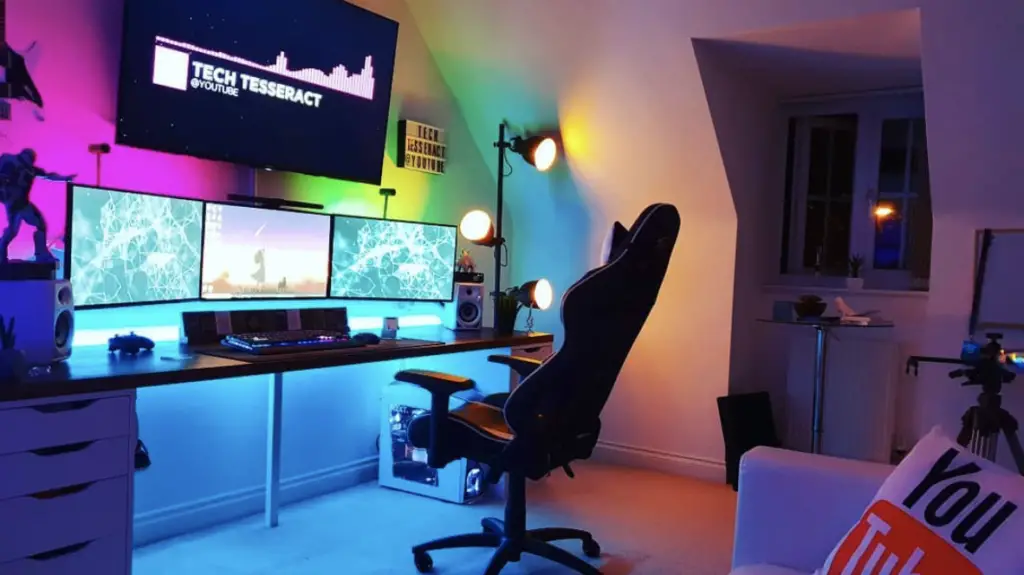 Unlike the old fashioned lights which we had 20 years ago, there are various fancy and appealing lights today which fulfill many purposes at the same time. These are compatible with each and every area of your home let alone your gaming room.
Some of the best lights to buy today are:-
Almost each of these lights can be controlled using a remote controller or a phone App.
It's best to use Table lamps with a warmer colour like orange or yellow than a cool blueish. Paloma Contreras who is an interior designer in Houston says that she uses somewhere from 2,700 to 3,000 kelvin which looks like traditional incandescents. A warmer colour is more welcoming and thus you will be able to game more comfortably6)https://www.ledlightingsupply.com/led-wall-packs-buyers-guide.
Colour theme
It's best to use all the lights source in a particular colour theme to create a beautiful and syncing environment. If you use a particular colour or two in all of your lights, then your gaming setup will look better than using multiple colours. While you can use continuously changing RGB lighting effects, it's best to use colours which are less stressful and comfier for a long session of gaming.
According to TCPI, Purple colour reduces emotional and mental stress and Orange colour stimulates creativity. These two colours can be combined to reduce stress and for being more productive in gaming as specific games like CSGO may increase stress if taken too seriously.
Top Gaming Setups with LED and lights
*Accessories and parts listed below each setup may or may not be exactly the same as shown in setups as not every part or accessory have been named by the user and alternative accessories may be listed.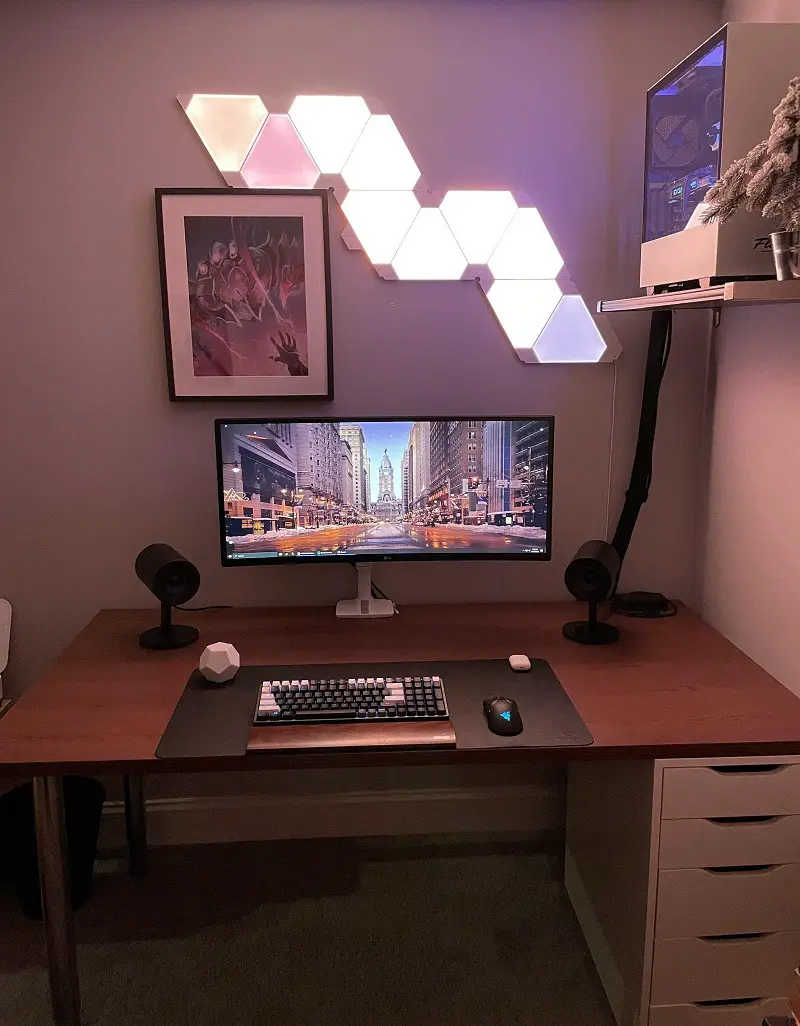 Keyboard- keychron k4 v2
Mouse- Razer Viper Ultimate
Mouse pad- VicTsing XXL mousepad
Monitor- LG ultrawide curved monitor
Lights- Nanoleaf Aurora
Chassis- NZXT H510
Dual monitor setup with lamp by /u/shiftynidal1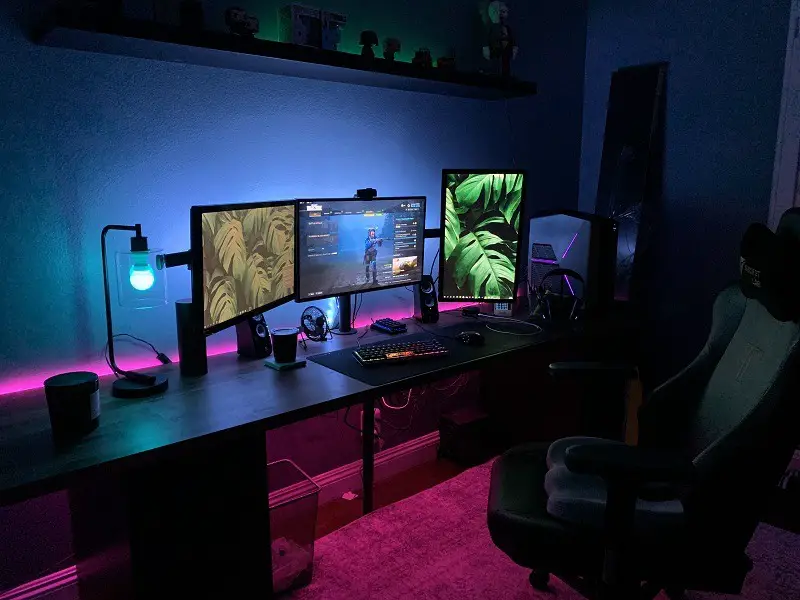 Lamp- Black Bronson lamp
LED lights- Govee Smart RGB Led Strip Lights
Chair- Secret Lab chair
Mouse- Razer Naga Hex V2
Mouepad- VicTsing XXL mouse pad
Keyboard- 60% mechanical keyboard
A perfect combination of LED and Nanoleaf by /u/itskaysoh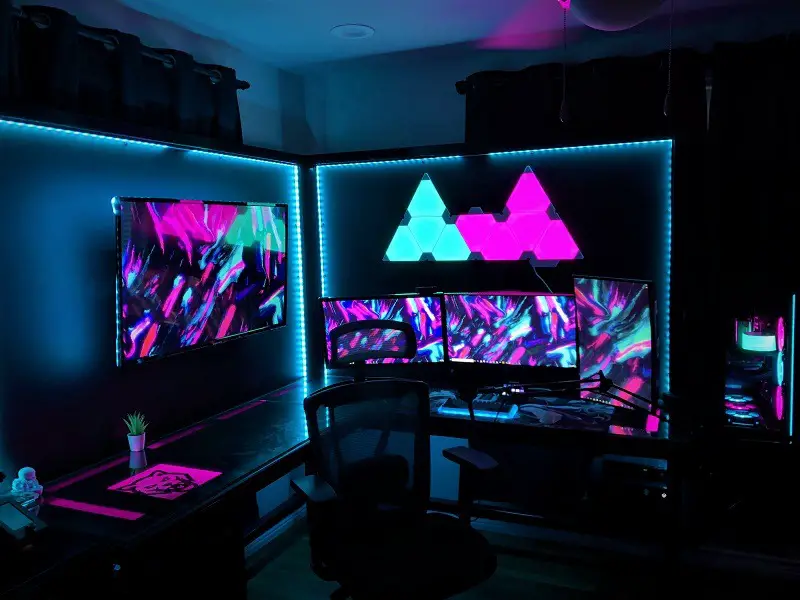 LED- Govee Smart RGB Led Strip Lights
Lights- Nanoleaf Aurora
Desk- Custom built
Chair- Autonomous Ergo chair 2
Monitor 1- Alienware AW2518Hf
Monitor 2- LG 144Hz monitor
Keyboard- Custom built acrylic tofu 5 degrees with novekey creams
Mouse- FinalMouse Ultralight 2 Cape Town
Mousepad- Strata Liquid Black
Headphone- Sennheiser HD 599
Microphone- Audio-Technica AT2035
CPU- Ryzen 9 3900X
Beautiful LED lit wall setup by /u/chabischopf1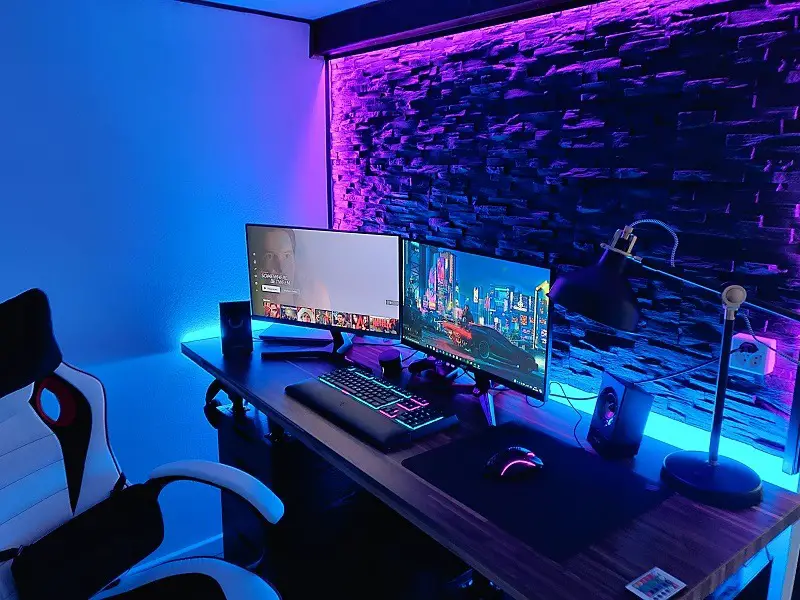 LED lights- Govee Smart RGB Led Strip Lights
Desk- Ikea karlby bc
Monitor 1- Samsung 24″ 75Hz monitor
Monitor 2- Acer Nitro VG271
Mouse- Glorious Model D
Keyboard- Razer Ornata Chroma
Chair- AKRacing Masters Series Premium Gaming Chair
Dual colour LED lights Setup by 1_AM_FR33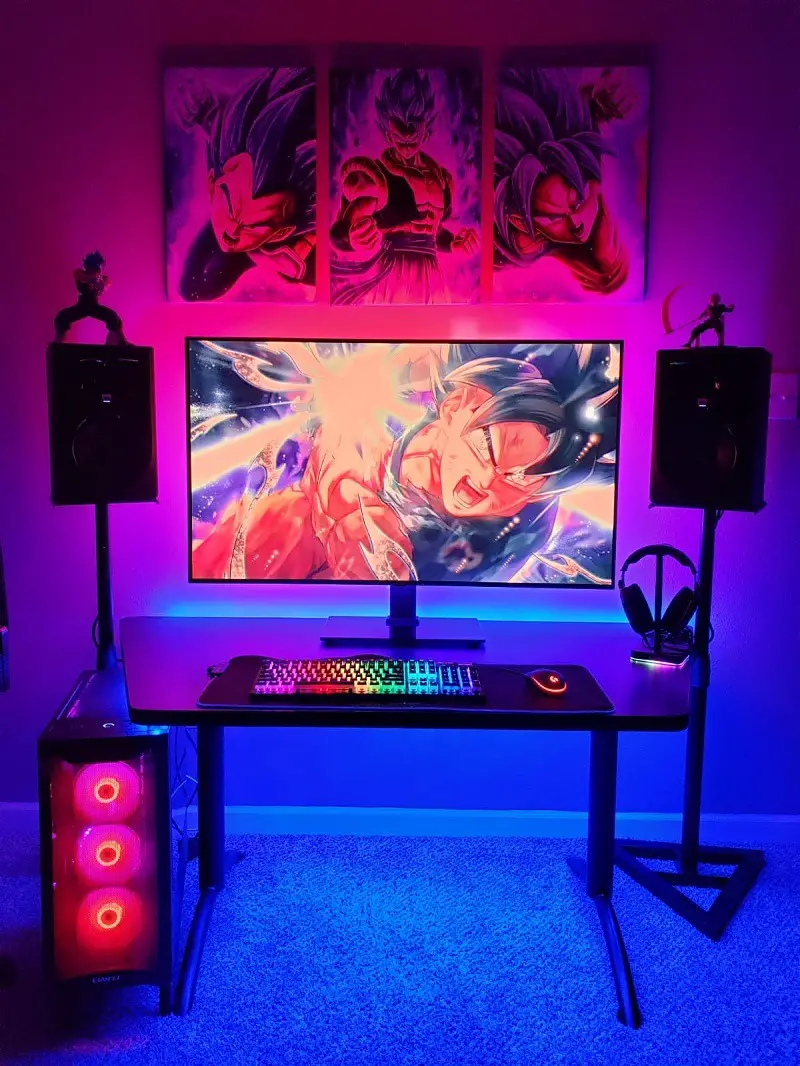 Monitor- 48 inch OLED LG CX TV
LED- Govee Smart RGB Led Strip Lights
Mouse- Logitech G203
Keyboard- Corsair K60 RGB Pro
Mousepad- GGLTECK Large Gaming Mouse Pad
Headset stand- Corsair ST100 RGB
Desk- Eureka Ergonomic Computer Desk