If you are going to build a complete gaming setup, then perhaps you are searching for what accessories you will have to use. You have come to the right place where I have put 21 essential as well as beautifying accessories you will need to complete your gaming setup and show off it to your friends.
Having more than 5 years of experience in upgrading and making gaming setups, I do have some great experience on how you should keep things up to the mark and make your system distinguished from others. Take a look at the following accessories and make yourself a list of what accessories you will need to perfect your gaming setup.
Essential
Keyboard & mouse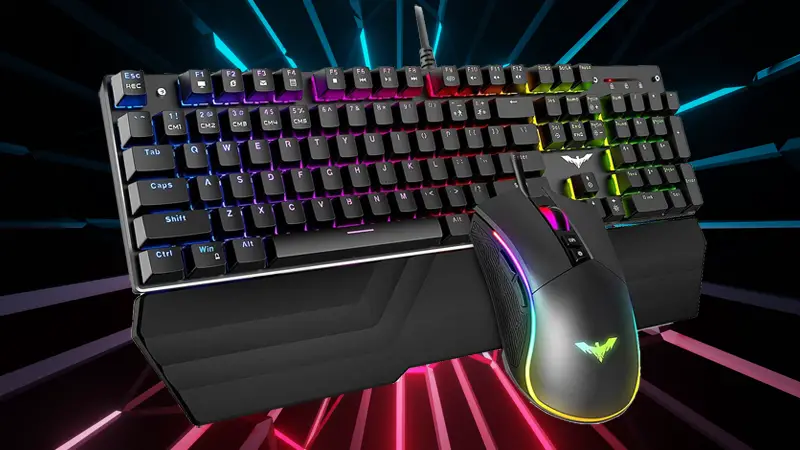 The most common and popular peripherals to game on your system are keyboard and mouse. These are the choice of every enthusiast gamer but you can also opt for a controller if you have better control on joysticks and buttons in a specific game or games.
Keyboard and mouse are available in simple design as well as with multipurpose functions and LED backlighting. I suggest that if you want your setup to look cool, then go with RGB keyboard and mouse.
Mouse pad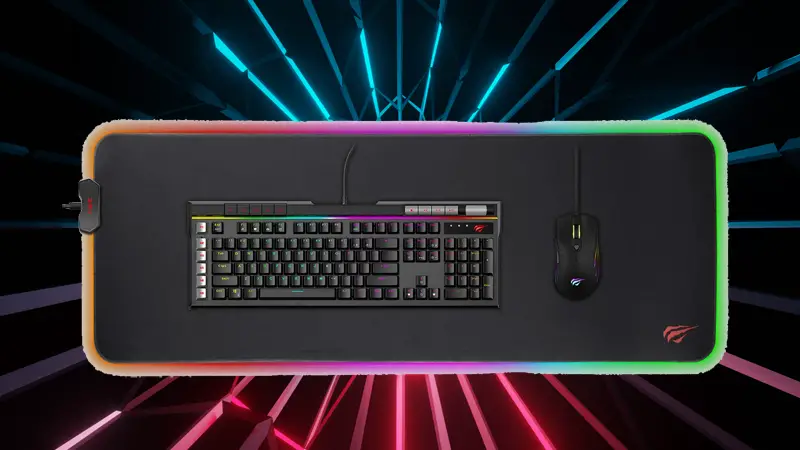 Mouse pad is generally overlooked by many users but they are very essential. A good mousepad lets you move your mouse easily which helps you achieve better control in games. The mousepad is of soft and hard type. The soft ones are made from cloth and are generally washable but they don't last as much as the hard ones can.
There are several sizes available in mousepads. From small to XXL size, you can get one which suits your work the most. I personally prefer a large size mousepad for fps games and I own an XXL cloth and a large RGB Corsair mousepad which looks sick.
Headset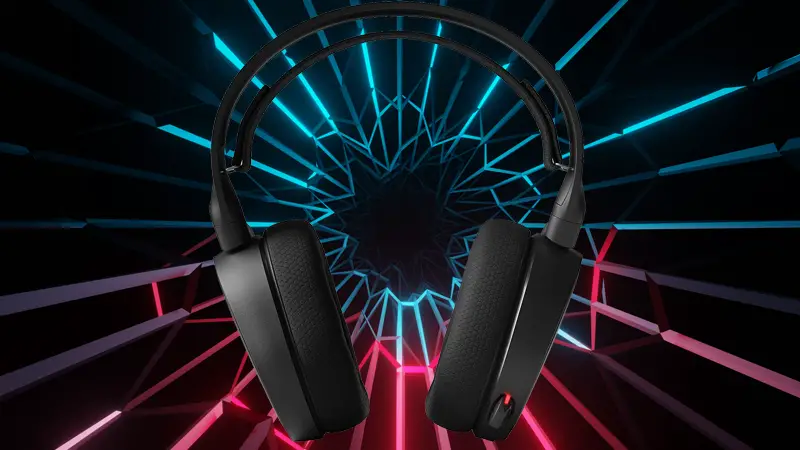 Headset is the best equipment to listen to the footsteps of your enemies and feel the intensity of any game. A 7.1 surround headset is the one that you should look for completely immersive gaming. There are RGB backlit as well as non-LED headsets available on the market and these range from as low as $15 up to more than $100.
Headset stand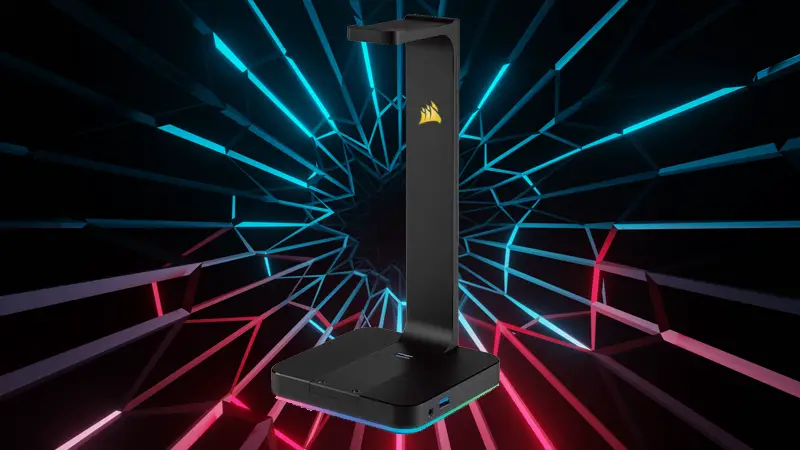 Let's not just put the headset on your desk or on your monitor which makes your setup look ugly. Buy a headset stand that will manage its space and the cable. A headset stand can come in two different variants: One that sits on your desk and the one that hangs below the desk to save more space. I prefer the second one if your desk is small but a stylish headset stand like Corsair ST100 RGB that I personally use on my second system looks better on the desk especially if it has RGB lighting.
Microphone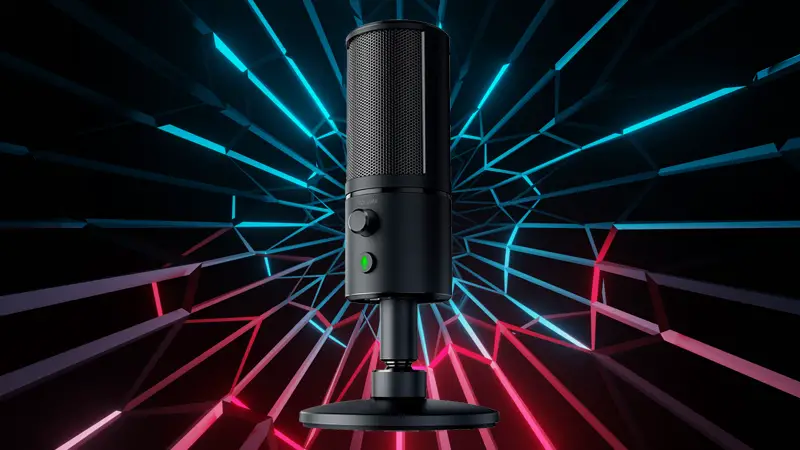 If your headset is a premium one then its mic is probably also good but a professional microphone beats any headset's mic and as not everyone prefers to put headsets on their ears for a long time as it hurts, you can use a microphone separately.
It's recommended that you use a unidirectional microphone as omnidirectional mic captures sound from all the direction and may ruin your gaming experience.
Speakers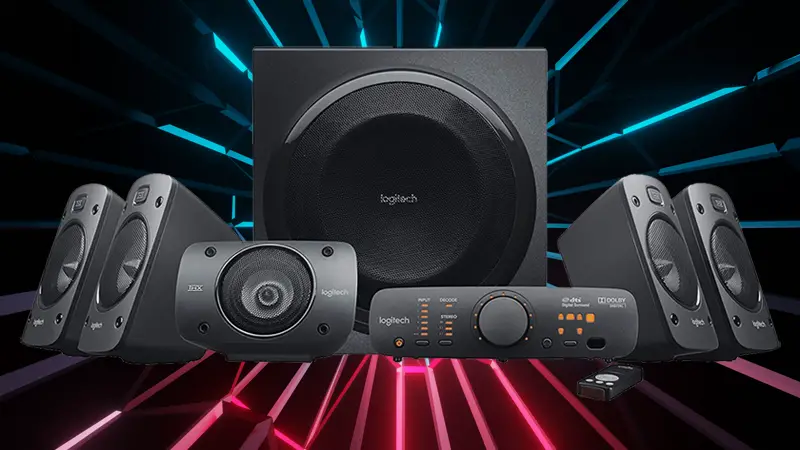 Speakers not only provides a 3D sound effect which makes gaming realistic but they also make your system look good overall. If you use 4-5 speakers in your room in each corner with bass, then you will be going to have some serious immersive gaming experience. I use 4 speakers with bass for playing Battlefield 4 and it's hard to tell the difference between the in-game gunshots and real gunshots.
Webcam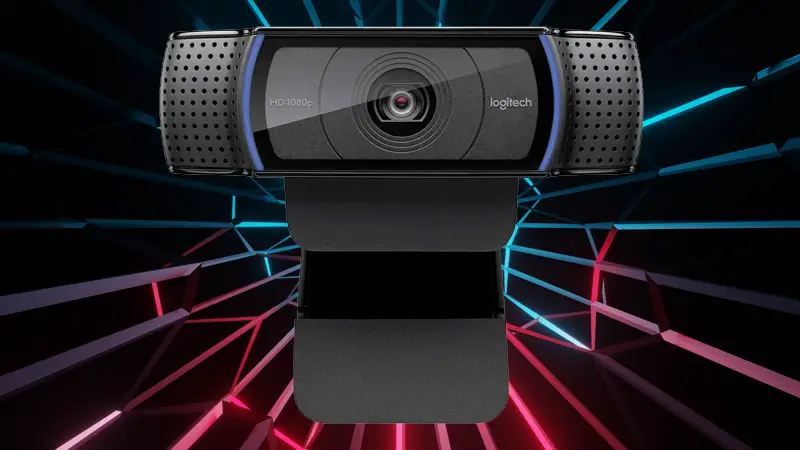 If you are a Youtuber or a Streamer, then the best way to make your gameplay better is to record yourself giving reactions to your gameplay. Get a 1080p webcam for a good and clear quality gameplay and put it on top of your monitor.
Desk with features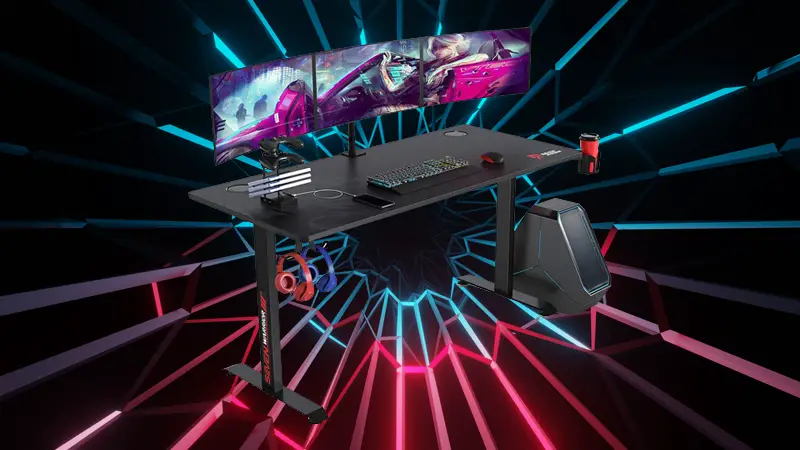 While a simple desk will work for any gaming system, the problem starts when you have a lot of peripherals and components due to which you will have a lot of cables hanging from here and there. Get a desk on which there are a couple of routing holes and additionally a storage system where you can store your handy tools. Make sure it's big enough to host your monitor, keyboard/mouse and system.
Ergonomic chair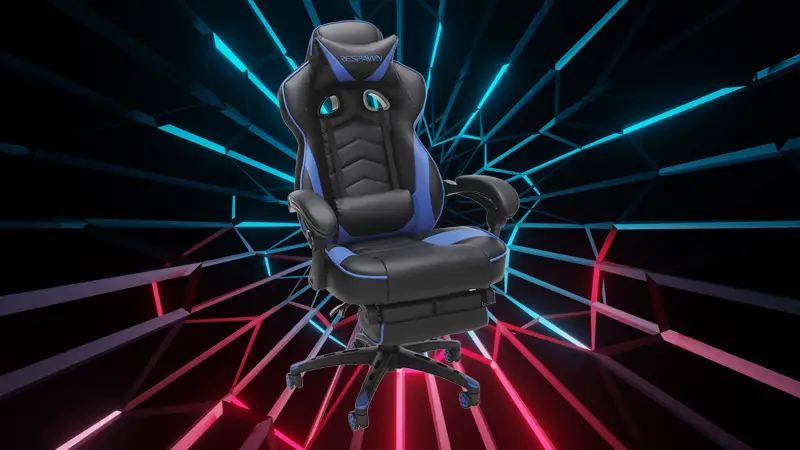 If you want to game for long, then you can't just compromise on your chair. Your back will start to hurt after a few hours and this can be very serious for your health. You must get an ergonomic chair that provides good support to your lower back. Frankly speaking, if anything that matters the most in this whole list, it's the chair.
USB hub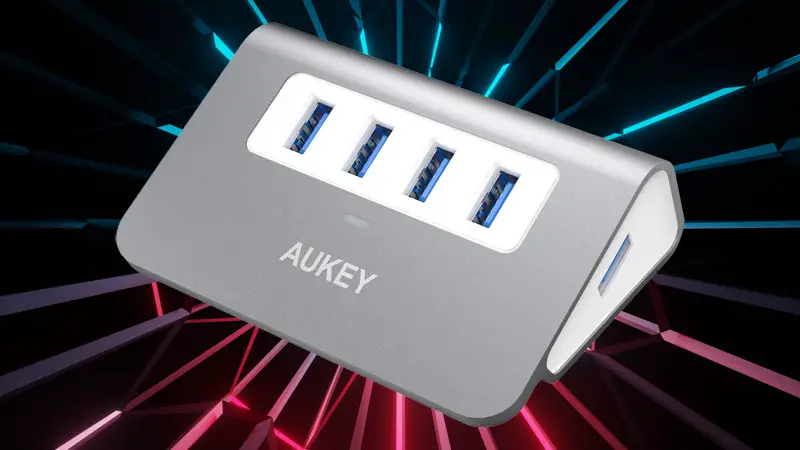 USB hub is ignored by many from the very beginning but its absence starts to bother when you need to connect any USB peripheral time to time. It's recommended to get a 3 or 4 USB port hub which can be placed near to you on the side or bottom of the desk. This will make life much easier and you won't need to go behind your PC every time you want to connect a USB drive or a controller.
Extension power board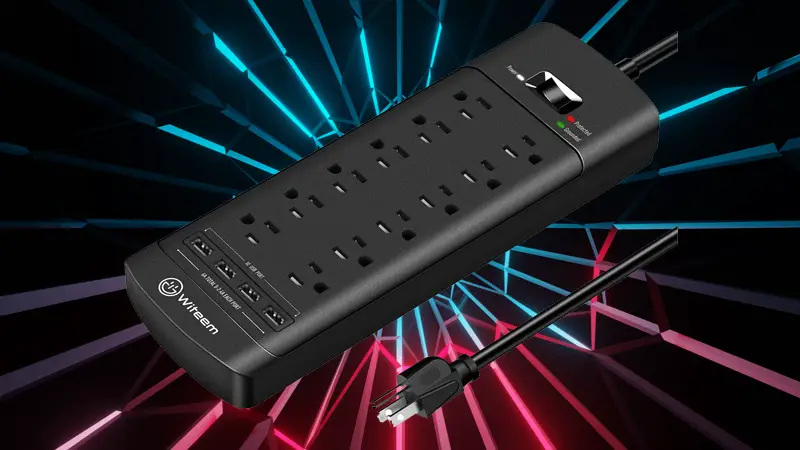 If you count the total number of parts that need to be powered directly from a switchboard, then you will at least need 4-5 sockets. Your monitor, CPU, Router, Printer, Speaker will take 4-5 sockets and you will have no additional sockets leftover to connect any other device.
Get another 4-5 socket extension board for that purpose.
Phone stand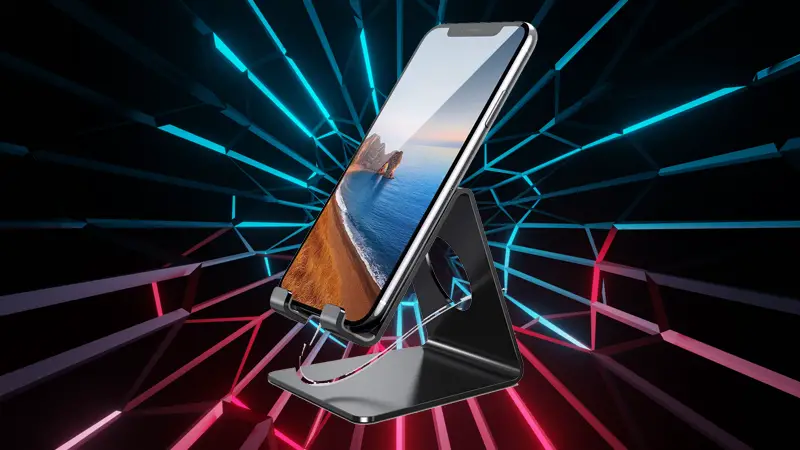 This is probably one of the best ideas to organise your desk and use your phone easily. A phone stand holder costs nearly around $10 and has a cable routing hole from where you can route the cable of your phone charger. You can just pick up the call on speaker from the stand and you don't need to put it leaning on the wall for support.
Adhesive tape
This is actually not an accessory but a very useful tool to fix many problems. An adhesive tape helps you to fix a peripheral or a device at its place. It can be used for a USB hub or a headset stand. You can also use it for sticking different decorative materials to beautify your gaming setup.
To beautify
Cable management sleeve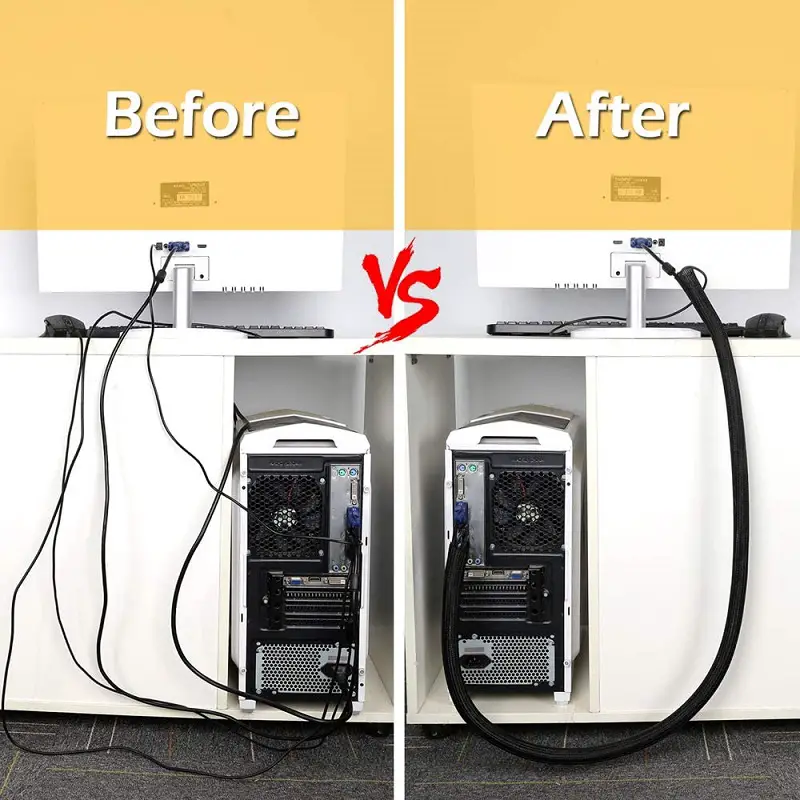 With so many accessories you will have a lot of cables going behind and under your desk. Use a cable management sleeve that will keep your cables together making them look as one. Alternatively, you can also use Zip ties which are a great way to keep your cables together.
Check out our guide on how to do perfect cable management.
Cable management rack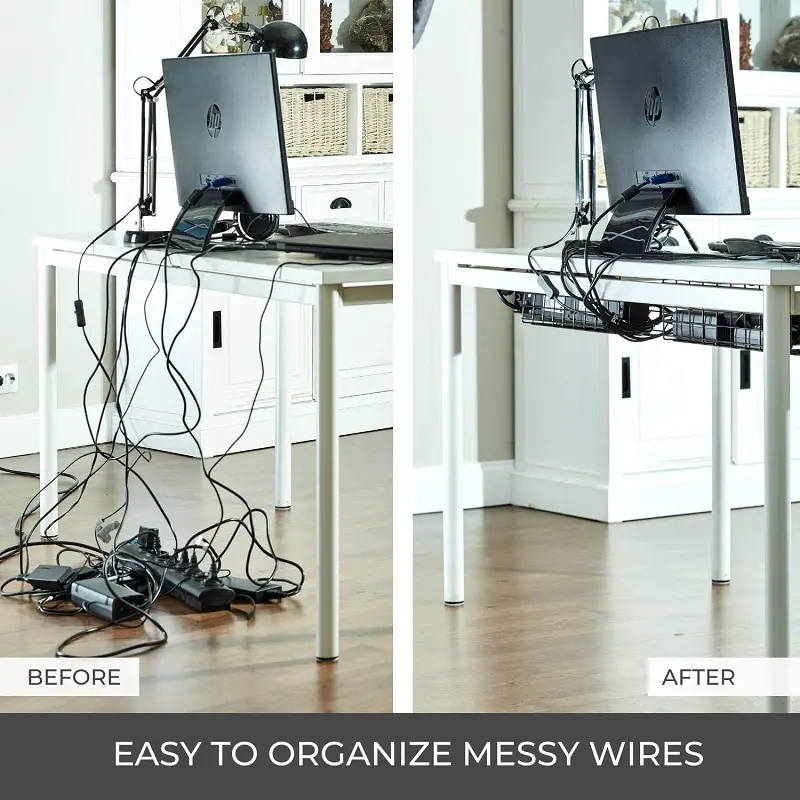 After tying up the cables together, it's time to hold them at a place where no one can see them. A lot of people use cable management rack under the table which provides support to the suspended cables and hence, they don't lie down on the floor.
Acoustic panels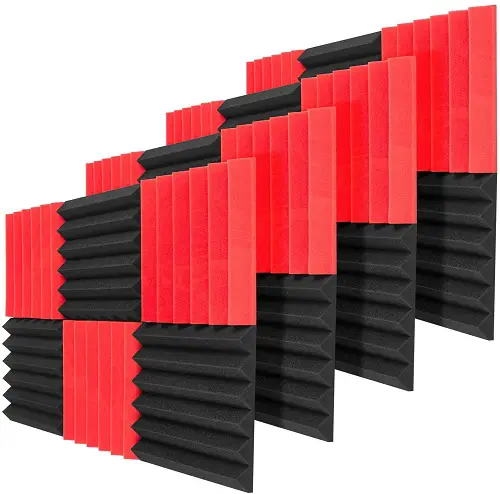 Decorating your wall adjacent to your gaming setup is another trendy thing nowadays and acoustic panels are one of the most popular wall decorating items people use in their gaming setups. These not only decorate your walls but also reduce the echo of your computer sound. These are available in different colours and can be arranged in a lot of different patterns. You just need to use fevicol to still on your wall and you are good to go.
LED strips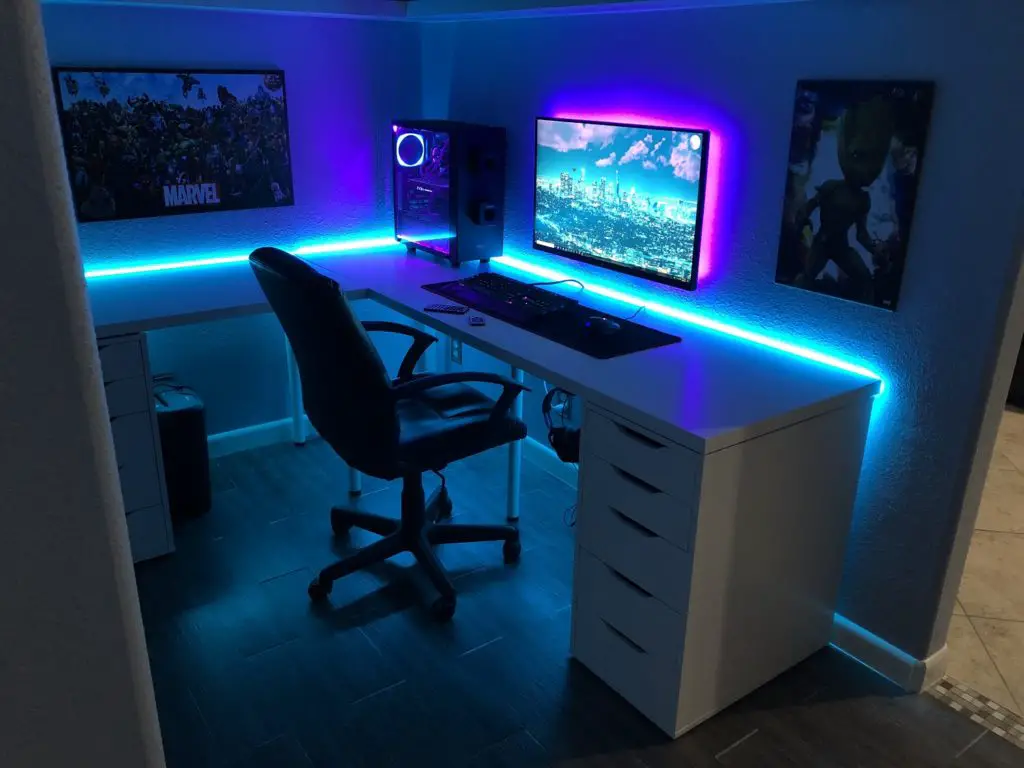 With LED strips you can light up your desk effortlessly that will actually make your setup look sick and gorgeous. It's the most affordable decorative item people use on gaming setups. The best places to use LED strips are: Behind the monitor, behind the desk on the edge and under the desk.
Table lamps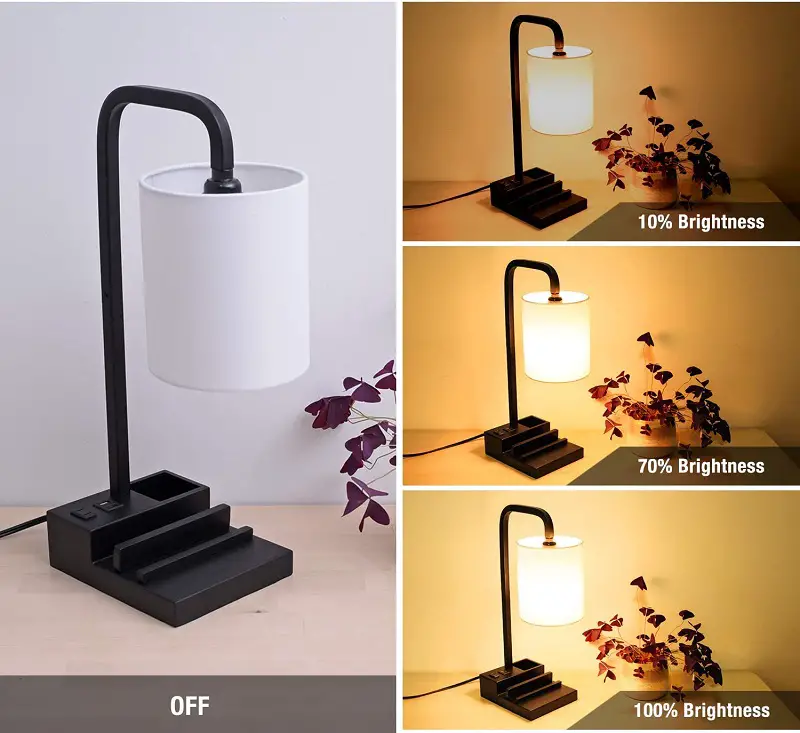 Nothing can beat table lamps when it comes to making your room comfy. I personally use warm yellow bulbs in my table lamps and they give a lot of comfort to my eyes. There are a variety of table lamps you can buy today and you can also opt for an RGB bulb if you love to change the lighting themes on a daily basis.
Nanoleaf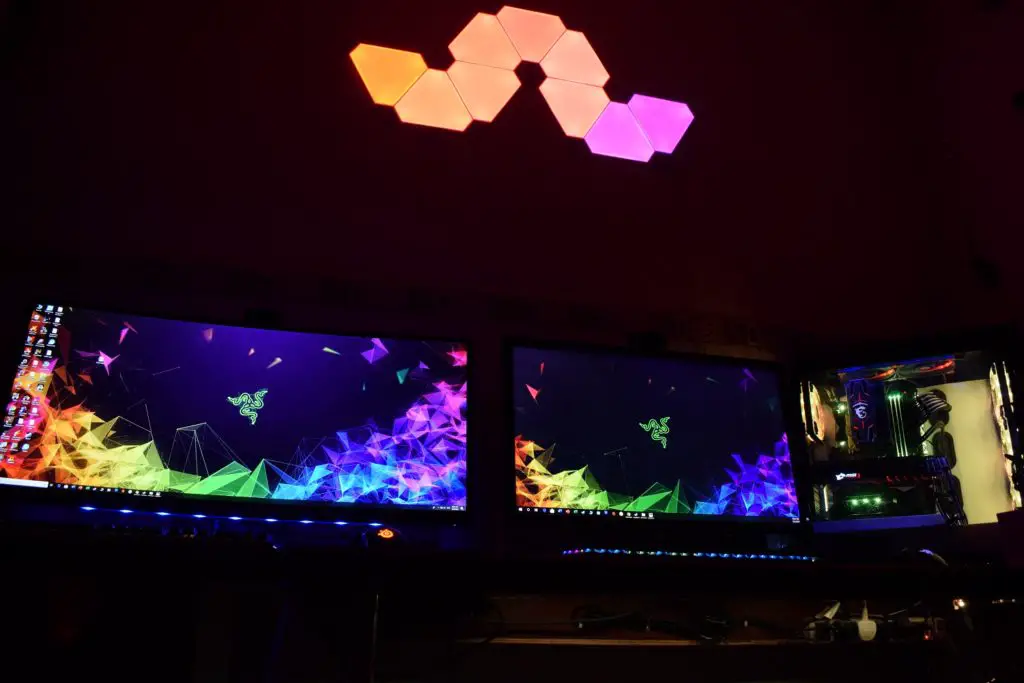 Perhaps the best ever RGB wall decorating accessory you can have today are the Nanoleaf panels. These are although very expensive but they are like nothing. They have preset light modes as well as sound controlled effects. Nanoleaf panels also have an App through which you can have almost unlimited possibilities. Just look at the beauty of these lights in my personal setup above.
LIFX Beam
LIFX Beam is a premium alternative to the RGB LED strips. It has diffused LED effects and therefore feels much better than the ordinary RGB LED strips. These are expensive than the LED strips but are cheaper than the Nanoleaf. You can use it behind your desk or monitor and enjoy the effects that are much more customizable than the LED strips.
For knowing exactly how you should use all of the lights mentioned above, read our article on Ideas and examples of gaming setup with lights.
Plant

Plant makes your gaming setup more fresh and alive. They add natural beauty to your setup that the lights can't and are much cheaper than any of the premium lights mentioned above. Get a dense green plant and place it on your desk, you won't regret, I promise. Alternatively, you can get a fake plant which doesn't require any maintenance.
Conclusion
Currently, in 2020, these are the most trending accessories people are using for their gaming setups. The list is definitely not limited to only these 21 accessories but these are the ones that you will need to compete with any other setup. Let me know what are you planning for your gaming setup in the comments section below!