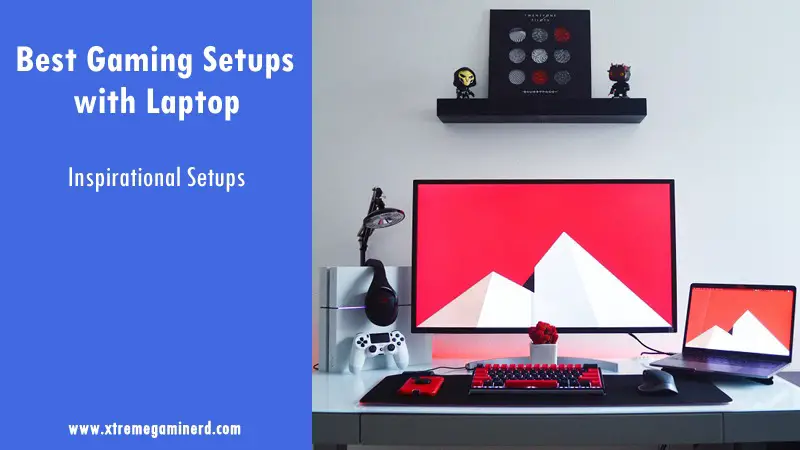 While most PC gamers use a dedicated gaming build connected to the monitor, Battletops are getting popular as they serve two purposes at the same time. You can either use your gaming laptop with a big display and play games, or you can take your laptop to your friend's house for a Lan party.

Battletops can look as good as a gaming setup with a dedicated gaming rig and you just need some accessories in order to make it look like that. I have listed the top gaming setups that use laptops following with the guide on how you can make your gaming battletop look awesome and practically easy to use.

[lwptoc hierarchical="1″ hideItems="1″]
Top 14 Gaming and Productivity Setups With Laptop(Battletop)
Note- Some accessories listed below in each setup might be a little different from the actual accessories used.
Beautiful Battletop by /u/zinv2k6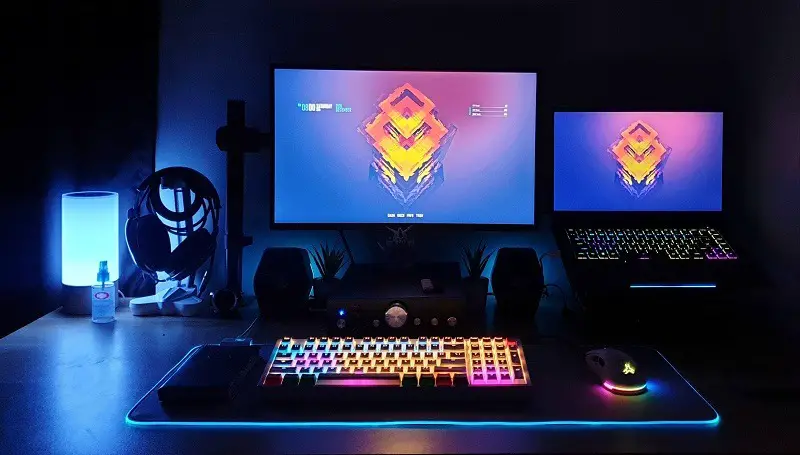 Laptop- Equivalent of Eluktronics Mag-15/XMG Fusion 15
Keyboard- Rakk Ilis with pudding keycaps
Mouse- Rakk Kaptan
Speakers- Edifier G2000
Headphone- Sennheiser HD650s
Monitor- ViewSonic VA2719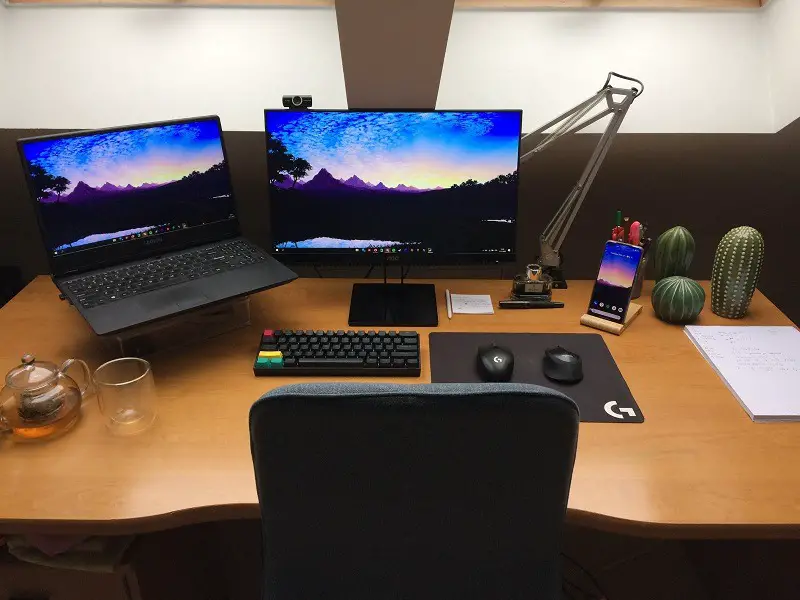 Laptop- Lenovo Legion Y530
Monitor- AOC 22V2Q
Mouse 1- Logitech G305
Mouse 2- M330 Silent
Mousepad- Logitech G240
Keyboard- Anne Pro 2
Phone- Oneplus Nord
Phone stand- IKEA phone stand
Chair- IKEA Langfjall chair
Budget Battletop by /u/Ronn_W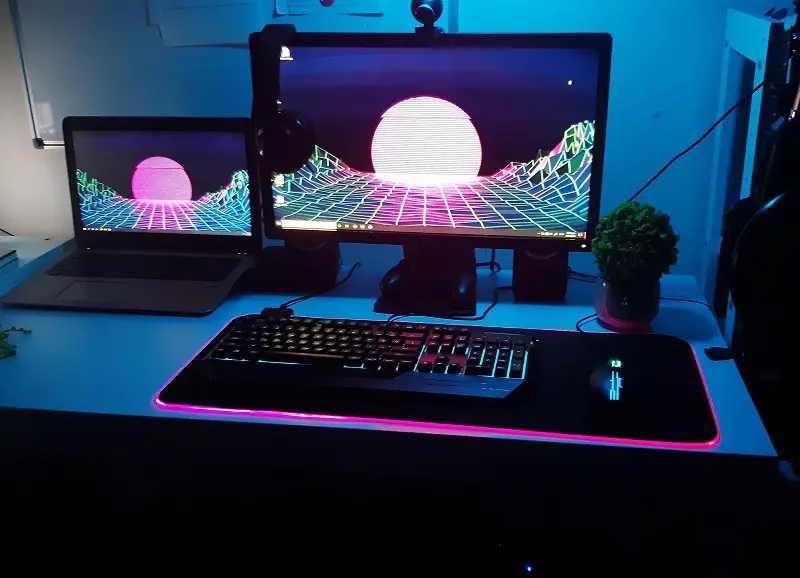 Laptop- HP EliteBook 840 G3
Monitor- HP EliteDisplay E231i monitor
Keyboard/mouse- Cooler Master Devastator 3
Headset- JBL quantum gaming 300 black
Mousepad- Unbranded RGB LED mousepad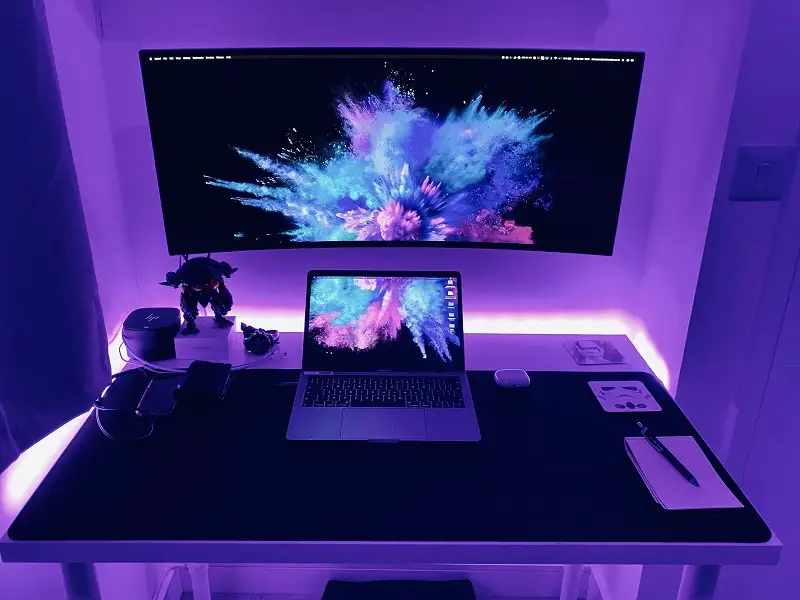 Laptop- Apple Macbook Pro
Monitor- LG 34UC98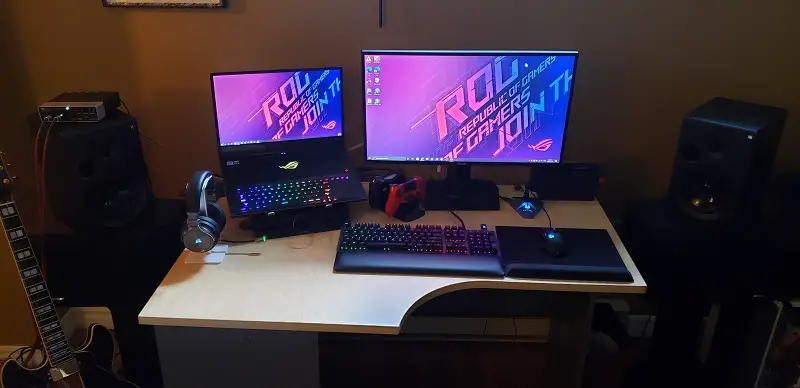 Laptop- Asus ROG Zephyrus S17 GX701LV
Monitor- Asus VG279Q
Keyboard- Logitech G513
Mouse- Logitech G502 hero
Headset- Corsair Virtuoso RGB wireless SE High-Fidelity
Overkill RGB Battletop by /u/MrbeefyPS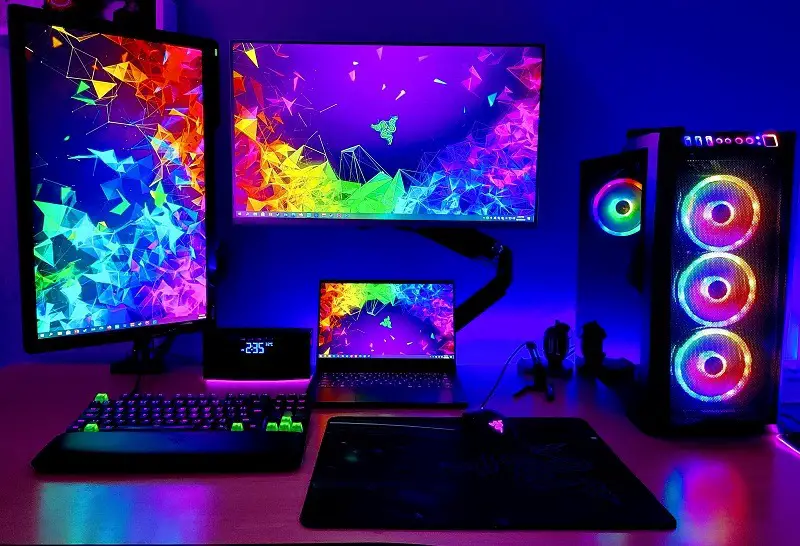 Laptop- Razer Blade 15
Mouse- Razer DeathAdder Elite
Mousepad- Razer Goliathus Speed
Keyboard- Razer BlackWidow V3 Tenkeyless
Monitor- BenQ ZOWIE XL2411P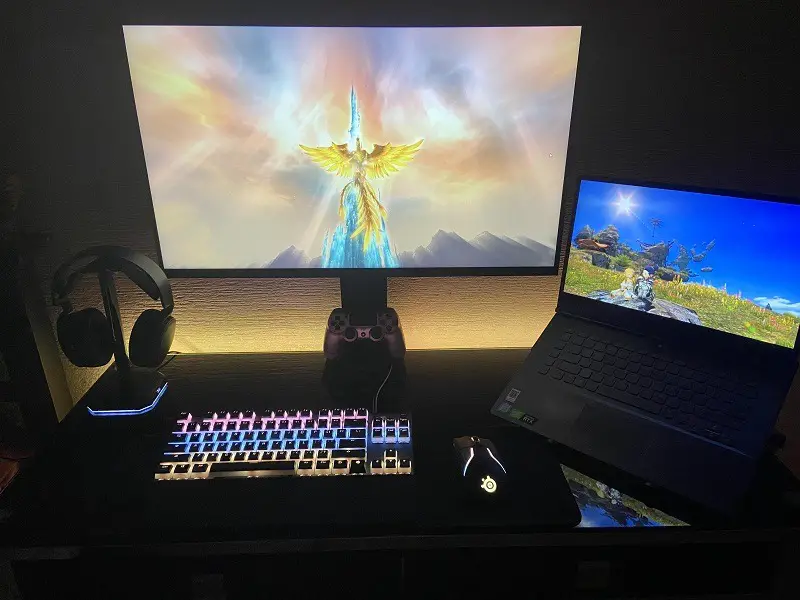 Laptop: Lenovo Legion Y740
Keyboard: Steelseries Apex 7 TKL
Mouse: Steelseries Rival 650
Headset: Steelseries Arctis 3 BT
Headset Stand: Redragon Scepter Pro
Monitor: Samsung Space 32″
Laptop 1- MacBook Pro 16-inch with i9 9900K
EGPU- Razer Core X Chroma with Gigabyte RX 5700 XT OC
Monitors- Dual LG 27" 4K HDR 27-BL85U
Monitor mount- VIVO Dual Vesa Mount
Tablet- iPad Pro 11 inch 2020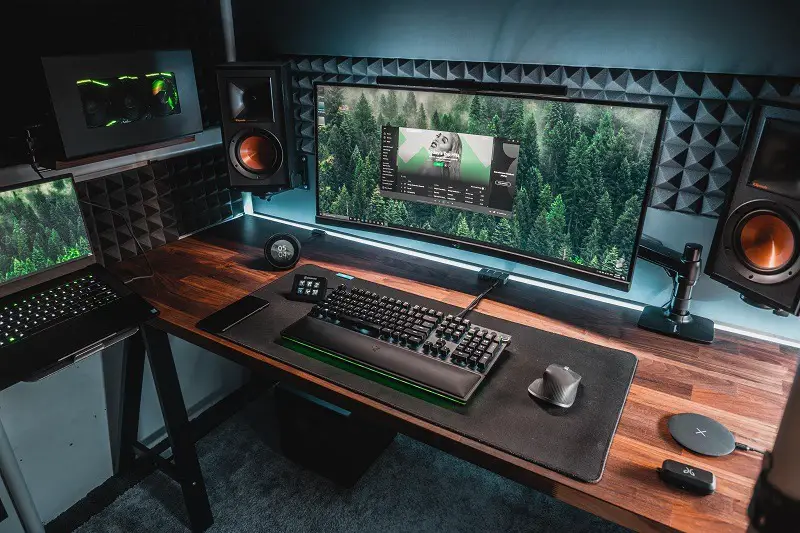 Laptop- Razer Blade 15
eGPU- Razer X Chroma with Asus ROG Strix RTX 2080 Ti OC
Monitor- Asus ROG Strix XG35VQ
Mouse-Logitech MX Master
Keyboard- Razer Blackwidow Elite
Desk- IKEA Karlby
Minimalistic Battletop by /u/jgierer12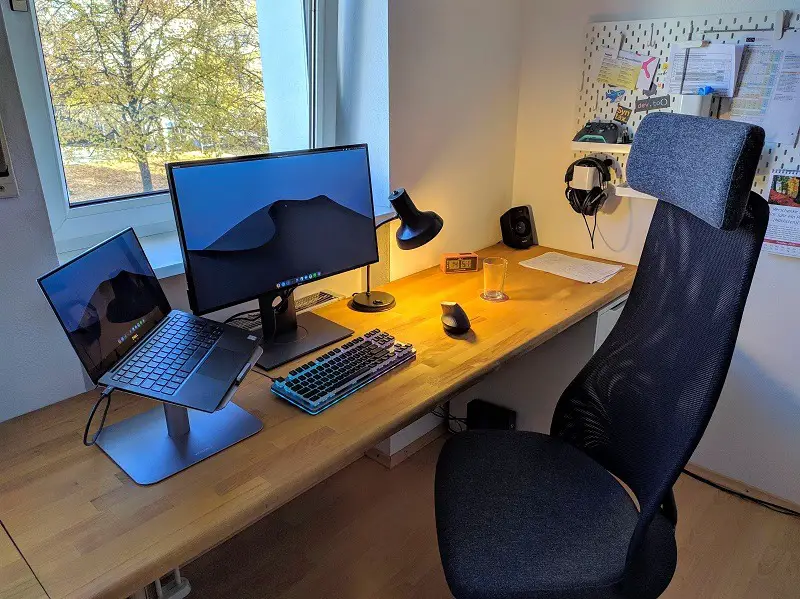 Laptop- Dell XPS 13 9370
Monitor- Dell U2518D
Dock- CalDigit TS3 Plus
Keyboard- Massdrop CTRL
Mouse- Logitech MX Vertical
Gorgeous White/Red Battletop by /u/ch1197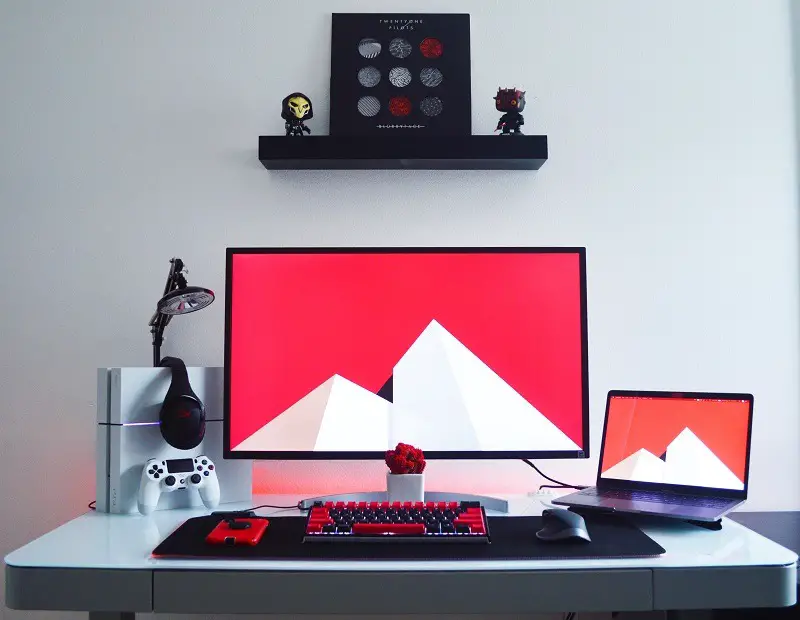 Laptop- Apple Macbook pro
Monitor- LG 27UL500-W
Keyboard-  Ducky One 2 mini 
Mouse- Logitech MX Master
Headset- HyperX Cloud Stinger
Console- Playstation 4
Mood changing Battletop by /u/speednijer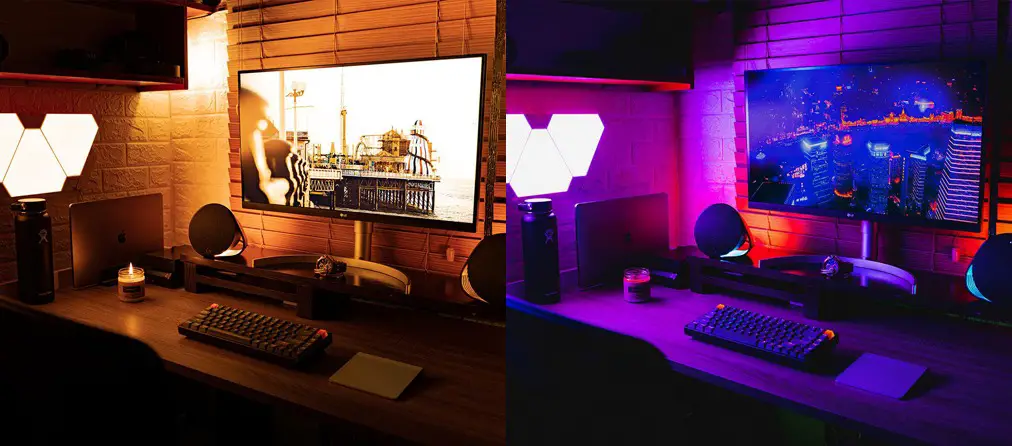 Laptop- Apple Macbook pro
Monitor- LG 27UL500-W
Keyboard- Keychron K2
Speakers- Logitech G560
Clean & Neat Battletop by /u/b0xel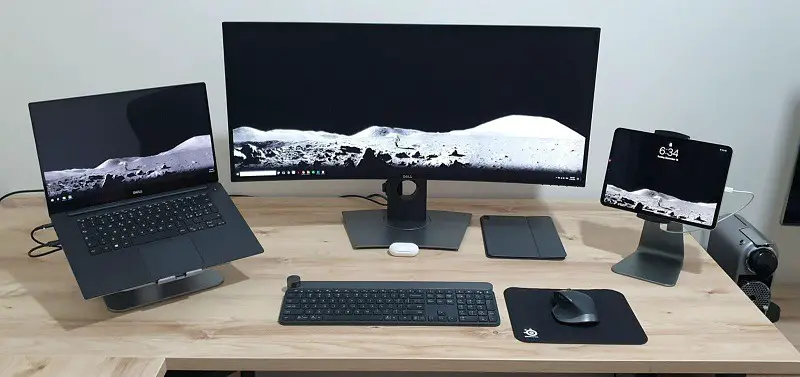 Laptop- Dell XPS 15 9560
Monitor- Dell Ultrawide U3417W
Tablet- iPad Pro 2018 11 inch
Keyboard- Logitech Craft 
Mouse- Logitech MX Master
Mousepad-Steelseries QcK Edge
Mesmerizing Battletop by /u/istefan24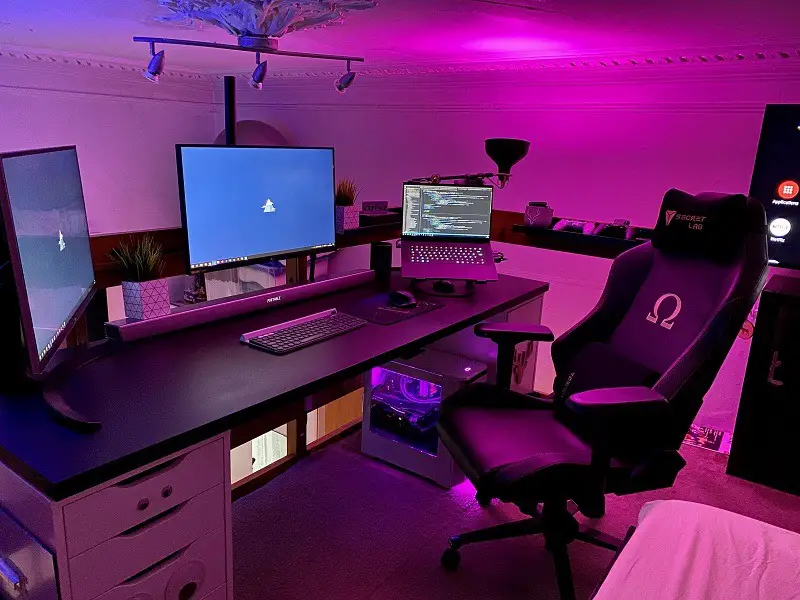 Laptop- Razer Blade 15
Monitor- LG 27GL83A-B
Keyboard- keychron k2
Mouse- Logitech MX Master
Chair- Secret lab omega
Things you will need for a Battletop
[box type="shadow" align="alignleft" class="" width="100%"]

Desk

Recommended- Ikea Linnmon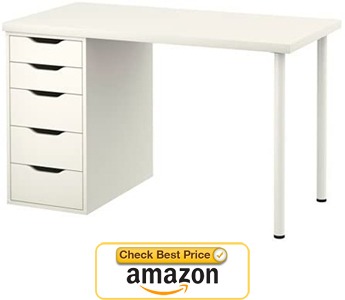 The desk is the compulsory requirement for creating a great-looking battletop and it's recommended to use a broader and longer desk to allow all your accessories to be easily put on without creating a mess. Consider getting an Ikea desk without drawers or you can use the Ikea Linnmon if you need some storage. You can get one more desk like these if you want to build a bigger battletop. Alternatively, you can get a custom desk if you are short on budget and have almost similar features as the one shown above.

[/box] [box type="shadow" align="alignleft" class="" width="100%"]

Monitor

Recommended- ASUS VG279Q 
A laptop's display is generally comparatively smaller than the monitors we have on the market. Only a good monitor can replace your old un-immersive gameplay with an immersive one with better picture quality and the latest technology. Your laptop's specs determine what monitor you should get. If you are having a quad-core processor with integrated graphics, then you shouldn't go above a 24″ monitor with a 60Hz refresh rate but if your laptop has a powerful CPU with a dedicated graphics card that can play most games above 60 fps at 1080p, then a 27″ 1080p 144Hz monitor is recommended.

You can go beyond that if you have super high-end specs and can enjoy gaming as it is meant to be enjoyed.

[/box] [box type="shadow" align="alignleft" class="" width="100%"]

Mouse

Recommended- Logitech MX Master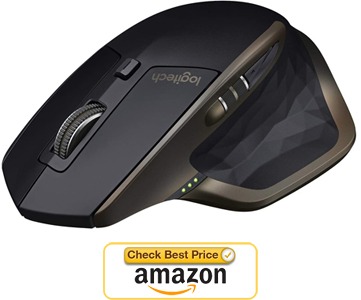 A mouse is far better than the touchpad of the laptop as the pad lacks precision and accuracy. Also, you can't play any game properly with it which is why you will need a good mouse. Going wireless is the best option for a battletop as it can be placed anywhere on your desk without getting messed up in the wire.

You must have noticed that the most common mouse among some of the battletops listed above is the MX Master from Logitech. This mouse is a beast and is one of the most popular wireless gaming and productivity mouse that will provide a great experience in both.

[/box] [box type="shadow" align="alignleft" class="" width="100%"]

Mousepad

Recommended- Luxcoms RGB mousepad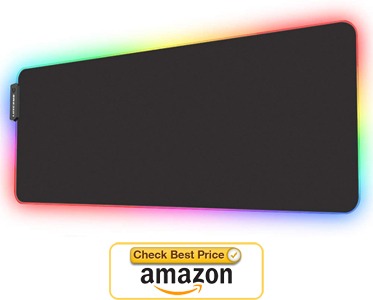 Mousepad not only helps your mouse to move around easily but also adds a good look to your overall setup. It's one of the essential accessories for a gaming setup and for a great-looking battletop you should use a large mousepad that covers your mouse and keyboard. These are generally cheap and if you want an RGB one, then most likely you will get one for $30.

[/box] [box type="shadow" align="alignleft" class="" width="100%"]

Keyboard

Recommended- Cooler Master SK 650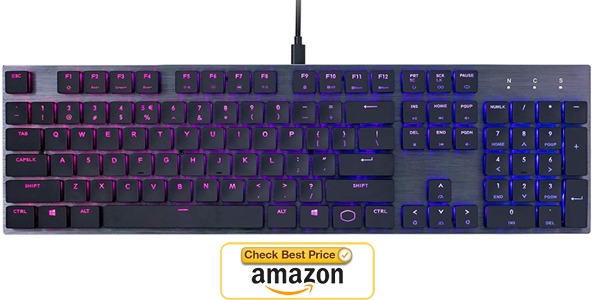 If you plan to keep your laptop away from yourself which is the most practical decision as your monitor will be directly in front of you, then a dedicated keyboard is necessary to use. You can use a membrane keyboard if you are short on cash but a mechanical keyboard is the most suitable one for gaming and productivity. Do check the comparison between the membrane and mechanical keyboards if you aren't able to decide between the two.

[/box] [box type="shadow" align="alignleft" class="" width="100%"]

Headset

Recommended- Corsair HS70 Pro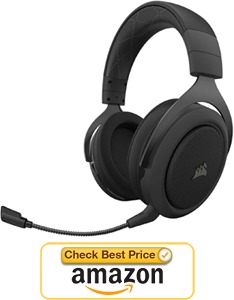 It's difficult to connect a wired headset to your laptop and it's wiser to go with a wireless one. There are plenty of wireless headsets for gaming and I recommend Corsair's HS70 Pro which has thousands of positive reviews on Amazon and comes under $100. It has a dedicated noise-canceling mic and comfortable ear cups for a painless gaming experience.

If you want a cheaper option and no mic, then go with the COWIN E7 headphone with your eyes closed. This headphone has over 50,000 positive reviews which are exceptional and rare to see.

[/box] [box type="shadow" align="alignleft" class="" width="100%"]

Some Lights

Recommended- LIFX Z LED Strip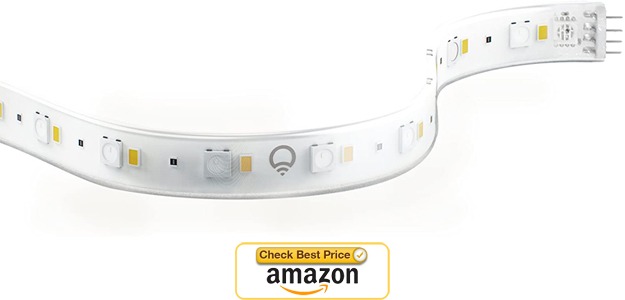 To illuminate your room, you can use various types of lights. We have an in-depth article on how and which lights should you use for your gaming room. The cheapest light to light up your setup is a simple LED strip that you can route through different areas and if you want a premium option, then LIFX Z LED strip is an excellent choice.

You can also go with Nanoleaf panels if you are willing to spend a couple of hundred dollars in your room and try to add a lamp to increase your setup's aesthetics.

[/box] [box type="shadow" align="alignleft" class="" width="100%"]

Speakers(Optional)

Recommended- Bose Companion 2 Series III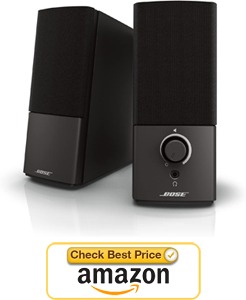 It's hard to sit with headphones on your head all day and no matter how comfortable are the earcups, your ears will start hurting pretty badly after some time. You can get a pair of speakers which will be a great alternative to your headphones and there are plenty of good speakers to choose from. The Bose Companion 2 Series III speakers are a great choice for $100 and have crystal clear sound without any hissing.

[/box]
Plan and Manage
Just getting every accessory is not enough to make an outstanding battletop. You need to plan carefully on how you can get the most out of your accessories without making a clutter on your desk. Plan on a piece of paper till you find the best layout to organize your setup and do not forget to manage the cables behind your desk.
If you need help regarding managing cables, you can refer to our guide on cable management or you can just comment below if you want any suggestions.