Memory
Best RAM for Ryzen 3100 and 3300X
Ryzen processors especially the third-gen CPUs have been made in a way that they utilize the faster RAM for gaining more performance. While the first batch of 3rd gen Ryzen CPUs that included the famous Ryzen 3600 and Ryzen 3700X was launched in July 2019, AMD filled the gap at the starting of its lineup by providing the Ryzen 3 3100 and Ryzen 3 3300X in June 2020.
Similar to the faster siblings, the Ryzen 3100 and Ryzen 3300X provide better performance with faster RAM modules as shown by tests done by many including GamersNexus and Eurogamer. Faster RAM is especially good with AMD APUs like Ryzen 3400G which use the system's RAM for its integrated GPU.
For gaining the most of these chips, the frequency is not the only thing you should look for because as the frequency increases, so do the CAS latency which determines how fast your RAM modules are going to act.
In simple words, you should have a good balance between the Memory Timings and Memory Frequency. A memory module with a high frequency but higher timings is worse than a module with a little lower frequency but with much faster timings. Most of the tests conducted show that the sweet spot of RAM frequency lies between the 3000MHz and 3600Mhz. Going above that actually decreases the performance as AMD has encoded some limits into base firmware although these CPUs can still support memories above 3600MHz.
Hence, for these two CPUs, I recommend the following memory kits to get the most performance in gaming:-
Note:- Not every game responds very well to the increased frequency and have minimal effects by the type of RAM you use. 
---
Patriot Viper 4 Blackout Series DDR4 8GB(4GB x 2) 3200MHz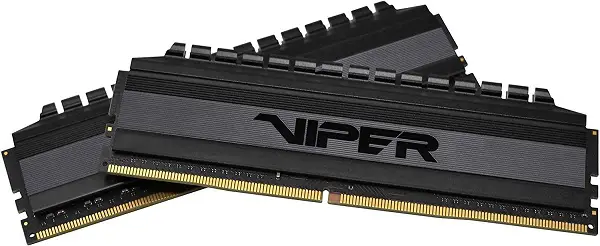 While there are several 8GB kits with 3000MHz and above but the Patriot Viper 4 Blackout series provide very ideal timings with 3200MHz speed just under $50. For any system, I recommend going with at least 8GB RAM as games and applications nowadays consume a lot of RAM especially Google Chrome. 8GB at 1080p resolution is enough for multitasking and eliminates any kind of bottlenecks in gaming.
This kit has 2 modules of 4GB each with aluminium heat spreaders. The default speed will be 2133MHz as in most of the cases and you have to enable the XMP profile from the BIOS to reach up to 3200MHz. Make sure you have a motherboard that supports this frequency, otherwise your RAM will be limited.
The CL timings of this kit are 15-15-15-36 and 16-18-18-36 are its tested timings which will be enabled with the 3200MHz frequency. These are ideal CL timings for any 3200MHz RAM kit and for $44, it's hard to find a kit like this.
---
Crucial Ballistix RGB 16GB(8GB x 2) 3200 MHz(
BL2K8G32C16U4BL
)

Crucial Ballistix 16GB kit not only performs good but is very pleasing in aesthetics. It has RGB lighting over the top of aluminium heat spreaders and for $90, these two sticks are more than enough for any kind of task at 1080p and even at 1440p resolution.
These modules are clocked at 3200MHz with CL as 16 and Extended Timings as 16-18-18-36 which is ideal for gaming. This kit is also available in Red and White colours if you are going with a different colour theme for your PC build. This kit will run at 2666MHz on default and when you will enable the XMP mode, it will be overclocked to 3200MHz as said by the manufacturer.
---
G.Skill Trident Z Neo Series 16GB
(8GB x 2)
3600MHz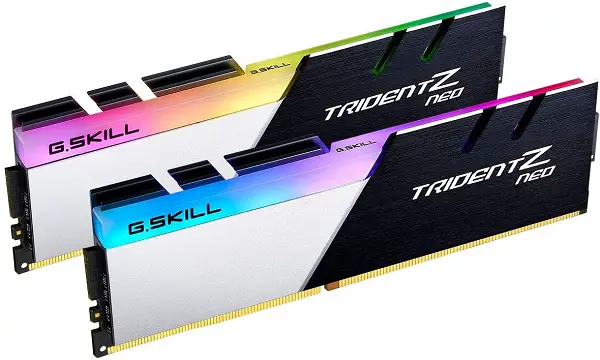 G.Skill Trident Z Neo is the best 3600MHz kit you can buy today and it has been recommended by PCGamer also due to its great compatibility with AMD motherboards. In this kit, you will get 2 modules of 8GB each that can be overclocked up to 3600MHz with CL timings as 16-19-19-39 which is better than that of Corsair Vengeance Pro RGB 3600MHz 16GB kit.
It has excellent performance and very pleasing looks due to the smooth RGB lighting effects it emits. While this kit will cost you more than $100 easily, they will ensure that you get the best possible performance in memory oriented applications as well as gain some good boost in gaming.
Also, make sure before you buy it that it is completely compatible with your motherboard. Check out this QVL for knowing about it.
---
Conclusion
While there are some more good kits that could have made to the list but they are no much better than the ones I listed. These kits are great not only for Ryzen 3100 or 3300X but will do great with higher-end processors.