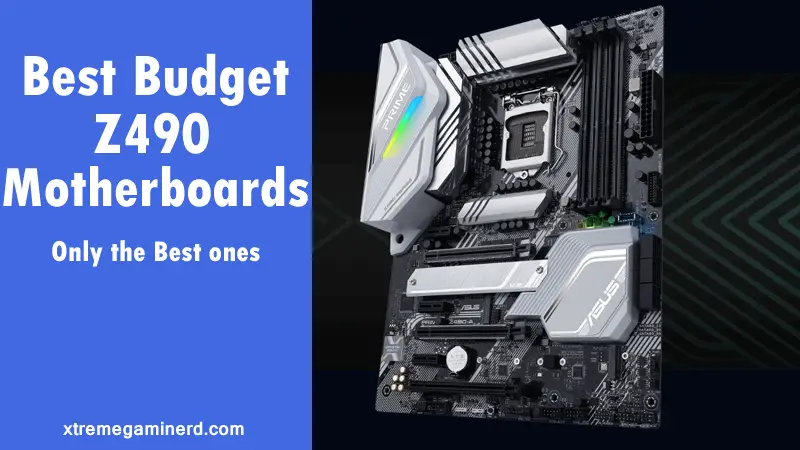 While manufacturers like Asus, ASRock, MSI, Biostar and Gigabyte are competing very hard to reach to the top of the list in producing super-high-end motherboards that can overclock your processor to the highest clock with stability while maintaining lower temperatures, let's not forget that most of the PC builders and gamers around the world buy budget motherboards for their day to day use.
While Z390 motherboards were great for any type of build, the Z490 is a need of the hour to support the latest Intel 10th gen processors. In reality, the Z490 doesn't bring any additional features except for a few minor upgrades over the Z390, the reason to get a Z490 over the Z390 board is due to the changed socket type for the latest Intel 10th gen processors.
While the Z390 chipset features LGA 1151 socket, Z490 comes with a brand new LGA 1200 socket for you to change your motherboard again which Intel wants you to do. I really hope that they stick with this socket for 3-4 years from now. Z490 brings support for the new PCI-E 4.0, Intel Wifi 6 and some minor upgrades in the VRM and I/O but 95% of their features are same.
| Features | Z390 | Z490 |
| --- | --- | --- |
| Bus Speed | 8 GT/s | 8 GT/s |
| TDP | 6 W | 6 W |
| Overclocking Support | | |
| DIMMs per channel | 2 | 2 |
| Displays support | 3 | 3 |
| PCI-E | 3.0 | 4.0 |
| Max PCI-E lanes | 24 | 24 |
| PCI-E configurations | x1, x2, x4 | x1, x2, x4 |
| USB Ports | 14 | 14 |
| SATA 6.0Gbps ports | 6 | 6 |
| Integrated Wireless | Intel Wireless-AC MAC | Intel Wi-Fi 6 AX201 |
| Processor PCI-E Port Configurations | 1x16 or 2x8 or 1x8+2x4 | 1x16 or 2x8 or 1x8+2x4 |
| Intel Optane memory support | | |
| Intel ME Firmware Version | 12 | 14 |
| Intel HD Audio Technology | | |
| Intel Rapid Storage Technology | | |
| Intel Smart Sound Technology | | |
Now without wasting much of your time, I just want to list out some motherboards in the Z490 lineup from different manufacturers that are affordable and will be able to support most of the features you are going to use on your new gaming build. If you get stuck anywhere, then do not forget to put your comment in the comments box below the article.
Quick Specs :-
VRM:12+2 power phases
RAM support: 128GB, 4800(O.C)MHz
Expansion slots: 3x PCI-E x16, 3x PCI-E x1
Storage: 6x SATA, 2x M.2
While most of the mid-range Z490 motherboards from Asus are almost identical to each other, there are some differences which give advantage to the Asus Prime Z490-A overall which I believe is the best top-end budget Z490 board from Asus for the price and also the top budget Z490 board in the whole Z490 motherboard lineup.
It is very identical to the Z490-F, Z490-H and even to the Z490-A which belong to the Asus ROG Strix family and is roughly available for the same price as the Z490-H. Both of them are great but Z490 A features a USB Type C front header as well as a Power switch button onboard which can be beneficial in case of troubleshooting. Along with that, you will also have troubleshooting LEDs besides the DIMM slots that in some cases help solve the possible cause for malfunction.
It features 12+2 power phases with decent heatsinks for overclocking along with an I/O cover and inbuilt RGB lighting that is, of course, the norm today in most of the mid-end motherboards. This board, fortunately, and astonishingly supports up to 2 Way Nvidia SLI and 3 Way AMD CrossfireX at the same time which not even the ROG Strix Z490-A and the whole family of Prime and Tuf series Z490 motherboards support.
Another great feat of this motherboard is its support for cooling devices. It has a total of 7 fan headers which no other budget ASUS Z490 board has up to the ROG Strix Z490-A starting from the entry-level Z490 board which is Prime Z490M-Plus. Asus Prime Z490-A is the best choice you can make with an Intel Core i5 10600K or an i7 10700K for gaming.
Related:- Best Motherboards for i9 10900K
Quick Specs :-
VRM:10+1 power phases
RAM support: 128GB, 4600(O.C)MHz
Expansion slots: 2x PCI-E x16, 4x PCI-E x1
Storage: 6x SATA, 2x M.2
Well, if you don't want to spend over $200 but still want decent performance and features like 2 way AMD Crossfire X, decent overclocking, support for highly overclocked memories, 6 fan headers, and troubleshooting LEDs then Asus Prime Z490 P is the one which not only will provide you with a decent build with a processor like i5 10600K or i7 10700K but will save you more than $50 in cash to spend on other things if you choose it over the Prime Z490 A.
The board has a downgraded VRM with 10+1 power phases with little less dense heatsinks and no I/O cover for aesthetics. There are no inbuilt RGB LEDs anywhere but it surely has RGB as well as ARGB headers for connecting RGB devices and peripherals. The board although doesn't please very much aesthetically but for $160, the white accents on black PCB will be perfect for a black/white build.
The board, unfortunately, doesn't contain any troubleshooting LEDs and no onboard troubleshooting features which is of course expected at this price. This board will go perfectly fine with any gaming build if you are concerned with just gaming and don't need additional features like high-end overclocking support, RGB, LCD display, heatsinks over the M.2 slots, SLI support etc.
Related:- Best B460 motherboards
Quick Specs :-
VRM:10+1 power phases
RAM support: 128GB, 4600(O.C)MHz
Expansion slots: 2x PCI-E x16, 4x PCI-E x1
Storage: 6x SATA, 2x M.2
Gigabyte has some great high-end boards but at the budget side, only the Gaming X AX board seems to be a good choice for the money. It has several good features that you would need for all-round work and gaming and has some good advantages over some of the Aorus motherboards in the Z490 lineup when the price to performance ratio is considered.
Although the Z490 Elite AC is one of the best budget Z490 boards and is a good alternative to this one if you have more cash, the Gaming X AX doesn't disappoint at all considering that it also has a powerful VRM with fine heatsinks and Intel Wifi 6 which isn't available on the Elite AC. This board has an 11+1 power phase VRM which should be totally capable of overclocking an i7 10700K without any problem and its Wifi antennas also support Bluetooth 5 along with Wifi internet connectivity.
It supports 2 way AMD CrossfireX and has 2x M.2 slots for NVME SSDs like most of the Z490 motherboards do. The only problem is that it doesn't have any onboard troubleshooting features except for the Q-Flash Plus. There are no Power/Reset buttons and LEDs for making it easy to know the cause of the malfunction. Now one more problem can be its price. While the non-AX version is priced at $180, this one I think will easily cost $200 which is close to the price of Z490 Elite AC, Prime Z490-A or MSI Z490 Tomahawk. If you get it under $200, then it will be ok but if you find the cost of the other two motherboards closer to it, then better buy the Elite AC or the Prime Z490-A.
Related:- How to Connect Motherboard Cables
Quick Specs :-
VRM:10+1 power phases
RAM support: 128GB, 4600(O.C)MHz
Expansion slots: 2x PCI-E x16, 4x PCI-E x1
Storage: 6x SATA, 2x M.2
If you want the best Z490 board under $200, then there is no competition to the MSI's Z490 Tomahawk which I believe has an even better price to performance ratio than the Asus Prime Z490-A. This motherboard easily beats every motherboard on this list which is nearly $200 in price and has almost all the features you would need which can be compared to a high-end Z490 board.
It has 12+2 power phases using doublers and it is capable for the intermediate level of overclocking of even an 8 core processor. The heatsinks on it are dense and have enough airflow area for cooling which is what you need for a stable overclock. The board has EZ Debug LEDs too which are unfortunately not present on budget Z490 Gigabyte motherboards. It also has a USB Type C header which is generally present on high-end boards and contains 2x M.2 slots with heatsinks.
There are two LAN ports at the I/O which are Intel I219V 1G and Realtek 2.5G but unfortunately, there isn't any inbuilt Wifi adapter on it which is the only CON I can really find out but just look at its price, it's only $190 which is lower than most of the motherboards listed above it.
From a cooling perspective, it clearly wins over every listed motherboard with 8 fan headers in total that includes the CPU and Pump headers and are placed all around the board for easy connection. Buildzoid calls it the best sub-$200 motherboard and we can't disagree more.
---
Conclusion
While there are some more motherboards that could have made to this list but their pricing or lack of features as compared to the motherboards listed makes them untitled for being the best budget motherboards. I am sure that you have noticed that I didn't list any ASRock motherboard from Z490 lineup and that's because I don't think it has produced even a single good motherboard when the price to performance is considered. You would be much better off than with the boards listed above.