Motherboards
Best motherboard for i7 10700K for overclocking
Xtremegaminerd.com is a participant in Amazon Associate Program and is supported by the readers. The qualifying purchase you make through our links may get us some commission and doesn't cost you an extra penny.
---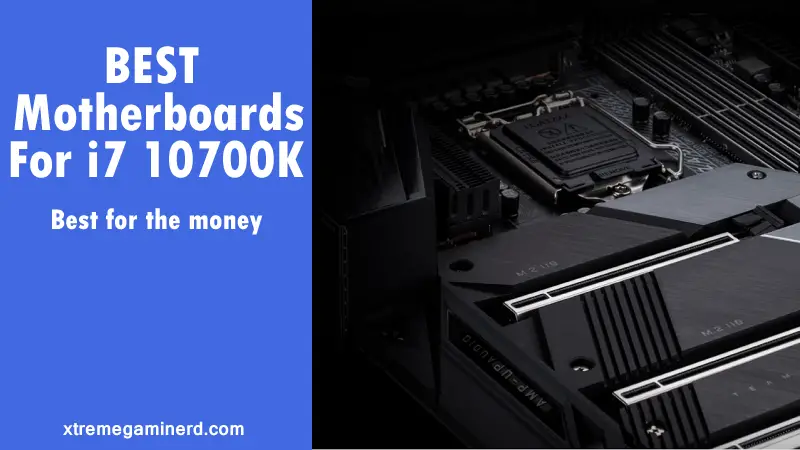 While Intel was doing pretty well with the  i7 9700K processor that was the fastest i7 processor ever made with 8 cores that featured the highest boost clock speed up to 4.9GHz, Ryzen 3rd gen processors made some good pressure on Intel to release a better CPU in 2020.
Welcome the i7 10700K which now features 8 cores and 16 threads that were not present on the 9700K. This is one of the members of the comet lake processor family and features base/boost clock speeds as 3.80GHz/5.10GHz which is the highest we have ever seen on an i7 processor or on any other mainstream processor till now.
Going above 5.10GHz from 3.80GHz on all cores is definitely not easy and you will need a good damn motherboard with solid VRM to achieve this. Fortunately, the VRM stuff is handled properly by almost all the motherboard manufacturers. The list below includes all the top affordable motherboards for the i7 10700K that will not break the bank and will not limit your overclocking capability.
By affordable I don't mean a sub $200 board but rather something that you can afford by saving some money and won't cost you like the ultra-high-end motherboards that are sold at a much expensive price compared to the features they bring.
Quick Specs :-
VRM: 13 power phases
RAM support: 128GB, 4666(O.C)MHz
Expansion slots: 2x PCI-E x16, 3x PCI-E x1
Storage: 8x SATA, 2x M.2
Starting from the lower-end side on the list, we have the ASRock Z490 PG Velocita which is a very interesting motherboard among all the motherboards in the ASRock's Z490 motherboard lineup. It features a 13 power phase VRM design with decent heatsinks that use a copper heat pipe underneath for better heat dissipation. It's certainly not the best heatsink but should be enough for an intermediate level of overclocking.
The board has some good onboard troubleshooting features. As you are not just going to let your i7 10700K sit idle without surpassing its factory clock speeds, use those onboard troubleshooting features if you are going for an advanced level of overclocking otherwise you will be Ok with the BIOS itself and if you just want to turn up the clocks a little bit.
These onboard features include Power/Reset buttons and an LED error code display on the right bottom corner. Unfortunately, there are no EZ debug LEDs or Bios update or switch options even at the I/O. This I think is a major drawback compared to other motherboards on the list. This is the only motherboard from ASRock that I would actually recommend you if you don't have any other options and there is no other board from ASRock that provides you better value for money as compared to the boards by other manufacturers and that's disappointing.
Related:- Best motherboards for i5 10600K
Quick Specs :-
VRM: 16 power phases
RAM support: 128GB, 4800(O.C)MHz
Expansion slots: 3x PCI-E x16, 1x PCI-E x1
Storage: 6x SATA, 3x M.2
I mentioned about the MEG Z490 Unify in my previous post on Z490 motherboards. This one is the most cost-effective motherboard from MSI that has features equivalent to the Z490 ACE even though it's $100 cheaper. The only difference is the inbuilt RGB lighting and rest everything is the same as you see.
This board has a 16 power phase VRM with 90A Smart Power Stage that is found on very high-end motherboards that is very reliable in strong overclocking for a longer period. These are cooled by some dense heatsinks that have cutout patterns for more airflow and a copper heat pipe at the base connecting both the heatsinks.
The board has 3x PCI-E x16 slots that support 2 Way Nvidia SLI and 3 Way AMD Crossfire, 2x PCI-E x1 slots for more PCI devices and 3x M.2 slots for fast storage devices. The board has more USB ports than the PG Velocita and also has an inbuilt Wifi adapter that supports Wifi 6 and a 2.5G Realtek Lan controller.
The board is complete in terms of onboard troubleshooting features like Power/Reset buttons, EZ Debug LEDs, LED post code display, Bios Flashback button for updating Bios, and Clear CMOS button at the I/O if you want to reset BIOS settings if something goes wrong.
16 power phases are definitely better than the 13 phases on the PG Velocita and all these great onboard troubleshooting features do make it a lot better choice over the ASRock board. Fortunately, this motherboard only costs $40 more than the Velocita and in my opinion, you should get this one if you don't want to compromise with the advanced troubleshooting features.
Related:- Best motherboards for i9 10900K
Quick Specs :-
VRM: 12 power phases
RAM support: 128GB, 5000(O.C)MHz
Expansion slots: 3x PCI-E x16
Storage: 6x SATA, 3x M.2
Gigabyte doesn't have a lot of good choices in its Z490 catalog and its difficult to choose one as the good ones are expensive. The best one is the Aorus Extreme but that's a very very expensive board that I wouldn't recommend for the i7 10700K. Z490 Aorus Ultra, on the other hand, is a board that you can afford and is comparable to the ASRock Z490 PG Velocita with some features upgraded.
It has a 12 power phase VRM that is good for intermediate-level overclocking with some distinguished and dense heatsinks unlike what you will find on other motherboards. They are large and have a good design for a lot of air to pass through. There are 3x PCI-E x16 slots that support 2 Way Nvidia SLI and 2 Way AMD Crossfire X but unfortunately no PCI-E x1 slot.
For troubleshooting you will get a single LED display for reading error codes and no onboard troubleshooting feature except the Bios Flash button. This is odd and disappointing but it does have a lot of USB ports at the I/O and an inbuilt wifi adapter that supports Intel Wifi 6 and Bluetooth 5.0. This board will cost you $300 which is the same as the Z490 Unify from MSI but you will get inbuilt RGB lighting with the Unify doesn't have but on the other hand you lose many practical handy features.
Quick Specs :-
VRM:14+2 power phases
RAM support: 128GB, 4600(O.C)MHz
Expansion slots: 3x PCI-E x16, 3x PCI-E x1
Storage: 6x SATA, 2x M.2
The best motherboard you can buy for the i7 10700K for the least price is the Asus ROG Strix Z490-E Gaming which although isn't that cheap but will still be considered a cheaper option for the performance it gives you as compared to the other high-end boards. The board costs $300 which is the same as the price of the previous two motherboards but the features are so well, that you might just want to skip all of the above-mentioned boards and buy this straight away.
With 16 power phases in its VRM, it's a beast in overclocking and although I don't think the rated Amp support for the Mosfets are as high as the ones used on the Z490 Unify, it is still much better than the ASRock Z490 PG Velocita and Z490 Ultra from Gigabyte. The heatsinks are dense and have a single copper heat pipe that extends to the chipset for more colling.
The board has some great aesthetics with the LED ROG Logo and inbuilt RGB lighting on the I/O cover and on the chipset. It has 3x PCI-E x16 slots that support 2 way Nvidia SLI and 3 way AMD Crossfire and there are 3x PCI-E x1 slots for other expansion cards. For troubleshooting, you will get a Q-Code LED display and Debug LEDs. Unfortunately, there are no Power/Reset buttons on it and you will have to work with the jumper or something through which you can trigger those headers.
At the I/O you will get a Bios Flashback button but no Clear CMOS button for easy reset and a lot of USB ports that include a Type C port for peripherals. It has an inbuilt wifi adapter with Wifi 6 support and an Intel 2.5 Gigabit LAN port. This is an overall best motherboard for the i7 10700k and a strong competitor to the MSI's Unify for the same price.
Conclusion
There are so many options for the i7 10700K but the one that can provide you with the most performance without spending a ridiculous amount of money should be the one you should buy. I have listed the top 4 LGA 1200 Z490 motherboards for this 8 core processor and have listed out the reasons why you should get one of these. If you want to discuss, then you can use the comments section below.