Intel released a brand new socket for its 10th gen processors at their launch and is known by the name LGA 1200. Intel has always been changing socket for years more frequently than AMD and this makes a lot of people upgrade to the newer platform to use the new-gen processors.
While I don't recommend going with the 10th gen processors if you are using an 8th-gen or a 9th gen processor from Intel but if you are going to build a brand new Gaming machine or a workstation PC, then consider jumping over the LGA 1151 socket to an LGA 1200 motherboard.
LGA 1200 motherboards have a few minor upgrades over the previous LGA 1151 boards and can only be used for the 10th gen Intel processors which include processors like i3 10100, i5 10400F, i5 10600K, i7 10700K, and i9 10900K. These have been increased in core counts and hyperthreading compared to the 9th gen processors and feature higher clock speeds.
Understanding LGA 1200 socket chipsets
In LGA 1200 motherboards lineup, you will find 5 different chipsets:-H410, B460, W480, H470, and Z490. H410 is the entry-level chipset for basic PC builds while going above we have the B460 and H470 for mid-end PCs while W480 is for workstation purposes. Z490, on the other hand, is for high-end gaming PCs and overclocking that will provide you with the best results.
Chipsets and their functions
H410– H410 is a very basic chipset just like we used to have H310 and H110 previously which had comparatively fewer features compared to any other chipsets in the motherboard lineup. H410 chipset motherboards will have 2x DIMM slots, 1x PCI-E x16 slot, 10 USB ports(Most of them USB 2.0), up to 4 SATA ports, 6 PCI lanes, and up to 1x M.2 slot. 
It won't feature any Overclocking support, Intel Optane Memory support, and Raid configuration. 
This chipset will be great for anyone who has a limited budget for building a PC and doesn't need any overclocking features. It will be perfect for processors like i3 10100 and even i5 10400 as these are locked processors. H410 chipset motherboards are best suited for a gaming PC that costs around $300 up to $500.
B460– Unlike the H410, the B460 chipset brings some more features like more DIMM slots and better onboard features to connect multiple peripherals or components. It doesn't support overclocking but is best for PCs which will need upgrades in the future other than an unlocked processor.
A B460 chipset board generally doesn't support SLI but can support up to 2 way AMD CrossfireX and can have more than one PCI-E x16 slot. It has 16 PCI lanes and will be faster even if you connect multiple fast storage drives like an NVME SSD. It can have up to 2x M.2 slots and an Integrated Wifi. 
H470– H470 chipset is generally similar to the B460 chipset but has more PCI lanes and can have more USB ports. It has 20 PCI lanes as compared to the 16 in B460 and can have up to 14 USB ports in total, 2 more than the B460.
W480– This is a workstation chipset that is best for Xeon processors and supports ECC memories that are more accurate. This chipset has comparable features to the H470 chipset but has 24 PCI lanes and support for some advanced features like Intel Standard Manageability and Intel vPro Platform Eligibility.
Z490– Intel Z490 is an enthusiast-level chipset for overclockers and high-end PC builders that brings the maximum number of features to the table that includes a high level of Overclocking, highly overclocked RAM support, more expansion cards support, inbuilt Wifi 6(Optional), faster LAN, more and faster USB ports, and more PCI lanes. It's comparable to the W480 chipset but the W480 chipset doesn't support overclocking.
Best LGA 1200 Motherboards
---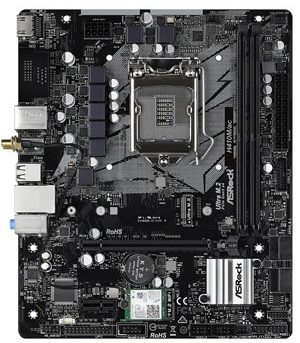 ---
ASRock may not be able to surpass Asus, MSI, or Gigabyte in high-end Z490 motherboards but it is definitely a better option for the H410 chipset. I have analyzed several motherboards from these manufacturers and the ASRock's H410M/AC was one of the best motherboards for any budget PC you can buy.
On it, you can use an i3 10100 or an i5 10400 CPU as it is a locked chipset but still features an 8-power phase VRM. Though you won't be able to overclock your CPU on it, there are several other features that are not found on most of the H410 chipset boards. It has 2x M.2 slots out of which one is for the Wifi and you get an inbuilt wifi adapter in it to use out of the box.
It has 4x Fan headers in total which are rare to find on an H410 chipset board and generally these low-end chipsets only have 2 fan headers. Gigabyte is one of them which features only 2 fan headers in every H410 chipset board which is also the case with the MSI H410 chipset boards and were the most unimpressive board among all the H410 chipset boards you can get right now.
However, MSI H410 boards are still better than the Gigabyte H410 boards and in my opinion, the MSI H410M Pro comes in second place after the H410M/AC as it has some additional features like a VGA and DVI port for display and EZ debug LEDs which are absent on the H410M/AC from ASRock, however, the latter has inbuilt Wifi, more fan headers and more power phases as mentioned above.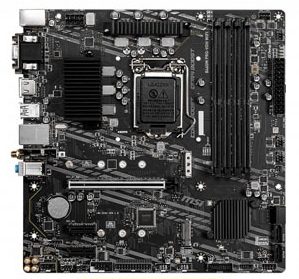 ---
Fortunately, there are a lot of good B460 chipset motherboards, so I decided to list two of the best from them that are best for their price: one from the lower-priced B460 boards and one which is best overall and is not overpriced. B460M Pro VDH Wifi from MSI is the best budget B460M motherboard which won't empty your bank and will be sufficient for taking care of almost everything except overclocking and multiple GPU configurations(which of course most of us don't do).
This board has a 6 phases VRM with some decent heatsinks over it which will be sufficient for cooler operation although you won't be able to overclock on it, these are definitely better than not having any heatsinks at all. The board has 4x DIMM slots that support up to 128GB of DDR4 RAM but the max frequency support is only up to 2933MHz which is common in all the B460 chipset boards from all the manufacturers which is weird considering that we have already reached above 4000MHz support on most of the boards.
It has EZ Debug LEDs for troubleshooting, a PCI-E x16 slot with steel armor, 2x PCI-E x1 slots for expansion cards, 2x M.2 slots for NVME Storage drives, and 4x Fan headers for cooling. It also has RGB and ARGB headers if you want to add RGB and ARGB devices like fans and LED strips in your case.
Its I/O is definitely one of the best with 6x USB ports, 1x PS/2 port, HDMI, DVI, and VGA ports for display, and a Realtek Lan Port which I think supports 1Gbps of bandwidth. The board however features only 4x SATA ports but that should still be enough as it already has 2x M.2 slots and you may not use more than 4x SATA drives if you are spending less than $100 on a board like this but keep in mind that you will be able to use only 3x SATA ports if you install 2 NVME SSDs.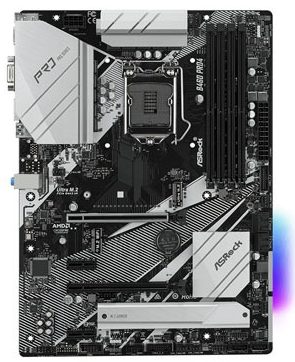 ---
A lot of boards with the B460 chipset with higher-end specs and features cost much more than $100. Take some of the B460 motherboards from Asus as an example, the Strix B460H & B460F Gaming cost nearly $140 on which if you add $10-$20 more you can buy a budget Z490 motherboard which is overclocking capable and provide you with better VRM and other stuff.
The ASRock B460 Pro 4 is a $100 board that is fully ATX and has a 9-power phase VRM with decent heatsinks. Surely, you are not going to do any kind of overclocking on it but its cost is what it makes a better choice for budget gaming builds. It has 2x PCI-E x16 slots for graphics cards that support 2-way AMD CrossfireX, 2x PCI-E x1 slots for expansion cards, 2x M.2 slots for SSDs, an M.2 Wifi connector and a total of 7x fan headers including the CPU and AIO.
Moreover, it has 2x RGB and 2x ARGB headers for RGB devices and it itself has an inbuilt RGB lighting at the right edge near the chipset. At the I/O you will find a total of 6 USB ports including a Type C port and an HDMI and VGA port for display.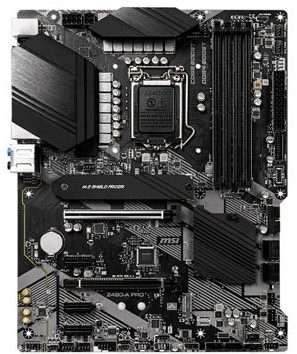 ---
Z490 chipset is for overclockers and enthusiast gamers who want to take their unlocked CPUs to the next level. Overclocking CPUs make them perform faster in games and CPU-oriented applications and hence they save some time without spending an extra dollar. There are dozens of boards with this chipset ranging from as low as $150 as the MSI Z490 A Pro to more than $800.
While there is no competition of this board to any high-end Z490 board like the Aorus Z490 Xtreme from Gigabyte or MEG Z490 Godlike, it surely does fulfill most of the needs of an average PC user. It has a 14-phase VRM that uses an average quality of heatsinks for cooling and has some basic onboard troubleshooting features like the EZ Debug LEDs which unfortunately are only limited to most of the MSI LGA 1200 motherboards even on the low-end chipset.
It supports memories overclocked up to 4800MHz and has 2x PCI-E x16 slots that support up to 2-way AMD CrossfireX but unfortunately no support for SLI. There are a total of 2x M.2 slots for NVME SSDs and 6x SATA ports for SATA devices. This board is fine for a 6 core 12 thread CPU like i5 10600K but you can also use an i7 10700K on it if you do mild to intermediate level of overclocking. You can definitely try even better but you will need a powerful cooling solution to cool down 8 cores and 16 threads especially when the TDP is now 125W which is 30W more than the 9700K.
It has no inbuilt wifi adapter, so make sure you buy one or you can also use the 2.5G Realtek LAN on it which is faster than what we have seen on the motherboards mentioned above. While it is not the best Z490 motherboard among all, it definitely is the cheapest and best value motherboard. If you have somewhat more than $150, then consider looking at our list of Best Budget Z490 Motherboards.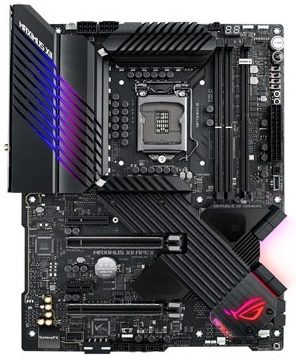 ---
Asus ROG Maximums XII Apex is a next-level board for overclocking which unlike the Godlike from MSI or Xtreme from Gigabyte comes at a much lower price while providing you with a very good overclocking capability. It features a powerful 16-power phase VRM with big heatsinks having a copper heat pipe underneath for effective cooling. This is the method that now most of the motherboard manufacturers implement in high-end motherboards to ensure that your VRM runs cooler in longer operations.
It has the most advanced onboard features for troubleshooting that you will ever find on any Z490 motherboard which makes it a perfect fit for tweaking and testing. From Power/Rest buttons to LED code reader, it has everything you will need for resetting whatever you want to if you run into a problem.
It has support for two-way AMD CrossfireX as well as two-way Nvidia SLI. It features the Intel Wifi AX201 network adapter which is currently the fastest you can get and a 2.5G LAN. At the I/O you will find 10x USB ports including a Type C and a Bios switch to upgrade Bios and a Clear CMOS button to reset the Bios. This motherboard is not only good for i7 10700K but can also support the i9 10900K easily.
Final Words
This list comprises the best motherboards with the LGA 1200 socket overall but there are some more motherboards that are great for the price which I didn't include simply because I have recommended them according to the CPUs or chipsets in other posts. Do check out our motherboards page to know about those boards. If you have any questions, feel free to ask in the comments section below.
Related: How to check motherboard model