Xtremegaminerd.com is a participant in Amazon Associate Program and is supported by the readers. The qualifying purchase you make through our links may get us some commission and doesn't cost you an extra penny.
---
Do you want the best Lga 1151 socket motherboard?
Or the best Z270/Z370 chipset motherboard for overclocking your CPU?
In this post, I will guide you to get the best LGA 1151 motherboard for your system. Now I don't include Z170 chipset motherboards anymore because you should at least get a Coffee Lake 8th Gen Intel processor and better if you go with the 9th Gen processor as they have more cores and better performance than 7th and previous gen processors. For these processors, you need a Z370 or a Z390 chipset motherboard in case you are buying an unlocked processor.
As for locked processors, there are some budget boards that will get the job done. But as I don't want to exclude any good motherboard, I will mention them and explain their features and you can use your favourite processor on it without any problem. These new gen processors will help you get the best performance with your graphics card.
Understanding the Chipsets first(Important before you go forward)
Note:- Following mentioned chipsets are from first Gen LGA 1151 motherboards and most of the conditions also apply to the latest chipsets except that there are a few more features. 
Before proceeding to the list, I want to clear the basic concept of the Chipsets of Intel LGA 1151 motherboards. You will find a total of 9 chipsets namely: H110, B150, B250, Q150, H170, H270, Q170, Z170, and Z270. Similarly, the new Generation has Z370/Z390 chipset for coffee lake processors.
Each chipset has a different specification and different features. The first 7 chipsets as mentioned above are limited to overclocking. It means you cannot overclock your processor and memory much even if you have an unlocked processor. Only the Z170/Z270/Z370/Z390 chipset has this feature.
Z chipset motherboards are the way to go when you are building a high end or at least a mid-end PC on which you can use an overclockable CPU like Core i5 7600K or Core i7 7700K. Buying other chipsets will not help much. The other chipsets are good with processors like Core i3 7100, Core i5 7500 etc.
The features of each chipset are also different. The H110 chipset motherboards are very basic motherboards good for low budget builds as they have only a few ports and slots for components. They have a maximum of 2 Dimm slots and a maximum of 6/4 USB 2.0 and USB 3.0 ports respectively.
Moving to chipsets like B150/B250, Q150, H170/H270 and Q170, you will get more USB 2.0/USB 3.0 and SATA ports. The Dimm slots and PCI slots also increase in number. Motherboards with chipsets B150, Q150 and Q170 are useful for business and security purposes and those with H and Z are good for basic and gaming computers.
Only the Z chipset motherboards have the maximum amount of USB 3.0, SATA 3 ports and PCI-E slots used for graphics cards, sound and wifi cards. But they too are present in different price ranges depending on your needs. The motherboard with 4 PCI-E x 16 slots will cost more than the motherboard has only 2. And further goes the same concept when it comes to features like durability, capacitors, cooling etc.
Useful and practical tips for buying a Motherboard: – Motherboard buying guide.
Gigabyte Micro ATX H110M-S2H GSM
For budget builds, this motherboard with chipset h110 is the cheapest of all and has 2 DIMM slots that support up to 32Gb of memory. This is very basic and you will get only one PCI-E x 16 slots for the graphics card, a few USB ports and 4 SATA ports. But what features it has will make you buy it for the price it's offered.
First of all, when we see the memory compatibility we see that it can support ddr4 memories clocked up to 2133Mhz, which is the starting point for ddr4 memories. So don't go for highly clocked memories. Well, 2133Mhz ram is all you want for gaming and its frequency won't increase the fps.
As this is a very cheap motherboard, it's perfect for a gaming build that will cost you $400-$600 in total. However, if you want to build a gaming rig or even a simple workstation build, you can combine it with an i7 6700 non-K CPU.
When we see what's present on this board, there isn't a lot available. There is a single 4 pin system fan port for powering a single rear/front case fan and only the CPU fan port for powering the CPU cooler fan to start. There is no extra port for powering radiator fans. It means you are also limited to air cooling but not to forget that it's the cheapest motherboard for the Skylake/Kabylake platform and also supports all the processors from Pentium to i7's.
But there are several other good things we find in it. This motherboard can support 8 pin CPU power connector which is a great deal for overclocking some unlocked processors by supplying more power. Sure the overclocking will be limited to the unlocked processors too but at least you will be able to take some advantage. As compared to the equivalent Haswell motherboards like MSI H81M p33, this feature really makes it good for building even high-end pcs.
The second good feature is the presence of two USB front header ports and a single USB 3.0 front header port at the middle right side of the motherboard. The second USB header can come in handy any time and the USB 3.0 header port is a good feature which you can use if you have a case that has front panel USB 3.0 ports.
Overall the motherboard is small and has all the basic features you would need in order to build a budget gaming PC that will not empty your pocket.
Also, see:-
Specs and Features:-
CPU: LGA1151; Chipset: Intel H110 Express

Memory: 2x DDR4-2133 DIMM Slots, Dual Channel, ECC, Non-ECC, Unbuffered, Max Capacity of 32GB

Slots: 1x PCI-Express 3.0 x16 Slot, 2x PCI-Express 2.0 x1 Slots

SATA: 4x SATA3 Ports

Ports: 4x USB 3.0/2.0 Ports (2 rear, 2 via header), 8x USB 2.0/1.1 Ports (4 rear, 4 via headers), 1 x PS/2 Mouse Port, 1x PS/2 Keyboard Port, 1x VGA Port, 1x DVI-D Port, 1x HDMI Port, 1x RJ45 LAN Port, Audio I/O Jacks

Form Factor: MicroATX
---
Gigabyte ATX GA-Z270XP-SLI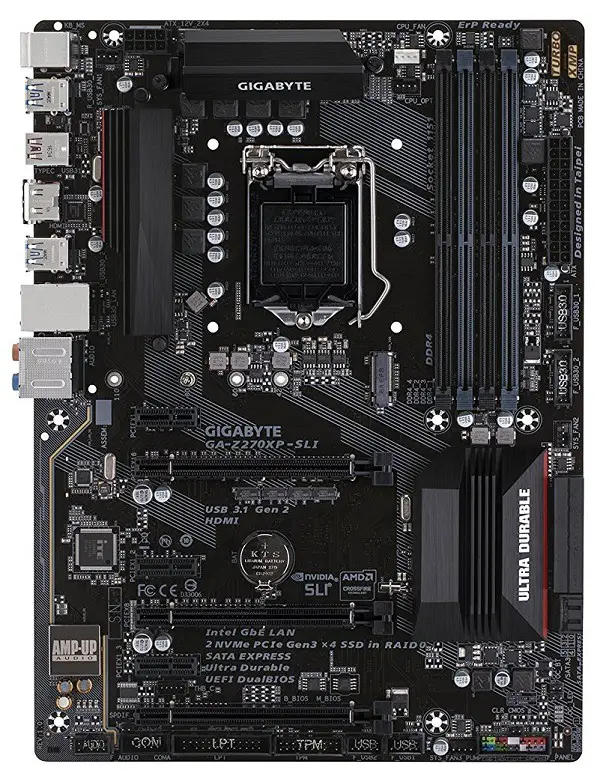 The first great Z270 board you can buy is the Gigabyte GA-Z270XP-SLI which is similar to the previous generation GA-Z170XP-SLI and costs around $130 right now. This is a great board for overclocking a building a high-end gaming rig as there is every feature you would want. Of course, it's not the best in the Z270 lineup but it's very good for its price and it will support all the Skylake and Kabylake processors.
For overclocking, it uses a 4+3 power phase circuit similar to the Z170XP board which is standard and will allow you to overclock your i5's and i7's up to a good extent. They are covered in two decent heatsinks that should be enough for basic cooling and for powering your CPU, there is an 8pin power port enough to draw a good amount of voltage for overclocking.
Memory support is also great with up to 64GB of DDR4 Ram that can be overclocked up to 3866Mhz but hardly anyone uses this highly-clocked memory module. Anyways using a 3200Mhz Ram will be great and there should be no problem in overclocking the memory unlike on the AMD AM4 motherboard which is damn difficult sometimes. With 4 DIMM slots, you will be able to upgrade to a lot of memory in case you think you are short of memory.
Even though, this board only is a starting point for a Z270 chipset, with this price you are also getting the support for 2 way Nvidia SLI and up to 3 way AMD CrossfireX. So, it's good and there are 3x PCI-Ex 1 slots that can be used for installing wifi/sound cards or SSD's.
Now coming to the cooling part, it has a total of 5x 4 pin headers that can support fans, pumps, coolers etc. This is neither too less nor too much but will fulfill your requirements of cooling your CPU and chassis. I believe that cooling is very important part and a motherboard should run cooler in order to help in better overclocking.
As for storage, there is 1x M.2 Slot for NVME SSD and 6x SATA 3 ports placed parallel to the PCB for easier connections and reducing the cable bend. The only thing I didn't like in this board is the absence of enough output ports for display. There is only one port and that's for HDMI but there is no DVI/DP or VGA port. Anyways, if you're going to use a graphics card you don't need to worry about that.
---
ASUS PRIME Z270-A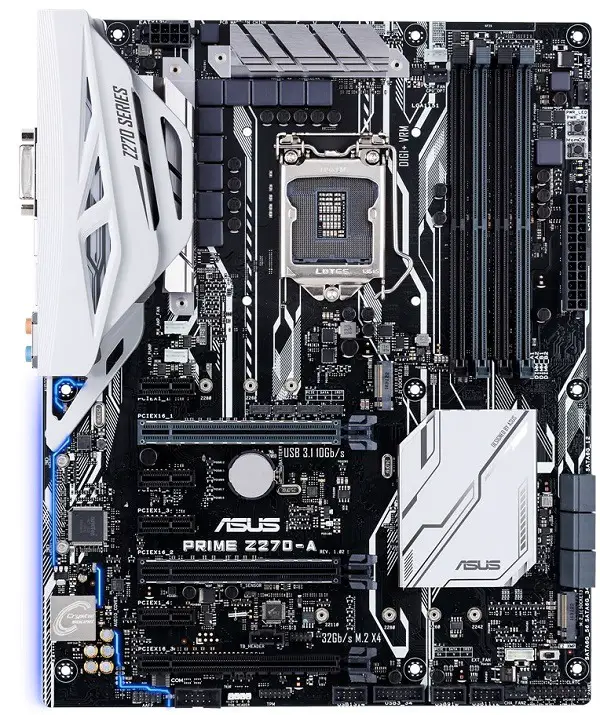 If you ask me about which brand makes the best motherboards, then the answer will be ASUS. Let me elaborate the features of this motherboard which separates it from the Gigabyte GA-Z270XP-SLI. Along with the features like overclocking and two-way Nvidia SLI, this motherboard has several onboard features such as a two-phase U switch which helps you overclocking your CPU without going into bios. This is a remake from the last generation Z170-A motherboard and also looks much similar to it.
More to read:- Best CPU for Gaming
Or you can simply open the AI Suite 3 utility software when the windows boots up completely from the taskbar. The process is very simple. You choose how many cores you want to overclock, increase the slider and click apply. Without any further delay, the selected number of cores will be overclocked according to the capacity of the processor to be overclocked at a fixed voltage. This is very easy but you have to save a profile if you don't want to do it every time when the windows start.
For overclocking, it is having an 8+2 power phase which is a good improvement over the Gigabyte board I listed above. 8 power phases will allow stable overclocking and I know Asus boards are really good in overclocking. Either you can go to the Bios or from the software, you can overclock in just one click.
The other great thing about this motherboard is the presence of several system fans port. There are around 4 system fan ports as well as two extra ports, one for Radiator fans and one for a pump. So, it's fully compatible with an AIO cooler or a custom liquid loop. Combining all these facilities, it is the best motherboard for your system's cooling also.
This one not only looks great but will match any coloured themed build especially a white/black themed build perfectly. The heatsinks are decent enough to cool down the VRM section and the chipset and give it a gorgeous look.
But if you look for the USB 3.0 front header port, there is only one port present at the bottom. Gigabyte GA-Z270XP SLI has two but it only comes in use very often. At the bottom of the motherboard below the last PCI-E X 16 slot, there is an onboard power switch provided for easy troubleshooting.
The motherboard also has two M.2 slots for SSD as compared to the one present in the Gigabyte GA-Z270XP SLI and a Display port is also included at the I/O. For only $15-$20 more you are getting some more premium features. That's why Asus is considered as the best maker of motherboards.
---
ASUS ROG STRIX Z270E GAMING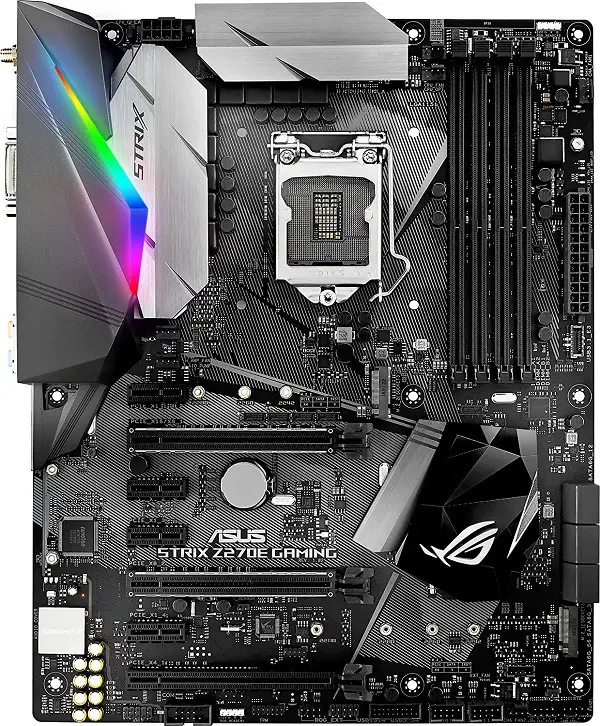 This is an enthusiast high-end motherboard that supports DDR4 memories overclocked up to a massive 3866Mhz. It is made up of good quality materials especially the capacitors which are Japanese. This is completely a premium one and close to a no-compromise motherboard.
The cooling and all round energy efficiency of this motherboard is kinda great when compared to the previous ones. All the features like multi-GPU support and several USB 3.0 ports are available. The motherboard is provided with SupremeFX technology for the best headphone sound quality. It's more for decorating a RIG than the performance itself, although it hasn't compromised the performance in any way but the main focus of Asus on this board remained to be making it more aesthetically appealing than any other Asus board.
The heatsink and the presentation of this motherboard are far better than any of the previous motherboards including an RGB LED lit Asus ROG logo. The heatsink at the top covers the CPU power port and the Cpu fan, Radiator fans, Water pump power ports also which will give a neater look to the build. Now, there are two RGB headers that can be connected to RGB LED strip for your chassis and the presence of 3D mounting holes will allow you to mod your system.
Overclocking should be even better or nearly as good as that of the Asus Z270-A because this one also has 8+2 power phases. So, for $40-$50, you can have better looks and features along with good overclocking. If you believe that you should have more RGB, then go with this one otherwise, the performance of the Asus Z270-A is also good and equivalent to this one.
There is one downgrade from the last version which was the Z170 Maximus board and it's the 6 SATA ports. Z170-A used to have 8 ports but I think there are a few people that will use all of the ports but still, it should have retained all those ports for more upgradability although you can store tons of data through connecting maximum of 6 hard drives or SSD's in this one. Along with these, there are 2x M.2 NVME slots below the SATA express ports. The location of all the storage device connectors are at one place, so you can manage all the SSD's or Hard drives at one place.
For cooling it's definitely having several fan connectors including the 6(2+4) pin connector just above PCI-E X 1 slot and a fan extension header at the right bottom for adding more custom fans to your case. And yes all of these can be controlled using softwares and bios. So you literally have unlimited options for cooling from simple 120/140mm fans to the custom water loop.
Now there is one downside more which is that it doesn't have any onboard troubleshooting buttons which is disappointing. So, be aware of that in case you still want to buy it and if it doesn't bothers you.
Taking a look at the Bios, it's the best Bios I have ever used. It's not an easy first time if you never used Asus Bios. But there are a ton options to tweak everything from easy XMP overclocking to Fan Xpert for defining your preferred fans speed. You can also create your own custom fan profile for all of your fans and cpu fans if you wish. I myself used it for a while but then you can't use the AI Suite 3 utility's pre-defined fan profiles. And if you do, you will lose your fan graph which you set up in the bios. But there are 4 profiles:- Silent, Standard, Turbo and Full speed depending upon what you want to do.
---
MSI 
Z270 XPOWER GAMING TITANIUM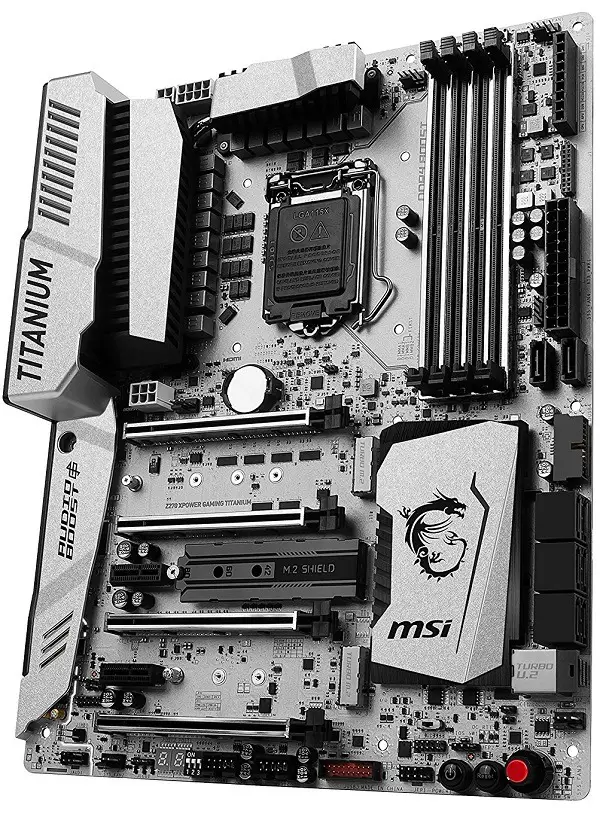 This one is badass. I know looking at it the first time will make you fall in love with it. The silver colour looks so gorgeous and covers the whole PCB with some black accents on heatsinks and slots. It's an enthusiast motherboard and has overwhelming additional features for easy operation. Although you will not gain fps boost in games there are some easy overclocking operations present in it.
First of all the motherboards supports  2 Way Nvidia SLI and 4 Way Amd CrossfireX. It also supports Quad Nvidia SLI and Quad Amd CrossfireX. Nonetheless, the quad SLI is not worth the money, So the multi-gpu support is just like a Normal Z270 Chipset motherboard.
It may be looked as if it is only made for appealing to the eyes but it's not the truth, the heatsinks on VRM sections are big and Steel Armour on PCI-Ex 16 slots really helps a lot in handling heavy graphics cards. The M.2 slot is also covered with a separate dedicate heatsink, so this should theoritically be the best board for under $300.
For overclocking, it has a sick 10+4 Power phase which is not present in the previous motherboard and you can count the chokes in the VRM section if you want to see how much filter the voltage will get. This is the best motherboard for overclocking.
At the right bottom of the motherboard, there are power/reset buttons and the RED dial is for Overclocking. Just turn it clockwise for required overclocking. Along with this basic feature the motherboard also has an OC dashboard which you can see at the right top corner, can be used for advanced overclocking.
For powering CPU it features 8+4 pin power ports that is more than enough for overclocking  even an i7 7700K where you just need 4+4 pin power connectors for overclocking. But that's only an additional thing. Now for SSD, it has 2x M.2 slots: 1 in front of the first PCIE X 1 slot and 1 in the front of the third PCIE X 1 slot. But adding a NVME SSD will be difficult after you install a graphics card. You will need to remove the gpu before installing these NAND SSD's. It would have been easy if like the previous motherboards, these M.2 Slots are placed somewhere near the Sata slots.
Now there is one more 6 pin power port present near the 1st PCI-Ex 16 slot that could be used to power a mid-end graphics card. So, it's additional and may or may not be a benefit to those who already use a heavy wattage power supply.
Consider this motherboard if you are building a gaming pc or a workstation for $1500 or more. And don't forget to overclock your system because it's made for overclocking purpose.
---
Z270 Chipset Motherboards List (Price as of 14th Sept 2018)
| Motherboards | Images | Price | Links |
| --- | --- | --- | --- |
| Gigabyte Micro ATX H110M-S2H GSM | | $74.94 | |
| Gigabyte ATX GA-Z270XP-SLI | | $131.99 | |
| ASUS PRIME Z270-A | | $249.99 | |
| ASUS ROG STRIX Z270E GAMING | | $269.99 | |
| MSI Z270 XPOWER GAMING TITANIUM | | $356.76 | |
Z370 Chipset Motherboards List (Price as of 14th Sept 2018)
| Motherboards | Images | Price | Links |
| --- | --- | --- | --- |
| ASUS TUF Z370-PLUS GAMING | | $130.65 | |
| ASUS PRIME Z370-A | | $159 | |
| GIGABYTE Z370 AORUS Gaming 5 | | $179.99 | |
| ASUS ROG STRIX Z370-I GAMING | | $179.58 | |
| ASUS ROG STRIX Z370-F GAMING | | $173 | |
| ASUS ROG Maximus X Hero | | $267.68 | |
| MSI Z370 GODLIKE GAMING | | $182.99 | |