Best Gaming CPU's in 2019
For building the best gaming PC, you do not have to select the best graphics card only but the processor is more important than that. If you think I am wrong, then I have my logic. A good graphics card cannot unlock its full potential if not used on a decent CPU.
If you think you can use a GTX 1080 on an Intel Pentium G4400 which costs around $50 only, then you will see how your CPU is bottlenecking your graphics card. Instead of getting 60+fps, you will get 30 or 40. And that's all because of the CPU you are using.
If you use a good CPU first then you can use any graphics card according to your budget and the capability your CPU has. So, I am going to mention the best processors for gaming for every budget both from Intel and AMD.
But before proceeding, I want to clear some concept. You may be wondering how many cores do you need? So read the explanation below.
For gaming, 4 cores is all you need. Only a few games utilize 6 cores at max but the difference is not that spectacular. But people still buy them to future-proof their PC's. Now suppose you buy a dual-core CPU, then you must acknowledge that you are also limiting your PC for better performance.
Therefore choosing the most suitable gaming processor is not so simple. On the other hand, there are Intel Core i3's which also have 2 cores but with hyperthreading which means each core will work as two dividing the overall power to the four virtual cores. It will definitely play all the latest games without bottleneck but some games may run slower because they recognise the real cores better. So, in this case, an AMD Ryzen 3 processor may be a better choice which costs equivalent to that of Intel Core i3 but at the same time have two more cores.
Now the fastest processors for gaming are Intel Core i5 and Ryzen 5 processors having 4 cores and 4 threads and 6 cores/12 threads respectively. They use the full power of their cores and have much better single-core performance than the AMD FX series processors. If you have a good budget for your gaming PC, instead of getting AMD FX or Intel Core i3 processors, i5's and Ryzen 5 processors are more worth the price.
Best Intel Gaming CPUs
---
1. Intel Pentium GOLD G5400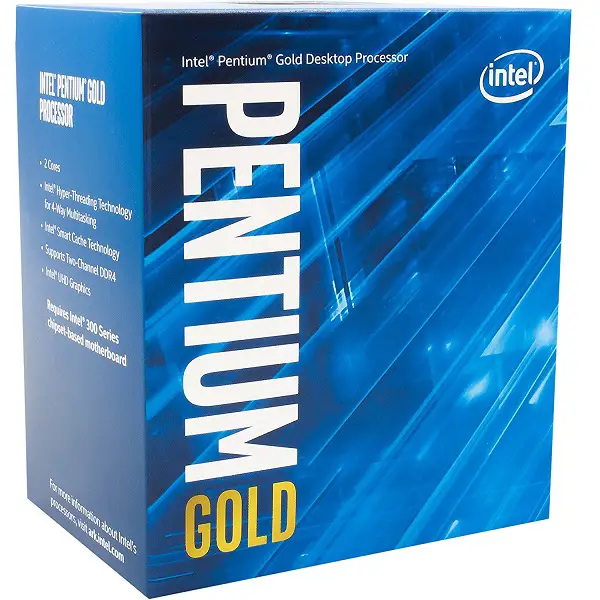 The newest generation of Intel processors is based on Coffee Lake architecture. These processors are a little faster than the Kaby Lake and provide around 10-20% more performance in gaming. The Intel Pentium G5400 GOLD processor is the starter in the Coffee Lake Pentium series and provide the best gaming performance for its price. Without a shadow of a doubt, there is currently no processor at a price near to $70 that can beat it.
If you combine it with a GPU like GTX 1050 or GTX 1050 Ti, then you will get the most out of your money. This CPU features 2 cores and 4 threads with a core clock of 3.7Ghz. You can say in other words that it is equivalent to the i3 7100 but now costs almost half as was the original price of i3 7100. The processor is, however, locked and you should use a locked chipset motherboard like H310 or B360 with it to get the maximum value for the price. I even used it in my $500 gaming build which is targetted towards high settings 1080 gaming.
[rwp_box id="0″]
---
2. Intel Core i3 8100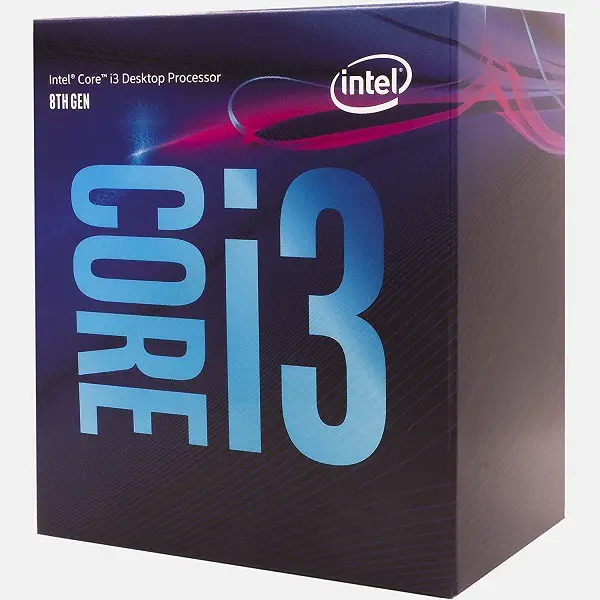 I previously listed the i3 7100 but as the newer i3 8100 is a lot faster in applications and costs a little more but the biggest difference is the core count. It's now a 4 core 4 thread CPU just like an i5 which is locked and is based on new Coffee Lake technology.
For $130 this processor is a worth buying chip and overwhelms some of the well-known budget processors from AMD like fx 8350 and even Ryzen 3 processors. The comparison will show you real difference. As it is a fact that Intel processors perform better in gaming than their AMD counterparts, there should be no reason not to buy i3 8100 when you want to build a solid budget gaming PC.
As said earlier, with i3 8100 you will also get a chance of using the latest Coffee Lake platform with ddr4 memories. DDR4 memories are clocked higher and the higher clocked memories you will use, the more performance you will get with higher-end graphics cards. I3 8100 gives equal performance to i5's of the previous generation with almost 60% its cost.
This chip is clocked at 3.6Ghz which is a lower than the previous generation but considering the fact that you will now have two cores, it's still the best bang for your buck. For entry level rigs or mid-end rigs, this CPU with a GTX 1050 Ti or GTX 1060 will do very good and there will be very less issue of bottlenecking in most of the games.
Also see:- $500 gaming build
[rwp_box id="1″]
---
3. Intel Core i5 8400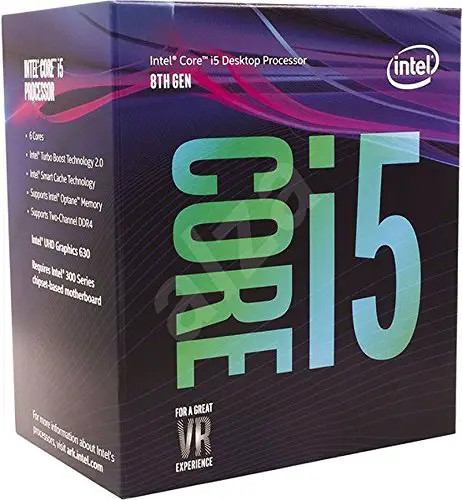 Previously, I listed the i5 7400 but when the i3 8100 came, it replaced the need for quad-core i5s. So, I removed that processor from the list. Although, the cost of i5 7400/7500 is much lower than the i5 8400 but for $50 less when you can get the same performance with i3 8100, then why go with previous generation i5's.
The i5 8400 is another great processor that comes for around $230 and unfortunately this time it's locked. But the increase in its price is because of its core count. It's now officially a Hex core processor which means that you will now get 6 cores and 6 threads in place of 4 cores/4 threads which you used to get with previous generation i5's. The i5 8400 is based on the same Coffee Lake architecture which is a little faster but 2 more cores will definitely give you the advantage in multi-tasking and other applications.
Now you can run game and let the rest 2 cores either sit idle or make them do some light work without fearing your PC of getting hanged at a particular moment.  This processor can handle any high-end graphics card up to GTX 1080 Ti. So, if you buy this then there should be no reason to think again when buying a high-end graphics card.
This CPU is clocked at 2.8Ghz which you will think to be very low but it has turbo boost which can boost its clock up to 4.0Ghz. Not only that it has 9MB of cache which is 3mb more cache than its predecessor, the i5 7400. This is a major improvement. Although, it's locked but with a Z370 or Z390 motherboard with turbo boost, everything becomes great for the money you throw for it. A must buy for $750–$1000 gaming PC.
Check out:- 600 dollar gaming build.
[rwp_box id="2″]
---
4. Intel Core i5 8600k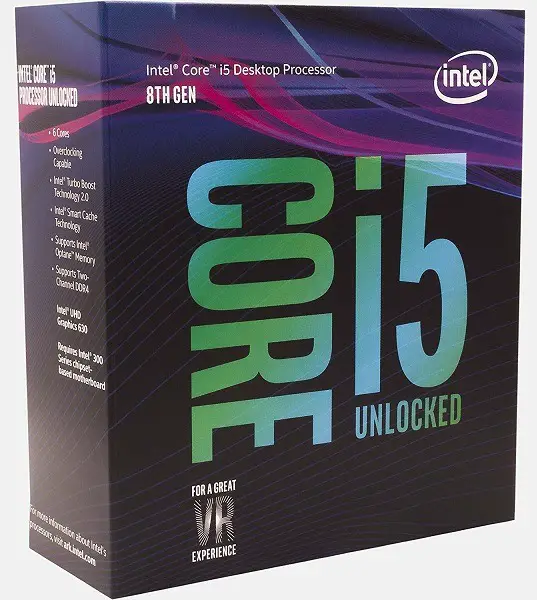 Now, this processor is close to $300. I don't consider it to be the best value for the price but it's good for overclockers. For gaming, the i5 8400 and i3 8100 is enough but if you are an enthusiast who likes to take advantage of high clock speeds, then use this one. This one can be overclocked up to 5.0GHz with an aftermarket CPU cooler.
As there are a lot of Z370/Z390 chipset motherboards available, you can take advantage of the unlocked feature of this CPU. Surely, it won't increase fps a lot but it will give you a good boost in rendering applications as well as high-end CPU applications. It's a complete package for content creators as well as gamers. You can game and stream at the same time as the previous generation core i5's which struggled to do that properly.
With 3.6Ghz as the base clock and 4.3Ghz as boost clock, you will still have headroom for bumping the clocks from the bios or from any overclocking software but make sure you buy a good CPU cooler for this as this doesn't come with any stock heatsink.
I am soon going to update my $1000 build and $1250 build with the new i5s. So, check them out too.
[rwp_box id="3″]
---
5. Intel Core i7 8700K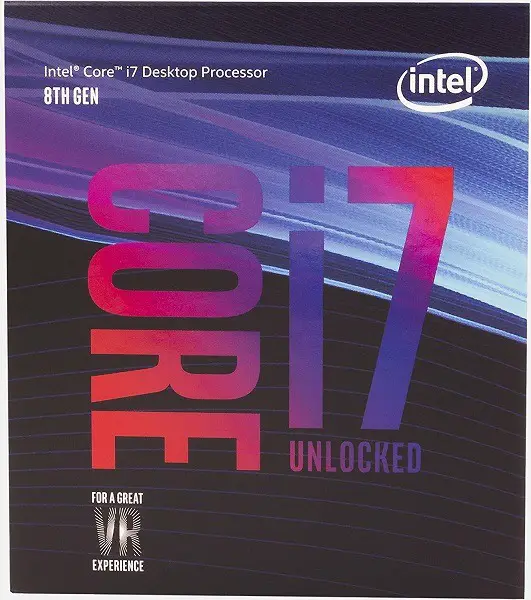 Similar to the i5 8600K, there is i7 8700K based on the same Coffee Lake Architecture and now it has been improved better than ever. My only concern about it is that it is very expensive. It's not the best bang for the buck but definitely, it is the "Best CPU for Gaming" when we keep out the price out of the discussion.
This CPU features 6 cores and 12 threads along with 3.7Ghz base clock which can go up to 4.7Ghz with Turbo Boost. So, you have much more headroom for overclocking it. Over 5.0Ghz is insane it will increase the performance in rendering applications. In gaming, however, it won't be that beneficial because there is a limit for FPS but the amount of fps you will get with this CPU with any possible graphics card combined is the most you can get.
Also, it has now 12MB of cache but it is expensive than the Ryzen 7 1700 and 1700X which are octa-core processors. So, in case you don't want the best fps but at the same time want an overall good performance then you can take a look at the AMD processors that I have listed below. But for gaming particularly, there is nothing better than the i7 8700K.
I am going to use this processor in two of my gaming builds $1500 build and $1750 build.
[rwp_box id="4″]
---
Best AMD Gaming Processors
When it comes to budget and multitasking at the same time, you cannot say that Intel is a better choice. But instead, AMD processors are the only one which can do multitasking as they have more cores in a particular price range.
If you can buy a quad-core processor or even a hex core processor for the same price as a dual-core processor, why shouldn't you go with it? I know Intel processors are better in single core performance, but when you want to run multiple applications at the same time when you are gaming, you cannot do it on a Pentium processor.
Therefore at some point, AMD processors have an advantage. Following are the best AMD processors that I recommend when you have a budget of $70 to $170 for your processor. Above it, I only recommend going with Intel processors.
The following recommendations from Intel are only for those who want to build an AMD based system. 
---
AMD Ryzen 5 2600X and Ryzen 7 2700X
AMD launched its first Gen Ryzen processors last year and in the starting of the year 2018, it launched the 2nd Gen which is the 2000 series. AMD at first called the first Gen Ryzen processors to be the worst case scenario though they competed with Intel CPUs in overall, getting slightly behind in  Gaming performance. However, with the release of Ryzen 2000 processors, everything changed.
Now we have two of the best Gaming processors for $200 and $300. The first one is the Ryzen 2600X which is a Hex core processor with 12 threads. On paper, it looks similar to the Ryzen 5 1600X but it performs way better than the latter. In fact, if I were to choose between i5 8600k and Ryzen 5 2600X, I would choose the Ryzen 5 2600X due to its value for the price. It clearly competes head to head with the i5 8600K and is well deserved to be called the best Gaming processor overall.
Meanwhile, the best gaming CPU for $300 is the Ryzen 7 2600X which is an Octa-Core processor with 16 threads and gives a tough competition to the Intel i7 8700K but in lower price. For gaming with a high-end processor like GTX 1070 Ti, GTX 1080 Ti or even RTX graphics cards, these two are the best if you would like to go with AMD Processors.
[rwp_box id="8″] [rwp_box id="9″]
Check Out: – Best B450 motherboards for Ryzen Processors.
---
Best Gaming Processors with Integrated Graphics
1. AMD Ryzen 2200G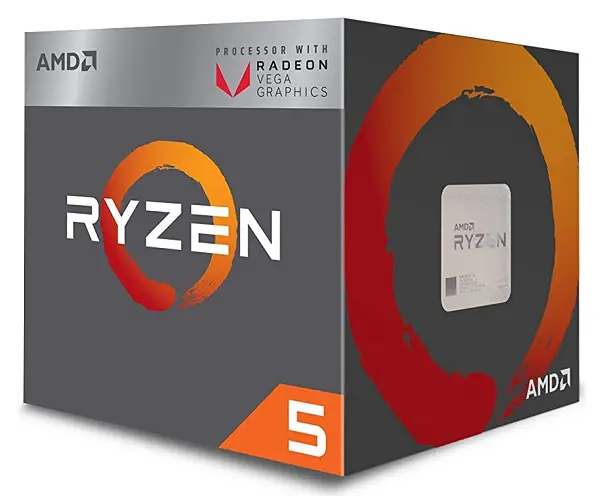 The Ryzen 2000 series processors proved themselves to a boon for gamers who can't afford a dedicated graphics card and unlike the Intel processors, the Ryzen APUs have a far better graphics processor that can let you play games in the real world. Among the best APUs is the Ryzen 2200G which costs only $100 and performs exceptionally the bet for its price. This chip comes with 4 cores and 4 threads which are enough for any modern title to get enough support and should be good in basic multi-tasking.
The processor is clocked at a good frequency of 3.5Ghz and has a boost clock of 3.7Ghz. But this is not where it stops. It can be overclocked above it and this should be done using an aftermarket CPU cooler for best results. Several tests have shown that a $20 cooler helps this processor to achieve a huge 20-30% jump in performance by just overclocking. As the chip is equipped with Vega 8 Graphics, both the CPU and GPU on it can be overclocked separately for maximum potential. That is among the reasons why I chose this CPU in my Cheap Gaming PC for best results.
---
2. AMD Ryzen 2400G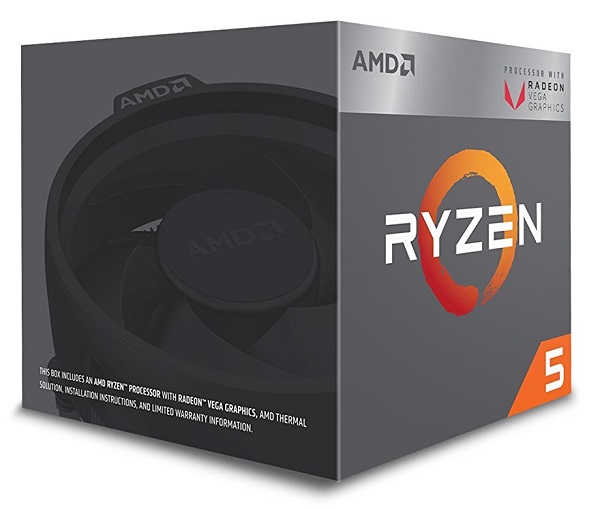 Ryzen 2400G is a mid-end APU which is much faster than the Ryzen 2200G and falls in the Ryzen 5 2000 series APUs. This one gives a tough competition to entry-level GPUs such as GT 1030 and RX 550 which are good for medium settings from 720p to 1080p. Similarly, this chip alone without a dedicated GPU can let you play most of the medium graphical intensive games on medium settings with smooth framerates.
The 2400G is equipped with the Vega 11 graphics which has 11 GPU cores as compared to the 8 Cores of 2200G. But there some more improvements in this chip. It has 4 cores and 8 threads. Therefore it will be better in multi-tasking as well as in several other applications dependent on hyperthreading. The core clock of this chip sits at 3.6Ghz and boost clock is 3.9Ghz. Again, just like the 2200G, it's unlocked and you can use an aftermarket CPU cooler to overclock it. Esports games like CSGO, Overwatch and Rocket League will love to be played by this chip.
The best thing about these APUs is that, whenever you find difficulty in running games on decent settings and suffer from framerate loss, you can upgrade to a dedicated GPU and in case you don't have any GPU, then you can still play some casual games without any major problems.