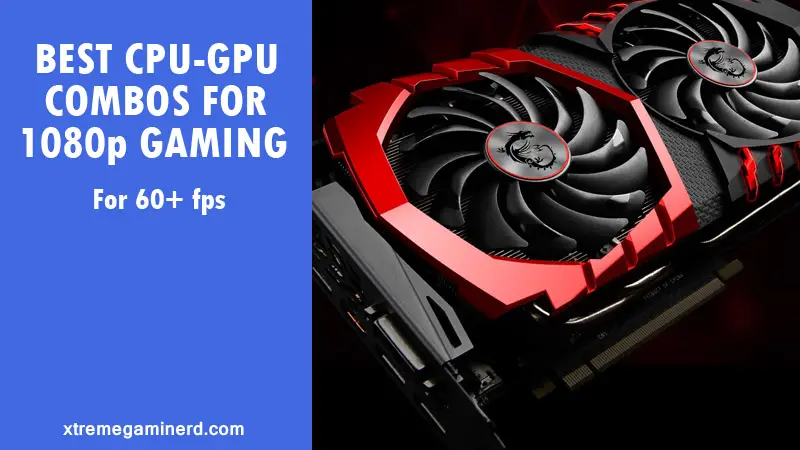 CPU-GPU combo is the most crucial one when building a gaming-specific PC. It's the only combo that almost every gamer considers for getting the most out of their money and for eliminating 90% of the bottlenecking issues. One wrong choice and your PC will be nothing less than a dumb pre-built PC.
Now the first step to choose a graphics card and a CPU is to see what resolution you will be going to use for gaming. Currently, the most popular resolution for gaming is 1920x1080p and it might remain popular for some more years. Fortunately, you can get some really good CPU-GPU combos today as there is no one option.
This post will list out some of those top combos that will help you achieve at least 60fps at 1080p. Each of these will provide you with not only a good Gaming experience but also a great system for doing other works as well. Each of these combos will come at a different price and will provide you with the best value for their respective prices. So, take a look at the list and let me know if you need any help in the comments section below!
---
Best CPU-GPU Combos for 1080p 60fps
Up until 2020, RX 590 was considered as the best 1080p graphics card because it could easily max out most of the games at that resolution with 60+fps and that's true but in 2020, we some more and better options for the same price. Take a look at the GTX 1660 Super graphics card which easily surpasses the 1650 Super which beats the RX 590 and costs under $250. For i3 9100F, GTX 1650 Super is the one I would recommend but for i3 10100, I recommend the 1660 Super as this CPU has hyperthreading and will be a perfect choice for 1660 Super.
This is one of the best choices for under $150 that I can recommend for Gaming PCs costing from $500-$700. GTX 1660 Super features 6GB of GDDR6 VRAM and can easily provide you more than 90 fps in most of the games at 1080p and even 60+fps at 1440p resolution. This will be more future proof than any graphics card available under $250.
---
Intel Core i5 10400 is a six-core hyperthreaded monster that replaces the older gen i5 9400 which came without hyperthreading. This makes it worthy fo building PCs that use intensive CPU applications and a gaming PC that will last a couple of years easily. It is similar to the i7 8700K but due to architectural and design enhancements, it provides faster gaming performance. Although it's locked, you will still be able to get performance even faster than the Ryzen 3600.
Combined with RX 5600 XT, you can expect 100+fps at 1080p resolution but I would recommend this PC for those who are more interested in 1440p gaming. You will still get 60+fps in most of the games at 1440p without any bottlenecks. RX 5600 XT, unlike the GTX 1660 Ti features much faster performance and costs only $280. With 6GB of VRAM, you can easily bump up any graphical settings up to the max and get smooth buttery gameplay.
---
Best CPU-GPU Combos for 1080p 100+fps
Coming to the high-performance combos, we have the i5 10600K and RTX 2060 Super as one of the best combos for getting more than 100 fps on most of the CPU-GPU intensive titles at 1080p. As there are enthusiasts who play on a monitor with a higher refresh rate such as myself :P, you will have to switch to a higher-end graphics card at the minimum to reach that fps number.
There are currently monitors with refresh rates like 100Hz and 144Hz on which you can only see that much refresh rate in a game if your CPU-GPU combo is able to display more than 100fps and 144fps respectively. Some games like CSGO, Overwatch, Fortnite can easily reach much more than 100fps and it makes a lot of difference in gameplay when you play them at 60fps and 100+fps.
The GPU I chose is although, among the slowest in the RTX series, it's considered as a 1440p graphics card as it can play most of the games at 60fps at that resolution. So, it's quite obvious that it can reach more than 100fps at 1080p resolution. With 8GB of VRAM, you can max out every possible graphical setting in the games which results in lowering down the fps with mid-end cards. But with this GPU, you don't have to worry for a moment.
Related:- Best graphics cards for Intel i5 10600K
---
Ryzen 5 3600 is true "The Best Value CPU" today which features 6 cores and 12 threads for less than $200. This is not the first time we are seeing a hyperthreaded 6 core processor from AMD because there were CPUs from the Ryzen 1st and 2nd gen series which were featuring the same amount of cores and threads but now there are significant improvements over those CPUs. Ryzen 5 3600 is roughly 10% faster than the Ryzen 2600 and it barely gets beaten by the i5 9600K but its 12 threads make it a winner if you don't only game but also do things like streaming, content creation such as videos, rendering and several other CPU-dependent tasks.
RX 5700 is the best match for this CPU that is a little faster than RTX 2060 Super in some of the games but costs much lower. The price difference is around $50 or more so in case you are going with the previous combination, you can also switch the graphics card to the Navi RX 5700 if you are fine with the AMD blower-style GPU. The performance of this combination will be similar to the previous combo and you should be able to play with much over 100fps in most of the games.
---
Conclusion
Currently, we have a good competition between Intel and AMD, and that happened when Intel saw AMD's 3rd gen processors rising over and on the top of the CPU industry. Intel's 10th gen processors are a good alternative to the AMD's 3rd gen Ryzen processors but do not forget that pricing is the deciding factor and if you can get a comparable performance for a much lower price, then why not go for it?
If you have any doubts regarding the combos, you can contact me in the comments section.