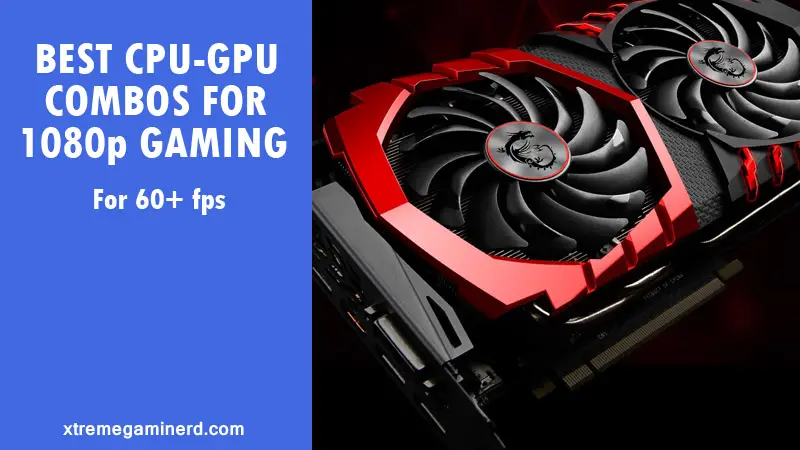 The combo of a CPU and graphics card is the only combo that ensures you get the maximum fps in any game regardless of whether the game is CPU or GPU dependent. That said, achieving the best performance at 1080p resolution is the most sought goal of the majority of gamers.
As 1080p resolution is the most popular gaming resolution, CPU and GPU manufacturers especially pay attention to this one and thus we have dozens of options to choose from.
But not each and every option is worth the money. Upon researching, you will find that currently there are a couple of CPU-GPU combos that you should get to get the best out of the least amount of money. So, what are the currently best available CPU-GPU combos?
Take a look at the following 4 combos that will give a rock-solid performance in 2022.
The combo that I recommend to start with is Core i3 10100F and GTX 1650 Super. i3 10100F is the best entry-level gaming processor for only $100 that can support even more powerful graphics cards than the 1650 Super.
It features 4 cores and 8 threads that are sufficient for almost any title at 1080p and therefore won't hold you back in giving required power when required. It is not only beneficial in gaming but can also produce some good results in CPU-intensive tasks.
GTX 1650 Super, on the other hand, is currently the best budget 1080p GPU that can play games on high settings with 60 fps. Some games are an exception but you can still take them close to 60 fps by lowering down a few settings. However, in eSports games particularly, this card provides great value at a cheap price.
With 4GB of updated and fast GDDR6 VRAM, it is now faster than the original GTX 1650 and comes with a single 6 pin power connector as it features a low TDP of only 100 Watts making it more power-efficient than most graphics cards at its price tag.
Related- Best Gaming CPUs under $100
This next combo again features the all-new Alder Lake i3 12100F processor that has a base/boost clock speed of 3.63/4.3GHz. It is power efficient with only 58 watts of TDP and doesn't require any aftermarket CPU cooler as it comes with a Laminar Intel cooler.
With this processor, I recommend going with the GTX 1660 Super if you want a good bump in performance. Between the 1650 Super and 1660 Super, there are a couple of graphics cards you can buy but most of them are right now non-existent or don't provide as good value as the 1660 Super.
This card features significantly higher Cuda Cores, 1280 on 1650 S vs 1408 on 1660 S and has higher sized memory sitting at 6GB. 6GB VRAM can produce better graphical quality and you can easily put anything on ultra in almost every game.
The in-game performance shows everything, where you can see up to 20% average performance increase over the GTX 1650 S and therefore, you will now don't need to lower down any graphical setting and at the same time you can enjoy smooth gaming on a higher refresh rate monitor.
For a perfect 1080p gaming experience, you need no more than an Intel Core i5 12400F CPU combined with the best sub $300 graphics card RX 5600 XT. When you go above $150, then you will see a lot of options in the CPU category and you must be wondering why I don't recommend the Ryzen 5 3600 which is a solid gaming CPU.
The reason is the price. While Ryzen 5 3600 costs above $250, i5 12400F can be bought for $180 and there is a significant difference in their gaming performance. Also, both have the same amount of cores and threads which make the i5 12400F a really good choice for the money.
It has 6 cores and 12 threads and due to being locked, you won't be able to get more free performance although it does help to save more money on things like motherboard and CPU cooler. If you combine it with AMD Radeon RX 5600 XT, then 60+ fps is guaranteed at 1080p with the highest possible settings.
RX 5600 XT is roughly 10-15% faster than the GTX 1660 Super and competes with the more expensive RTX 2060. It is really a solid gaming card that can run a lot of games even at 1440p on high settings. It comes with 6GB of GDDR6 memory, a 192-bit memory interface and a good memory bandwidth of 336GB/s all of which are higher than the GTX 1660 Super.
However, its TDP is also 50 watts higher than 1660 S but that should be no problem for you if you love performance more than 50 watts increase in power consumption.
Last but not the least, the combo of Ryzen 5600X and RTX 3060 is something that will kill any game at 1080p. For around $300, we currently have two choices- Intel Core i5 11600K and Ryzen 5 5600X. Currently, the Ryzen 5600X is above $300 and the i5 11600K is priced at $250. The performance of the CPUs are very close and this makes the i5 11600K perfect and delivers better value than the i5 12600K.
i5 11600K comes with 6 cores and 12 threads but is revolutionary in gaming and productivity. It is far better than any Intel processor up to 10th gen. It features a base clock of 3.90GHz that can reach up to 4.90GHz easily and can be further taken above 5.0GHz with overclocking. With this chip, I recommend going with the Nvidia Geforce RTX 3060.
Nvidia's RTX 3060 is like no other GPU for less than $350(Considering the original MSRP). It is based on Ampere architecture that is much better than the Turing and can perform very well with Ray Tracing On. It is actually an overkill for 1080p gaming and is more suitable for 1440p but this combo is for those who don't want any type of compromise for a couple of years.
With a whopping 12GB of VRAM, you can expect some serious horsepower from RTX 3060 and no regrets if you can get one for the MSRP.
Wrapping up
The big issue today is getting any GPU listed above at MSRP. While you can get any processor listed above for the original price, it will be hard for you to hunt for a fairly priced graphics card. If you have been waiting for a few months to build your PC, I would suggest waiting for the prices to become normal or you should get all the parts except for the GPU now.