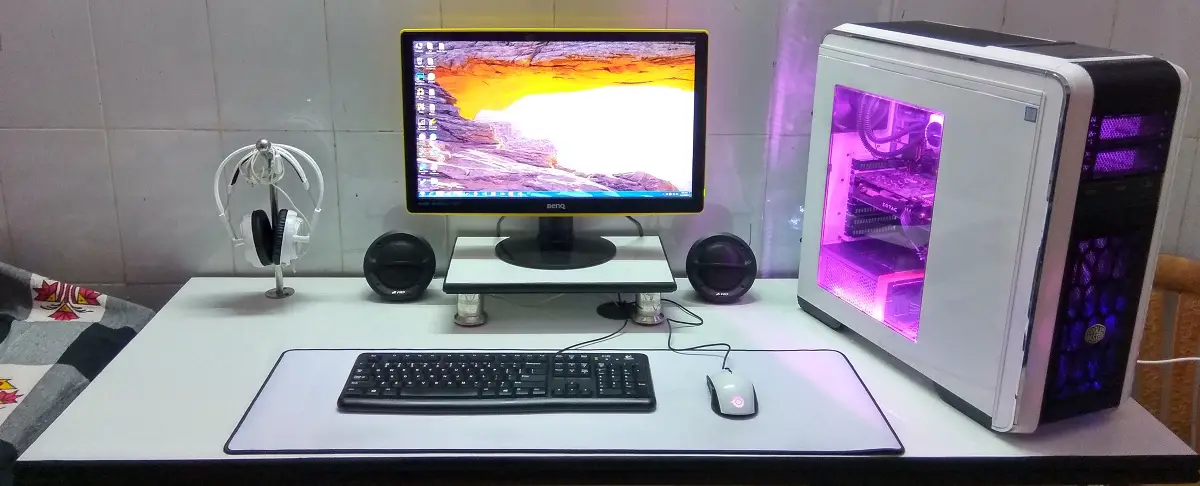 I know you are here because you want to build the best gaming PC but at the cheapest cost. But how much should you expect with a PC like this? If you want to max out every game at 1080p or higher with 60+fps, then you are in a wrong place because that is just impossible for any cheap gaming PC but when you ask me about whether this PC can run any game at 1080p on high settings with at least 40-50 fps or maybe higher in some games? Then yes, you are at the right place.
I will show you step by step guide on not only what parts you should pick but will also guide you in the assembling process so that you don't have to go anywhere else for completing your journey to build your PC. I will also guide you in choosing the best peripherals that will perform as good as the PC you are going to build without breaking your bank.
This post will eliminate any risk you are thinking about in building a PC such as incompatibility, wrong selection, wrong method of assembling, poor airflow, bottlenecking and whatever you can think of. I have given my best effort in this guide so as you to make you master in building the best gaming PC possible and yet on a budget which will not make you regret ever. This guide will be updated regularly whenever a new possibility comes so that you can take full advantage of whatever best is in the market and whatever is trending.
"What advantages will I get with this PC over the others?"
This question might have hit your head but don't worry I am going to answer this in short.
✅You will be able to play almost every game present on Steam, Origin or any other platform on higher graphical settings which other PCs costing the same can't. Which means you will be always on the upper hand when you will compare your PC to the PCs of other even though both of them cost the same.
✅Your PC will look better than what other PCs look like on the same budget which means not only you are going to enjoy gaming but you will be also confident to show your PC to your friends.
✅Your PC will be upgradable in a way that you won't have to change most of the parts spending a lot of money. This means that future cost will also be reduced as compared to the other PCs which you will find on the same price.
"What About the Cost?"
This is really subjective as everyone has a different budget and by "Cheap" one might think of something closer to $400 while someone might think of something closer to $600.
But Tadaaa! This guide will include both of these just as I said before, you can skip some of the components and can later upgrade it without spending too much of money. You might be a person having $350-$450 or you might be among those who can spend up to $700. I have got the solution for both. Don't worry just follow me to the end.
"Do I need to know anything before starting?"
No, you don't. And I mean it literally. You don't need to know anything even if you never heard of any computer part. This guide will teach you how to build the best cheap gaming PC from scratch. I will be guiding you later in this guide how to assemble this PC. The details won't be long but in brief, you will learn all the basics and if you would like to know anything in detail, then you can grab my PC building Guide for absolutely free.
So, without wasting any more time, let's start with the components required to build this PC!
Parts List
| Components | Images | Name | Price(May Change) | Links |
| --- | --- | --- | --- | --- |
| Processor | | Ryzen 3 2200G | $89 | |
| Motherboard | | MSI B350 Tomahawk | $89.99 | |
| RAM | | Corsair Vengeance LPX 8GB (2x4GB) | $64.99 | |
| Graphics card(Optional) | | Zotac GTX 1060 Mini 3GB | $209.99 | |
| Storage | | WD Blue 1TB | $49.99 | |
| Power Supply | | Cooler Master MWE 500 | $39.99 | |
| Cabinet | | Fractal Design Focus G | $63.89 | |
| CPU Cooler(Optional) | | DEEPCOOL GAMMAXX 200T | $17.20 | |
Important Note:- The parts list may change on the basis of availability and performance. 
Why I chose these parts?
So let me now explain to you why I chose these parts.
For the processor, I don't find anything better than the Ryzen 2200G because it is the 2nd generation Ryzen chip which AMD has equipped with both CPU and GPU. Therefore, it's an APU which doesn't require any external GPU to work unlike the first generation Ryzen processors.
Related:- Best CPU for Gaming
"But why not Pentium or Core i3's?"
Pentium G4560 is one of the best budget CPUs but when it comes to integrated graphics, it's well-known that Intel processors can't even compete with the older generation AMD APUs and when we talk about the Ryzen APUs Intel processors don't stand a chance. Also, the cost of Ryzen 2200G is well close to the Pentium G4560 although when the value for price is considered, both are similar but with the exception of Ryzen 2200G beating Pentium in graphics performance.
Similar is the case of i3 8100 or higher. The Core i3s are more expensive but won't help in graphics improvement. Secondly, these Intel budget processors are locked and can't be overclocked, unlike the Ryzen 2200G which is overclockable. You can use the AMD Ryzen Master software to overclock both the GPU and CPU on the chip without any problem which makes it a beast and beats the Ryzen 2400G in gaming benchmarks even though the latter is more expensive (when 2400G is set on its default clocks).
For cooling, I chose the $20 DeepCool Gammaxx 200T.
"But why an aftermarket cooler? Doesn't the Ryzen 2200G comes with the stock heatsink?"
Yes, it does but for overclocking, you will still need a replacement for the stock cooler as it can easily hit above 80 degrees when overclocking. So, spending $20 more will at least make you gain 20-30% performance which is a huge boost over the default performance. Also, the motherboard I chose is the B350 chipset board which has decent VRM which will allow you to overclock your CPU easily unlike the A320 chipset motherboards which are locked though they are cheaper.
But I want to make it crystal clear on why you should use an aftermarket CPU cooler. The following video clearly explains it:-
Did you see how much performance gain you can expect with just a $20 CPU cooler?
If yes, then don't skip that because it's cheap and will help you directly in achieving more fps.
For RAM, I chose two sticks of Corsair Vengeance LPX 4GB each clocked at 2400Mhz. This will be fully supported by the B350 Tomahawk motherboard and will allow you to eliminate all possible bottlenecks for gaming at 1080p. 8GB will be enough and in case you want to upgrade, there are still 2 more DIMM slots left on the motherboard which you can use to further increase the RAM capacity.
"Aren't you using any graphics card?"
It's an optional thing here. With Ryzen 2200G's awesome performance in gaming at a low budget, it totally replaces budget graphics cards like GT 1030, and when overclocked, you won't even need one if you are satisfied with the 40-50 fps on medium settings at 1080p. As I said earlier, I am choosing the parts considering that you will be able to play the games at the lowest price possible and can upgrade it further if you want more fps on higher settings.
For this, I chose the GTX 1060 3GB edition which is among the best graphics cards for the 1080p ultra. It can play almost any game on ultra settings giving 60fps and some games like Overwatch, CSGO will have no difficulty in crossing 100 fps. This makes it a beast and a solid upgrade from the default Ryzen 2200G graphics processing unit.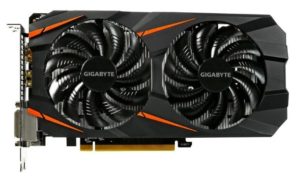 This card will also be a good performer for at least 2 years that could possibly play all the games if not on high settings at the very least. So, if you have $200-$250 more, then consider upgrading to a better GPU rather than sticking to the integrated graphics of Ryzen 2200G but again, if you don't find this GPU at a good price, you can skip it totally and still enjoy gaming at medium settings at 1080p with playable framerates which is what you should expect from a cheap build. It's simply not possible to get that much performance from a RIG cheaper than this.
Now, coming to the storage and power supply, I have chosen the 1TB of Western Digital hard drive which is the most popular storage device as it is cheap and will give you sufficient capacity to store a lot of games and applications. You can upgrade to a 240GB SSD but that will increase the total price of the build which you probably don't want to.
For the power supply, I have chosen Cooler Master MWE 500 Watts of reliable power supply which will protect your components from damage and will be sufficient to power up everything including anything which you may add further in future.
"You said you will be making it gorgeous!"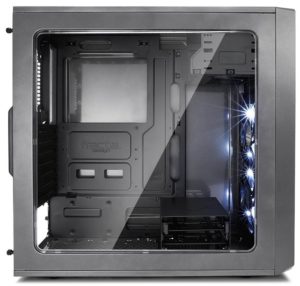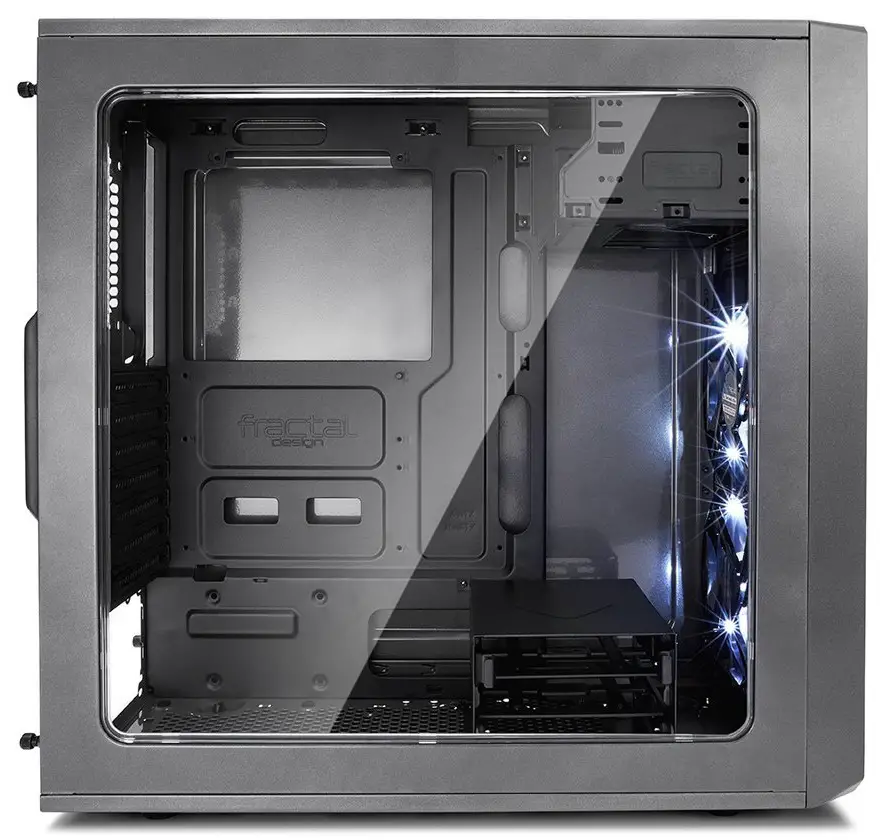 Yes, I am. That's why I chose the Fractal Design Focus G mid-tower case for this build which is not only compatible with all the components on the list but also provides decent airflow for preventing any overheat and will make your RIG look gorgeous with the transparent side window panel.
This case has everything from good cable management system to proper cooling support. As most of the cases you will find today have a poor design for airflow, I simply didn't go with their aesthetics because for me Airflow is number one priority.
If you are going to overclock your CPU, then don't expect a case having an air blocking flat front panel that prevents proper airflow to maintain your CPU temperature under control. It won't! You have to use a case with a meshed front panel to eliminate all sort of bottlenecks.
---
Total Cost(As of 10th Dec 2018)
Without GPU and CPU Cooler ~ $398- ADD to CART
With GPU and CPU Cooler~ $625- ADD to CART
---
How to assemble the parts and make it work in less than an hour
So after choosing all the parts, it's now time to assemble the components to make it work. You can do this in under an hour if you follow my steps by step short guide even though if you have never built a computer or if you have built systems before, it won't take you more than half an hour. In case you want the full tutorial in detail, you can grab my Guide for free.
For assembling the parts, you just need a #2 screwdriver. An Anti-static wristband is preferable but if you don't have one, then there is no problem.
Let's start with the fun!
Start with installing the processor and CPU cooler
Installing an Intel and AMD processor is a little different. But to align the processor, the method is the same. You have to check a Small Arrow symbol on both the motherboard and the CPU.
Open the latch on the socket by pulling the arm up. Now align the processor to get the correct alignment and drop it gently. Remember don't put any kind of pressure on it otherwise you will break or bend the pins.
Then close the arm which will take a little bit of force. Don't feel shy in it.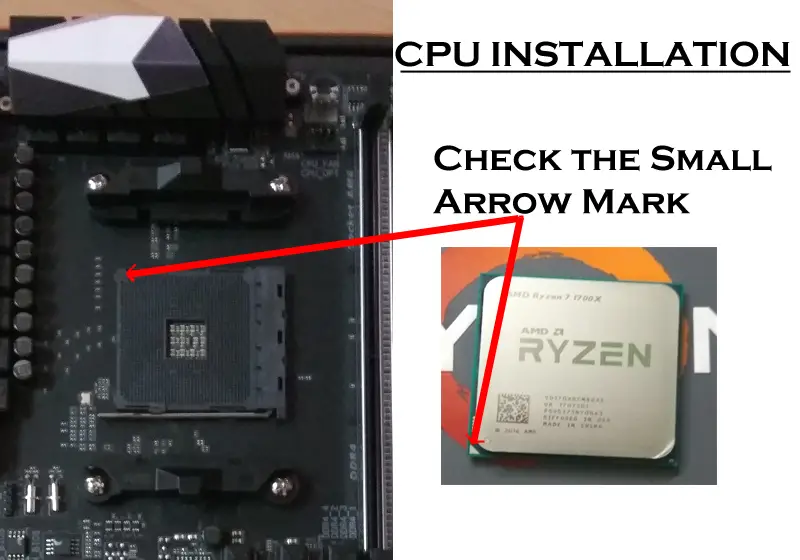 For installing the cooler, there are two different ways. Both Intel and AMD have a different mechanism for installing the stock coolers. But before installing be sure to apply a pea-sized thermal paste if your cooler doesn't have pre-applied thermal paste on its base.
On Intel motherboard, you have to put the cooler on the CPU aligning with the 4 screw holes and then press the plastic latches on adjacent sides with a little bit force which will make a click sound. After that, you should check it by moving the cooler. If the cooler doesn't move, then you have installed it properly.
Also, make sure to check the back of your motherboard to see if the plastic latches are evenly coming out on the other side.
On AMD motherboard, there are two famous methods: The first one is very easy in which you have to remove the plastic covers present above and below the CPU socket in order to align the screws present on your Stock AMD cooler. Just put it gently and secure the cooler with the help of a screwdriver.
The second method is applicable on those CPU coolers where you have to use the two clips present on 2 sides to attach them to the plastic clips which you can see above the CPU socket. You may have to use a lot of force in order to do that but remember to put even pressure on both the sides.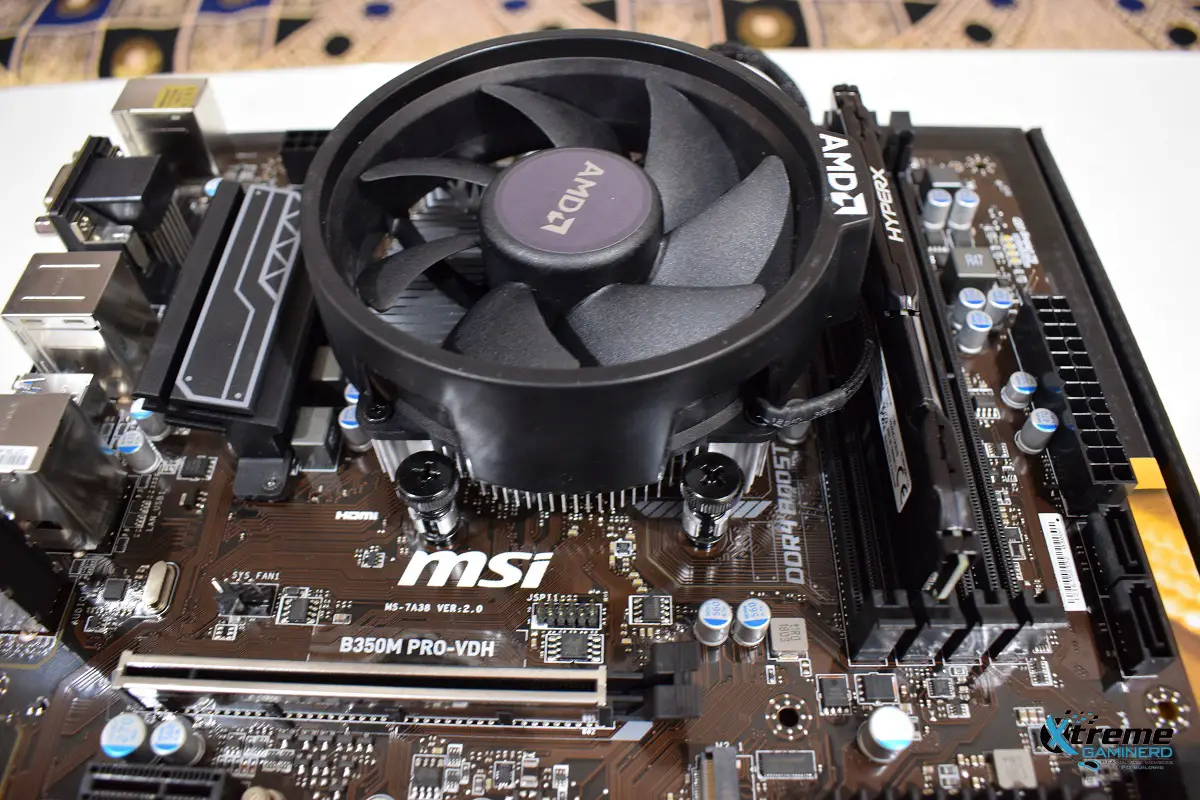 After installing the cooler, you can now plug in the 4 pin power connector which is present on your CPU cooler cable to the CPU_FAN header present on your motherboard. Don't worry! it will go in one direction only.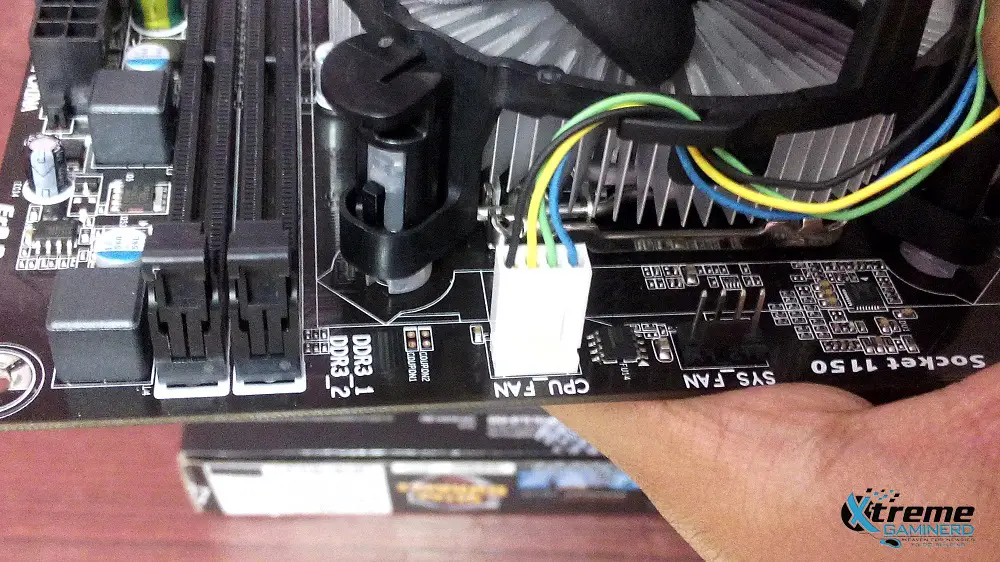 Install the Memory
Perhaps it's the easiest thing to do. Grab the sticks and align them with the slot. You will find a small plastic barrier in between the slots which will not be in the exact center which will make you know how to align the memory stick. Put some pressure on the stick so that you hear a click sound from both the ends of the DIMM slot confirming that the stick is properly installed.
You should install the stick by leaving one DIMM slot in between them in order to benefit from them the most.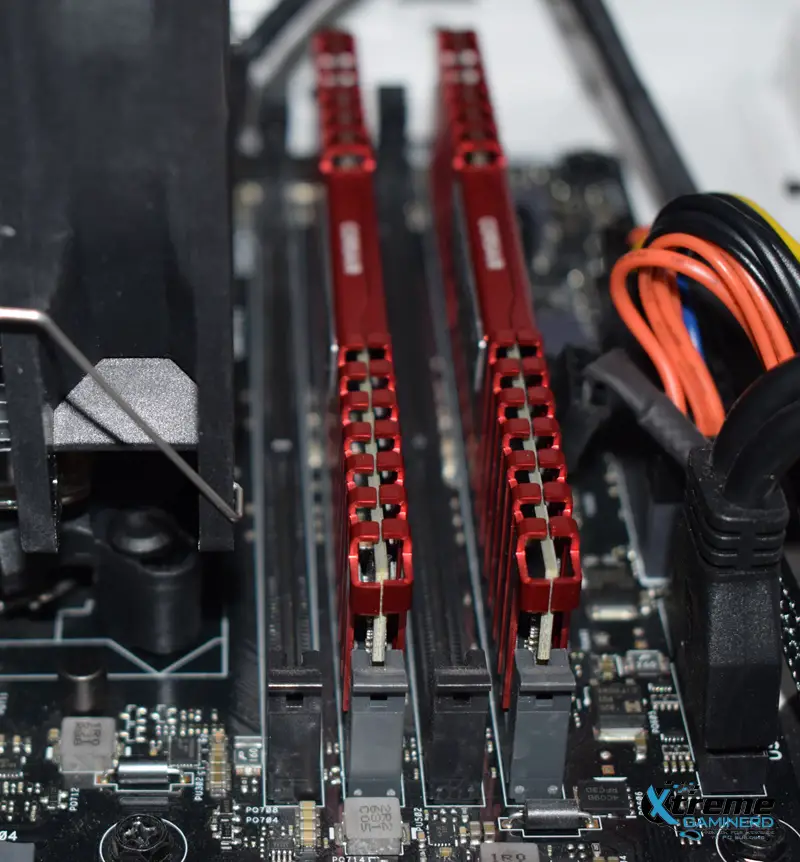 Install the motherboard
To install the motherboard into the case, you have to first open the side panel of your cabinet to have access to the interior. Now before installing the motherboard, you have to put the I/O shield at the rear of the case to align with the I/O ports of the motherboard. This is one of the most common things people forget.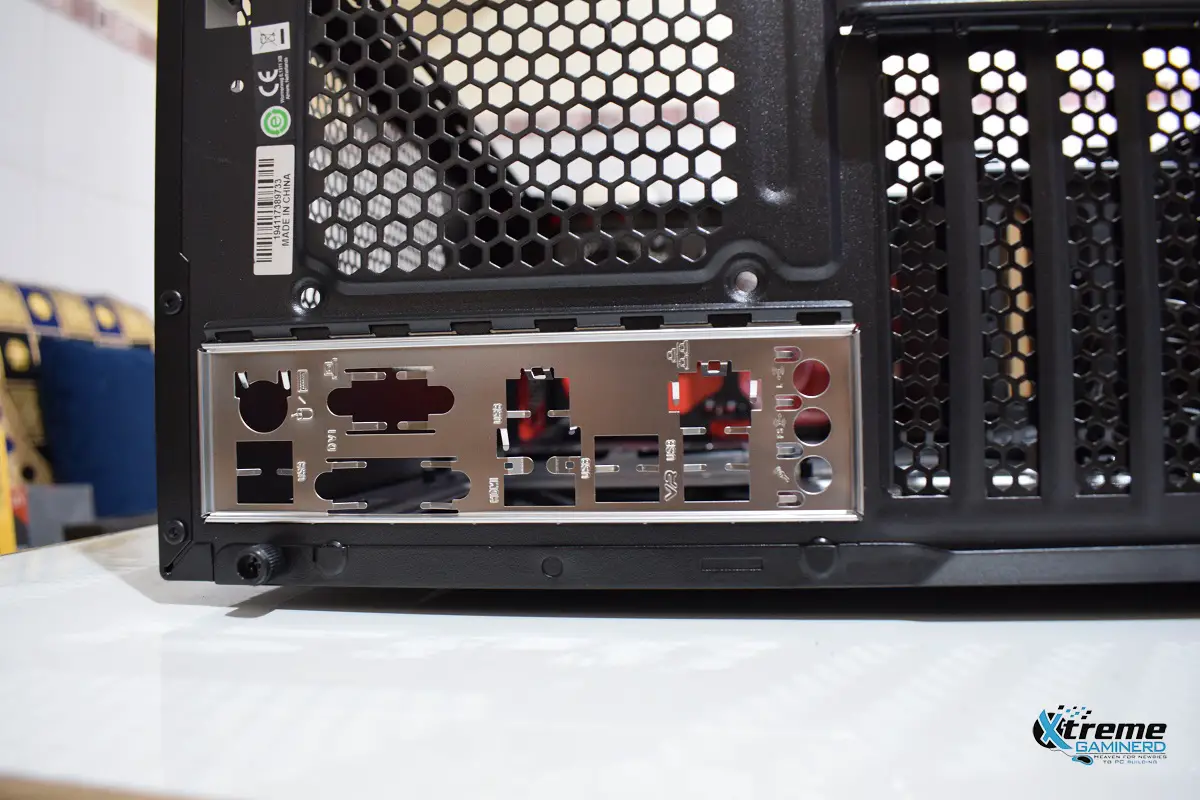 After that, align the motherboard to the standoffs screws inside the case. If your case doesn't have standoffs pre-installed, you have to install them before putting your motherboard. These standoffs will come free with your chassis. Also, the screws will also be available with your case for installing every component which you will put inside it. So, do not worry about that.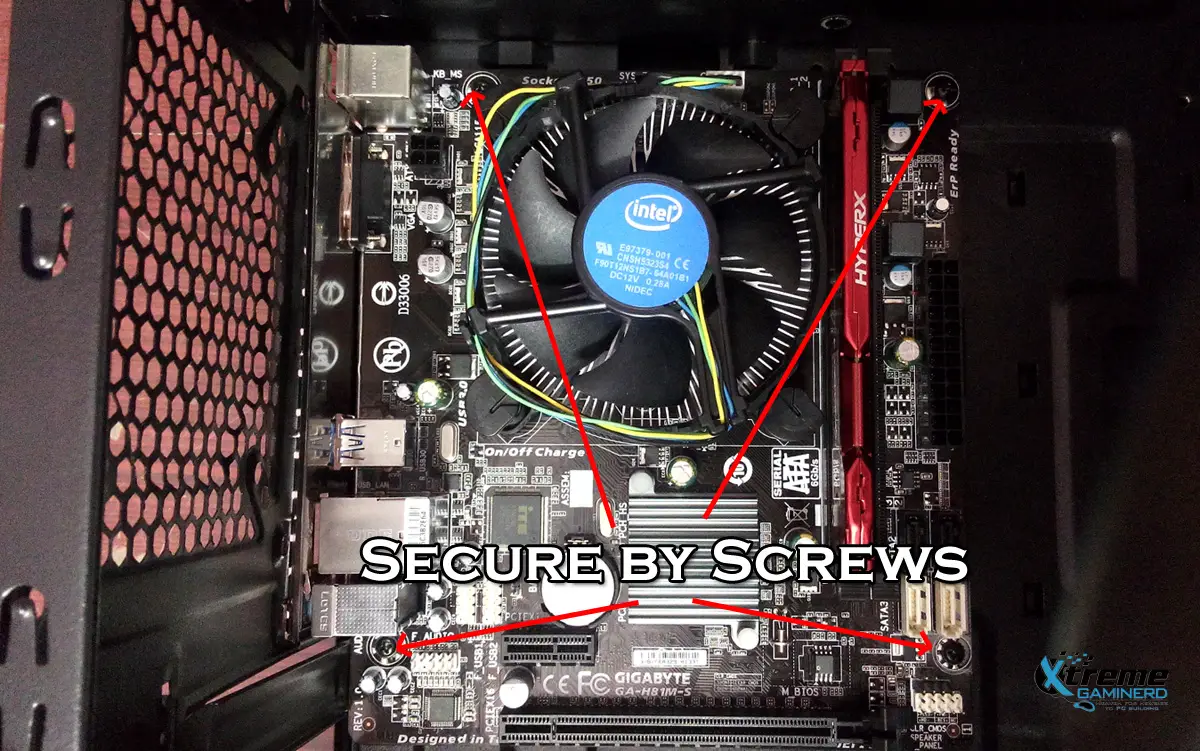 Install the Hard Drive
PC cabinets use different methods for installation of hard drives but they are easily figurable and you just have to use screws in order to secure your hard drive.
Find the slot inside your case and use the 4 or at least 2 big screws which are going to be used for securing the power supply as well and make sure that the hard drive doesn't move. Some cases have a tool-free mechanism in which you just have to take out the drive bay and put your hard drive in it. It doesn't require any screwdriver.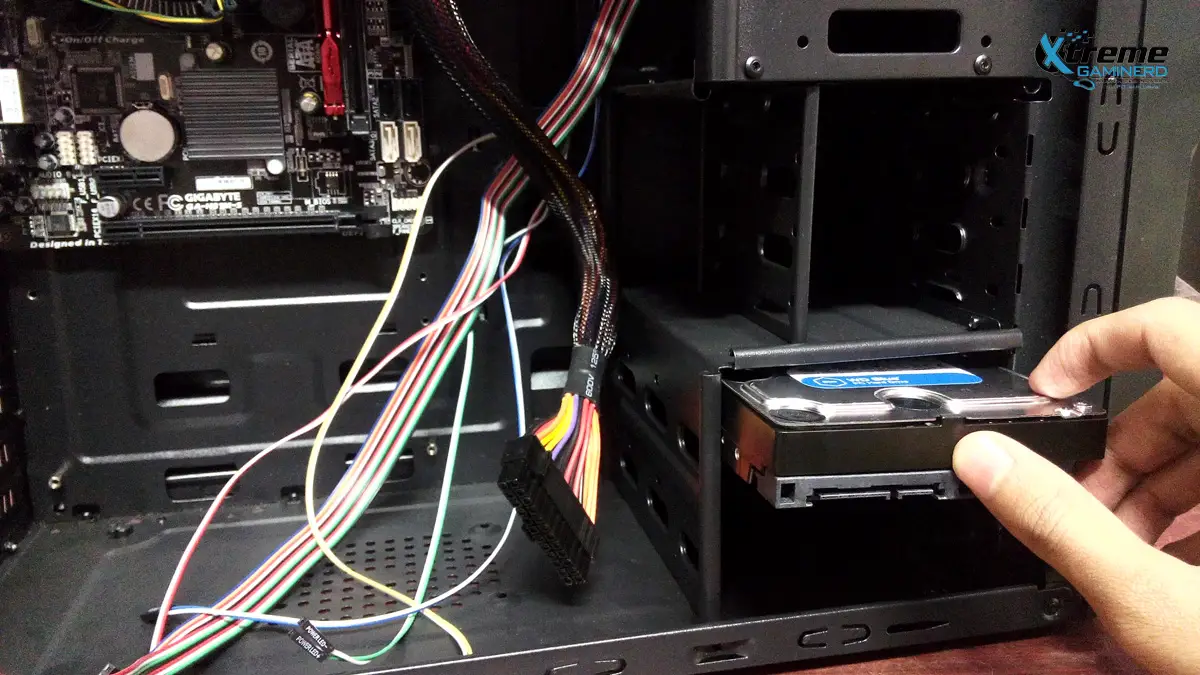 Install the Power Supply
I always recommend installing power supply after the components I listed above because of the mess it causes. Installing a power supply is just as easy as the hard drive.
Gently slide the power supply inside and align the power supply to the screw holes which are present at the rear of your case. You can either face the Power supply with the fan side down to take cool air or you can also put it in the opposite direction if you want to prevent any dust from entering into it. Preferable is fan side down.
Some cases have the Power supply installation area at the top but most of the newer cases have at the bottom. But the installation method will be the same.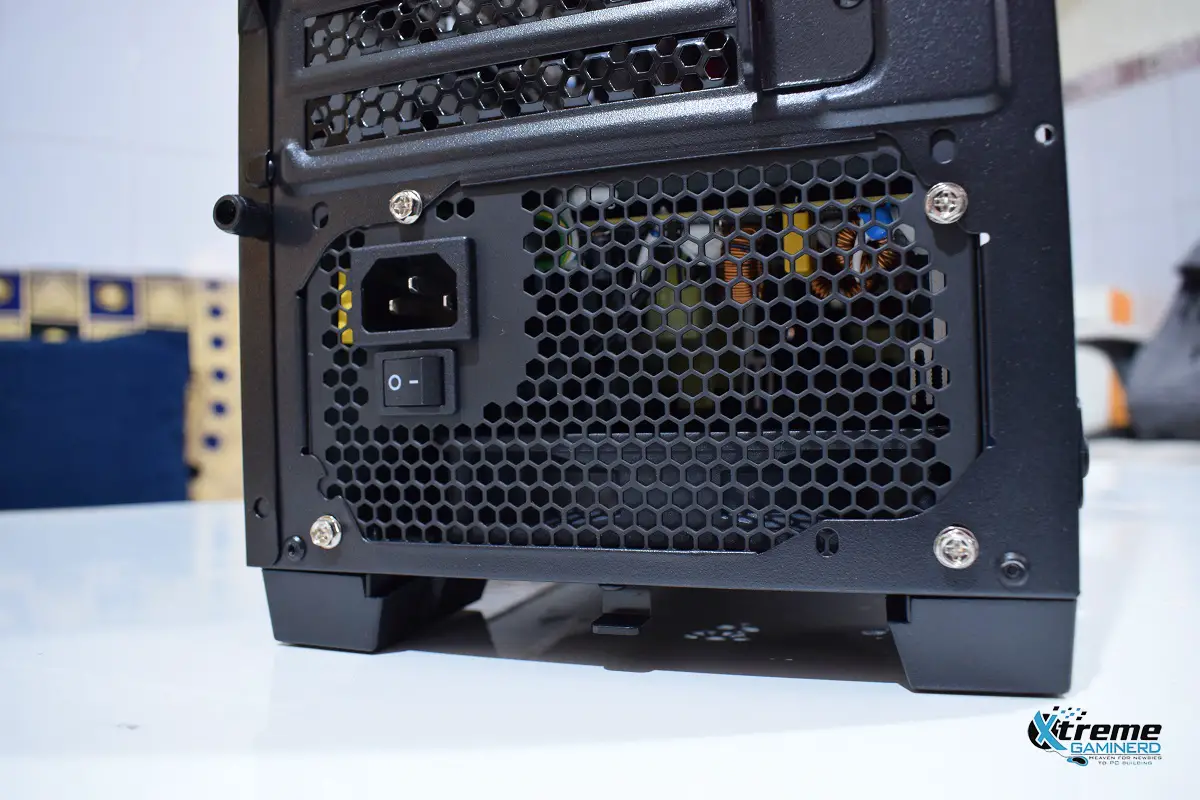 Time to connect the cables!
Wiring is a little bit tricky if you never did this in past. But when you will follow me you will not need another try to learn it. First of all, I don't recommend installing graphics card before wiring because it creates a lot of difficulties in doing so. So, completing the wiring stuff before installing the GPU is highly recommended.
Also, before you connect every cable it is recommended that you make the way for each wire through routeing holes so that most of them get hidden behind the motherboard tray. Go through my Cable Management Guide to learn how to do it.
#1. Connect the 24 pin ATX cable
The biggest connector you will find is the 24 pin power connector that will be having the thickest cable and can be recognised easily. You have to connect it to the 24 pin power port on your motherboard which is 95% of the time present at the right middle side of the PCB. It will go in one direction only. Make sure you properly connect it by putting some good pressure on it.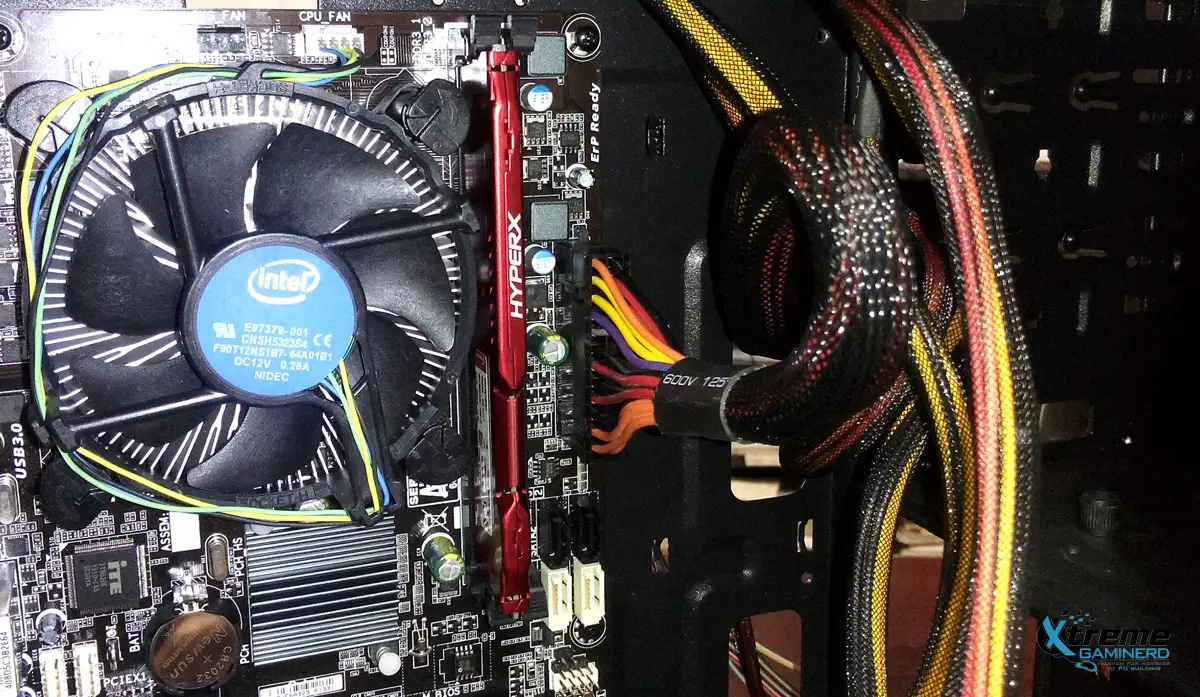 #2. Connect the CPU power cable
CPU power cable will have 4+4 pin power connectors and there will be either a 4 pin or 8 pin power port on your motherboard which is mostly present at the top left side of the PCB. It will be near to your CPU socket. Similar to the 24 pin ATX power connector, it will also go in one direction.
So depending on how many pinholes your CPU port has on your motherboard, you have to connect this connector. You will have to connect either a 4 pin connector only or combine two 4 pin connectors to make them 8 pin power connector if your board has an 8 pin power port. Eazy peazy!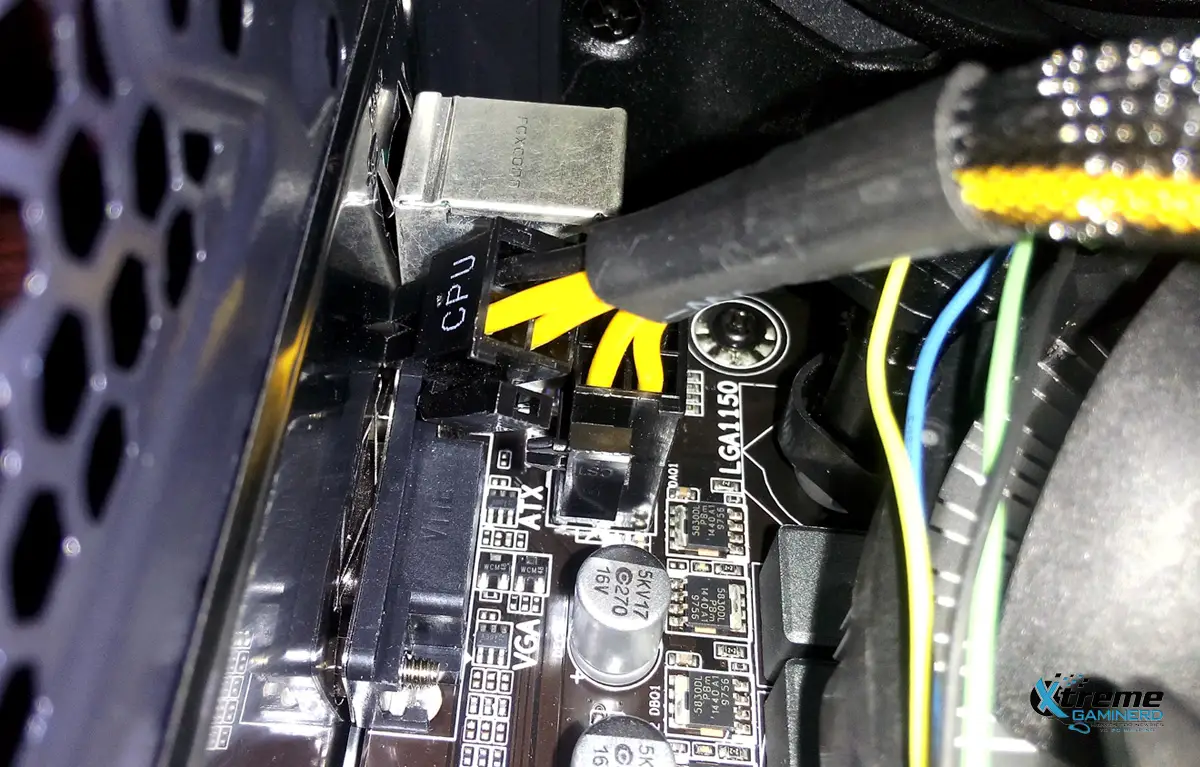 #3. Connect the SATA cables
There will be two cables that you need to connect to the hard drive. One is the 15 pin SATA power connector to power your hard drive and one will be the SATA cable that you need to connect to the motherboard. The power cable will be present on your Power supply and the SATA cable which is for the interface will be present separately and comes with the motherboard.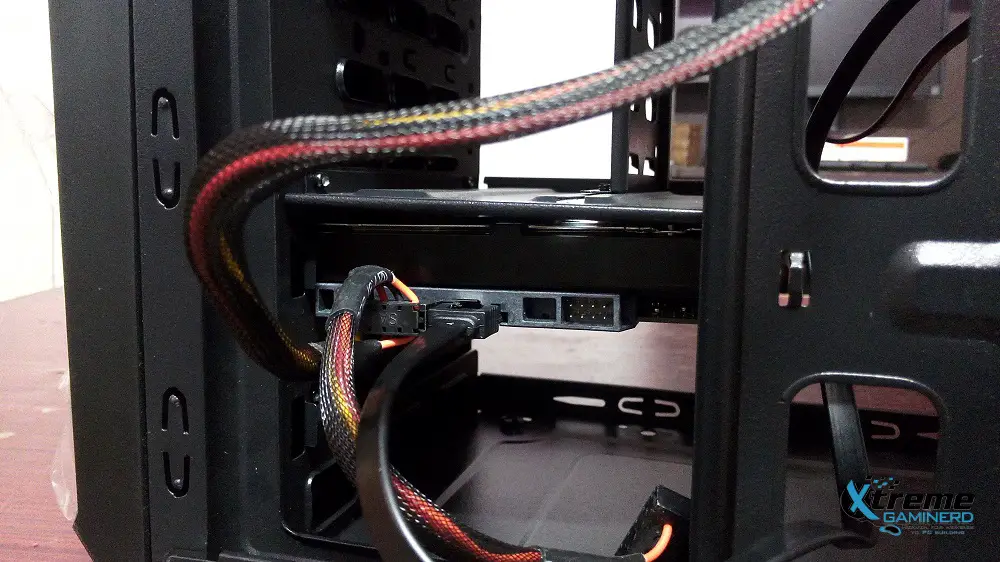 #4. Connect USB 3.0 and front panel cables
This is the most complicated stuff you will face because there are so many small connectors on the cables that come from the front panel of your chassis. These are Audio, USB 2.0, USB 3.0, Reset, Power, HDD LED, Power LED connectors. Out of these, the Audio, USB 2.0, USB 3.0 connectors are easy to connect because they are big and go in one way. You can find the labelling on your motherboard easily and if you don't, then remember to download my guide to do it easily.
For the other small connectors, remember the following diagram and connect these cables just as the diagram shows.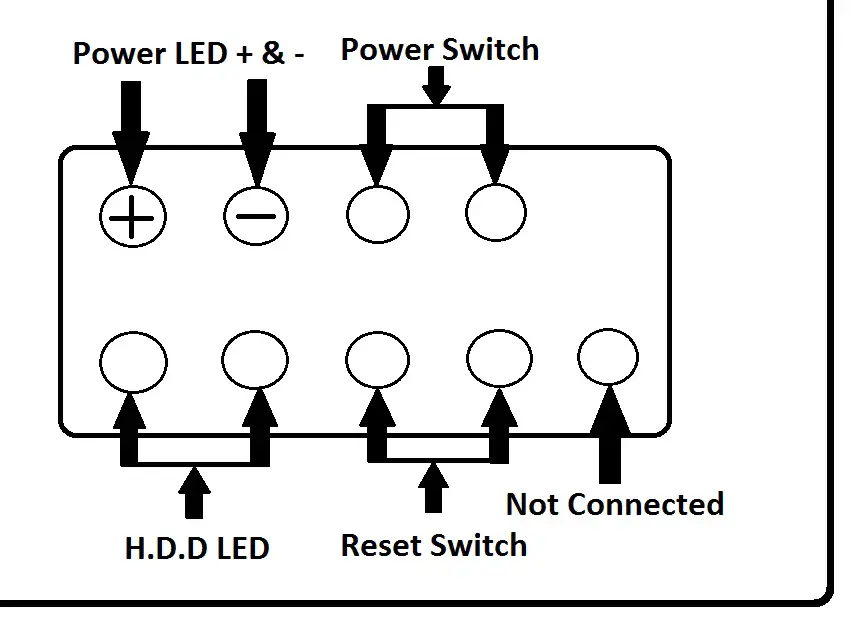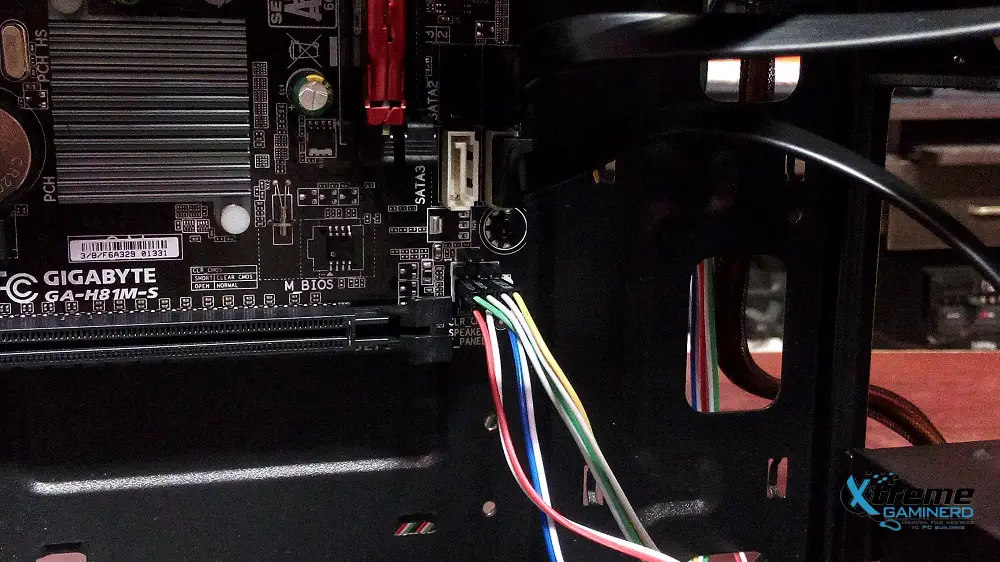 Install the Graphics card
Time for installing your favourite component. To install it, simply remove the PCI expansion cover which is present in your case at the rear. Generally, you have to remove two of them because most cards are two slot cards. Make sure you remove the right ones which are aligned to the PCI-Ex 16 slot on your motherboard.
Open the plastic latch at the right end of the slot and plug in the card with a little bit of pressure so that the latch closes by itself. Then connect the power cable from the power supply. If your card has a six pin power port, then use a six pin power connector and if it has more, you will have to use more. It is easily figurable.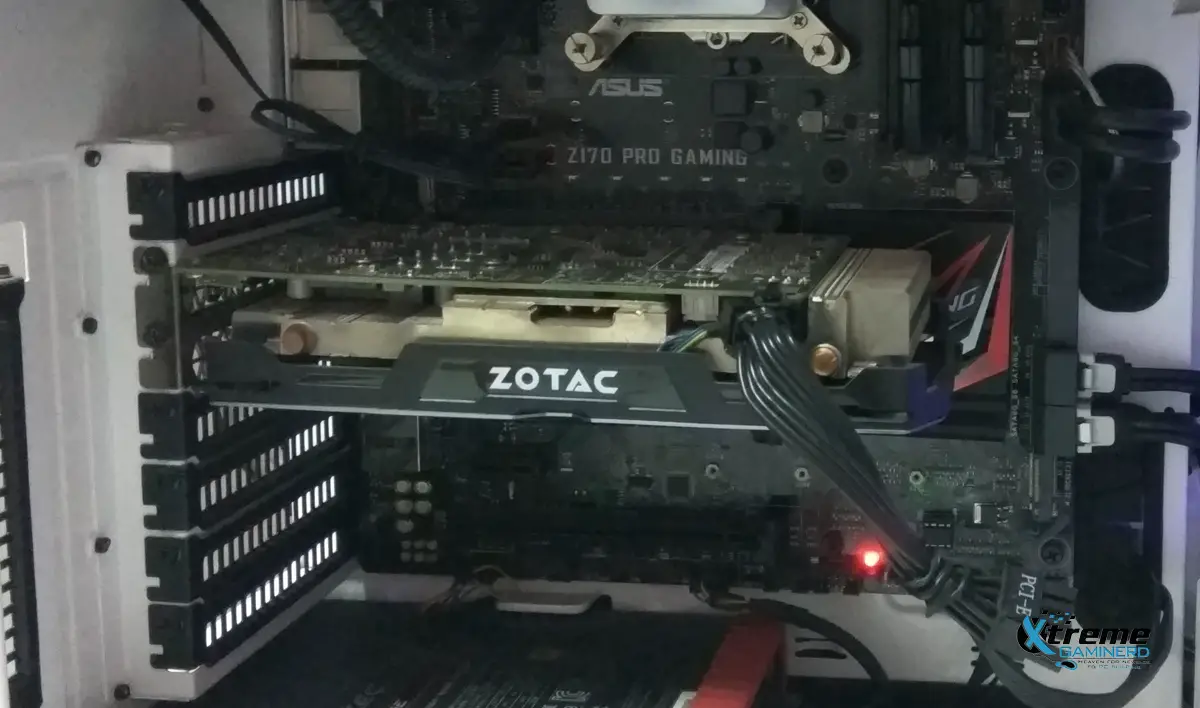 Use some Zip Ties
Finally, after all the wiring stuff, use some zip ties in order to make your system look neat and tidy. It will also prevent the loose wires entering into any fan and save a lot of space.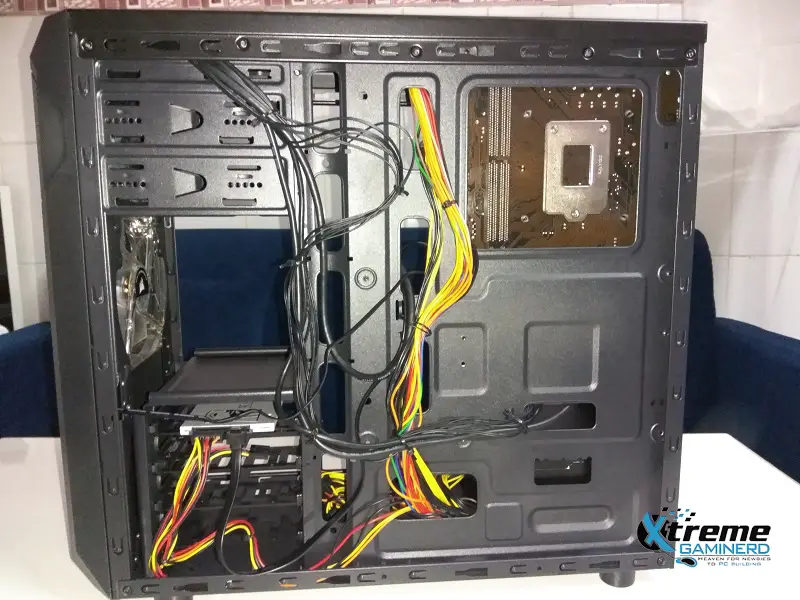 You have built it!
Next thing is to install the operating system. I recommend going with Windows 10 which is compatible with most of the applications and your games will run without any problem.
Then you will need to download GPU driver for your graphics card and other important drivers from official websites in order to make your system run smoothly.
---
Just because you now know what parts you will be using in this build doesn't mean that you have completed your whole build. Without proper peripherals, you won't be able to take advantage of your PC. I have listed some good peripherals that should be in your budget and will help you defeat your opponents in the game.
As I have myself tested a lot of peripherals, I have quite a good amount of knowledge on what you should buy and what not.
Keyboard/Mouse Combo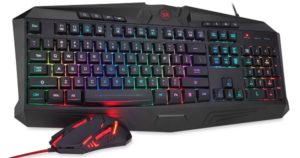 Just close your eyes and get this keyboard/mouse combo. Don't go here and there searching for what is good and what's not. Just simply go with it. It will cost only 30 bucks and provide you with the best value for money. Especially,  the mouse Reddragon M601 which is a dream of every budget gamer.
Even though I am used to high-end gaming mice like G502, Razer Deathadder and Corsair M65 Pro, this mouse is still in my eyes a premium peripheral at the cost of a pizza. You can't compare it with any other cheap gaming mouse because of the number of features it packs.
The keyboard is also a great deal as it comes with RGB lighting in-built. The quality and design of these two are unmatchable and you shouldn't be thinking about it further. Just get it!
Mouse Mat
SteelSeries QcK Gaming Mouse Pad- Amazon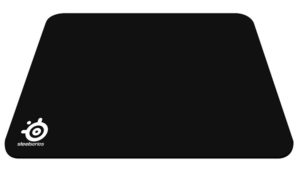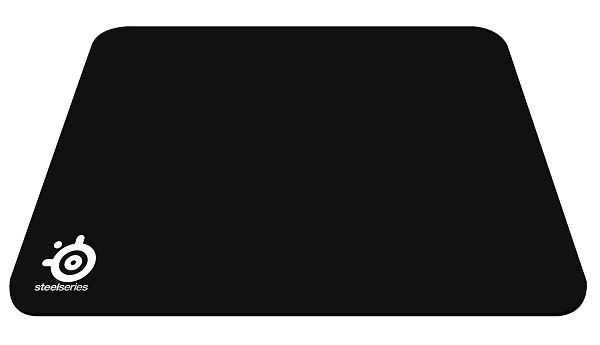 SteelSeries QcK is one of the most popular mouse pad that costs under 10 dollars and is big enough to support your mouse movements. The size of this pad is 12.6 x 10.6 x 1.6 inches with a SteelSeries Logo at the left bottom corner.
You will be able to move your mouse flawlessly on it and it won't become dirty in a short time, unlike the pads which have a lighter colour and need to be washed frequently to make them look clean. This mouse pad has a very smooth surface and a steady rubber base that won't slide easily by your hand movements.
Headset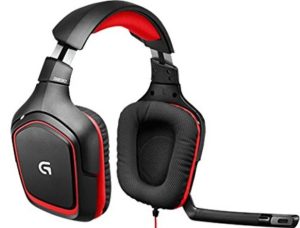 When headsets are taken into consideration, I don't recommend going cheap as with other components. Cheap headsets die after a couple of months and due to this, you have to spend a lot of money frequently in buying new cheap headsets.
Why not go with something that is reliable for a while and won't cost you that much? The Logitech G230 is made exactly for this purpose. It costs under $40 and is reliable. It has got thousands of positive reviews because it features a good Stereo 2.0 surround audio quality and noise cancelling.
Aesthetically it's very appealing to eyes and its Mic work flawlessly which you can rotate from horizontal to the vertical direction or vice versa. Logitech is providing 3 years of warranty with this headset.
Speakers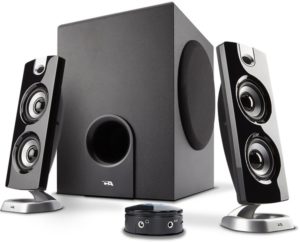 Headset always will not be the best solution for gaming because using them for several hours may cause pain in the ears and sometimes having audio along with fresh air to your head is also required.
Cyber Acoustics 2.1 speaker sound system is cheap and comes with a pair of speakers and a subwoofer that will fill your room with the game audio. 2.1 may not be a full surround experience but for a cheap build, you shouldn't be spending a lot of money on a 5.1 or 7.1 surround speakers.
These speakers will cost you only 40 bucks which is way cheaper than any other enthusiast level speakers but are also reliable. Nearly 10K people have provided a positive feedback on these because of the value this system provides. Along with the speakers and subwoofer, you will also get a hub that can be used for connecting headphones for gaming so that you don't have to use your CPU's audio jacks.
Monitor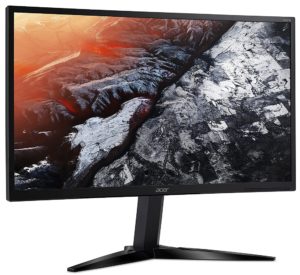 There are a lot of budget gaming monitors that cost nearly $100 but I suggest investing a little more in it because having a smooth experience is a must when your rig can provide you more than 100 fps in games like CSGO, Overwatch or Rocket League. As the Rig I listed above can achieve this, make sure you get the best out of it.
For this purpose, I chose the Acer KG251Q bmiix monitor that you should get in order to take your gaming to next level. This will cost you around 150 bucks but comes with AMD FreeSync that will provide you tearless gaming which is what irritates me the most. You don't want your game to be tearing from here and there. 
The monitor comes with 1ms fast response time and with a 1080p resolution that your rig will have the capability to handle. The monitor has the base refresh rate of 60Hz and can be overclocked to 75Hz. So, this is something better than on most of the budget monitors that cost nearly 150 dollars. But if you don't want to go more than $100, then I suggest going with the HP Pavilion 22cwa which have some fewer features but will fulfil the basic needs. 
---
Anything left?
I have completed the most important things in this post and if you still get stuck anywhere in between, there is something called "comment section" which you can find below. So, don't hold yourself back in asking any question and make sure you thoroughly read this guide. It will be a lot beneficial.