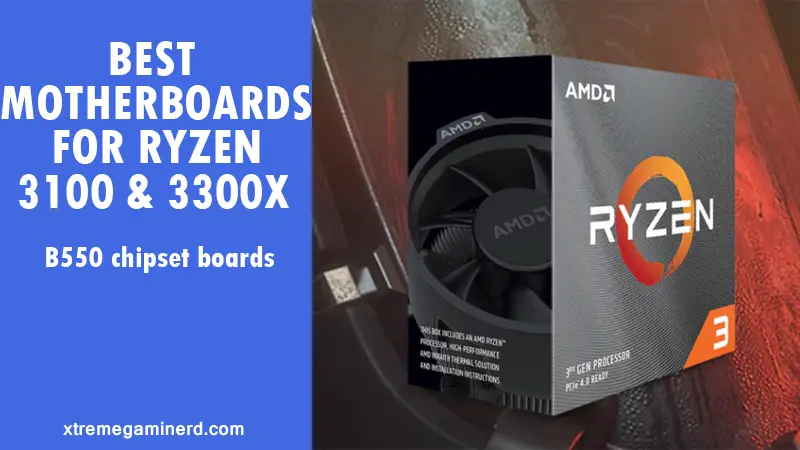 AMD was doing very well with its Ryzen 3rd gen processors especially with the Ryzen 5 3600 and 3700X which are among the best mid and high-end gaming processors but Intel still had the lead in budget gaming processors till now. While the Ryzen 5 3600 can be bought under $200, there are millions of gamers who opt not to go above $150 to spend on the CPU alone.
Ryzen 3 3100 and 3300X come in the game here for meeting this expectation but now with much lower price than one can think of. The Ryzen 3100 comes at a price tag of $100 while the 3300X comes at $120. Both of them feature powerful 4 cores with hyperthreading that makes them a perfect choice for gaming and multitasking for a much lower price as compared to what you could get 2-3 years back.
As both of these processors are unlocked, it's recommended that you choose a motherboard that can let you squeeze out more performance out of these chips for free to increase the fps in games and lower the processing/rendering time in different work applications to compete with more expensive CPUs.
While they can be put on an A320 chipset board, It's not recommended to do so except if there is a serious budget or motherboard availability problem. Take a look at the 5 best motherboards for Ryzen 3100 and 3300X in 2020 which we recommend and let me know if you have any queries in the comments section below.
---
If you want something that is basic and cheap, then I recommend going with the Gigabyte B550M DS3H which is a low-profile B550 motherboard but doesn't disappoint at all. Yes, it does not provide a lot of great features like the boards which follow it below, but it surely is decent for any quad-core processor like 3100 or 3300X.
I don't recommend going with any other board that has lesser features than this board as then you would be better off with an A320 chipset board except for the overclocking. This board features an 8 phase VRM with a simple heatsink that should be enough for an intermediate level of overclocking. It has 4x DIMM slots that support memory frequency up to 4733MHz with future Ryzen CPUs and 4000MHz with the current-gen Ryzen CPUs including the 3100 and 3300X. This might not be the best thing but is surely enough for the current available games.
There are 2x PCI-E x16 slots and 2x M.2 slots for NVME SSDs. Unfortunately, no CrossFireX support on this but nothing too concerning. For cooling, you will get a total of 3x fan headers including the CPU fan header and there are 2x RGB as well as 2x ARGB headers and a CPU RGB LED strip header which I believe should have been replaced with more fan headers but still, it's good for connecting multiple RGB devices such as RGB fans for which you should get a fan hub.
At the I/O you will get 8x USB headers and a PS/2 port and these are enough for connecting enough peripherals. For display, there are DVI and HDMI ports and a LAN port for internet connectivity. There is no inbuilt Wifi adapter and you shouldn't expect that for a price less than $100.
Related:- Motherboard cable-connection guide
---
From ASRock, the B550M Pro4 is an ideal fit for 3100 or 3300X as it features very good specs for less than $120. It's very identical to the B550 Pro4 which is the ATX board with similar VRM. The B550M Pro, however, is $20 cheaper and brings better I/O for connectivity. The only thing less in it is one less PCI-E x1 slot.
It has an 8 power phase VRM with good sized heatsink for cooling and I believe it's enough for overclocking the 3100 and the 3300X with stable temperatures. It has a good RAM frequency support with up to 4733MHz with the future gen Ryzen CPUs/APUs and 4533MHz with the current-gen Ryzen CPUs.
You will get 2x PCI-E x16 slots for graphics cards with CrossfireX support and 1x PCI-E x1 slot for any expansion card. The first PCI-E x16 slot is Gen4 while the second one is Gen3. There are 2x M.2 slots for SSDs, the second of which shares bandwidth with the SATA 3, 5, and 6 ports and hence will get disabled if any of those SATA ports are used and vice versa.
There are 6x Fan headers in total and 2x RGB, 2x ARGB headers for RGB devices which is definitely rare to find on a budget MATX board. So, you will be able to install AIO cooler and a lot of fans without any fan hubs and also be able to use RGB fans and LED strips easily.
At the I/O, there are 8x USB ports including a Type C; VGA, HDMI, and DP ports for display and a 1Gb LAN port. As there is an M.2 Wifi slot too on it, you can use the two holes on the I/O for Wifi antennas and get connected to the internet wirelessly. This is in my opinion the best MATX motherboard for 3100 or 3300X for the price and should be great for a gaming PC costing around $400–$600.
---
If you want very good overclocking of the 3100 or 3300X, then you can do it without spending over $150. Asus Prime B550-Plus is among our top recommended B550 motherboards that provide everything for a budget or mid-end gaming system.
It has a 10 power phase VRM with good heatsinks to maintain the temperature for a long time. The board has support for up to 4600MHz of RAM frequency with the current-gen Ryzen processors and 4800MHz with future Ryzen CPUs and APUs. There are 2x PCI-E x16 slots for graphics cards that support AMD Crossfire X where the first slot is Gen4 while the second one is Gen3.
The first slot will run at X16 and the second PCI-E slot which uses PCI lanes from chipset runs at X4 which will run at X2 if any of the 3x PCI-E x1 slots are used. For storage, you will get 2x M.2 slots, the secondary one here shares the bandwidth with the SATA 5 and 6 which will be disabled if the SATA 5 or 6 are used and vice versa.
For cooling, you will get 6x fan headers in total including the CPU, AIO headers, and 2x RGB, 1x ARGB headers for connecting RGB devices to your motherboard. The board also has Debug LEDs for troubleshooting which are very essential in cases when your system refuses to boot and you need to find out the responsible component.
At the I/O, you will get 8x USB ports including the Type C and HDMI, DP for display. The board features a 1Gb LAN which is common on the B550 boards but you won't get an inbuilt Wifi here, so you will need to use a PCI Wifi card or a USB wifi adapter to connect to the internet wirelessly. But for $150, this should suffice most of your needs.
---
MSI B550-A Pro is a very competitive board for $150 and is one of the ultimate choices for any budget gaming PCs that can provide you with unique and distinguished features for overclocking and components support. While the Asus Prime B550 Plus is definitely a good choice, the B550-A Pro takes a little lead with some better features.
It has a 12 power phase VRM with doublers and will be better in overclocking for the same price as that of Asus Prime B550 Plus. Yes, there are some drawbacks like low memory frequency support and fewer slots but most of the features are identical. Speaking about the drawbacks, on it, you will find 2x PCI-E x16 slots that support AMD CrossfireX and 2x M.2 slots for fast NVME SSDs. The difference here is that the second PCI-E x16 slot will get disabled if you use the second M.2 slot which is not the case in the Asus Prime B550-A Pro. It will, however, only matter if you are planning to do CrossfireX which is actually rare to see.
There are 2x PCI-E x1 slots as compared to 3 on the Prime B550 Plus but I think that is still enough as you need only a single PCI Wifi card to connect wirelessly. The pros of B550-A Pro include better VRM which I stated above, more fan headers which are 8 in total on this board, and a Flash Bios button which makes upgrading the Bios easier.
You will also get the EZ Debug LEDs for troubleshooting which most of the MSI boards have that includes low-end as well as high-end boards. For peripheral connectivity, you will get 8x USB ports including a Type C and HDMI, DP ports for display which are similar to Prime B550 Plus.
Related:- Best graphics cards for Ryzen 3100 and 3300X
---
Conclusion
While there are a lot of great boards which you can buy for Ryzen processors like 3100 and 3300X, it's the price to performance which matters here the most. You should neither go with a motherboard that is too low-end that it can't even overclock and can't let you install multiple components, nor you should spend over $200 just for over the top level of overclocking which isn't needed at all. Let me know what do you think!