Introduction
AMD Ryzen 7 3700X is currently the best processor you can get for Gaming and productivity for $300. It directly competes with the i7 9700K and beats it in multitasking and gives it a good competition in Gaming, although it doesn't beat it in pure gaming. But nonetheless, this is the first time, AMD has released a processor that costs lower than its competitor from Intel and yet provide much better value overall.
Ryzen 7 3700X is not meant for casual or mid-end Gaming. It's a beast and can handle any high-end GPU available right now, be it RTX 2080 Super or RTX 2080 Ti. This makes it a fantastic choice for any PC build ranging from $1200 up to $3000. Another great feature of this CPU is overclocking which makes it faster in gaming when you overclock it but you can only do it on a B450 or an X470/X570 motherboard. As it features 8 cores and 16 threads, it's very important to choose something that has a very powerful VRM enough to handle the overclocking for a long time.
Although a good B450 chipset motherboard can overclock it, I still don't recommend any of them for this processor as you will be hindering its performance and your PC build overall in a lot of things which is unreasonable for a $300 CPU like this. As you are spending this much money on a processor like this, don't be a miser in getting a good X570 board for it because the truth is that you won't be going to upgrade your motherboard again and again. Get something good from the very start which will give you everything you would need.
So, for this purpose, I have listed down the top motherboards for Ryzen 7 3700X that will deliver rock-solid performance and will also be good for several upgrades in the future.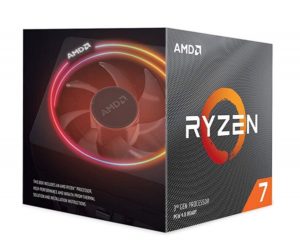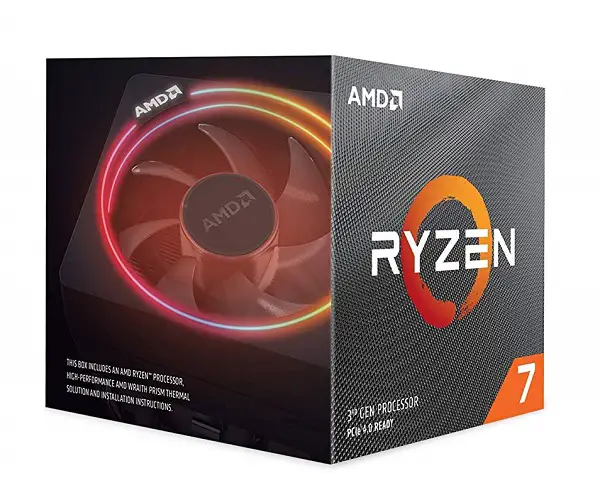 ---
ASUS TUF Gaming X570-Plus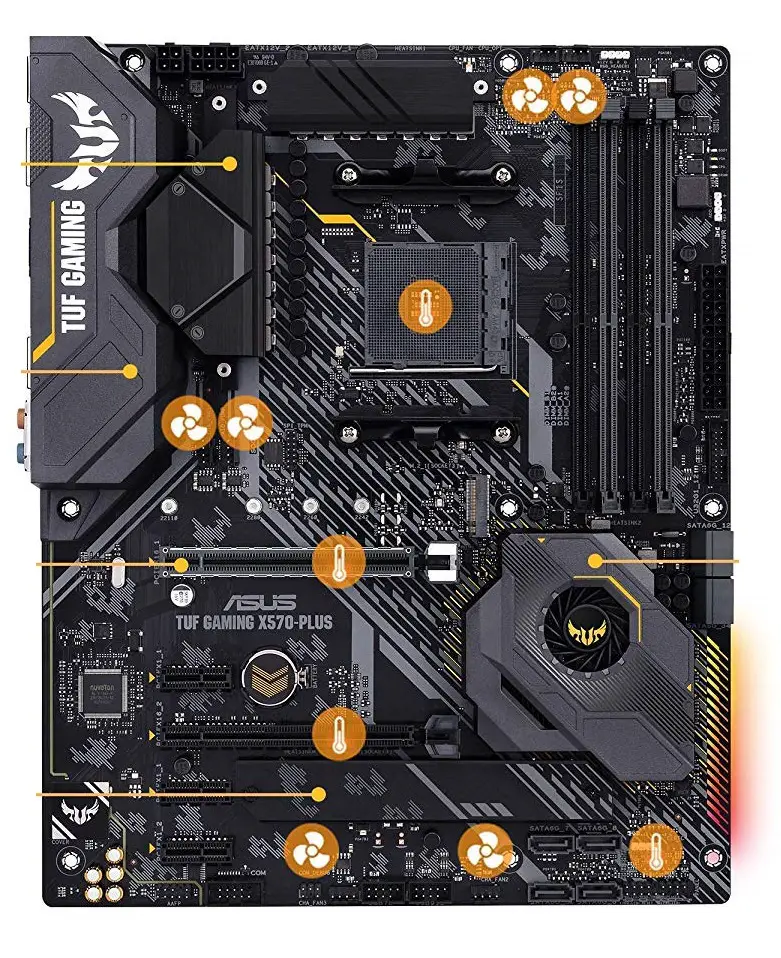 Currently one of the cheapest motherboards from all the manufacturers is the Asus TUF X570 Gaming Plus which astonishingly brings superb features for a price of $170. Its VRM is much similar to the Asus's higher-end motherboards like X570E, X570 Prime and X570-F which makes it a good choice for the Ryzen 7 3700X if you don't want to spend $200+. It has a very powerful VRM with 6+2 power phases that uses doublers to reach 12+2 power phases.
It's enough for overclocking the Ryzen 3700X properly to get a good boost in performance in Gaming. This VRM is cooled by decent heatsinks which aren't very heavy or big but are enough for stable overclocking for a long time if you have a good chassis with proper airflow. Other specs of this board are up to the mark and will fulfill all of the requirements that you would need. There are 2x M.2 slots for NVME SSDs and one of them is located below the second PCI-Ex 16 slot and is covered with an aluminium heatsink. The chipset uses a small fan which is present on every X570 board and should help in lowering down the temperature of the chipset effectively though, it's very controversial because the motherboards are said to malfunction if the chipset fan stops.
For cooling, there are 6x Fan headers in total including the CPU fan header which are enough for powering almost all of the fans of your chassis and you can use a splitter or a fan hub if you use more than 6 fans in total. The good thing about this motherboard is that it also comes with Debug LEDs at the top right side which isn't available in any other motherboard for this price and even on some of the motherboards that cost more than $200. So, overall this is the best choice for any Gaming build if you want to save as much money as possible without compromising the performance.
---
GIGABYTE X570 AORUS PRO WiFi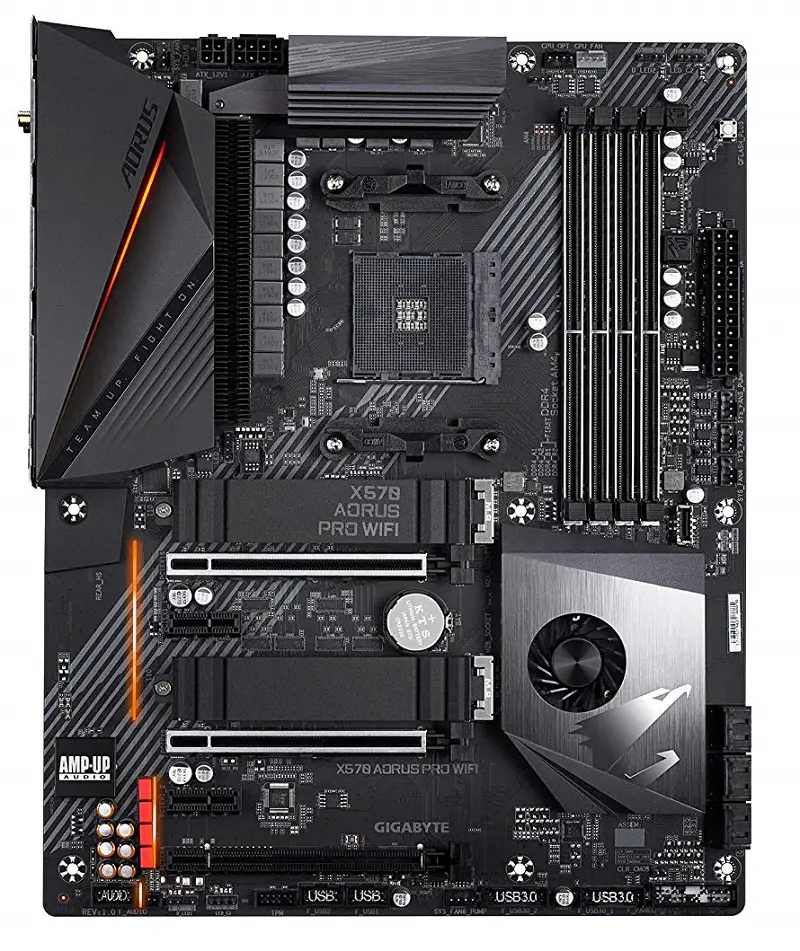 The X570 Aorus Pro Wifi from Gigabyte is a superb mid-high-end motherboard that will allow you to overclock the Ryzen 7 3700X much more effectively than the other budget boards because it has 6+2 power phases using doublers with huge aluminium heatsinks on both the VRM MOS and SOC. This is one of the best cooling methods you can get for cooling the VRM that will help you achieve more stability in longer operations and as the Ryzen 7 3700X is a high-end processor with 8 cores and 16 threads, the temperature of VRM will increase much faster than using a 4 cores or 6 cores processor.
The board has 2x PCI-Ex 16 slots using Steel Armor for giving more strength to the slots that can support heavy graphics cards. Through these slots, you can do Two-Way Nvidia SLI which isn't supported in the Asus TUF X570 Gaming Plus. As its name suggests, it has an inbuilt wifi-adapter with the standard Wi-Fi 802.11a/b/g/n/ac/ax and supports Bluetooth 5.0 at the same time. So, you won't need to spend money on a good wifi adapter for internet connectivity.
There is also USB 3.1 Type C present on it which is helpful if your chassis has a Type C port at the front panel and for connecting multiple devices, you can use those 10x USB ports at the I/O. For cooling, it has 7x Fan headers which are located all around the PCB for easy connection and for lighting your Rig, it has RGB as well as ARGB headers. For updating bios, there is a Flash Plus button but it would have been better if it was located at the rear. The only complain I find with this board is that it doesn't have any onboard troubleshooting features like any Power or Reset buttons, Debug LEDs etc. which would have made this board the best value.
---
ASRock X570 Taichi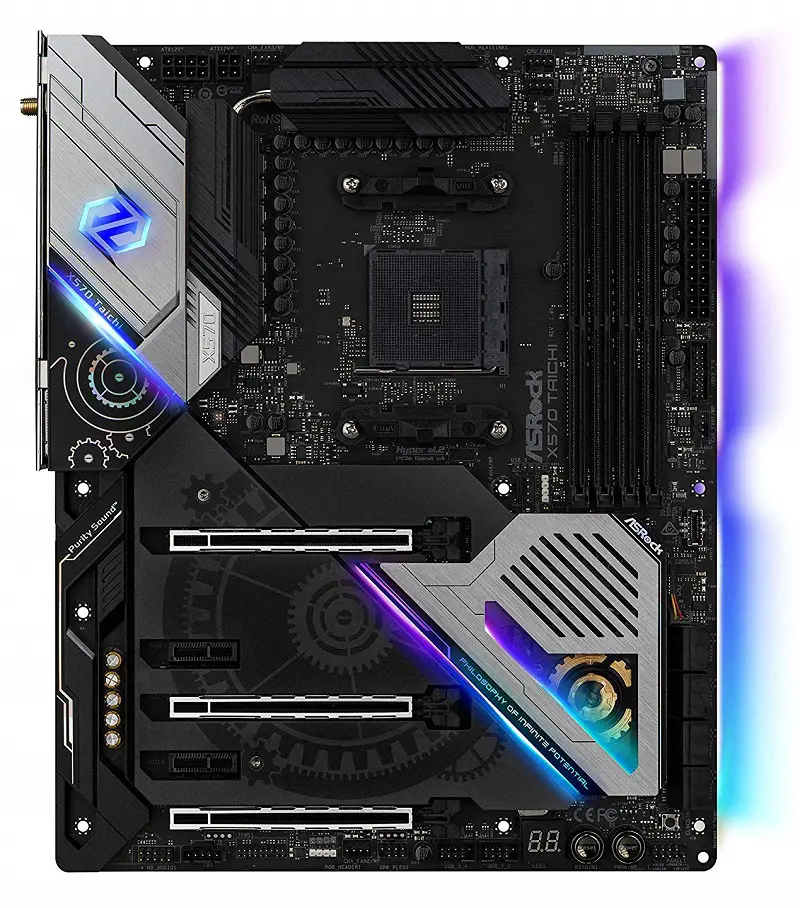 If you want to overclock Ryzen 7 3700X strongly without any compromise, then go for the ASRock X570 Taichi which costs only $40 more than the Gigabyte X570 Aorus Pro Wifi and gives you all the features which you don't have on the latter. There are troubleshooting options on the board like the LCD Display for PostCode at the bottom with Power and Reset buttons. The PCI section is covered with a shroud that makes its look sick and the RGB lighting at the chipset, I/O and the right side of the PCB will illuminate your whole system.
The VRM used on this board uses 6+2 power phases with premium 60A power chokes which provide enhanced VCore voltage which increases the stability and with doubling it has achieved 12+2 power phases just like any other X570 board on this list. This is more than enough for strong overclocking and the heatsinks used to cool the VRM are heavy that also has copper heat pipe for more heat dissipation. This board uses 3x PCI-Ex 16 slots with Steel Armor and supports up to Two-Way Nvidia SLI and Three-Way AMD CrossfireX. For storage, there are 8x SATA ports and 3x M.2 slots which makes it future proof for storage although it's less likely that you will be able to use all of them at the same time.
At the I/O, it has CMOS Clear button as well as BIOS Flash button for easy update of BIOS, Wifi Antenna connectors and a lot of USB ports. This is the best board for $300 and there is no other board that comes closer to it for this price and this is the best choice for Ryzen 7 3700X.
---
Conclusion
As Ryzen 7 3700X is a top performer in the high-end CPU category, you must not go with "Anything" that supports this CPU but rather save some money and get a good motherboard to gain the free performance by overclocking it. The above-mentioned motherboards aren't the only ones you can get for this chip but rather they are one of the best you can get for your money if you have $170 to $300 in your pocket. But if you still want to go with any other motherboard, then let me know in the comments section below.