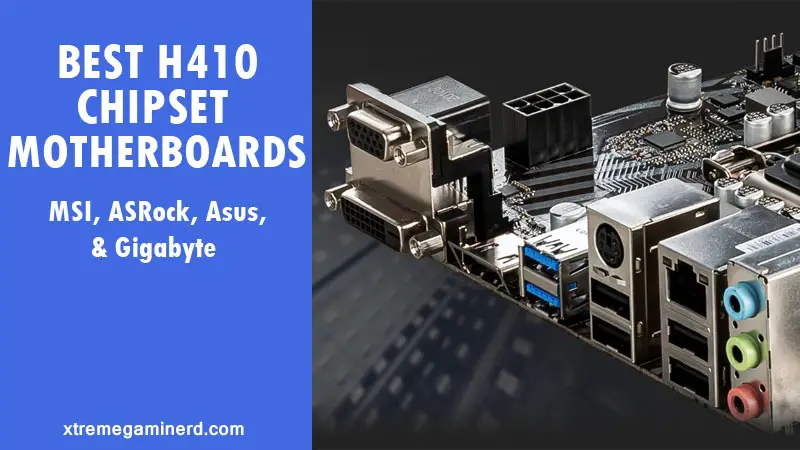 Intel is here with its latest 10th gen Comet lake processors and once again we have the locked and unlocked processors for mainstream desktop users. The locked processors include i3 10100, i5 10400, i5 10400F, and i7 10700 while the unlocked processors are denoted by "K" at the end of their model name.
It's important to take these processors into consideration to know what motherboard you need to buy for your PC as wrong choices will make you end up overspend. While every processor will work with every chipset till the socket on your motherboard is LGA 1200, it's better to buy a motherboard that will fulfill all of your needs with the least amount of money.
LGA 1200 socket motherboards have 5 chipsets and the H410 is the one with the least features and also the cheapest price. While an H410 chipset motherboard is not best for everyone especially those who need a lot of slots, ports and overclocking, there are PC builders who need not more than a few USB ports, a PCI-E x16 slot, 2x DIMM slots, and a few SATA ports to connect the components and ready their system in no time.
Related:- Best Z490 Motherboards
H410 chipset features
| General Features/Specs | |
| --- | --- |
| No of DIMMs per channel | 1 |
| No of Displays Supported | 2 |
| No of PCI-E x16 slots | 1 |
| Max # of PCI Express Lanes | 6 |
| No of USB Ports | 10 |
| Max No of SATA 6.0 Gb/s Ports | 4 |
| Integrated Wireless | No |
| Overclocking | No |
Anyone who needs to build a budget gaming system or build a system for office work will have his needs fulfilled with an H410 chipset motherboard and following are the top choices among all the H410 motherboards from Asus, Gigabyte, MSI, and ASRock. I have explained the reasons below each motherboard why they are the best choices and are worth buying for any locked Intel chipset processor.
---
Quick Specs :-
VRM: 5 power phases
RAM support: 64GB, 2933MHz
Expansion slots:1x PCI-E x16, 1x PCI-E x1
Storage: 4x SATA, 2x M.2(One M.2 Wifi)
While most of the H410 motherboards bring basic features, the MSI H410M Pro is a masterpiece for only $70. The board has 5 power phases that use doublers which is great for stability in voltage however, as you are not going to do overclocking, this feature won't be that important. The board has 2x DIMM slots that support up to 64GB of RAM clocked up to 2933MHz which is common frequency across all the H410 and B460 motherboards.
It has a PCI-E x16 slot that uses steel armor for more stability and can handle heavy graphics cards. Below that you will find a single PCI-E x1 slot that can be used for a wifi card but there is an M.2 Wifi slot beside it which is not available on every H410 motherboard. It, however, doesn't come with the Wifi adapter and you will have to buy it separately which will cost you $20 more.
This MSI board has one unique feature which no other H410 motherboard has and that is the EZ DEBUG LEDs which are useful for troubleshooting PC malfunction. It indicates the problem related to the component by lighting up the adjacent LED and is generally found on mid or high-end motherboards.
The I/O on this board is also stuffed with several ports that include 6x USB ports, 1X VGA, 1x DVI, 1x HDMI, 1x PS/2, and 1x LAN port that supports 1GbE Data Rate Per Port. Also, unlike most of the H410 motherboards, it also features 1x RGB and 1x ARGB header for connecting RGB devices. I believe that this motherboard will be great even for a mid-end PC build that will increase overall aesthetics for just $70. The only issues with it is the lack of an inbuilt wifi adapter and only 2x fan headers in total.
---
Quick Specs :-
VRM: 7 power phases
RAM support: 64GB, 2933MHz
Expansion slots:1x PCI-E x16, 1x PCI-E x1
Storage: 4x SATA, 2x M.2(One M.2 Wifi)
ASRock H410M/AC is a very promising motherboard that I recommended in my best LGA 1200 motherboards list also. It has a powerful 7 power phase VRM and support for most of the components. It too has a single M.2 slot for NVME SSD and an M.2 slot for Wifi card just like the MSI H410M Pro but the exception here is that it has an inbuilt wifi adapter out of the box and will let you connect to the internet right away after installing your OS.
The board, however, doesn't have any Debug LEDs which as I said is only available on the MSI H410M Pro and H410M A Pro. While that may be a useful feature for many but you do have to compromise somewhere if you want additional features like inbuilt wifi, 4x Fan headers which are exceptional and better VRM for almost the same price. ASRock has a total of 7x H410 motherboards, out of which this one I believe is the most cost-effective board that fulfills most of the needs.
However, there are boards like H410M-HDVP and H410M-HDVP2 which are ATX in form factor and bring more ports at the I/O but they lack inbuilt Wifi adapter. Also, their second PCI-E x16 slot is of no use as they don't support any SLI or CrossfireX. These boards however have three output display ports that include the HDMI, VGA, and DVI while the H410M/AC only has the HDMI port. The thing which matters here is the cost and the features you get for the respective prices where I think the H410M/AC is a winner.
In case you want a mini-ITX board for a more compact build, then you should get the H410M-ITX/ac which is very similar to this one with the exception of lack of one PCI-E x1 slot and 2 fewer power phases. However, it is better than the H410M-HDV and H410M-HVS which are identical to each other except for the DVI port which is absent in the HVS.
Related:- Best motherboards for Intel i9 10900K
---
Quick Specs :-
VRM: 8 power phases
RAM support: 64GB, 2933MHz
Expansion slots:1x PCI-E x16, 2x PCI-E x1
Storage: 4x SATA, 1x M.2
Asus did not amaze us this time as it doesn't provide any unique or good features in the H410 chipset boards. There are a lot of H410 chipset boards from Asus like the H410M A, D, E, and K but they have minor differences between them which confuses the buyer. All of them are identical to each other except for the I/O. The H410M-K is the one you should totally avoid as it doesn't have any M.2 slot for NVME SSD.
Rest of the three: A, D, and E have the M.2 slot but are different in their I/O. The D looks better as it has 6x USB ports but the A and E have only 4. However, they have 2x PS/2 ports which I don't think will matter a lot because D also has one PS/2 port and that is sufficient, to be honest. They all use the 8 power phase VRM design and a similar PCB layout.
You will have 2x DIMM slots, 1x PCI-E x16 slot, 2x PCI-E x1 slots, 4x SATA slots, and 2x Fan headers. At the I/O you will find a VGA and HDMI for display and a COM port which I think right now isn't needed anymore. Unfortunately, there aren't any RGB headers and Debug LEDs on this board due to which I totally not recommend it except if you don't get any of the above-listed motherboards.
Related:- Motherboard cable connection guide
---
Quick Specs :-
VRM: 5 power phases
RAM support: 64GB, 2933MHz
Expansion slots:1x PCI-E x16, 2x PCI-E x1
Storage: 4x SATA, 1x M.2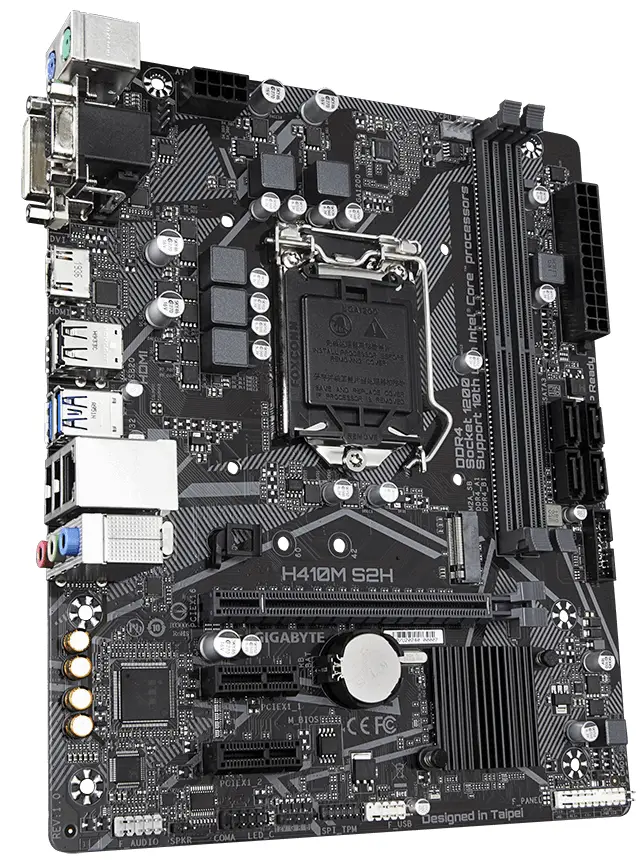 Gigabyte has 4x H410 motherboards which are similar in layout but have a little different I/O to each other. While these motherboards are not better than the MSI or ASRock H410 motherboards, they are definitely a good choice for their respective prices. Except for the VRM, they have sufficient features you would need in a budget gaming build.
Out of these 4 motherboards, I recommend the H410M S2H which has the best I/O of all the motherboards listed here and also in the whole H410 chipset boards lineup from all the manufacturers. Though it doesn't feature any inbuilt wifi adapter, the number of ports at the I/O makes it worthy of use.
It has 6x USB ports, 2x PS/2 ports, HDMI, VGA, DVI for display, and audio jacks. The other three boards lack either in 6x USB ports or display outputs. It also has an RGB header for RGB fans or RGB LED strip and for cooling, you will get 2x Fan headers just like most of the boards.
Related:- Best motherboards for Intel i7 10700K
---
Conclusion
In the reviews of these 4 boards, I have listed out reasons for not selecting the left outboards and why you should buy one of the listed ones only. It's not that every excluded motherboard is bad but pricing and features at that cost make a motherboard great for buying. If you have any doubts and queries, feel free to drop a comment below!