Xtremegaminerd.com is a participant in Amazon Associate Program and is supported by the readers. The qualifying purchase you make through our links may get us some commission and doesn't cost you an extra penny.
---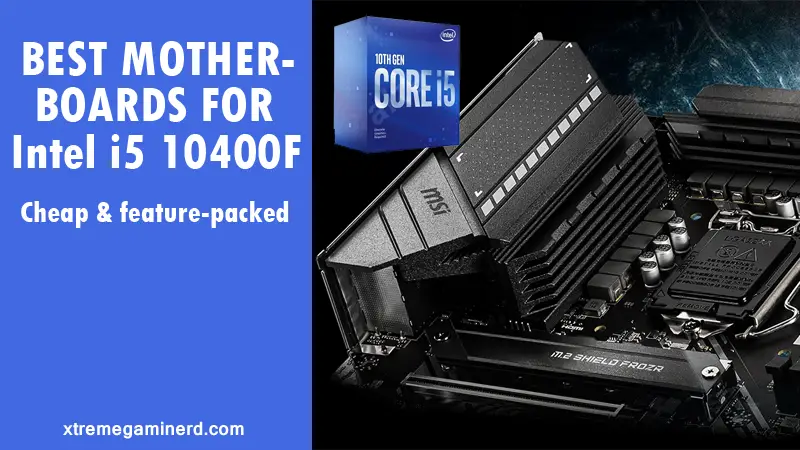 Intel Core i5 9400F was a great success for gaming on a budget. It featured 6 cores and 6 threads with a great capability of gaming and multitasking in just under $150 but after the release of i5 10400F, the scenario changed and now there is no reason to go for the 9400F as the 10400F features 6 cores and 12 threads with higher clock speeds.
The 10400F features a higher boost clock speed of 4.30GHz as compared to the 4.10GHz which 9400F featured. Also, the cache memory has been increased from 9MB to 12MB which makes it a great choice for building a good mid-high-end gaming PC that will cost around somewhere from $600 up to $1000 if a good graphics card is used.
The only problem right now is that unlike the 9th gen processors, you can't use i5 10400F on an LGA 1151 socket motherboard. This processor is only compatible with an LGA 1200 socket motherboard and fortunately, there are a lot of options to choose from. There are H410 chipset boards, H470 chipset boards, B460 chipset boards, and Z490 chipset boards.
As the i5 10400F is a locked processor, it's best to use it on any of the chipset boards except on the Z490. Z490 boards are made for overclocking and are expensive. Following is the list of top motherboards for i5 10400F which I compiled after a thorough research which will save your money and time altogether. These boards will provide you the best performance for the least money spent. Do read every review carefully as I have examined why they are worthy of your buy and why not the ones I have not listed.
Quick Specs :-
VRM: 7 power phases
RAM support: 64GB, 2933MHz
Expansion slots:1x PCI-E x16, 1x PCI-E x1
Storage: 4x SATA, 2x M.2(One M.2 Wifi)
While most of the mid and high-end boards from ASRock are not really good for the price and you can get the better ones from other manufacturers, the H410 chipset boards from ASRock are the top ones in terms of features. The ASRock H410M/AC is our recommendation for the best H410 board and we recommend it to those who want to spend the least and yet want the most out of their money.
Unlike the H410 chipset boards from other manufacturers, it has a better VRM with 7 power phases, an inbuilt Wifi adapter, support for Bluetooth 4.2, and 4x fan headers in total. While most of the H410 boards have only 2 fan headers, with 2 extra fan headers on this board, you will be able to connect more chassis fans and even an AIO cooler on it.
The inbuilt wifi adapter will help you connect to the internet wirelessly without spending an extra buck on a wifi PCI card or USB adapter and the other basic features are already there to be used out of the box. These are 1x M.2 slot for an NVME SSD, 4x SATA slots for SATA hard drives and SSDs, 2x DIMM slots for DDR4 memories which can support up to 2933MHz of frequency and 64GB in size.
For a processor like 10400F, it is perfect for saving a good amount of money to invest in something like a better graphics card or an SSD but make sure you also take a look at the next board which competes it head to head.
Related:- Types of Motherboards
Quick Specs :-
VRM: 5 power phases
RAM support: 64GB, 2933MHz
Expansion slots:1x PCI-E x16, 1x PCI-E x1
Storage: 4x SATA, 2x M.2(One M.2 Wifi)
MSI H410M Pro is another great budget board and the only board I think which I can recommend as an alternative to the ASRock H410M/ac board. It has a 5 phase VRM which is fine for a locked processor and all the basic features which you will need including 4x SATA ports, 1x M.2 slot for NVME SSD, and 1x M.2 slot for Wifi adapter.
Although it doesn't come with an inbuilt wifi adapter, you can use an M.2 wifi card that will cost you only $20. Surely, it will increase the total cost but when you look at its other features, you will be in love with it. It has a very rich I/O with 6x USB ports and 3x display output ports that include 1x HDMI, 1x DVI, and 1x VGA ports.
The PCI-E x16 slot on it uses a steel armor for more reliability which can support heavy graphics cards. Do check out our recommendations for the best graphics cards for i5 10400F to know more.
The board has one distinguishing feature which is the EZ Debug LEDs which aren't present on any other H410 chipset board from other manufacturers which makes it a great alternative to theH410M/ac. The only exception is that it lacks in providing a lot of fan headers due to which ASRock's H410M/ac is better in cooling support. But on the other hand, the ASRock board doesn't have the Debug LEDs which are very handy in troubleshooting the problems related to CPU, RAM, and display.
Related:- Best motherboards for i5 10600K
Quick Specs :-
VRM: 6 power phases
RAM support: 128GB, 2933MHz
Expansion slots: 1x PCI-E x16, 2x PCI-E x1
Storage: 4x SATA, 2x M.2
Coming to the B460 chipset, we have this board that has a 6 phase VRM with some fine heatsinks over it which will be sufficient for cooler operation although you won't be able to overclock on it, but these are definitely better than not having any heatsinks at all. As compared to the other MSI fancy B460 boards, it is actually more fit to be used with the i5 10400F because it is cheaper and yet brings similar features to the more expensive boards.
There are some unique features on it which aren't found on many low-end motherboards as I said before and these include, the EZ Debug LEDs for troubleshooting which are also available on the MSI H410M Pro board. There is a PCI-E x16 slot with steel armor, 2x PCI-E x1 slots for expansion cards, 2x M.2 slots for NVME Storage drives, and 4x Fan headers for cooling. It also has RGB and ARGB headers if you want to add RGB and ARGB devices like fans and LED strips in your case.
It's I/O is definitely one of the best with 6x USB ports, 1x PS/2 port, HDMI, DVI, and VGA ports for display and a Realtek Lan Port which I think supports 1Gbps of bandwidth. Overall, it's a nice MATX board that will be perfect for any mid-end gaming build with the i5 10400F but if you want some more features then take a look at the next one.
Related:- Motherboard cable connection guide
Quick Specs :-
VRM: 9 power phases
RAM support: 128GB, 2933MHz
Expansion slots: 2x PCI-E x16, 2x PCI-E x1
Storage: 6x SATA, 3x M.2(One M.2 Wifi)
While there are a lot of good options in the ATX boards with the B460 chipset, I recommend the B460 Phantom Gaming 4 which is a simple looking yet packed with features. It has 4x DIMM slots for RAM that can support up to 128GB of memory and it's better than having only 2x DIMM slots because the dual channel is faster in gaming.
There are 2x PCI-E x16 slots for graphics cards that also support AMD CrossfireX and 2x M.2 slots for NVME SSDs while 1x M.2 slot is dedicated for a wifi card. On it, you can connect up to 6x SATA drives and have up to 7x fans connected at the same time that will include your CPU fan, AIO cooler, and chassis fans. It is literally unmatched in cooling support. The only thing it lacks is the inbuilt wifi and you will have to spend extra $20-$30 for a wireless connection but till then you can use the 1G Intel LAN.
It is very much similar to the ASRock B460 Pro 4 which I recommended in the best LGA 1200 motherboards post with the exception of some minor things that Pro 4 comes with like the better VRM heatsinks and RGB lighting. The rest is almost similar including the layout. The cost difference between the two is $10, where the Pro 4 costs $100 and the Gaming Phantom 4 will cost you $90.
Related:- How to check motherboard model
Conclusion
You may wonder why I have not included any Asus or Gigabyte board with H410 or B460 chipset? The reason is that the Asus H410 chipset boards don't have any better features for the same price as the ASRock and MSI boards have. The same is the case with Gigabyte. While they both have some good Z490 boards, the low-end chipset boards from them like H410 and the B460 are not worth looking at.
Concerning the B460 chipset boards, Asus has some really overpriced B460 boards that have almost the same features as the ASRock boards have but with nearly $30-$40 increase in price. So, I don't recommend them. Now, Gigabyte also has some really good B460 boards like the B460 Aorus Pro AC, but they will cost you more than $140 at which you can get a budget Z490 motherboard like MSI Z490-A Pro.