Xtremegaminerd.com is a participant in Amazon Associate Program and is supported by the readers. The qualifying purchase you make through our links may get us some commission and doesn't cost you an extra penny.
---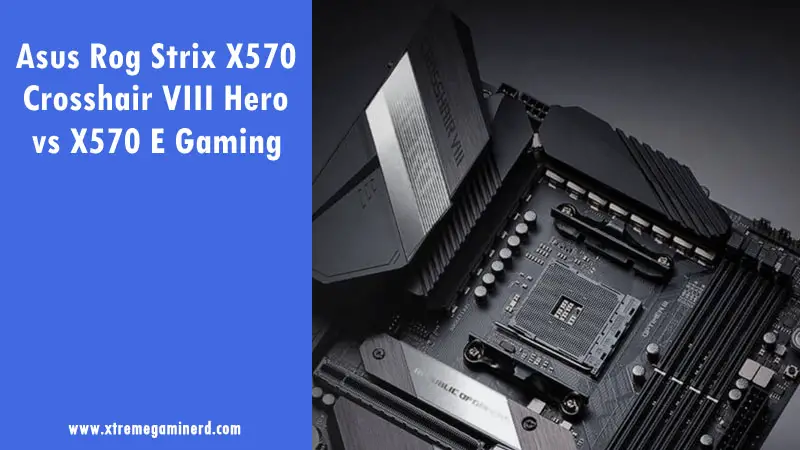 The X570 motherboard lineup from Asus can be confusing sometimes if you want to choose the best motherboard for money. Going above $300, the ROG X570 Crosshair VIII Hero and X570-E Gaming are the boards which probably might have confused you in your choice.
Today's Amazon Deal
These motherboards are not only close in prices but also in looks but they have differences in features which make them distinct from each other and if you want to know which one is better, then take a look at what features you will be getting with each board.
VRM and Heatsink
The Crosshair VIII Hero features 14 true phases on the Vcore while the X570-E Gaming features 12 true phases using the IR3555 Mosfets rated at 60A on both High and Low side respectively on the Vcore side. So, the current support on the Hero motherboard is around 840A while on the E Gaming it's 720A while including the VSoc, total current support on both of them will be equal due to 2 phases on the Hero and 4 phases on the E Gaming.
This theoretically means that the Hero will be better in overclocking high-end processors like the Ryzen 5900X although the E Gaming will be sufficient to handle these processors with some limitations on overclocking compared to the Hero.
Heatsinks on the Hero VRM are bigger and denser compared to the E Gaming which will provide better cooling and both of them are capable of handling strong overclocking with proper airflow inside the chassis. You can check out our post on best airflow cases if you don't want to limit the cooling of your system.
RAM support
Both the boards features 4x DIMM slots that can accept up to 128GB of DDR4 memory. The Hero can support up to 4800MHz RAM with the Ryzen 3rd gen processors while the E Gaming can support up to 4400MHz. RAM clock speed support with 2nd gen Ryzen processors on both the boards is 3600MHz and 3200MHz with the 1st gen Ryzen processors.
There is nothing yet out on how much they can support with the Zen 3 i.e., Ryzen 5000 series processors.
PCI lanes distribution
The Hero motherboard uses PCI lanes from CPU for the first two PCI-E x16 slots where both of these are Gen 4.0 and with dual GPU configuration, they work at X8. The third PCI-E x16 can be controlled by CPU as Gen 3 or by the chipset as Gen 4 and the PCI-E x1 slot is also controlled by the chipset recognized as Gen 4.
On the X570-E Gaming, there are also 3x PCI-E x16 slots of which two use the PCI lanes from CPU while the third one is only controlled using the chipset and works at X4 mode max as it shares lanes with PCI-E x1_2 slot. Whereas in the Hero, there is no limitation on the bandwidth.
For storage, the primary M.2 slot uses lanes from CPU and the second M.2 slot is controlled by the chipset. There are a total of 8x SATA ports, and there is no restriction on any of them as they don't share bandwidth with each other.
Headers and Troubleshooting
Headers/Troubleshooting
X570 Crosshair VIII Hero
X570-E Gaming
RGB
2
2
ARGB
2
2
fan/pump
11
7
Troubleshooting
Power, Reset, Slow mode,
Safe boot, Retry
None
Aesthetics
Looking at the PCB, the X570-E seems to have a 4 layer PCB as the integrated circuits are visible and the Hero board has 6 layer PCB.
Both use an I/O cover with RGB lighting with the difference in Logos but the Audio section of Hero is covered with a plastic or metal cover while the audio section on E Gaming is visible. Besides that they are somewhat similar in accents.
I/O ports and Internet connectivity
X570 Crosshair VIII Hero has a total of 8x USB ports including a Type C while the E Gaming has 8 including Type C. There is a Bios Flashback button at the back for upgrading Bios on both of them while the Hero has an additional Clear CMOS button to reset the Bios to default.
For Internet connectivity, both feature two LAN ports out of which one is 2.5G and for wireless connection the Hero doesn't have an inbuilt wifi adapter but the E-Gaming has Asus Wifi 6 adapter which supports Wifi 6 with MU-MIMO.
BIOS
Both use a 256MB Flash ROM
Pricing and Conclusion
The Crosshair VIII Hero costs around $350 while the X570-E Gaming costs around $300. Considering your requirement and need for building a PC, if you are a hardcore overclocker and want easy troubleshooting while experimenting, then the Crosshair VIII Hero is definitely the better choice for price but if you aren't that much into overclocking and need Wifi out of the box, then X570-E Gaming is not a bad option.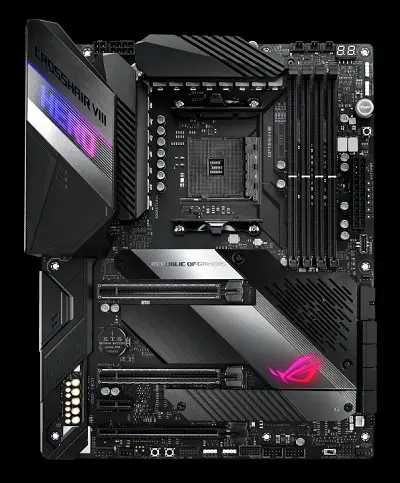 Great overclocking capability Fantastic onboard troubleshooting features Supports higher RAM frequency 12x USB ports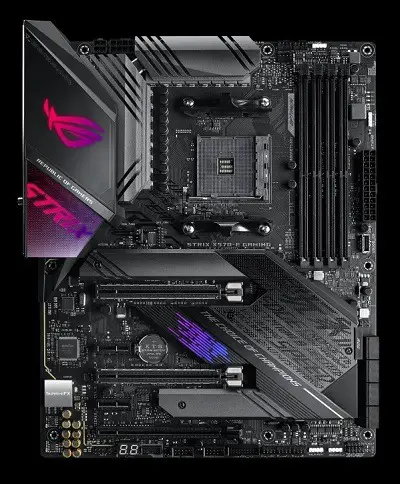 Decent overclocker Good Aesthetics Inbuilt Wifi adapter Cheaper