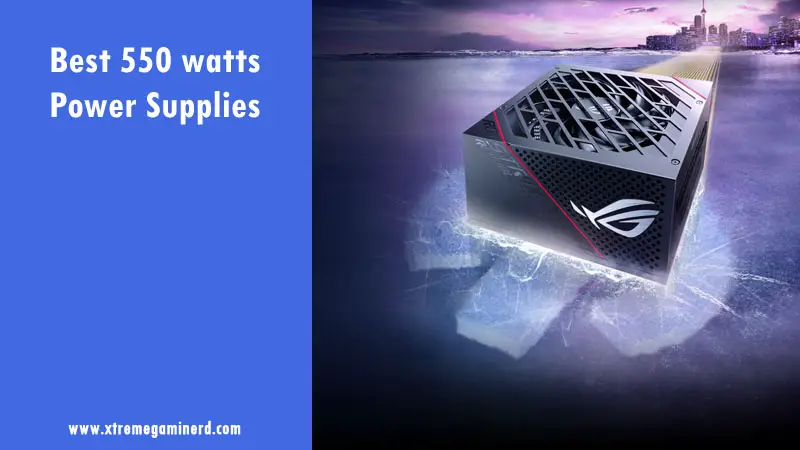 No matter what your PC components are, I have always learned from my own experience that if you ignore a reliable power supply due to shortage of cash or whatever reason, you should just skip building your PC for now until you can afford one.
I face frequent complaints from my friends and relatives who are frequently asking me to fix their PC when it doesn't boot and most of the times, their motherboard is dead due to that cheap aluminium trash box and I simply reply that I can't help now. So, no matter how cheap your components are, your power supply should be at least decent to the level that it can protect your components from faulty current and voltages.
For those who want to build a budget gaming system and want the best 550 watts power supply, then consider buying one of the following five PSUs mentioned below. If you have any doubts or if you need assistance, drop a comment in the comments section below the post.
6 Best 550 Watts Power Supplies
[box type="shadow" align="alignleft" class="" width="100%"]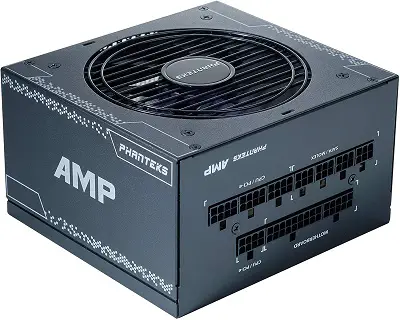 80 Plus Gold Rated Best value and fully modular PSU Ultra silent operation Very tight voltage regulation and low ripple noise
---
The best value 550W currently you can buy is the Phanteks AMP 550W unit which is an amazing power supply for $90. It's fully modular and comes with 80 Plus Gold rating that provides up to 88% power efficiency on typical loads. This unit is the most silent PSU you can get and provides very tight voltage regulation with less than 0.5% deviation except on the +5VSB rail. This means better voltage supply on different loads and also with very low ripple noise, generally less than 30mV on different loads and rails, you will see it perform consistently great.

It has a 120mm fan which only starts to spin when there is a load of more than 40% which makes your system very silent and this is the Hybrid mode which can be activated using the Hybrid button at the back if you wish for very silent operation.

This power supply comes with 10 years of warranty and in two more wattage capacity- 650W and 750W.

[/box] [box type="shadow" align="alignleft" class="" width="100%"]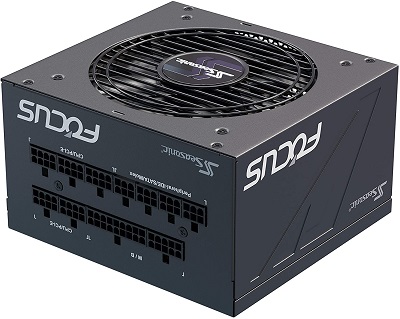 80 Plus Gold Rated

Fully modular and very reliable Very low ripple noise Great voltage stability
---
Seasonic power supplies have always been the benchmark for other PSUs and the FOCUS GX-550 is the one you would want if you want a very reliable operation. GX is the revised series which fixed the issue of PSU shutting down with graphics cards like GTX 1080 Ti, Vega 64, 2080 ti and some others.

It is fully modular and 80 Plus Gold rated which reaches up to 90% efficiency and maintains above 85% efficiency most of the times. It has an ultra-low ripple noise with much less than 30mV on 3.3V, 5V and 12V rails. Also, the voltage regulation is great with a deviation of around 0.23% only1)https://www.jonnyguru.com/blog/2017/08/21/seasonic-focus-plus-550-gold-power-supply/3/. It's $10 more expensive than the Phanteks PSU but has impressive performance.

[/box]

Related:- Best 650 watts power supplies

[box type="shadow" align="alignleft" class="" width="100%"]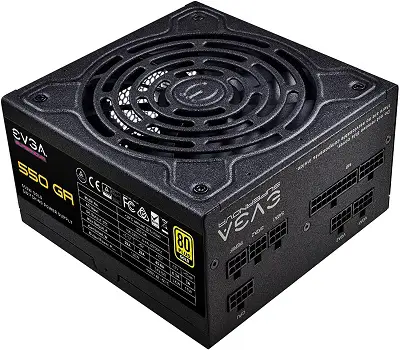 80 Plus Gold Rated Eco mode for silent operation

Very low ripple noise and tight voltage regulation 10 years warranty
---
While previous EVGA SuperNova G power supplies didn't perform that well, the GA series surely doesn't disappoint and maintains its quality as it should be in order to make it to this list. It provides up to 90% power efficiency as it is 80 Plus Gold rated and is fully modular for hassle-free cable management.

It features an ECO mode that can be turned off or on from the back if you want silent operation that makes the fan start when the total load exceeds 40%. The deviation in voltage regulation of this PSU should be near to 1% as the older versions had and also the ripple noise should not exceed 30mV. This although is not the best PSU you can have buy surely is good enough to be considered in the top 10 550W PSUs available today.

[/box] [box type="shadow" align="alignleft" class="" width="100%"]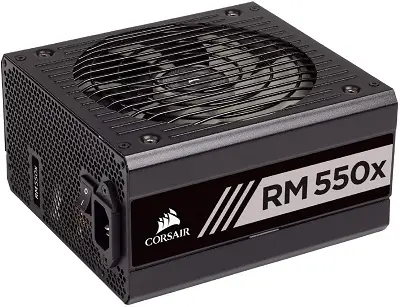 Power efficiency close to 90% most of the times Zero RPM fan mode for loads below 220W Ideal voltage regulation and low ripple Recommended choice for gamers
---
Corsair RM series is probably the most popular power supply series which gamers prefer. It's the 2018 edition that is an all-round perfect unit for any powerful budget build. It features full modular design and 80 Plus Gold power efficiency that is most of the times close to 90%. Despite being simple in aesthetics, it's one of the most recommended PSUs today as performance matters more.

It has very good voltage regulation as well as low ripple noise that indicates it can supply consistent and accurate voltages to your components. It has a 135mm fan which turns off when the load is below 220W making your system completely silent from the PSU's side. The unit although is a little more expensive than the above PSUs but a recommended choice from our side.

[/box] [box type="shadow" align="alignleft" class="" width="100%"]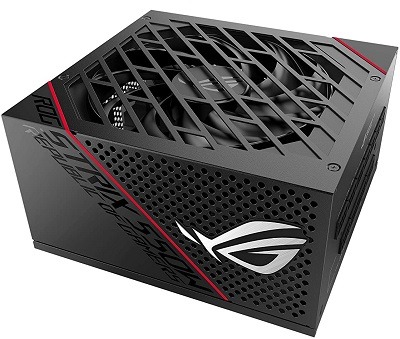 Power efficiency close to 90% most of the times

Zero RPM fan mode for loads below 220W Ideal voltage regulation and low ripple Recommended choice for gamers
---
The ROG Strix products have a good hold in the PC market and currently, Asus has a wide range of ROG Strix products from PC components to peripherals that feature distinguished aesthetics and superb build quality especially the motherboards. Though new in PSU category, Asus did produce decent power supplies under ROG Strix and the 550W PSU is a good choice for PC builders.

It's not the best but has some remarkable features that compete with the top power supplies and makes it a worthy choice for a reliable PC build. The aesthetics of this PSU is already good but can be changed using the included magnetic stickers and logos. It is fully modular and features 80 Plus Gold rated efficiency which delivers the efficiency Asus promised. The only drawback it has is when the load is idle where its efficiency goes below 80%2)https://www.tomshardware.com/reviews/asus-rog-strix-650w-power-supply/2. Otherwise, the voltage regulation, hold up time and ripple noise exceed the standards.

[/box]
Wrapping Up
80 Plus Gold rated PSU isn't necessary if you don't have enough cash, you can go with a Bronze or even a Silver-rated unit but make sure it can protect your PC from permanent damage. The above-mentioned power supply units are for those who don't want to compromise on efficiency, voltage regulation and modularity. They are surely the best in the industry currently.