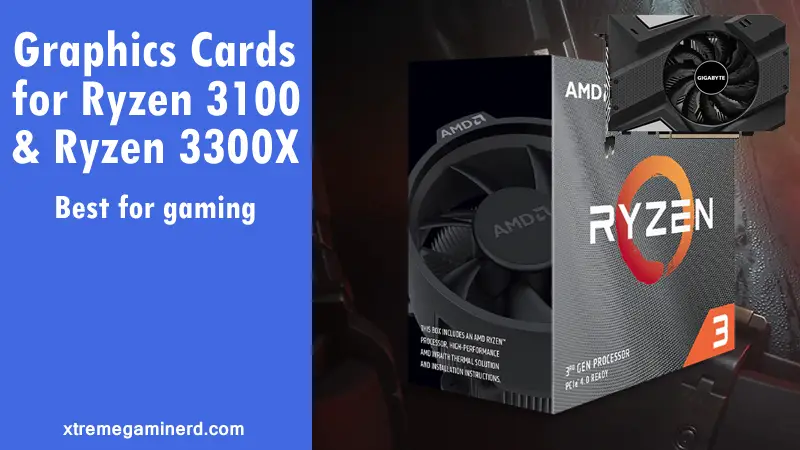 AMD has surprised us again with its monster new Ryzen 3 budget processors. AMD is currently on the top of the CPU industry with selling more Ryzen CPUs online than Intel. Thanks to the efforts of Team Red in equipping these Ryzen processors with new technologies and architecture.
AMD has just released two new Ryzen processors in the entry-level category. The Ryzen 3 3100 and 3300X are the two new additions where 3100 is the cheaper one costing around $100 which is roughly the same price as that of Ryzen 3 3200G. The specs are however now better than any Ryzen 3 processor with 4 cores and 8 threads making it the best multi-threaded CPU option for only $100. The 3300X, on the other hand, costs just $20 more with higher clock speeds and a single CCX for 4 cores which makes it roughly 10% faster than the 3100 and competes directly with Intel Core i5 9400F that costs $30 more.
These processors have proved themselves a beast and come close to Ryzen 5 3600 in gaming which is $60-$80 more expensive although the 3600 has 6 cores and 12 threads. They are far superior to the Intel i3 9100F and i5 9400F as well as the Ryzen 3 3200G and 3400G in terms of productivity. You can easily save a lot of minutes in video processing and rendering over those 4-mentioned processors while getting roughly 20%-30% more performance than the 3400G in gaming.
There is no better time to build a budget gaming PC with the 3100 or 3300X to achieve gaming performance comparable to the $200+ processors. We recommend that you should buy one of the following graphics cards for these CPUs in order to achieve the best possible results. While you can easily run a 2080 Ti with these processors, it's a very poor decision to spend $1200 on a GPU alone and just 100 bucks on a CPU which handles most of the processes.
Ryzen 3 3100 and 3300X Specs
| SPECS | Ryzen 3 3100 | Ryzen 3 3300X |
| --- | --- | --- |
| Cores/Threads | 4/8 | 4/8 |
| Base/Boost Clock | 3.6GHz/3.9GHz | 3.8GHz/4.3GHz |
| L3 Cache | 16MB | 16MB |
| Lithography | 7nm | 7nm |
| Cores per CCX | 2 | 4 |
| TDP | 65W | 65W |
---
Recommended Graphics Cards
Nvidia Geforce GTX 1650 Super
(For 1080p High-Ultra 60 fps)
Quick Specs :-
Architecture: Turing
VRAM Size: 4GB GDDR6
Base Clock: 1725MHz, Boost Clock: 1740MHz
Cuda Cores: 1280
TDP: 100W
While RX 590 is also a good choice but after the release of GTX 1650 Super edition, you can get a little better performance for a lower price. The 1650 Super features GDDR6 memory instead of GDDR5 which leads to high performance in gaming. The memory speed and bandwidth have been increased over the original GTX 1650 without any increase in price.
The GTX 1650 Super is based on Turing architecture but isn't Ray Tracing capable but all you need right now is 60 fps on high-ultra settings at 1080p. The card is very sufficient in almost every game to provide over 60 fps with some games as an exception where you will need to tweak some settings to constantly play the game with 60 fps.
It has 4GB of VRAM which is perfect for 1080p resolution and a TDP of only 100W which makes less need for a high wattage power supply. This GPU will be perfect for eSports games such as Fortnite, CSGO, Overwatch, Valorant, PUBG and Apex Legends.
Related:- Best CPUs for Nvidia GTX 1650 Super
Nvidia Geforce GTX 1660 Super
(For 1080p Ultra 60 fps)
Quick Specs :-
Architecture: Turing
VRAM Size: 6GB GDDR6
Base Clock: 1530MHz, Boost Clock: 1860MHz(OC)
Cuda Cores: 1408
TDP: 125W
GTX 1660 Super is a step head of 1650 Super and is made on the GDDR6 memory too. This makes it a perfect choice for 1080p gaming and a better choice over the original GTX 1660 which used GDDR5 memory. The memory size, however, is the same which is 6GB but it's more than enough for any game to put the textures, anti-aliasing and shadows at the highest although it's recommended to use settings according to what game you play and how it uses the VRAM. Some games run with a much lower fps with everything set to ultra like Witcher 3 if the advanced hair settings are put to the highest but I am sure it will still manage to run the game above 60 fps.
With GTX 1650 Super you will have to compromise with some settings for a steady 60 fps gameplay but with this one, every kind of bottlenecks are eliminated if it used with a decent GPU like Ryzen 3100 or 3300X.
AMD Radeon RX 5600 XT 
(For 1440p High-Ultra 60 fps)
Quick Specs :-
Architecture: Polaris
VRAM Size: 6GB GDDR6
Base Clock: 1560MHz, Boost Clock: 1620MHz
Stream Processors: 2304
TDP: 150W
If there is an alternative that kills the GTX 1660 Ti which gives similar performance to the 1660 Super but at a $50 increase in price, then RX 5600 XT is the one that is perfect for 1080p as well as 1440p gaming. The card can successfully kill any game at 1080p resolution with much over 100 fps in many games. You can easily play many games on ultra at 1440p too but not every game will give you 60+ fps in very power-hungry games like Need for Speed Heat and Control.
The card features 6GB of GDDR6 memory with a memory speed of 14Gbps. All of these good features in just under $300. So, who will buy the 1660 Ti?
Related:- Best CPUs for AMD RX 5600 XT
Nvidia Geforce RTX 2060 Super
(For 1440p Ultra 60 fps)
Quick Specs :-
Architecture: Turing
VRAM Size: 8GB GDDR6
Boost Clock: 1680MHz
Cuda Cores: 2176
TDP: 175W
Nvidia did recognise that the GDDR6 memory works much faster and helps to boost fps in games. Not only it released the Super versions of the Non-Ray Tracing graphics cards but it also released the Super versions of the RTX series cards before the budget GTX Super cards.
---
Do you really need a Graphics Card? Check out the article to decide!
---
RTX 2060 Super is around 10% faster than the RX 5600 XT and thus is perfect for 1440p ultra gaming. The card not only can crush any game at that resolution but is also capable of doing Ray Tracing which RX 5600 XT can't do. The only drawback is that you won't be getting more than 30 fps in any game even at 1080p. However, you can utilize the DLSS which helps in boosting a significant amount of performance without losing graphical quality which the non-RTX Turing graphics cards can't do.
Related:- Best CPUs for Nvidia RTX 2060 Super
AMD Radeon RX 5700
(For 1440p Ultra 60 fps)
Quick Specs :-
Architecture: Polaris
VRAM Size: 8GB GDDR6
Base Clock: 1565MHz, Boost Clock: 1750MHz
Stream Processors: 2560
TDP: 225W
RX 5700 is a strong competitor and alternative of RTX 2060 Super. Both of them clash head to head in many games. In some games, the RTX 2060 Super wins while in others RX 5700 proves itself as superior. The card though isn't capable of DLSS and Ray Tracing, you can take advantage of its 8GB of VRAM to max out all the textures at 1440p resolution and still get 60+ fps persistently.
The card is also significantly cheaper than the 2060 Super which makes it a clear winner in every area. You can get it for around $50 less in most of the cases regardless of the edition you are buying.
Related:- Best CPUs for AMD RX 5700
Conclusion
Going above RTX 2060 Super or RX 5700 can also do a great job with Ryzen 3100 or 3300X but I simply don't consider it a wise choice. If you have $500 for a graphics card, then you surely should have at least $200 for a CPU. For RTX 2070 Super or higher, it's better to go with Ryzen 5 3600 or i5 9600K at the minimum.
If you have any doubts or confusion in choosing a graphics card for Ryzen 3100/3300X or if you have any query regarding computers, put your comment down below in the comments section.