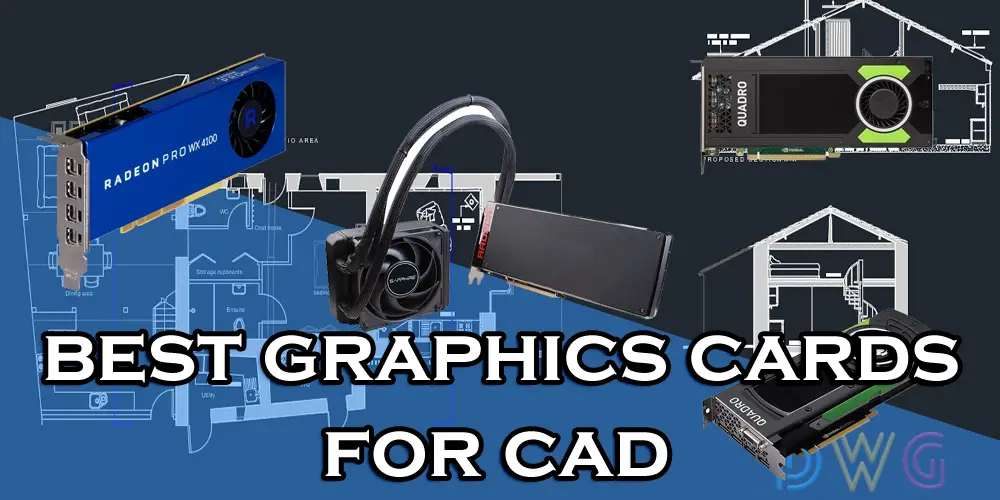 There are few things that are made for a particular purpose and others may not be able to serve it in maximum potential. That is the reason why not every graphics card is suitable to be used for workstations, especially for those who are working on AutoCAD.
So why are these Enterprise graphics cards, are different from gaming graphics cards and what effect they do in the field of professionalism. Enterprise or Professional Graphics cards appear quite similar to that of normal or gaming graphics cards in the form of appearance and they also have the same internal architecture as those of normal graphics cards. But the Professional graphics cards are specially optimized for specific graphics application and there might be some hardware variations also. They come equipped with larger memory as compared to normal or gaming graphics cards which are as high as 32 GB of memory. However, the Enterprise/ Professional Graphics cards have ECC memory that helps in delivering accurate results. Furthermore, their drivers are also quite different from gaming graphics cards, and the price of Enterprise/ Professional Graphics cards is also more.
Both AMD and Nvidia manufactures specialized Enterprise-grade graphics cards for AutoCAD and there might be still some question on someone's mind, what exactly would go wrong if they use gaming graphics card for AutoCAD and the answer is very simple- some application like Solid Works would not work with gaming graphics card if they are used for designing. They are only compatible with either Nvidia Quadro or AMD FirePro chip.
So in this topic, we will list out a few such Enterprise Graphics cards that can be considered as the best choice of a graphics unit to be used with AUTO CAD and the list will be based on both budget-friendly unit and will go well up to the best graphic unit for AUTO CAD application.
Best Budget Option
In our budget category, we will be pointing out two cards each from Nvidia and AMD. We will be suggesting Nvidia Quadro K1200 or AMD Radeon Pro WX4100. These cards, according to us are the best budget-friendly options.
The Nvidia Quadro K1200 can be coined as an entry-level graphics unit to be used with AutoCAD. It comes equipped with  4GB GDDR5 memory along with 512 CUDA cores for faster processing. The card uses Nvidia's Kepler GPU architecture that is similar to that of K420 and K620. The K1200 has a larger heatsink that will be excellent to control the thermal of the card and furthermore, the card has a TDP of 45W.
The Nvidia Quadro is a low form factor Graphics unit and is best suitable for small work stations that are having limited space. The card uses a single slot and can support up to 4 monitors. Further, it fully supports AutoCAD, SOLIDWORKS.
The Radeon Pro WX4100 is the fastest low profile budget-friendly card. It is manufactured using the latest Polaris based GPU architecture. The Radeon Pro WX4100 comes equipped with a 1024 Stream Processor and offers 4GB GDDR5 memory bandwidth. The Radeon Pro WX4100 is capable of offering peak performance of 2.4 TFLOPS.
The Radeon Pro WX4100 supports 4K display and can run up to 4 monitors. At full load, the power consumption of the card remains as low as 50W. The Radeon Pro WX4100 supports DirectX 12, OpenGL 4.5, OpenCL 2.0, Shader Model 5.0, Vulkan 1.0 also.
Out of the two above mentioned cards, we will likely favour the Nvidia Quadro due to its lower price range and better thermal solution.
Best Value for Money
In this category, we will list out two graphics cards, each one from Nvidia and AMD. These cards according to us can be considered as the best value for money options for AutoCAD software.
Nvidia Quadro M4000 is indeed a powerful mid-range graphics card. It is built with Maxwell GPU architecture and comes with 8GB DDR5 memory. It has 1664 CUDA cores along with memory bandwidth of 192GB/s. Furthermore, it supports 4x 4K monitors and works without any issues in running AutoCAD and other software like Solidworks, Maya, etc.
However, being a powerful card, it's still using the single slot and thus can be of a perfect choice for those who are having smaller cases. It also offers some essential secondary features such as DirectX12, OpenGL 4.5, Shader Model 5.0, Vulkan 1.0, OpenCL, CUDA, DirectCompute.
AMD FirePro W8100 is the one most powerful card in this segment and hence the price of this card is quite high. But if you are looking for a powerful card that can handle no matter what you throw at it, then this is the one. It is currently priced at around $750 but it brings quite a package of power and feature.
The AMD FirePro W8100 is quite a big card and needs two slots to fit in. It is equipped with 8GB DDR5 memory along with 2560 stream processors. The card is powerful enough to deliver 4.22 TFLOPS single-precision and 2.11 TFLOPS double-precision floating-point performance that is the highest in the best value for the money category.
The card can support 4K displays and can also support 4 monitors simultaneously. Further, it comes with Error Correcting Code that helps to achieve more accurate results. However, the downside of this card is the requirement of power.
In our best value for the money category, the AMD FirePro W8100 is our first preference but if you are not in need of this much power, then the suggested option will be Nvidia Quadro M4000.
High-End Choice
When we are talking about the high-end graphics cards, then, please bear in mind, they are meant for serious usage and comes with a hefty price tag. Here we will be discussing Nvidia Quadro P6000 and AMD Radeon Pro Duo (Polaris). Both the card are equal in term of performance.
Nvidia Quadro P6000 is one of the best in class in the entire range of workstation graphics cards. The Quadro P6000 is manufactured using the Pascal-architecture. It features 3840 CUDA Cores and 24GB GDDR5X ECC memory and offers a peak performance of 12 TFLOPS.
The Quadro P6000 is quite big in size and hence needed two slots to fit in. It can serve any heavy-duty applications such as AutoCAD and other heavy-duty graphics applications. The TDP of this card is around 250W and hence needs a powerful SMPS to work properly. There are a bunch of features that it offers which include VR Support, 4K / 5K display with multiple monitors, GPUDirect, HDCP 2.2, Nvidia Mosaic, 3D Stereo support with Stereo connector, Nvidia nView, DisplayPort with Audio, VGA support.
AMD Radeon Pro Duo, on the other hand, is also one of the fastest Workstations graphics cards that can equal with that of Nvidia's Quadro P6000. It is the world's first dual GPU workstation graphic card and is based on Polaris GPU architecture. It features two Polaris 10 GPUs having a total of 4608 Stream Processors and having a whopping memory capacity of 32GB GDDR5 having a total bandwidth of 448 GB/s.
This card is suitable for any high-end application that needs 3D modelling or other high graphical activities. Furthermore, it has a peak single-precision floating-point performance of 11.45 TFLOPS which is quite close to that of Nvidia's Quadro P6000.
However, please bear in mind that the High-end category should be your choice only if you are doing such a high level of work on AutoCAD. Both these cards come with a hefty price tag.
Conclusion
So here we have covered those cards, which according to us can be the best choice if you are looking for a good graphics card that can lay a hand while you work on AutoCAD. Let us know your opinion in the comments section below!