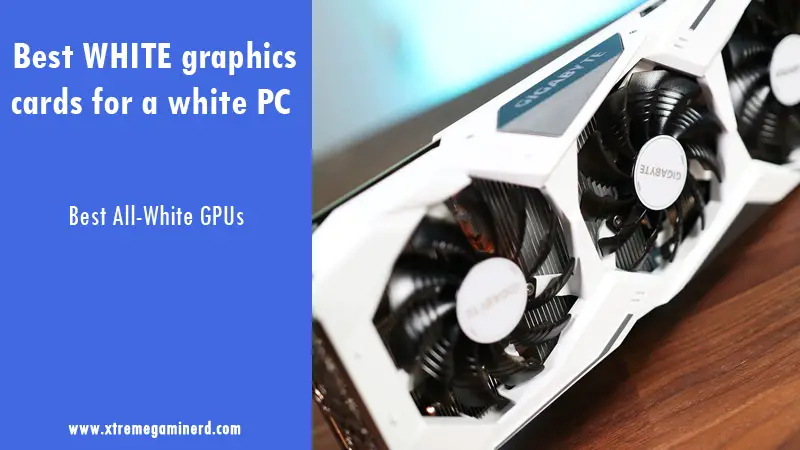 PC building has evolved significantly in the past few years. Gamers now try to create a particular colour theme instead of going with random colours. Graphics cards, thankfully are also evolving to give an eye-pleasing look from fantastic cooler designs to beautiful RGB LEDs.
Being a fan of white PC builds, I myself modded some of my computer components into white like the PSU shroud, graphics card backplate and the Corsair 570X case. You can see how it looks now but I promise, it isn't the best. You can do better than that.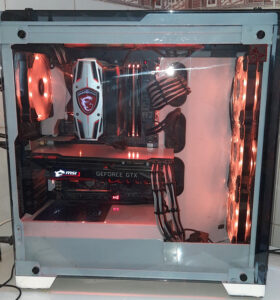 While I didn't manage to get a white GPU, you can get one easily today with so many options available both in AMD and Nvidia. I have listed some of the best looking white graphics cards below that feature a lot of white accents and great design. Let me know which one did you like more.
Gigabyte GT 1030 Silent Low-Profile silent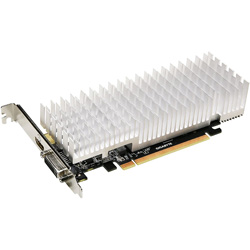 Specifications
Architecture- Pascal
VRAM- 2GB GDDR5
Clock speed- 1506MHz(Boost)
TDP- 30W
Who would have thought that Gigabyte will make a white GT 1030 that is just a low-profile GPU without any fan? GT 1030 is one of the most popular entry-level cards under $100 and it does fine at lower resolutions and lower settings. With this one, budget PC builders who are very tight on a budget can maintain their white theme without spending an extra penny on the GPU.
ASUS Geforce Dual GTX 1050 Ti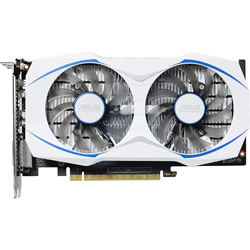 Specifications
Architecture- Pascal
VRAM- 4GB GDDR5
Clock speed- 1455MHz(Boost)
TDP- 75W
Nvidia GTX 1050 Ti has been a saviour for many in the great GPU shortage. It uses Pascal architecture and performs just fine at 1080p on high settings. It's hard to get such an entry-level graphics card with your desired colour but Asus has one edition that goes very well with any white PC build.
It's the Dual GTX 1050 Ti that comes with double fans on a heatsink covered with a white shroud. There are small blue accents on the card but that doesn't take away that glacier-white look. However, it doesn't have any backplate but that's fine if you don't mind looking at its backside or you can make a custom backplate yourself.
Related- Best White motherboards
GALAX GeForce GTX 1660 Super EX White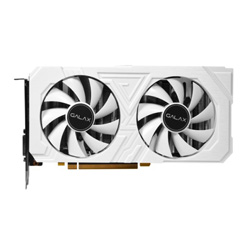 Specifications
Architecture- Turing
VRAM- 6GB GDDR6
Clock speed- 1830MHz(Boost)
TDP- 125W
While Galax isn't the best GPU manufacturer but it has a lot of white edition graphics cards in GTX 16, RTX 20 and RTX 30 series. I haven't come across any white GTX 1660/S GPU from other manufacturers, therefore, the GTX 1660 Super EX White will be a good option if you are looking for a mid-end GPU.
It comes with dual white fans and a completely white shroud. Moreover, the backplate is also white making it one of the most white graphics card.
ZOTAC GAMING GeForce RTX 3060 AMP White Edition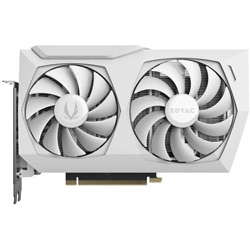 Specifications
Architecture- Ampere
VRAM- 12GB GDDR6
Clock speed- 1867MHz(Boost)
TDP- 170W
Coming to the latest RTX 30 series GPUs, we have a completely glacier-white RTX 3060 from Zotac. This is the AMP edition which means it is factory overclocked and thus will perform better than the Founders Edition. The card itself is short with just 231.9mm in length but features dual different sized fans for a unique airflow.
It has a white backplate with the Zotac logo and a White LED-lit LOGO at the side that makes it look absolutely stunning. Zotac also has the exact same model of RTX 3070 with LHR. This will provide even better performance but if you like longer and beefier cards, then keep reading.
Related- Best White PC cases
Asus ROG STRIX RTX 3070 O8G WHITE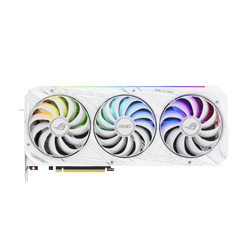 Specifications
Architecture- Ampere
VRAM- 10GB GDDR6
Clock speed- 1935MHz(Boost)
TDP- 170W
Strix RTX 3070 O8G White features an amazing design with a white shroud and triple fans that exhibit RGB lighting from the top. The RGB LEDs are actually present on the side from where the lights seep through the fan blades and a full-white backplate is installed at the back to make it look like it is covered in snow.
Its heatsink is fantastic and the centre fan here spins in opposite direction to the other two to help dissipate heat better. It is a thick card and will occupy 2.9 slot space in your chassis. This makes it heavier than most RTX 3070 GPUs but it will stand out among all the components inside your case.
Asus has the same edition of RTX 3080 and 3090 graphics cards too if you want a better one.
Galax Geforce GTX 3070 Ti EX White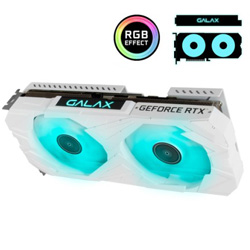 Specifications
Architecture- Ampere
VRAM- 8GB GDDR6
Clock speed- 1815MHz(Boost)
TDP- 290W
Galax has a beautiful RTX 3070 Ti GPU that features a fully white shroud and a white backplate. It features RGB GALAX Logo on the side and unlike most white GPUs, it has RGB lit dual fans. This will make your chassis to illuminate more and you will get numerous types of modes to choose from.
ZOTAC GAMING GeForce RTX 3080 Trinity OC White Edition LHR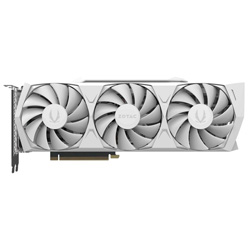 Specifications
Architecture- Ampere
VRAM- 10GB GDDR6X
Clock speed- 1740MHz(Boost)
TDP- 320W
The RTX 3080 Trinity OC White Edition LHR is even sexier than all the graphics cards you saw above. It is a triple-fan card that measures 317.8mm in length and occupies 2.5 slot space in your chassis. From the front to back, it features everything white.
On top of that, it comes with RGB LEDs on the side and on the backplate that let you choose whatever colour and mode you would want it to display. It is an LHR edition that is also less expensive than the non-LHR RTX 3080 and features a boost clock of 1740MHz.
Galax Geforce RTX 3090 HOF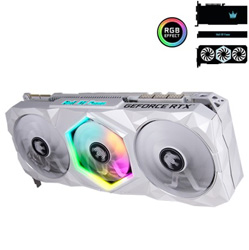 Specifications
Architecture- Ampere
VRAM- 24GB GDDR6X
Clock speed- 1815MHz(Boost)
TDP- 350W
My eyes won't want to look away from the RTX 3090 Hall of Fame. It is simply the best white graphics card I have seen till now. The Diamond Cut Cooler design is so sleek and the triple fan design makes it bigger and better. It has RGB LEDs inside the fans as well as on the side.
Not only that but the RGB LED logo is also present on the backplate that you can customize with major RGB software. As it is a big boy, Galax is providing a GPU support bracket to avoid any kinds of sag. Moreover, it comes with a HOF Panel III that displays all the realtime information about the GPU and can be detached or attached anytime.