Xtremegaminerd.com is a participant in Amazon Associate Program and is supported by the readers. The qualifying purchase you make through our links may get us some commission and doesn't cost you an extra penny.
---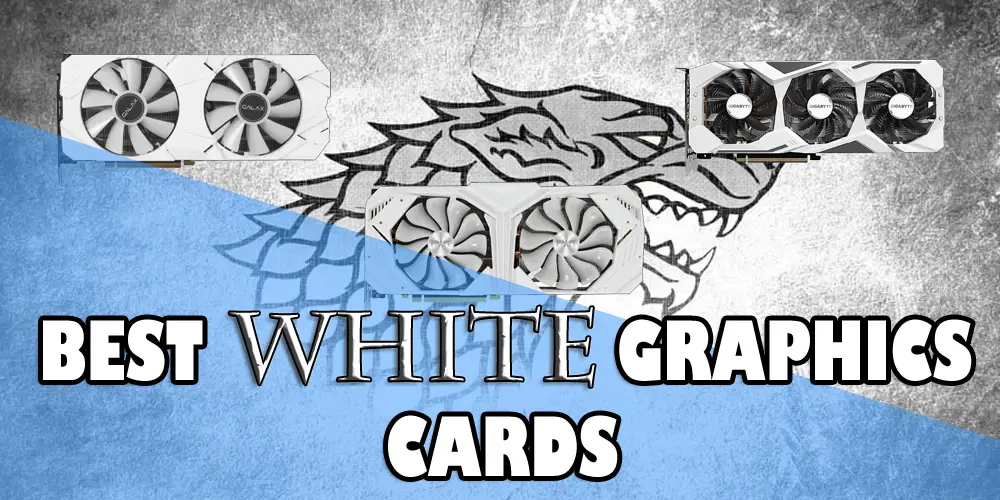 Introduction
We have witnessed a revolution in the Computer world in the past few years. And it will increase more in the coming days ahead. And as of today most of us want their Computer to be a top-notch one in terms of performance but there are few around us who along with superior performance, also want to showcase their build. And for those enthusiasts, there are too many options when it comes to showcasing their PC's.
Today's Amazon Deal
Some might consider the option of having beautiful Liquid Cooling setup along with RGB effect or syncing the lighting effect with music or some might one to go for colour-themed PC's. For a colour-themed PC, the availability of a particular colour for all the hardware is required. So in this topic, we will be listing and discussing about certain GPU's that are available in white colour as there are few such models from selected manufacturers.
However, when it comes to white GPU's my first personal preference is GALAX. They have an entire section of Graphics Card that comes with white colour options along with the presence of RGB lighting. So let see what GALAX has to offer and after that, we will move on to other manufactures to see their available options.
GALAX RTX 2070 Super EX White(1-Click OC)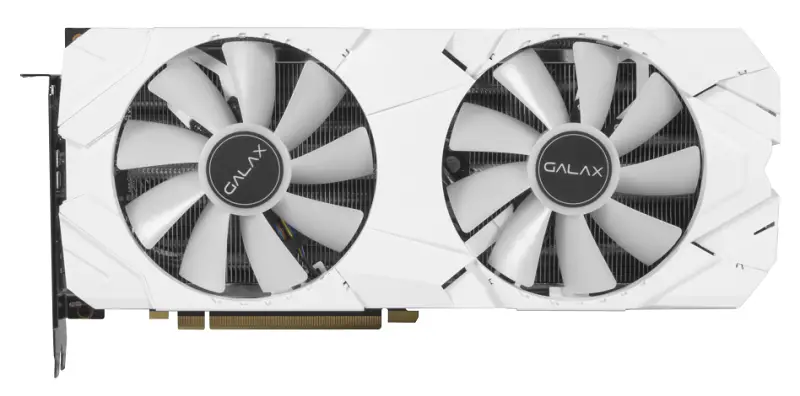 GALAX RTX 2070 Super EX White comes equipped with 100 mm twin fans and 25cm high-performance composite heat pipes offering an efficient cooling mechanism. It comes in snow white colour along with strong stamped aluminium backplate to ensure optimum protection of your PCB.
GALAX RTX 2070 Super EX White features a one-click overclocking feature that can boost the card up to 1860Mhz with the help of the Xtreme Tuner Plus Software. It comes equipped with 1.4 x 3 Display Port, an HDMI 2.0b and a USB Type-C port. It also has an RGB Aurora Effect which offers a nice touch to the aesthetics.
The same colour options are available for different other models of Graphics Card from GALAX such as GALAX GeForce RTX 2070 EX Gamer, GALAX GeForce RTX 2070 EX OC, GALAX GeForce RTX 2060 EX White (1-Click OC) GALAX GeForce® GTX 1080 EXOC-SNPR WHITE, etc. Check out Full Specs Here.
---
Palit RTX 2080 SUPER WGRP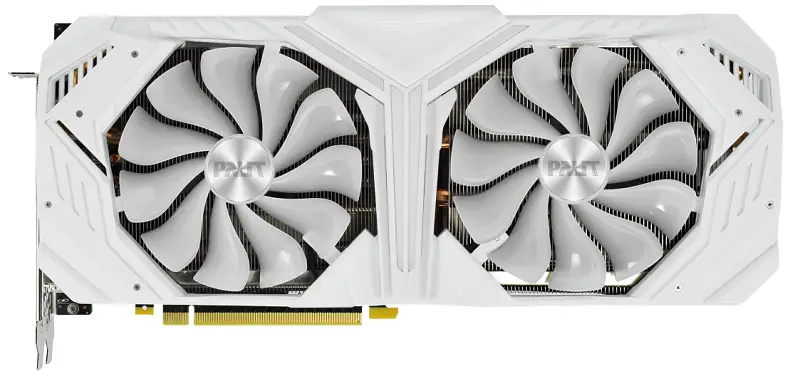 GeForce RTX 2080 SUPER WGRP from PALIT is our next card on the list. White GameRock Premium is said to be specially designed for the enthusiast who wants to make sure that their system is ready for that perfect showcasing.
The RTX 2080 Super WGRP comes with the best gaming features, the best thermal solution and the best graphics card quality. It is equipped with Dual- Bios so that you can switch between OC Mode or Standard Mode and moreover it can automatically activate a protection mechanism when an error occurs in one of the BIOS programs. This allows the graphics card to be functional again in the event of system failure. The TurboFan Blade is designed to improve cooling performance by generating a powerful air stream and air pressure along with a copper base for an optimized cooling solution.
The RTX 2080 Super WGRP also comes equipped with a Type-C connectivity option which will be able to satisfy modern-day needs and lastly it also comes with iRGB to make your setup complete. Check out Full Specs Here.
Related:- Best White Motherboards
---
Gigabyte RTX 2060 Super Gaming OC White 8G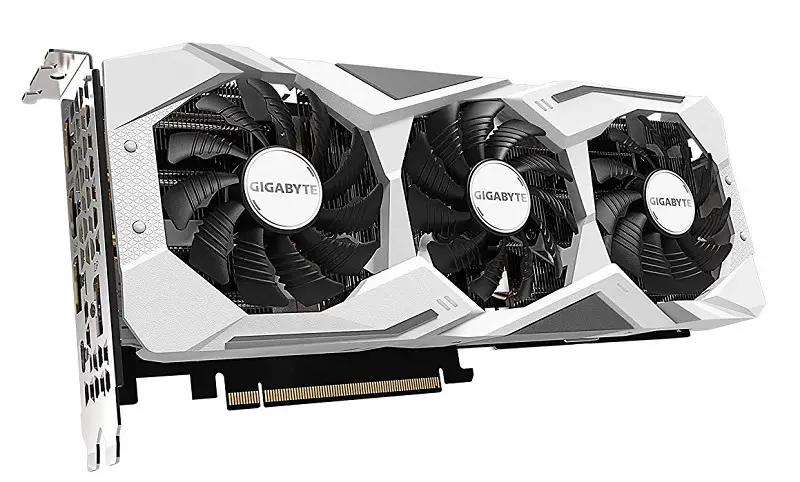 Gigabyte's RTX 2060 Super Gaming OC White is our next pick for this topic. It is integrated with 8GB GDDR6 256-bit memory interface to deliver superior performance. The card is also equipped with WINDFORCE 3X Cooling System with alternate spinning fans to make certain that it remains cool during heavy usage.
The WINDFORCE 3X cooling system comes equipped with 3x 82mm unique blade fans where the middle fan spins in an alternative direction, 6 composite copper heat pipes along with heat-pipe direct touch and 3D active fan functionality which combines together to deliver an effective heat dissipation capacity for higher performance at lower temperatures.
It also comes with RGB Fusion 2.0 and can provide 16.7M customizable colour options and numerous lighting effects to give a perfect touch to your system and one can synchronize the colour scheme across other AORUS devices. Check out Full Specs Here.
---
Conclusion
When it comes to select for a colour theme PC build then there are options but it can be limited from many ends. As per me, I have also opted for a colour-theme PC build and my colour preference is Black & Red which is pretty common but if one decides to opt for a white or rather say a snowy PC build then they can run into problems with certain hardware components. However, I still believe that this limitation will be mitigated in the coming days.