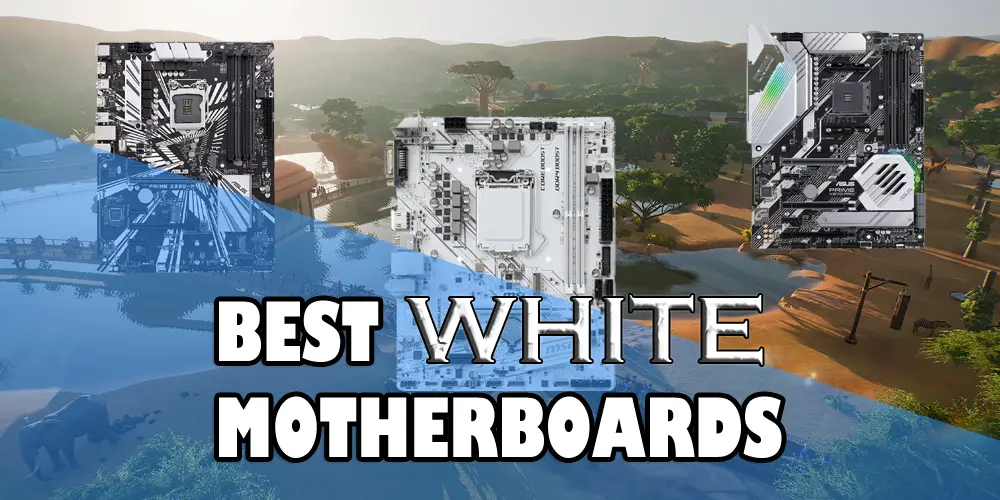 Recently I posted an article on how to build a white gaming PC with the best white components available. This post will only be about the motherboards because you might want to upgrade from your previous motherboard to a white one to achieve better looks in your PC build.
The unfortunate thing though is that right now there are only a couple of motherboards that are purely white in colour and that too are for older generation processors from AMD and Intel. Most of the motherboards that are considered as "White" for the latest gen processors don't have fully white PCBs but rather they have a white and black accent.
This list comprises of the best possible white motherboards for both AMD and Intel processors that are compatible with the Ryzen CPUs and Intel 8th/9th gen CPUs respectively. Note that not every chipset has a white motherboard, so you might want to go with some other colour if you don't want to sacrifice performance but at the same time, these following motherboards are having the best chipsets that you would use in your PC build.
Perhaps this is the best looking motherboard in this list with all its PCB as well as almost all slots as white. The MSI Arctic motherboards are very famous for their unmatched white aesthetics and they are the true white motherboards for building a totally white Gaming PC. This board has an H310 chipset which is the most basic one in the Intel chipset motherboard chipsets.
It has a Micro-ATX form factor that can be used in any micro-ATX as well as mid-tower chassis and has some basic features that are enough for building a budget gaming system. It has 1x PCI-E x16 slots, 2x DIMM slots, 2x PCI-E x1 slots, 4x SATA slots, 2x Fan ports, and 1x USB 3.0 front header. It has a 4+2 phase VRM which isn't cooled with any heatsink but it doesn't need to because it is locked and is only suitable for locked processors such as i3 9100F or i5 9400F.
I recommend this board only for building a budget white gaming system and if you don't want to compromise on performance, then I definitely recommend you to stay away from it because only looks don't matter when it comes to long-run operation.
---
For high-end Intel Core processors such as i5 9600K, i7 9700K, or i9 9900K, the Asus Prime series board is enough for good overclocking and for installing a lot of components. This board is the Prime Z390-A which has white accents on the black PCB rather than the whole PCB as white. It may not be very pleasing to everyone who wants complete white but it is definitely suitable for building a white gaming PC due to the presence of a good number of white sections.
It has White heatsinks for the chipset as well as the M.2 slot. The VRM that consists of 6+3 phases has two heatsinks that are white in colour and the I/O cover that covers the left section is completely white along with RGB lighting that will sync with the lighting of the chipset. Even the audio section uses white shroud to make it appear more white.
As it is a Z390 chipset board, you won't be compromising with overclocking and additional features such as good cooling capacity, multiple GPU configuration, a lot of storage upgrade options and memory upgrade. This is truly a great motherboard that has all the features except inbuilt wifi. The top of the motherboard has MemOk switch for troubleshooting memory-related problems as well as a power switch that is very helpful in troubleshooting.
It also features RGB header which you can use to extend the RGB lighting to your chassis fans or LED strips that can be synced with the RGB lighting of this motherboard. I definitely recommend this board for high-end Intel motherboards for building a white themed PC.
---
If you want something more affordable, then Asus Prime Z390-P is the one you should go for. This is not a high-end board with great features but rather a good board with almost all the features you would need for building a mid-end Gaming PC with something like i5 9600K, RTX 2060 Super, 16GB RAM etc. This board has white accents all over the black PCB which is better than the Prime Z390-A but it has no I/O cover on the I/O ports and audio section.
But surely it has white chipset heatsink and white heatsinks on the VRM that comprise of 6+3 power phases. It has 2x PCI-E x16 slots for graphics cards that don't support SLI but supports two way AMD CrossfireX. It has 2x M.2 ports and 4x SATA ports for storage which is 2 ports fewer than on the Prime Z390-A. For cooling, it has a total of 4x Fan headers including the CPU-Fan header and for RGB, it has one 12V RGB header at the bottom. So, it's definitely a fine motherboard for building a white Gaming PC.
---
While there are some limited choices for AMD users too, there is a great B450 board from MSI which is compatible with all the three Ryzen generations. The MSI B450M Mortar Titanium is a solid and reliable motherboard that can let you overclock your Ryzen CPU with the 4+2 power phases that are cooled with a decent heatsink. Fortunately, everything on this board except the slots are coloured in white.
There are 4x DIMM slots that support up to 128GB of DDR4 RAM clocked up to 3466MHz. For graphics card, there are 2x PCI-E x16 slots that although don't support multi-GPU configuration, the second one can still come in handy. For additional purposes like wifi cards and sound cards, there are 2x PCI-E x1 slots and for fast storage NVME drives, there are not One but Two M.2 slots along with 4x SATA ports.
The board has all the fan and RGB headers for optimal performance and aesthetics of your PC. Even for troubleshooting, MSI has equipped it with EZ Debug LEDs and a Bios Flash button at the I/O. It's truly a gem for AMD builds that won't empty your pocket.
---
If you have an AMD Ryzen processor and you want a lot of features, then you will need an AM4 socket motherboard with the X570 chipset. The X570 chipset currently has the most amount of features including the PCI-E 4.0 x16 slots that has higher bandwidth. This board has white accents all over the PCB along with white heatsinks on the chipset and VRM.
The motherboard has a white I/O cover that covers the left side and has inbuilt RGB lighting along with the RGB lighting on the chipset. This board supports up to 2 way Nvidia SLI and 3 way AMD CrossfireX. The board also has USB 3.2 Type C port for the front panel of your chassis that is very fast and has support for up to 128GB of DDR4 memory clocked up to more than 4400MHz. Although the best frequency currently for performance is 3600MHz.
It has onboard power switch but unfortunately no other troubleshooting features. This is the only CON I find in it but when we look at its Pros, those easily outweigh the CONs. It has a powerful VRM comprising of 12+2 power phases that will let you overclock your processor up to a great extent. This board is very much suitable for any latest Ryzen 3rd gen processor such as Ryzen 5 3600, Ryzen 7 3700X or Ryzen 9 3900X. It's the only white motherboard with X570 chipset that you can buy right now.
---
Conclusion
Having a white Gaming PC build is difficult sometimes and mostly because you won't be able to find every component in white colour. Some of the components with white colour are easy to find such as Memory, Graphics Card, Chassis etc. but getting the desired white motherboard with the desired chipset is difficult. There are surely some great white motherboards available right now for older generation Intel and AMD processors but I didn't include them because you won't be necessarily buying an older gen CPU. Let me know if you have any other queries in the comments section below.