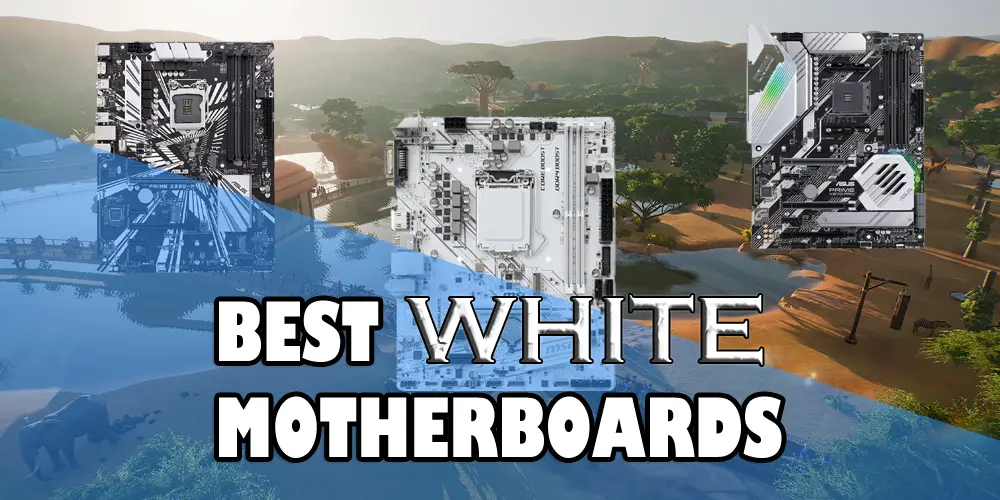 Recently I posted an article on how to build a white gaming PC with the best white components available. This post will only be about the motherboards because you might want to upgrade from your previous motherboard to a white one to achieve better looks in your PC build.
The unfortunate thing though is that right now there are only a couple of motherboards that are purely white in colour and that too are for older generation processors from AMD and Intel. Most of the motherboards that are considered as "White" for the latest gen processors don't have fully white PCBs but rather they have a white and black accent.
This list comprises the best possible white motherboards for both AMD and Intel processors that are compatible with the Ryzen CPUs and Intel 8th/9th gen CPUs respectively. Note that not every chipset has a white motherboard, so you might want to go with some other colour if you don't want to sacrifice performance but at the same time, these following motherboards are having the best chipsets that you would use in your PC build.
MSI White Motherboards
MSI H310M GAMING ARCTIC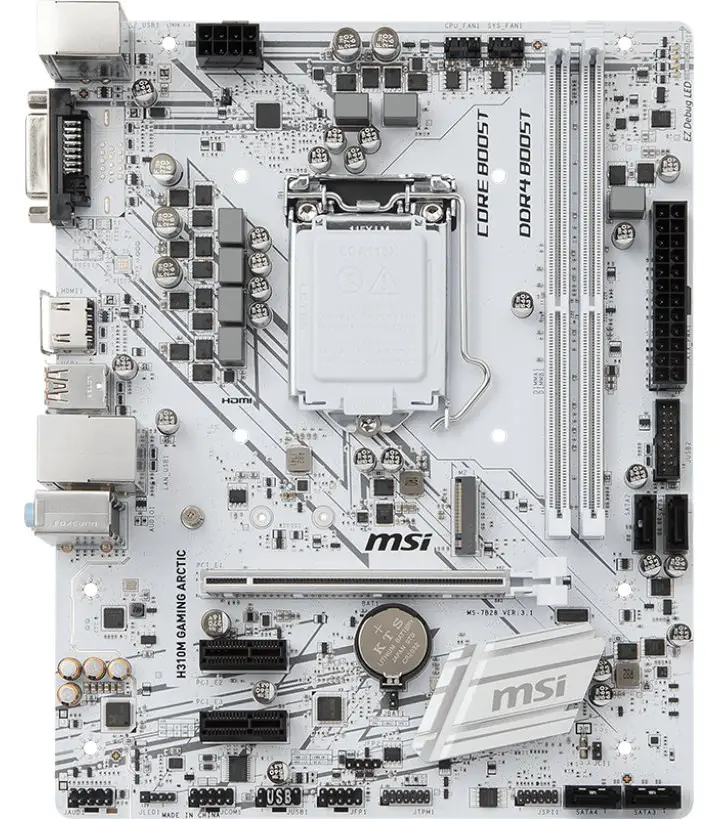 Perhaps this is the best looking motherboard in this list with all its PCB as well as almost all slots as white. The MSI Arctic motherboards are very famous for their unmatched white aesthetics and they are the true white motherboards for building a totally white Gaming PC. This board has an H310 chipset which is the most basic one in the Intel chipset motherboard chipsets.
It has a Micro-ATX form factor that can be used in any micro-ATX as well as mid-tower chassis and has some basic features that are enough for building a budget gaming system. For expansion cards and peripherals, it has 1x PCI-E x16 slots, 2x DIMM slots, 2x PCI-E x1 slots, 4x SATA slots, 2x Fan ports, and 1x USB 3.0 front header. For delivering proper power to your CPU, it features a 4+2 phase VRM which isn't cooled with any heatsink but it doesn't need to because it is locked and is only suitable for locked processors such as i3 9100F or i5 9400F.
I recommend this board only for building a budget white gaming system and if you don't want to compromise on performance, then I definitely recommend you to stay away from it because only looks don't matter when it comes to long-run operation.
Asus White Motherboards
ASUS Prime Z490-A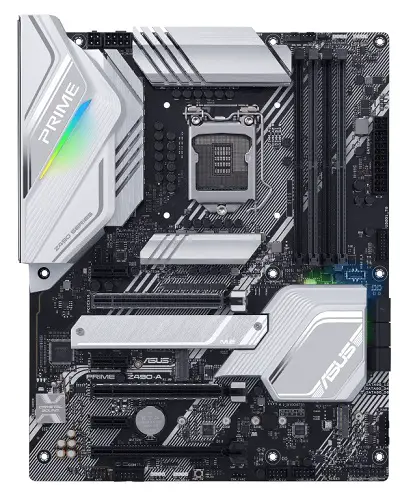 Asus has a couple of white themed motherboards with different chipsets although they are not purely white and most of them have a black PCB. I am going to list a few boards here with a brief introduction and a list of the latest boards under these which will provide you with some info on what you can expect from Asus currently.
Coming to the Asus Prime Z490-A, it looks a lot white when compared to the previous-gen chipset boards and boasts a full-ATX form factor with 6 layer PCB. This time all the heatsinks are white-painted that includes the I/O cover, M.2 shield, chipset, and VRM heatsinks. The I/O cover and chipset also have RGB lighting that increases the aesthetics of this motherboard and will provide a little more illumination inside your chassis if you plan to build an LED white themed build.
Asus ROG Strix Z490-A Gaming
Another motherboard you can go with for a white-themed build is ROG Strix Z490-A Gaming. It is certainly better than the Prime Z490-A not only in aesthetics but also in performance giving you an advantage in both. The board features multiple dense heatsinks that are white-silverish and a beautiful STRIX RGB logo on the I/O cover.
It features a strong 12+2 power phase VRM that is sufficient to handle an octa-core processor easily and features multiple fan headers for cooling your chassis. The board also has multiple USB ports with a dedicated BIOS USB port and a BIOS flashback button to easily upgrade your BIOS to the newest version.
While for some, it might not be the best white motherboard to go with, I will still prefer it over the Prime Z490-A and most of the entry-level motherboards listed here.
Asus ROG Strix B560-A Gaming Wifi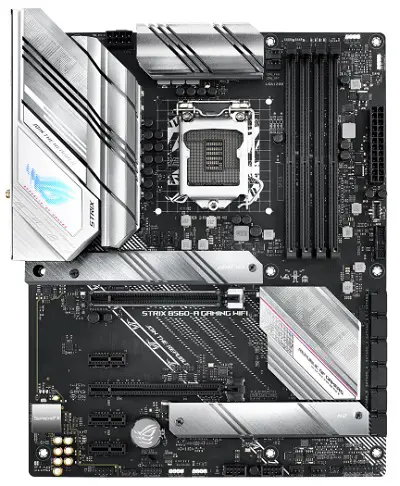 For the users of Intel's locked core processors, Asus has a fantastic looking white motherboard with the B560 chipset. It's the B560-A Gaming WIfi under the ROG Strix series with a stunning look that matches high-end motherboards and includes all white-silverish heatsinks and I/O cover.Though it isn't able to overclock, it does have the capability to equip itself with top-notch components such as high-frequency memories, expansion cards and NVME SSDs. Moreover, the I/O cover features an RGB ROG logo for illumination and for connecting to the internet you will get an inbuilt Wifi 6 adapter.
Asus ROG Strix Z590-A Gaming Wifi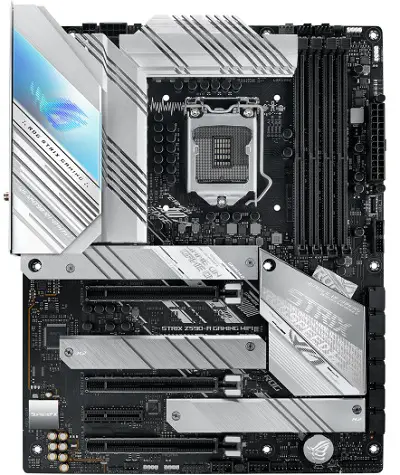 For overclocking your 10th or 11th gen Intel processors, what can be better than the brand new Z590 chipset which features improved technologies and features such as the powerful 14+2 power stages on the Strix Z590-A Gaming Wifi. This motherboard comes with all white heatsinks that are bigger and denser with a uniquely designed I/O cover over them having an RGB ROG logo.
It can support 5000+MHz on memory modules and 3x M.2 devices for storage but make sure you read the documentation on how the SATA ports and M.2 connectors share the bandwidth before you buy and try to fill all the slots/ports with storage drives.
Also, similar to the previous board, it contains an inbuilt wifi 6 adapter for wireless connectivity and a 2.5Gb Intel LAN for super-fast internet speeds.
ROG Maximus XIII Extreme Glacial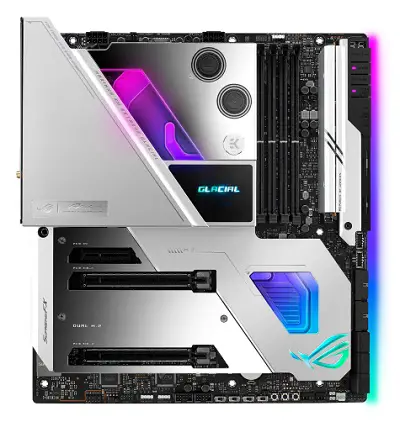 In the enthusiast tier, the ROG Strix Z590-A Gaming Wifi looks nothing less than a futuristic technology component that features a pre-installed EK water block on the CPU socket and VRM for unmatched cooling and inbuilt RGB lighting that adds to the aesthetics.
The board is covered with a white PCB cover which I believe is made up of Aluminium and has heatsinks included for chipset, VRM and M.2 SSDs. The board has 18+2 power stages for supporting high-end overclocking and with the help of custom water cooling, you can be one of the world record holders.
ASUS Prime X570-Pro

If you have an AMD Ryzen processor and you want a lot of features, then you will need an AM4 socket motherboard with the X570 chipset. The X570 chipset currently has the most amount of features including the PCI-E 4.0 x16 slots that have higher bandwidth. This board has white accents all over the PCB along with white heatsinks on the chipset and VRM.
The motherboard has a white I/O cover that covers the left side and has inbuilt RGB lighting along with the RGB lighting on the chipset. This board supports up to 2 way Nvidia SLI and 3 way AMD CrossfireX. The board also has a USB 3.2 Type C port for the front panel of your chassis that is very fast and has support for up to 128GB of DDR4 memory clocked up to more than 4400MHz. Although the best frequency currently for performance is 3600MHz.
ASRock White Motherboards
ASRock Z590 Steel Legend WiFi 6E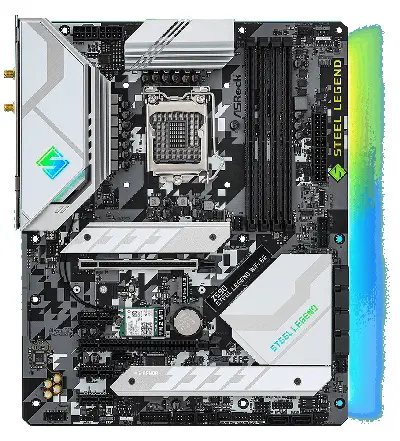 ASRock has a number of white motherboards with different chipsets which provide flexibility for a PC user to go with either AMD or Intel processor without compromising on the looks. While there are around a dozen white motherboards from Asus, I will be listing here the top ones which stand out amongst them.
The first one is the Z590 Steen Legend Wifi 6E motherboard which has a white I/O cover and white heatsinks all over the board. Not only that but the chipset and I/O cover use RGB LED for illumination along with the whole right border that will be sufficient to light up your chassis from inside.
The board uses an inbuilt wifi adapter and comes with a 14 power stage design that is enough for overclocking high-end Intel's 10th and 11th gen processors.
ASRock X570 Aqua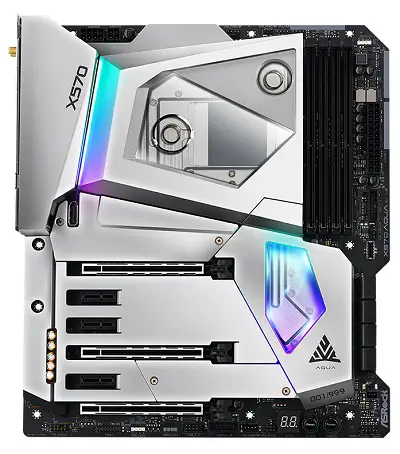 The Aqua series is the most premium one from ASRock that features a pre-installed water block on the CPU, VRM and unmatched aesthetics with PCB cover and RGB lighting. The ASRock X570 Aqua motherboard comes with almost 80% of its body covered with an aluminium white cover. On top of that, the board features RGB lighting on two zones and advanced onboard features for easy overclocking.
It features 14 power stage powerful VRM with 60A power chokes and is ready for overclocking any AMD's Ryzen 3000 and 5000 series processor. The only thing you will need to check is your pocket because this thing is very expensive.
Wrapping up!
Compared to the previous 2-3 years, we have so many white motherboards to choose from and thankfully you can find a white motherboard with the desired chipset. This only makes building a white themed PC build easier and by adding other white components such as memory, graphics card and coolers, you don't have to compromise much on your colour theme.
Let me know which one is your favourite motherboard among the listed ones in the comments down below.