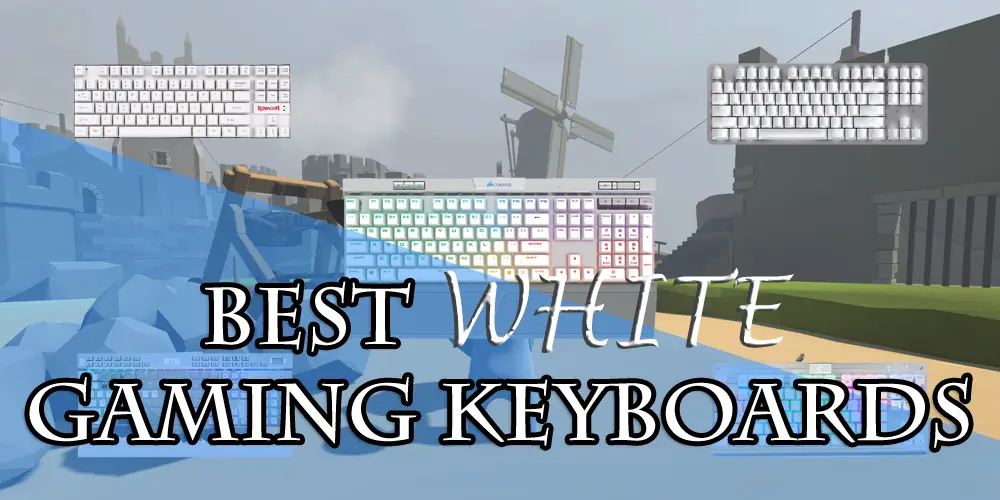 Introduction
I have already written some articles on white PC components and white PC builds which help you build a very bright and attractive looking PC. But now is the time to extend that craze to the peripherals to spare nothing as non-white on your desk.
You might have encountered many different types of white keyboards but the truth is not every white keyboard is worth your money. Surely, they might excel each other in one or other ways but only the best one should be worthy of your buy and I am here to list out only those white keyboards which will provide you with the best value for the buck.
Most of the white keyboards available today are mechanical but I have also included non-mechanical versions for those who have a very tight budget and can't get the mechanical keyboard right now. Some of the mechanical keyboards are expensive but some are affordable which go as low as $30. So, it's up to you now to decide which one fits your budget and need.
---
Kinbas Rainbow LED Backlit Gaming Keyboard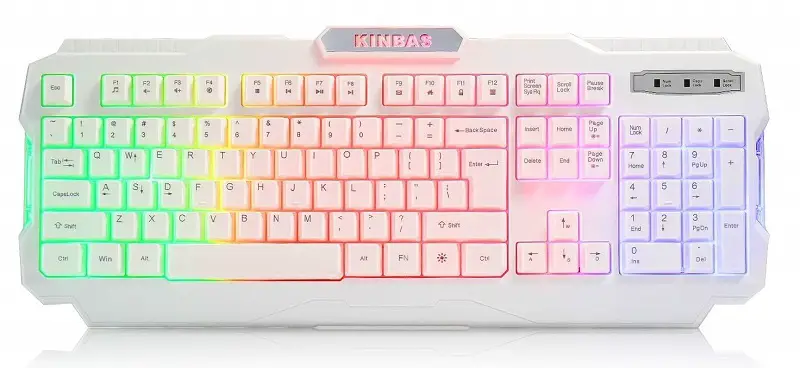 Kinba Rainbow LED keyboard is one of the cheapest multi-coloured lighting keyboard available on the market. This is what you should buy if you own less than 20 bucks. The white colour on this keyboard looks fantastic along with the preset colour backlighting which is neither too bright nor too dim. The keyboard is not made with premium materials but should still work for at least 6 to 12 months. Do not expect it to work for years because the less you pay, the less you get but for the price, it's hard to get a keyboard like this which features good aesthetics and anti-ghosting feature with up to 19 keys.
---
Perixx PERIBOARD-106 US W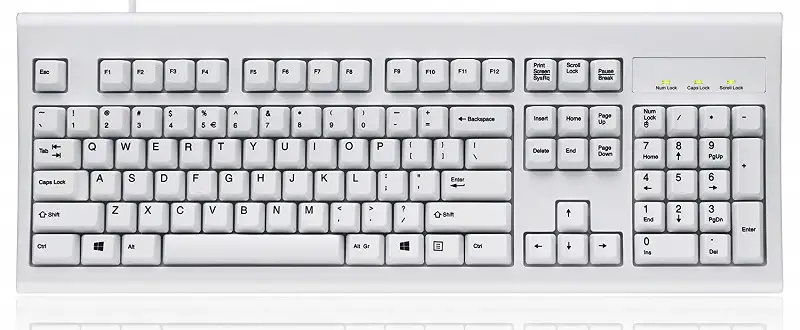 If you want something that is much more reliable, then Perixx Periboard keyboard is the one you should go for. This is truly the best white membrane keyboard which features good design and good material. The keyboard looks similar to a mechanical keyboard as its keys are long travel distance type which produces a sound similar to a mechanical one. Its keys are curved for ergonomic support and the body is very durable.
This one doesn't feature any backlighting but still looks good with the white colour both on the body frame and keys. For only $25, this one should be the choice if you want a very reliable white keyboard with membrane keys.
---
Redragon K552-N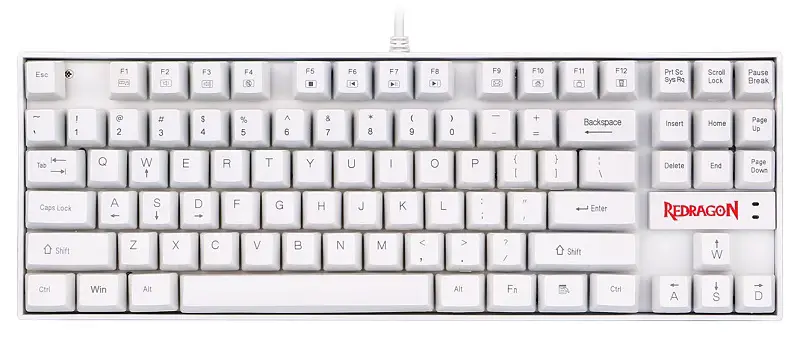 Redragon is a popular brand that makes budget-friendly peripherals. The K55X series is very popular because it works for a long time and features mechanical switches for comparatively lower prices. I have myself used Redragon K553 for a long time and I feel it was great for $50. But this one is the cheapest sitting at only $29. Although it doesn't have any backlighting, it has appreciable aesthetics with white coloured body and keys. The keys use blue mechanical switches and as it's an 87 key keyboard, it will be suitable for gaming where you need a vast amount of space for moving around your mouse.
The good thing is that it is available in RGB variant too which only costs $50 but do check out the next one before making up your mind.
---
E-Element Z-77 RGB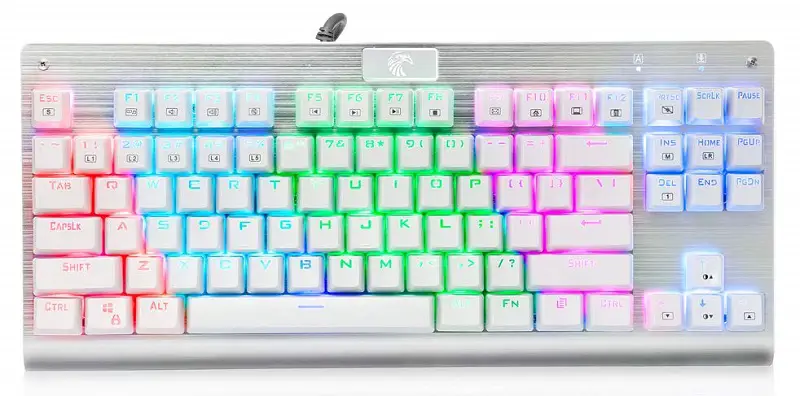 The E-Element Z-77 has some variants in which you can either choose a multicoloured keyboard or the RGB one. The RGB version is around $10 expensive but the lighting is customizable and way better. This keyboard uses a brushed aluminium white looking frame along with double-shot keycaps for clear lighting. The body looks very premium and as it is mechanical you can expect up to 50 million keystrokes lifespan which is the standard.
Its backlighting can be controlled using FN+INS keys which will provide you with 10 different lighting effects, unlike the multicoloured one which uses a single preset colour combination. Along with it, it also uses shortcut keys on F1-F12 for different purposes such as video stop, pause, next/previous track, email, web-browser, volume etc. A truly beast keyboard for less than $45 with blue mechanical switches for noisy click.
You can get the 104-key version for $60 if you don't like tenkeyless.
---
Redragon K550 RGB [Editor's Choice for Budget Category]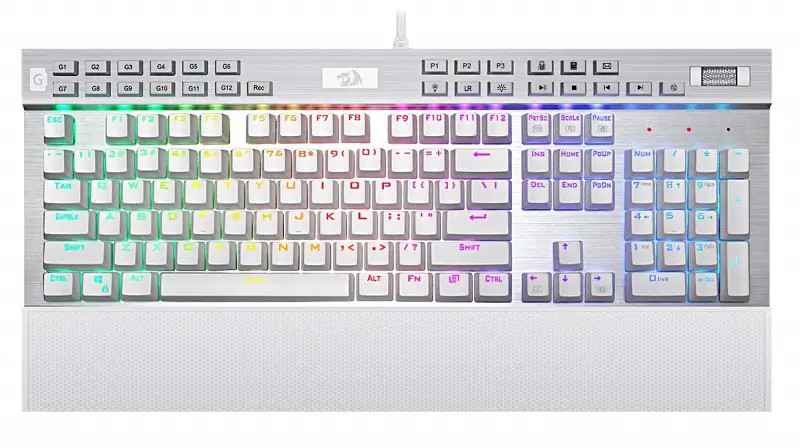 Here is another Redragon keyboard which is mechanical and features RGB lighting. The K550 RGB is among the top mechanical keyboards with Brown mechanical switches in the budget category. Priced at only $70, this one has no competition at all. I just love this keyboard and its looks. It looks similar to most of the Corsair mechanical keyboards as it features multimedia keys along with a wrist rest pad.
The unique thing about it is that it features 27 additional keys which include multifunctional keys and multimedia keys. Out of these 12 are macro programmable keys which can be used in games as needed. There is also a volume roller present on the top right for controlling the volume. The body frame is aluminium brushed and the keys are white with RGB backlighting that don't need any software to be controlled and feature 18 different backlighting modes.
---
BlackWidow Lite Mechanical Tenkeyless Keyboard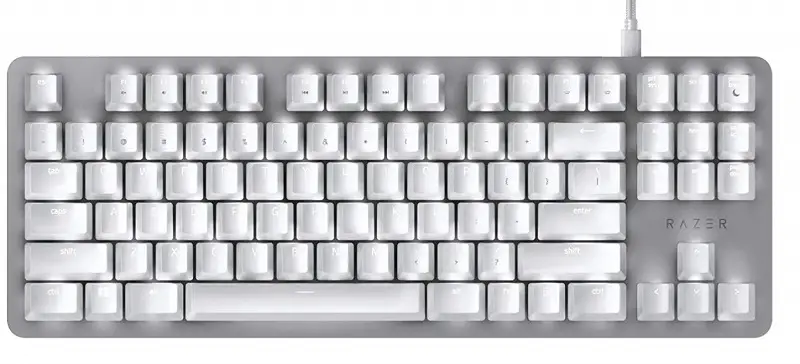 Now comes the premium keyboard from Razer. All of the previous keyboards aren't manufactured by popular companies but still for their prices, they are good. But if you want better functionality and more reliability, then you should only go for keyboards that are made by popular peripherals brand. Among them is Razer and we already know how good was the Blackwidow Chroma was.
The BlackWidow Lite is a Tenkeyless keyboard that is made for the purpose of gaming where you will need more space to move your mouse and get the job done as fast as possible with those orange mechanical keys. These keys use O Ring Sound Dampeners for decreasing the noise and making the keys actuate as fast as possible. The keys and the body frame both are white in colour which illuminate through the white LEDs. This might be a drawback for some but for those who want only white, then this is the best choice.
---
Razer Huntsman Gaming Keyboard

For getting more premium quality, you need to invest more and the Razer Huntsman keyboard is among those top mechanical keyboards which feature both great aesthetics and premium material. It's design although may not appeal many but it's better in practical application. It doesn't occupy too much space and doesn't require high maintenance.
It's a fully 104 key keyboard with Opto-mechanical key switches also known as Purple switches which are 30% faster than most of the fast mechanical switches in actuation. They work through the optical beam based actuation and are suitable for fast-paced gaming. This keyboard has white keys along with a silver-coloured body frame. It is the mercury white edition and features RGB backlighting too. You can control the lighting using the Razer Synapse software which is far better than any other keyboard listed above. The only drawback I find is the absence of dedicated multimedia keys which are instead present in the F1-F12 keys and work with the help of FN key.
---
CORSAIR K70 RGB MK.2 SE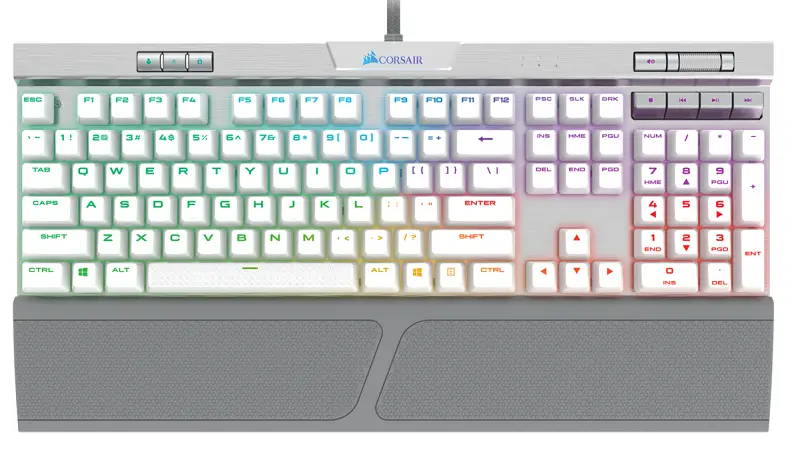 The last but not the least is the Corsair K70 RGB MK.2 SE which is among the latest mechanical keyboards from Corsair. I love Corsair keyboards more than any other. I am currently using two Corsair mechanical keyboards and I like their aesthetics and build quality. Though they are not compact but they still don't put any difficulty in moving the mouse. The Corsair K70 RGB has this special white edition which uses aluminium brushed body frame and white keys. These are all RGB backlighted and can be controlled using the Corsair iCue software through which you can control individual keys.
There are also multimedia keys present which allow you to control the videos, lighting, windows key and volume. At the bottom, there is a detachable wrist rest which is unavailable in the Razer Hunstman keyboard. This keyboard uses Cherry MX Speed switches which are made specifically for gaming and they actuate on 1.2mm distance. This is my favourite pick among all the white keyboards listed and my recommendation for those who don't mind to spend $150.
---
Conclusion
If you love white PC setups, then I recommend going with white keyboards along with white PC build because that just extends the white aesthetics beautifully making your desk look bright and elegant. I have listed the top white keyboards which I believe serve the purpose of being the best value for money. There are even more white keyboards which could have been listed but I simply ignored them either due to their comparatively high prices or low reliability. If you have any doubts, don't hesitate to ask in the comments section below!