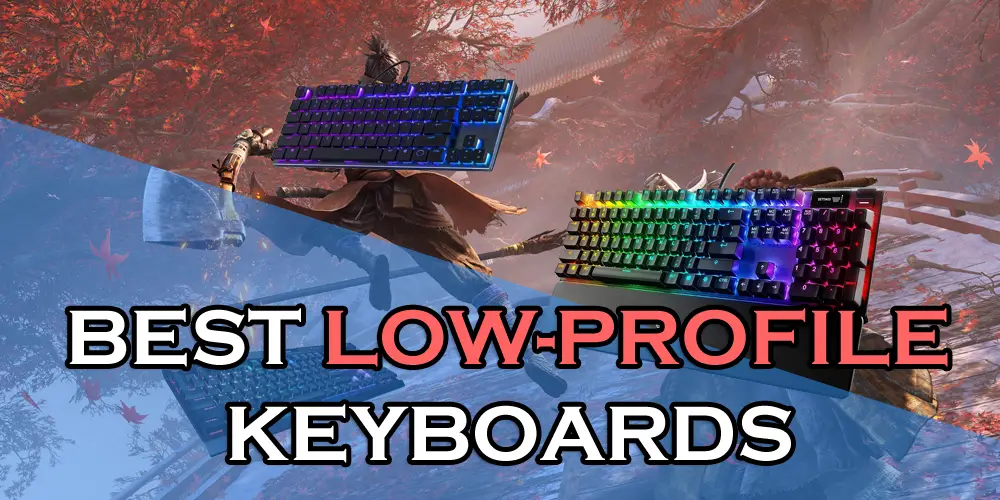 Most of the PC users always tend to buy simple keyboards, however, on the other hand, most of the PC gamers or PC enthusiast always try to get the best one possible. There are quite several different types of keyboards that are currently available in the market and to be very neutral, it totally depends on the user which one they like to have with them.
However, most of the gamers will definitely go for the mechanical ones and most PC enthusiasts will like to have a good keyboard that offers both performance and aesthetics. There are various types of keyboards, mostly are the standard size while some are TKL keyboards and there are some that are full-size keyboards but are of low profile.
What is a Low Profile Keyboard?
A low profile keyboard can be either a full-size keyboard or a TKL keyboard that comes with a low profile switches that are mostly mechanical ones. This low profile switch offers shorter key travel and much lower actuation points when compared to the regular mechanical switches which makes them quite less stressful to use from some users.
Low Profile Keyboards are ideally preferred by gamers by those who love to type a lot. Having shorter actuation, it helps a gamer to have a fast response time and also having minimalistic design, it is also preferred by a lot of PC enthusiast. However, it is quite essential to remember that, low profile mechanical switches are not the same as that of a normal mechanical switch and hence you can't fit any mechanical keycap to a low profile mechanical key.
So here in this topic, we will share some of the best low profile keyboards, that is awesome in gaming and are also quite top-notch with your day to day works. However, most of the low factor keyboards come with a higher price point and are not easily available. Some manufacturers tend to go with normal keycaps while using minimalistic frame design, while some go with low profile keys but keep the design similar to that of a normal keyboard. Hence, there are very few keyboards out there in there in the market that retains the true low profile style and functionality. Thus here we have listed keyboards that can be considered as a low profile if they are having either one of the basic traits of a low profile keyboard.
Cooler Master is undoubtedly one of the best manufactures of Computer cases. However, they also excel in producing various accessories and components and the Cooler Master SK630 is not an exception. The SK630 is a TKL keyboard that comes with a "Chicklet" design pattern along with extra-flat keycaps and new Cherry MX Low Profile switches.
The Cherry MX Low Profile switches are the main attraction here. It comes with the durability of Cherry MX Switches with a shorter travel distance and an actuation point that is now reduced to 0.8mm. It also comes with extra flat keycaps.
The outer design consists of a brushed aluminium top plate for durability along with contemporary design, and a contoured floating key design gives you an extra dimension of functionality and signature beauty. It also comes with standard per-key backlighting along with lightbars on the sides that add an extra layer of aesthetics to the keyboard.
Under the hood, the SK630 comes equipped with a  32-bit ARM Cortex processor for consistent precision and performance. No additional software is required for configuring MACROS or the RGB illumination. The SK630 has a response rate of 1ms/1000Hz along with USB Type-C Detachable & Braided cable.
Our next selection of the low profile keyboards includes the Logitech G915. Logitech is currently one of the leading pioneers in the world of computer accessories. The G915 is a top of the line product in Logitech's range of keyboards.
The G915 Lightspeed features Logitech's pro-grade wireless mechanism that is well complemented by high-performance low-profile GL mechanical switches that can deliver all the speed, accuracy and performance of traditional mechanical switches and at half of its height which means that the GL mechanical switches come with shorter key travel and actuation point. Further, the GL mechanical switches offer three different types of key combination i.e. GL clicky (audible click and tactile feedback), GL Tactile (a gentle bump for some tactile feedback) and GL Linear (a completely smooth keystroke).
Design-wise the G915 comes with a 22mm ultra-thin body that is complemented with aluminium alloy at top and is matched with a steel-reinforced base that offers a light, ultra-thin design yet strong and durable keyboard. The G915 comes with an aluminium-crafted volume wheel that is precisely tensioned for premium feel and control.
Further, the G915 comes with LIGHTSYNC RGB technology which enables fully customizable per-key lighting across 16.8 M colours. The G915 can be controlled via Logitech Gaming hub and it also comes with a rechargeable battery that can stay in action for 30hours with 100% RGB illumination as per Logitech's claim.
The Corsair K70 RGB MK.2 is our next choice in the list of low profile keyboard and it is also my favourite one too among our selection and the reason for this is quite normal. The Corsair K70 MK.2 comes equipped with CHERRY MX RED low profile mechanical switches that are of 35% lower key height and make the travel distance and actuation point shorter.
The K70 MK 2 is designed in such a way that the keyboard is shorter in height than a normal keyboard. The keyboard comes with a height of just 29mm along with a wrist rest that is optimized to provide ultimate comfort for a long duration of usage.
To complement the overall keyboard's features and design, the K70 MK 2 comes with full RGB illumination that can be combined with other RGB illuminated accessories with the help of the iCUE software from Corsair. The Corsair K70 MK2 is backed by 2years of warranty.
SteelSeries Apex Pro is another one that offers great features for a low profile keyboard. If you going for this one then make sure you go with the Pro version as it comes with OmniPoint Adjustable switches. The OmniPoint Adjustable switches feature 0.7ms response time along with adjustable actuation point that ranges from 0.4mm and goes all the way up to3.6mm.
Apart from the switches, the Apex Pro is made up with aircraft-grade aluminium alloy that ensures the durability that one might be searching at a premium quality keyboard. It also comes with detachable magnetic wrist rest that comes with easy and secure attachment, full palm support, and durable soft-touch finish to ensure that you're comfortable typing and gaming for a long period of time.
It also comes with an integrated command center displays that shows useful information for adjusting settings, changing profiles, and seeing on-the-fly updates. It also has a clickable metal roller and the media key for easy multimedia control.
The Apex Pro has a USB pass-through that allows one to insert a flash drive, wireless mouse/headset transmitter, phone, or any USB device directly into the keyboard without in need to search for a USB port at the back of the PC. It also comes with 3-way cable management that let users to route their cables keeping the desk neat and clean. The Apex Pro comes with Dynamic per-key RGB illumination and it can be synced with your existing RGB accessories.
Conclusion
The above-mentioned keyboards are the best option if you are looking for a low profile keyboard. So if you are going for one, make sure to check our listing once and if you feel confused, then feel free to put a comment below.