Questions like: "What gaming PC should I buy for Fortnite?" and "How do I build a cheap gaming PC for Fortnite?" are common these days. We have the answers for you and will guide you in building a good cheap gaming PC for Fortnite in easy steps.
This game was released back in the year 2017 and since then, it has gained huge popularity as a Battle Royale Genere and in just a short span of time and as per available information on over the internet it has crossed over 250 million of players across multiple platforms that include PC, Xbox, Playstation, Android & iOS.
The gameplay of  Fortnite is quite similar to that of other Battle Royale games where 100 players are pit on a single map to fight for their survival and the last man stand wins the round. It also follows a similar pattern of other battle royale genre and the game can be played in three different modes: Solo, Duo, and Squad. A lot has changed during this long time span and after the end of season 10, Fortnite's map was destroyed by a huge explosion and swallowed by a black hole. After that the players' waited for new updates from Epic for some news and this lead to an increase in the hype of the game even more.
After they released the new map, the game schematics were reworked to their best. Water has been reworked and now players can swim through it. On land, players now can hop into dumpsters and haystacks and even now players can use environmental hazards.
Now if you are willing to play this game and you are looking to get some info about what kind of system will be good to have for playing this game then you might be happy to know that a normal system with certain additional hardware can play the game. Thus in order to know what can be the best budget system that can play this game, we need to know its minimum system requirements and the recommended one.
Fortnite: Minimum Requirements
CPU: Core i3 2.4GHz/ AMD Equivalent
RAM: 4GB RAM
HDD: 16GB Free Space
GPU: Intel HD 4000 (integrated graphics)
OS: Windows 7, 8, or Windows 10 64-bit
DirectX: Version 11 or better
Fortnite: Recommended Requirements
CPU: Core i5 2.8GHz/AMD Equivalent
RAM: 8GB RAM
HDD: 16GB Free Space
GPU: Nvidia GeForce GTX 660 / AMD Radeon HD 7870 or equivalent video card with dedicated memory of 2GB or higher VRAM.
OS: Windows 7, 8.1, or Windows 10 64-bit
DirectX: Version 11 or better
After going through the specification it is clear that the game can run quite well with low-end systems. However, going with the recommended system is the best option for a player as he can play other games on that system as well.
First System
In this system build, we have taken Intel Core i5 9400f as the processor that is accompanied by GTX 1660Ti along with 16gigs of DDR4 RAM and MSI H310M Pro VDH Plus as the motherboard. This particular configuration can handle most recent AAA title games at 1080p resolution with max out graphics settings.
CPU
Specs :-
Cores: 6, Threads: 6
Base Clock: 2.9GHz, Boost Clock: 4.10GHz
Cache Memory: 9MB
TDP: 65W
Intel Core i5 9400F is the latest sibling in the i5 processor series that Intel released back in 2019. The i5 9400f is having 6 cores along with 6 threads and offers max turbo frequency of 4.2Ghz. This processor is the best option when it comes to playing games at 1080p resolution. Intel Core i5 9400F is currently priced at $160. The 9th gen i5 9400F is quite faster when compared with that of the previous generation and also more power-efficient with a TDP of 65W only.
MEMORY
Specs :-
Size: 8GB
Frequency: 2666MHz
Cache Latency: 16
Kingston HyperX FURY 8gb ddr4 is the cheapest yet the most easily preferred memory currently available. It is clocked at 2666Mhz which is the starting point for the ddr4 memories but the real reason to choose it first is that it comes in budget-friendly option and is popular among the budget gamers.
GRAPHICS CARD
Specs :-
VRAM: 6GB GDDR6
Base Clock: 1530MHz, Boost Clock: 1860MHz in OC mode
Cuda Cores: 1408
TDP: 125W
The 16XX series is the budget-friendly choice when it comes to having the taste or RTX. However, the best performance card in the 16XX series is the 1660 Super. As the recommendation for Fortnite is only GTX 660, you can easily expect some good future-proofing with this card for other games.
Build on Nvidia's latest Truing architecture, the Nvidia GTX 1660 Super is capable of delivering performance similar to that of the 1070 and also able to handle modern-day games with ease. You can easily expect 60+ fps on maxed-out settings at 1080p and you can also play most of the games at 1440p with high-ultra settings.
MOTHERBOARD
Specs :-
VRM: 4+2 power phases
Memory Support: 2x DIMM slots, 2666MHz
Expansion slots: 1x PCI-E x16, 2x PCI-E x1
Storage: 4x SATA ports
The MSI H310M Pro VDH Plus is an m-ATX motherboard that comes with a good 6 power phase VRM with heatsinks on both sides. It comes equipped with 2x DIMM slots for supporting up to 32GB of DDR4 RAM clocked up to 2666MHz and a single PCI-Ex 16 slot for installing a graphics card. In terms of storage, there are 4x SATA slots and 1x M.2 slot for NVME SSD that is sufficient for a budget gaming PC.
STORAGE
Specs :-
Capacity: 1TB
Interface: SATA 3
Read Speed: 560MB/s, Read Speed: 530MB/s
For storing your OS, files and Games, we chose a 1TB of storage from Silicon power that is roughly 6 times faster than a traditional hard drive. As hard drives are disappearing from the market due to the SSD prices falling, it's better to get SSDs which load your games and OS faster.
Second System
In this configuration, we would swap the processor and the motherboard whereas the rest will remain the same. Here we will suggest going for AMD Ryzen 2600X for those who want to get an AMD based processor and are looking to use it to get similar performance to that of the Intel build.
CPU
Specs :-
Cores: 6, Threads: 12
Base Clock: 3.6GHz, Boost Clock: 4.2GHz
Cache Memory: 19MB
TDP: 95W
AMD Ryzen Second generation processor was released quite a while ago but still, it is indeed a good processor for a mid-range gaming system. Ryzen 5 2600X is a six-core processor but astonishingly it has only 6 threads. The Ryzen 2600X is an unlocked processor, it can be overclocked using a B450 chipset or an X570 chipset motherboard. It can be used to play games at 1080p resolution with maxed out graphics settings.
MOTHERBOARD
Specs :-
VRM: 11 power phases
Memory Support: 4x DIMM slots, 2666MHz
Expansion slots: 2x PCI-E x16, 1x PCI-E x1
Storage: 4x SATA ports, 1x M.2 slot
The Gigabyte B450 AORUS M can be considered as the best value for money option for a budget gaming build. It has a very powerful VRM that has 8+3 power phases that use doublers. So, it is actually a 4+3 power phase VRM. But it's powerful enough for the Ryzen 2600/2600X and can let you overclock the processors without overheating and other stuff.
It comes with a heat sink at the VCore side to keep the temperature under control. It comes with 2x PCI-E x 16 slots for graphics cards, 4x SATA ports, 4x DIMM slots, and some RGB headers. It is currently priced at 71.13$.
We almost have completed our build for the budget PC build that allows a gamer to play Fortnite without any issue. However, there are still two components that one will be needing in order to complete the build. A good PC should always have a good power supply along with a PC chassis.
CHASSIS
For a budget gaming build, we are putting forward two value of money case that comes in a pocket-friendly price tag and also offers the user, the touch of modernism.
Specs :-
Form factor: ATX
Aesthetics: Side tempered glass panel
Components Support: GPU- 360mm, CPU Cooler- 160mm
Cooling Support: up to 240mm radiator
Cooler Master Master Box Q500L can be considered as a good value for money PC chassis for a budget gaming build. It supports high compatibility and offers an option for Standard ATX motherboard support. It comes with quite a nice air-flow and has magnetic dust filters along with it.
Specs :-
Form factor: ATX
Aesthetics: Side tempered glass panel, RGB LEDs
Components Support: GPU- 380mm, CPU Cooler- 160mm
Cooling Support: up to 280mm radiator
The ECLIPSE P350X is the best PC chassis for a budget gaming build. The new Eclipse P350X is a compact case designed to provide high performance along with nice aesthetics to your PC build. It offers high airflow along with compatibility for E-ATX motherboards along with nice support for liquid cooling making this case ready for high-end system configuration.
POWER SUPPLY
A proper power supply unit is one of the key components of any PC and as we are suggesting a budget-friendly build, we need to choose it wisely keeping the price factor in mind. For the above build, a 550 W or 600 W PSU will be the best choice.
Specs :-
Capacity: 550W
Efficiency: 80 Plus Bronze
Connectors: ATX, EPS, PCIE, SATA, Peripheral 4 pin
Warranty: 5 years
Master Watt 550 is the ideal choice for the above builds. It is a semi-modular 80Plus Bronze certified power supply unit that comes with some excellent features such as if your system is under 15% load then the fan of the PSU won't be spinning, offering zero dBA of noise. And when the load gets higher than 15%, the fan will gradually increase its spinning providing the required cooling.
---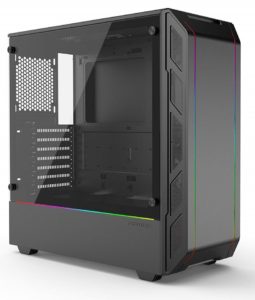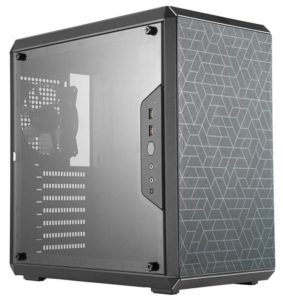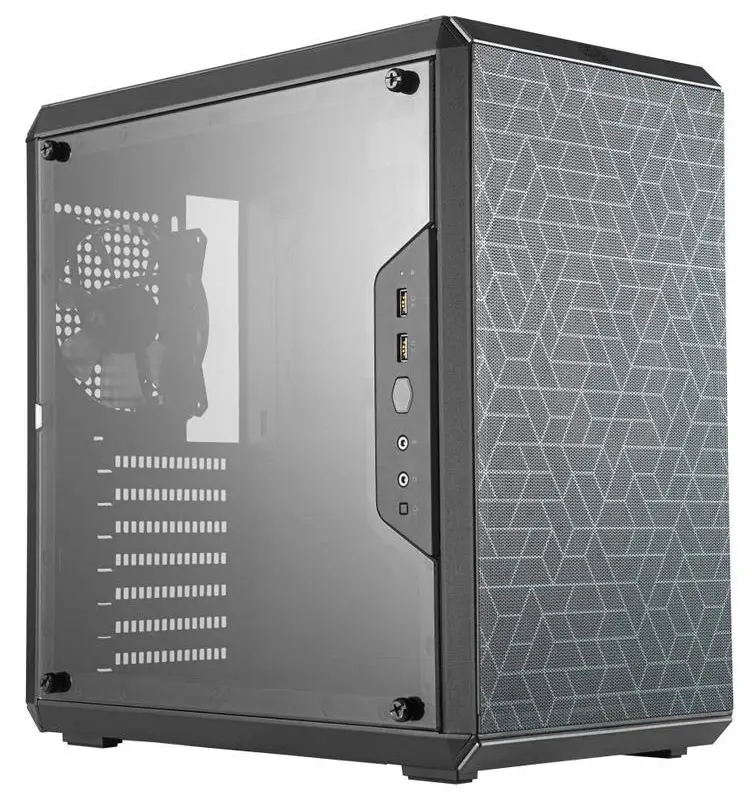 ---
FAQ (The Most Asked Questions Answered Below)
What CPU is best for Fortnite?
Both the Intel Core i5 9400f and the Ryzen 2600X will be able to produce a similar performance. But if you can spend more, then the next best options are Ryzen 3600 and Intel Core i5 9600K.
How many Cores does Fortnite use?
Fortnite is indeed a CPU intensive game, however, there are few things that one should know before heading for purchasing a higher-end CPU. Technically Fortnite doesn't distribute the load among the available cores, thus having a higher number cores CPU won't be much beneficial. A 4 core CPU will be Ok.
What PC can run Fortnite at 144 fps?
If you are trying to play Fortnite at 144FPS at 1080p resolution with max graphics settings then you can go with Intel Core i5 9400f along with AMD Radeon RX 5600 XT 6GB backed by 16gigs of RAM. You need to make the budget a little flexible and with the above configuration, you can run this game in 150+ frame rates.
What is the best monitor for Fortnite for 144 fps?
Moreover, if you are looking for a 144hz monitor then the best value for a money 144hz monitor you can get is the AOC C24G1 24″. It offers rapid 1ms (MPRT) response and 144Hz refresh rate with AMD Free Sync for smoothest competitive gameplay.
Can you run Fortnite with 4gb RAM?
The minimum RAM should be at least 8 GB and the reason is not only for playing Fortnite, but you must also consider the fact that your background system process will also be running and hence if you are having Windows 10 as your OS, then the minimum RAM should always be higher than 8GB.
Is 2gb VRAM enough for Fortnite?
As for the graphics card is concerned, standing in 2020, anything less than 4gigs of VRAM is not going to help you get good performance. Having at least 4gigs of VRAM will also let you play other games.
Conclusion
The above provided builds not only allow a gamer to play Fortnite at max visual settings on 1080p resolution but the gamer can also play most modern-day gaming titles with ease. If you have any doubts feel free to ask in the comments section.