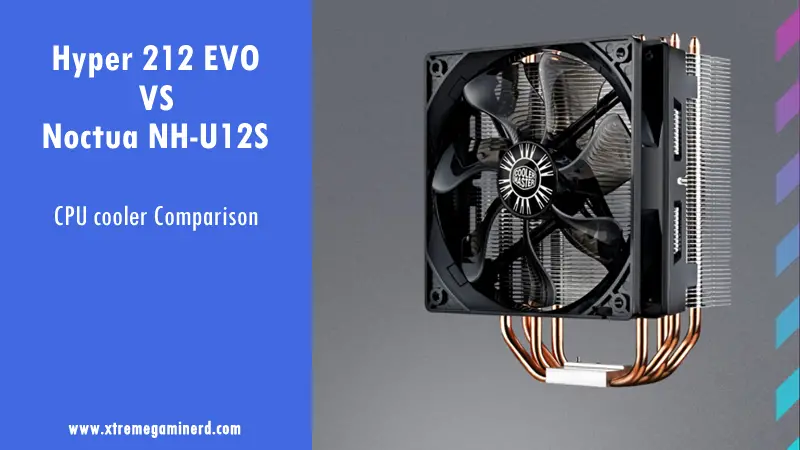 Cooler Master Hyper 212 and Noctua NH-U12S are quite similar to each other but yet unique in their own way. Many PC users are continuously asking on the forums, whether they should buy the most popular CPU cooler of all time- the Hyper 212 EVO or the performance-oriented NH-U12S.
To help you understand which ones you should be going for, we will be pointing out the key differences to you and will also help you to analyze them in detail. Make sure you read every part of the comparison in order to understand what you are going to get with each of these and what compromises you will have to make.
Cooler Master Hyper 212 EVO-
Overview
Cooler Master Hyper 212 is the best entry line CPU cooler from the manufacturers. It is quite a popular CPU cooler and offers a good performance to price ratio. Currently priced at $45 roughly, it offers numerous variations with a slight difference in the price as well as in the performance and also in terms of colour. However, here we are going after the basic model.
In terms of performance, it is offering 4 direct contact heat pipes along with funnel-shaped aluminium fins to provide higher efficiency and better heat dissipation. Furthermore, it comes with a 120MM PWM fan with a quick span design with anti-vibration rubber pads and an RPM range of 600-2000. In terms of airflow, it offers 66.3 CFM ± 10% and air pressure of 1.7 mmH2O ± 10%. The rated noise level is from 9 – 31 dBA.
Furthermore, you can mount an extra fan to use the push-pull configuration to get more performance out of it. It is also compatible with almost all the mounts that ensure worry-free installation.  The fans feature Rifle Bearing that is better than sleeve bearings. Furthermore the huge range of RPM, anyone can tune them for optimal performance or for silent performance.
Noctua NH-U12S-
Overview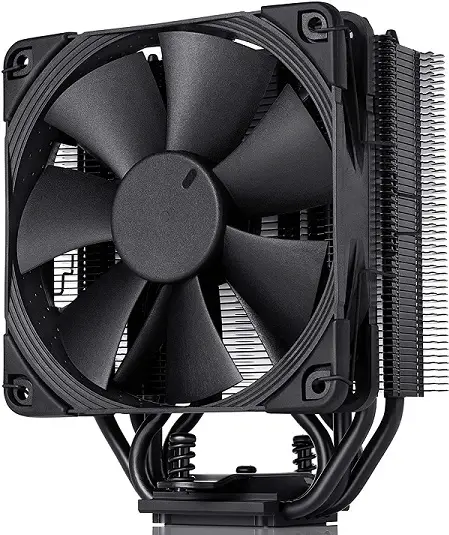 Noctua is renowned for its PC chassis fans and CPU air coolers. The Noctua NH-U12S is among the best U Type CPU coolers in its catalogue. It is currently priced at $ 70 and is quite famous in terms of performance and has already bagged many awards.
The Noctua NH-U12S features a 45mm slim shape along with the NH-F12 Focused Flow fan with the PWN support for fully automatic speed. It comes equipped with a Copper base and heat pipes that are accompanied by aluminium fins for optimal heat dissipation and higher efficiency.
The Noctua NH-U12S offers wide compatibility and also offers the RPM range of 300- 1500. In terms of fan performance, it offers 55CFM of airflow and max rated noise of 22,4 dB(A) which is subject to change on the basis of tests and configurations.
Cooler Master Hyper 212 vs Noctua NH-U12S-
Comparison

Both the Cooler Master Hyper 212 and the Noctua NH-12S are entry-level CPU air coolers and are really good in terms of performance when it comes to budget builds. However, there are unique differences between these two coolers.

Pricing- The first and the foremost difference is the price. Currently, the Cooler Master Hyper is priced approximately at $45, whereas the Noctua NH-U12S is priced at $70. Specs– The Noctua NH-U12S offers better specification when it comes to silent performance due to its lower RPM, however when it comes to airflow, Cooler Master Hyper comes with 82.9CFM in comparison with that of Noctua NH-U12S's 55CFM. Therefore, the Hyper 212 has a clear advantage in providing better airflow. Noise– The NH-U12S offers superior performance without making a lot of noise. As per the comparison, Noctua NH-U12S generates 30dBA of noise compared to 32.4dBA of Hyper 212 EVO.1)

https://www.anandtech.com/bench/CPUCooling/774

Variations– In terms of additional advantage, the Cooler Master Hyper 212 has several variations that give a user an option to go for thematic builds along with the option of having RGB illumination. Overclocking– When it is related to overclocking, then Noctua offers better overall control and stability than the Hyper 212.

Therefore, if we can clearly see that between the two CPU air coolers, the Cooler Master Hyper 212 offers better value for money and also is quite good when it comes to delivering superior performance. However, if you are looking for a silent operation along with good performance then the Noctua NH-12S is the best option to opt for.

[tabs type="horizontal"] [tabs_head] [tab_title] Reasons to consider Hyper 212 EVO [/tab_title] [tab_title] Reasons to consider Noctua NH-U12S [/tab_title] [/tabs_head] [tab] $25 Cheaper
Comes in several variations
Higher airflow of up to 82.9CFM
[/tab] [tab] Better for overclocking
Silent operation
Comes with one more heat pipe
[/tab] [/tabs]






Cooler Master Hyper 212 vs Noctua NH-U12S-
Summing Up
Both the above-mentioned coolers are a good choice for low configuration systems and are suitable for a budget build. However, if you are not having any blockade regarding budget and you are having a decent system, then the best suggestion is to go for AIO coolers or higher-end air coolers.
If we are to compare between the Cooler Master Hyper 212 and the Noctua NH-12S in terms of price to performance ratio, then clearly the Cooler Master Hyper 212 has the upper hand.