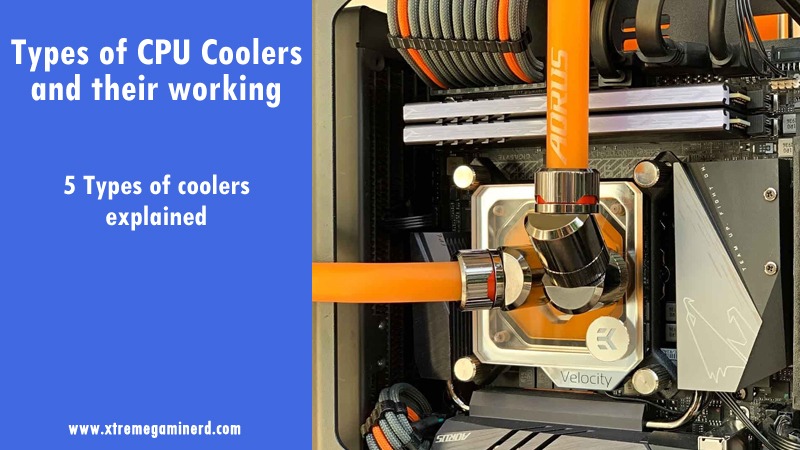 Demand for increased cooling has increased since PC users especially the enthusiasts whether a gamer or not have been adopting power-hungry processors that generate a lot of heat in the process.
CPU coolers have also evolved for fulfilling the needs of PC users having different requirements. One person may need a beefy cooler while another may need just for maintaining lower temperatures while doing basic office work in summers.
Currently, we have around 2 different types of CPU coolers that are mostly used in personal computers that are further categorized into 5 types. These are as follows:-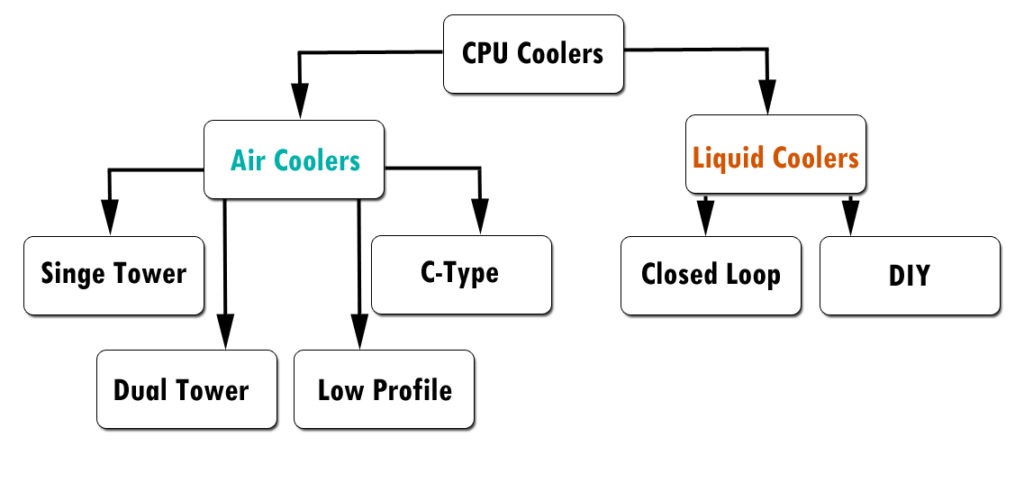 1. Air Coolers
Air coolers use a simple mechanism of absorbing the heat of the processor through the aluminium or copper heatsink. Most air coolers come with an aluminium heatsink as it is affordable and some of them come with copper heat pipes that enhance the dissipation of heat.
These are of two types: Single Tower and Dual Tower. 
Difference between Single and Dual Towers
Single Tower CPU coolers feature one heatsink block while Dual two. The Dual Tower has some gap between the heatsinks to work somewhat independently and to allow another fan to be sandwiched between for more airflow.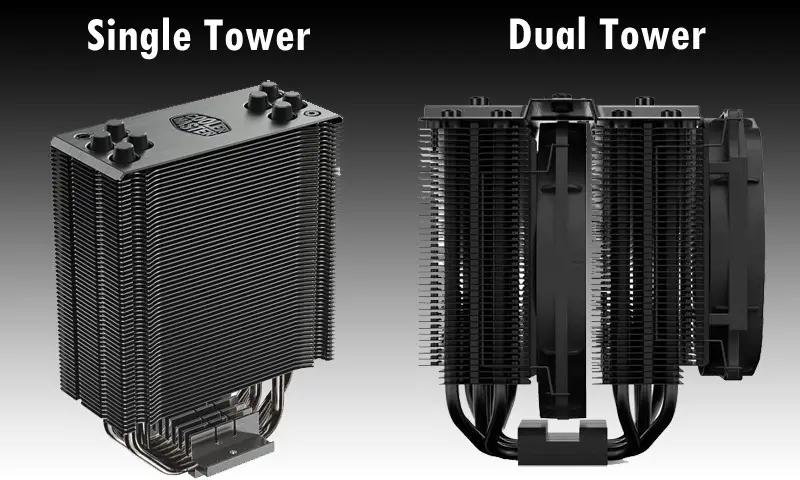 Usually, Single Tower coolers come with 1-2 fans but a Dual Tower can equip 3 fans making performance better but need a lot of space at the same time which some PC cases can't allow.
Dimensions of a single tower are smaller than the Dual Towers can be as small as 23mm in height.
C-Type
A C-Type CPU cooler takes less space vertically due to the C Type design and its heatsink is connected through the heat pipes from one side only, unlike the traditional U Type CPU cooler.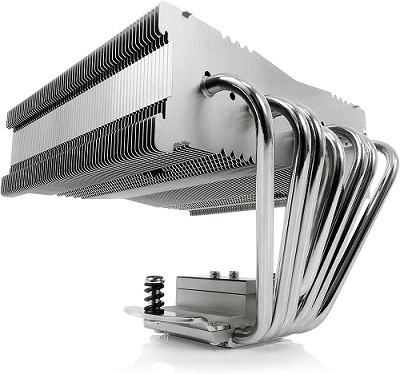 Low Profile
A low profile CPU cooler is the most compact cooler of all and features a horizontal heatsink with a small width fan on top rather than on the side. Some of them come with embedded heat pipes to dissipate heat better but they are still inferior to the C-Type and traditional U type CPU coolers.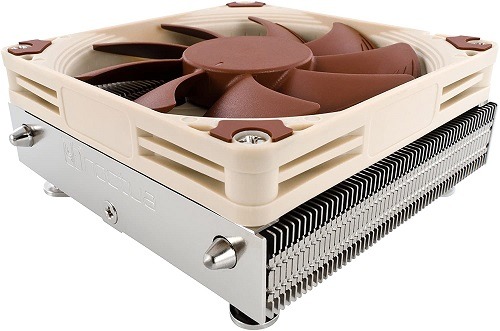 2. Liquid Coolers
Liquid CPU coolers use a liquid coolant or water for cooling. Unlike the air cooler, an actual mechanism goes on here that is achieved using a pump and a radiator. Just like an air conditioner, the heat is transferred to the CPU block on the pump which is cooled down by the water which then goes to the aluminium radiator. Here the fans installed on the radiator cool down the heatsink heated by the hot water eventually resulting in cooling of the water which is then fed back to the pump again.
These can be further classified into two categories:- Closed Loop or AIO and Custom Loop or DIY.
AIO(All in One) Liquid Cooler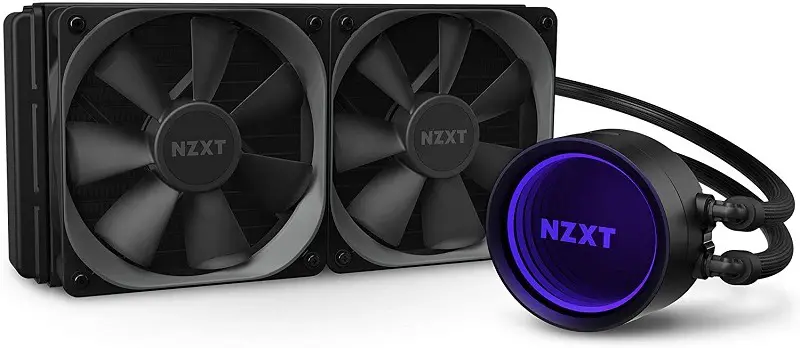 AIO coolers are manufactured by brands like Corsair, Cooler Master, Thermaltake, EVGA etc. and don't require the user to set up anything additional i.e., the cooler works out of the box by installing directly on to the CPU.
It consists of a pump, tubes, radiator and fans. The size of the radiator range from 120mm up to 360mm.
Custom Loop
The custom loop liquid cooler requires the user to install CPU block, tubings, reservoir on his own. It requires comparatively much more effort than any other cooler as it requires proper selection of tubings, fittings, reservoir and needs testing for hours before you can turn on the computer as the leak can destroy PC components.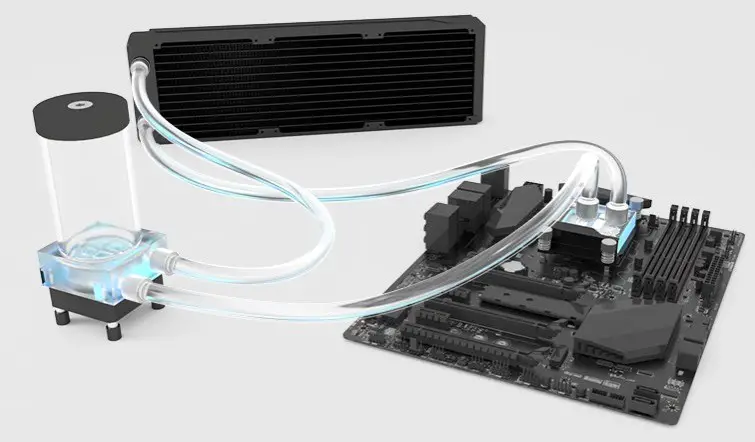 EKWB is currently the most popular manufacturer of DIY cooler components but some companies like Thermaltake manufacture their own components.
Recommended CPU coolers
| CPU cooler | Type | Amazon Price |
| --- | --- | --- |
| Cooler Master Hyper 212 RGB | Air- Single Tower | |
| Noctua NH-L9i | Air- Low Profile | |
| ARCTIC Freezer 50 | Air- Dual Tower | |
| Noctua NH-D15 chromax | Air- Dual Tower | |
| EVGA CLC 240mm | Liquid- AIO | |
| Corsair iCUE H100i RGB | Liquid- AIO | |
| NZXT Kraken X53 RGB | Liquid- AIO | |