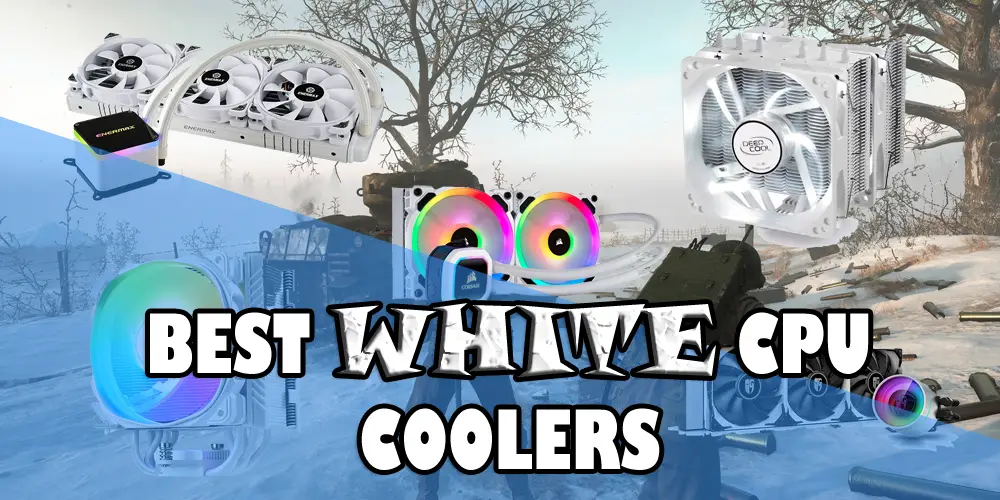 Introduction
White is the best colour when you want an awesome illuminating PC which will have the most brightness. It's true that a White CPU cooler will be among the best if not the best component in your system which will increase the beauty regardless of whether you are building a fully white Gaming PC or not.
As the years passed with the evolution of PC hardware in terms of performance and aesthetics, PC components manufacturers recognised that today most of the enthusiast gamers who would like to show off their builds want a particular colour theme. Some users like two colour themes like Red/Black, Blue/White, Orange/Black etc., while there are others who either want a multiple colour theme or a one colour theme.
In case you want something like a two-colour theme like Red/White, Black/White or even a single colour theme like only white, then in both the cases the following white CPU coolers will do the job perfectly. I have listed out the top 7 CPU coolers which stand out in terms of aesthetics and at the same time do not remain behind in effective cooling. These coolers range from $30 up to $170, so you will have choices from which you can choose according to your budget.
---
DEEPCOOL GAMMAXX 400WH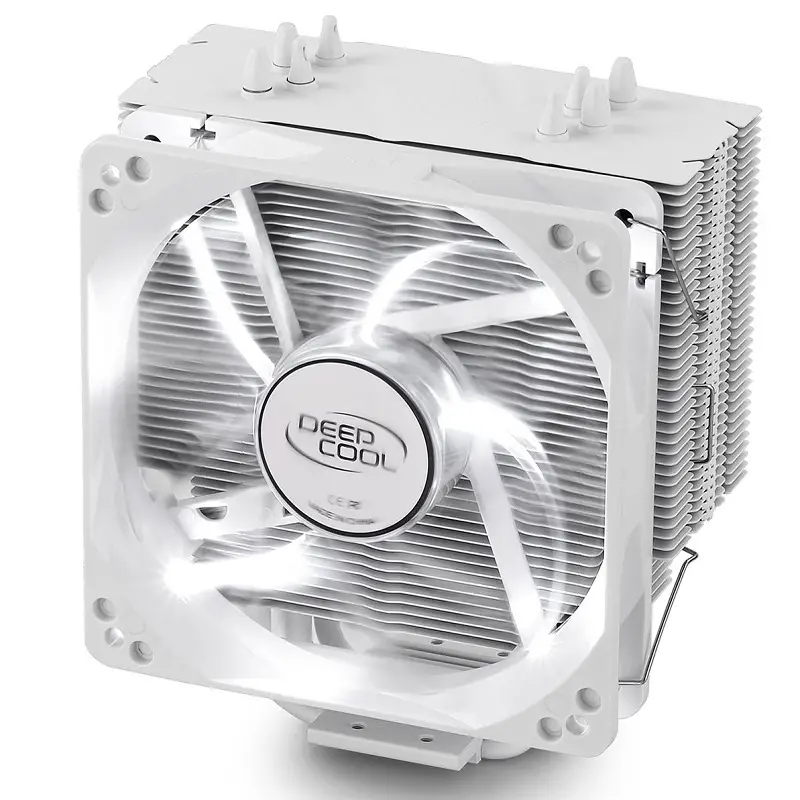 If you don't have a lot of money but you still don't want to compromise on aesthetics, then DeepCool has a lot of solutions for you. The DeepCool Gammaxx 400 WH is the one which is a single tower having a completely white aluminium heatsink and uses a white LED Deepcool 120mm fan which has a white exterior. The white LED is very bright inside the fan and will illuminate your whole rig from the middle
The heatsink has 4 copper heat pipes that are directly in contact with the surface of the base and will be in direct contact with the processor for eliminating heat effectively. This cooler is compatible with almost all of the known platforms of Intel and AMD and should be enough for any budget to mid-end processors like i5 9400F or Ryzen 5 3400G.
---
Enermax ETS-T50 Axe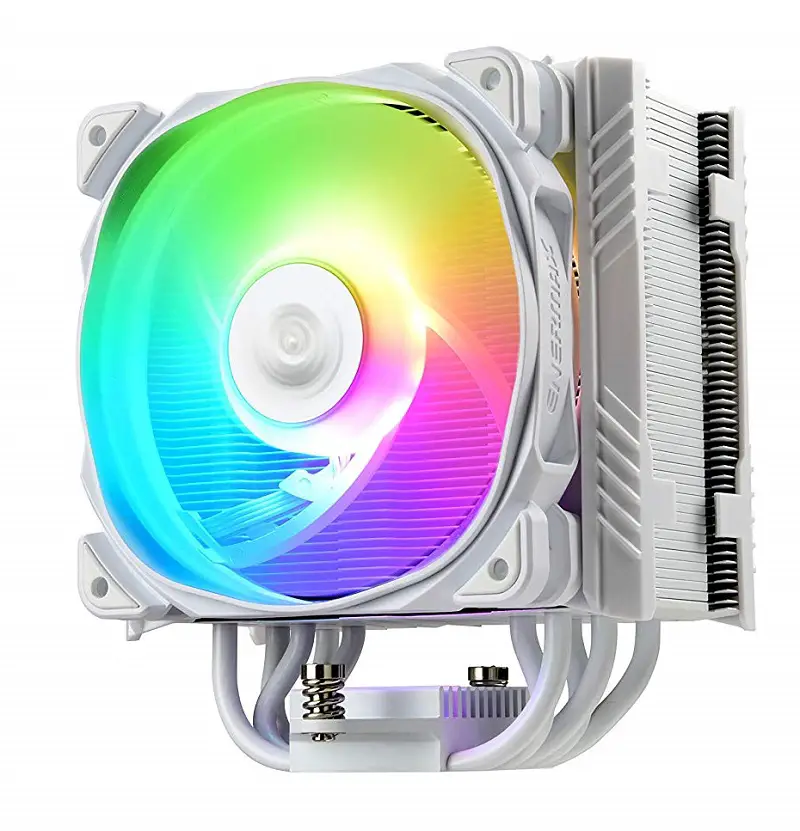 Enermax ETS-T50 AXE is the next in the list which is again one of the best budget white CPU cooler that sports good features not found in the DeepCool Gammaxx 400 WH. This cooler has a decent aluminium white heatsink that has 5 copper heat pipes painted in white colour that pass through the base. The fan it uses is very attractive having a white exterior and RGB lighting inbuilt.
These RGB lights can be lit using a 5V ARGB header on the motherboard or a PWM power cable and eliminate the need for any software or controller. If you love to see colourful lights along with your components being white, then it will be a decent choice for $65.
---
DEEPCOOL NEPTWIN WH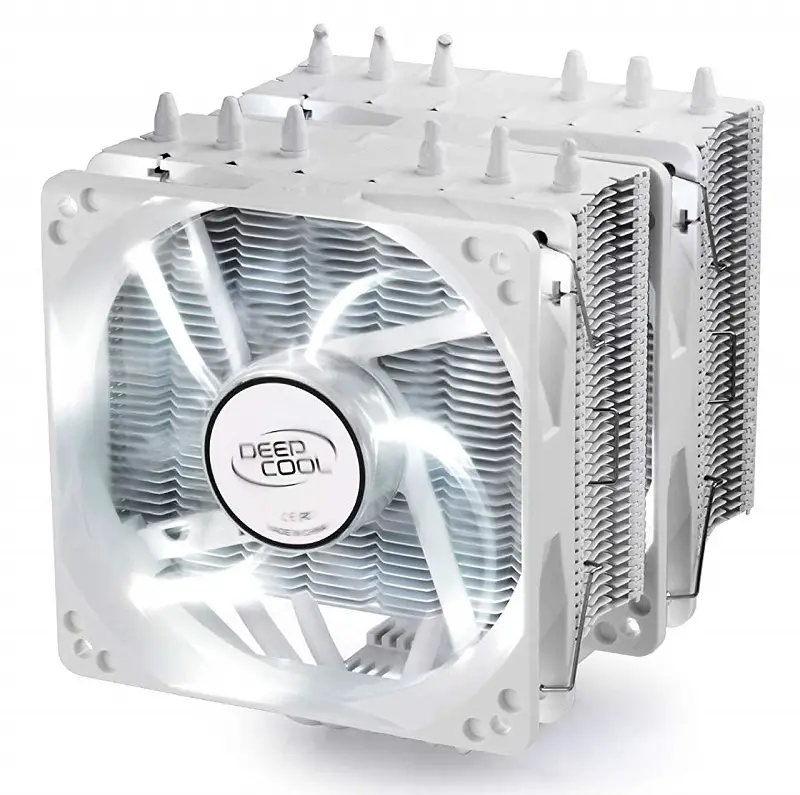 If you think DeepCool only has a single tower cooler for budget CPUs, then you are wrong! The DeepCool Neptwin WH is a dual tower CPU cooler that features two decent sized aluminium heatsinks along with 2x 120mm White LED DeepCool fans. This cooler is for those who want to overclock their processors up to a good extent without facing overheating issues.
For processors like i5 9600K, Ryzen 5 3600, this is very ideal. It will also be Ok with something like Ryzen 7 3700X or i7 9700K but I recommend AIO coolers for them. This CPU cooler is very much similar to the DeepCool Gammaxx 400 WH except that it is heavier and features 6 copper heat pipes that are not exposed at the base. This will make better contact with the CPU although the direct contact with copper heat pipes is more effective in cooling.
---
PHANTEKS PH-TC14PE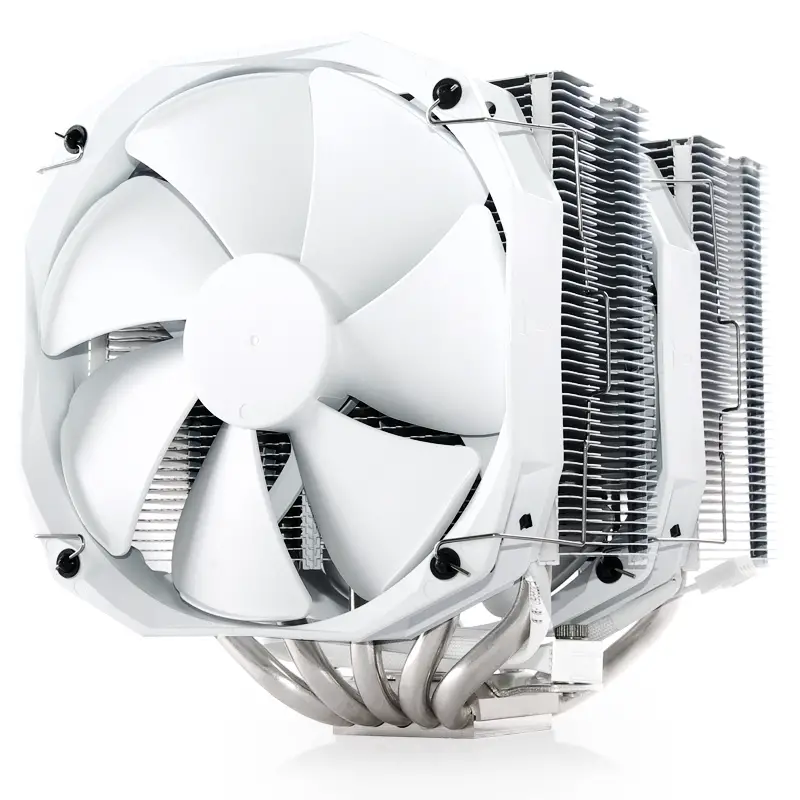 Phanteks PH-TC14PE is the cooler that doesn't feature any lighting, be it a single colour or RGB. Phanteks created it solely for the best performance and not only for aesthetics. For aesthetics, it already features white fans that are created for the maximum amount of airflow. The heatsinks although isn't painted in white, they do not look completely off the theme. These heatsinks are bigger and denser than the previously mentioned cooler.
It is created to provide more airflow and silent operation with those silent 2x 140mm Phanteks fans that use UFB bearing and have a max airflow of 78.1 CFM. It has 5 thick copper heat pipes that are nickel-plated and go through the big flat base to take out the heat from the processor. It is a premium choice for overclockers who want to build a white themed gaming PC with something like i7 or a Ryzen 7 processor.
---
DEEPCOOL Castle 360EX WH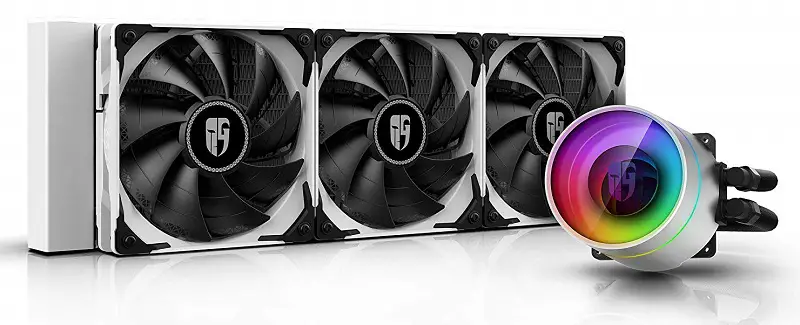 Now I start to recommend high-end CPU coolers that are aimed at providing strong overclocking and maintaining temperature for a long operation. The DeepCool Castle 360 EX WH features a 360mm long radiator having its frame coloured in white and uses 3x 120mm DeepCool fans that use black/white colours on the blades and frame respectively.
These fans are static pressure fans that are more effective in cooling the aluminium fins than airflow fans. The radiator is connected to the block which has RGB lighting which is controllable through the software and uses Addressable RGB lights which uses 5V ARGB header on the motherboard. Inside the block is the DeepCool logo which can be interchanged with the included logo chip.
The exterior of this block is totally white while the tube which connects it to the radiator is black in colour. It is a good combination of black and white rather than fully white which is also a good choice for white builds but if you want totally white, then consider the next option.
For high-end CPUs starting from i7 9700K, this one is recommended for strong overclocking but you can also use it on something like i5 9600K or Ryzen 3600X.
---
Enermax LIQTECH II 360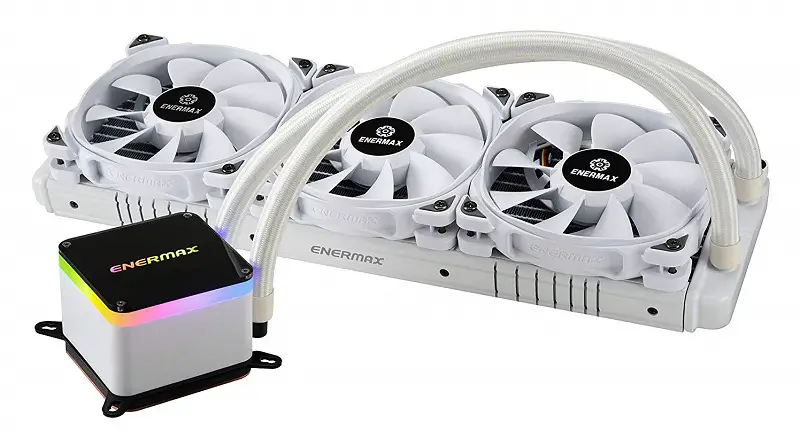 This one is again from Enermax and is a 360mm radiator AIO cooler with white colours painted on it fully from top to bottom. The radiator uses a white frame and full white 3x 120mm Enermax fans that have a max speed up to 2300RPM and a minimum of 500RPM. So, these fans spin faster than the DeepCool TF120 S fans and have much more airflow and at the same time more silent with the max noise level as 28dBA which is 4dBA less than the TF120 S fans.
It has a very simple square block which has an Enermax logo on it that uses RGB lighting in it and also around the corners. It is compatible with multiple branded components like Asrock, Asus, MSI, Gigabyte which means you can sync the RGB lighting in it along with the RGB lights of components belonging to these manufacturers. It is compatible with almost every known mainstream motherboard socket including the latest Intel and AMD motherboard sockets.
---
Corsair Hydro Series H100i RGB Platinum SE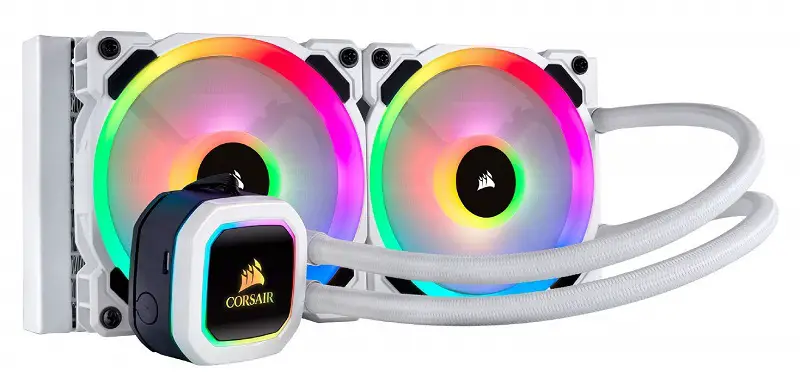 The best white AIO cooler I can recommend is the Corsair Hydro H100i RGB Platinum SE which is although a 240mm radiator but features some of the best specs in the industry. It has improved performance and aesthetics over the past Hydro series coolers from Corsair. Now the cooler has RGB lighting in the block as well as in the fans. These fans are Corsair LL120 which are the best RGB fans from Corsair and use LEDs at the centre as well as at the frame.
These RGB lights can be controlled using Corsair Cue Software and as these use 48 individually addressable RGB LEDs, you can have several different types of effects like Spiral Rainbow, ARC, Static, Colour shift and more to make your system look attractive and colourful.
---
Conclusion
The above-mentioned CPU coolers are the best choices for white PC builds. With coolers ranging from a simple single tower to triple fan radiators, and from simple static white LEDs to ARGB lights, I don't think I have left anything that can be a better choice for different circumstances. From this list, it's clear that you don't necessarily need a lot of money to build a white gaming PC. If you have a budget even less than $50, you will still be able to get a good white CPU cooler.