Once again, Intel has increased the core/thread count of the Core i7 13700K and this poses a problem of overheating. Unlike previous generations, the Raptor Lake CPUs run very hot and the 13700K is no exception.
To maximize the potential of any CPU, you need to maintain its thermals and this can be only done through an effective CPU cooler. If your CPU goes into a dangerous temperature zone, the core clocks will start to decline automatically to protect the CPU from thermal throttling and physical damage.
In this post, we are going to look at how hot can the i7 13700K run and what are the best CPU coolers you can buy to control its temperature.
Core i7 13700K Overview
The Core i7 13700K belongs to the Raptor Lake family and is manufactured on the enhanced Intel 7(10nm) process node. The processor features a hybrid architecture that brings Cove Raptor Performance cores and Gracemont Efficient cores on the die.
There are 8 Performance and 8 Efficient Cores on the 13700K where the Performance cores feature hyperthreading but the Efficient cores do not. So, that makes a total of 24 threads where each type of core features different base/boost clock speeds.
The Efficient cores are clocked at a Base/Boost clock of 2.5/4.2GHz whereas the Performance cores are clocked at 3.4/5.3GHz. The L2 cache memory on the 13700K is doubled compared to the 12700K and now the L2/L3 cache present on the 13700K is 24/30MB.
Core i7 13700K Runs Hot
Intel Raptor Lake series is power-hungry and runs very hot. It's like the Ryzen 7000 series and the Raptor Lake series are on the same page. The Core i7 13700K particularly runs even hotter than the i5 13600K as it features more cores.
The CPU easily reaches 90C and above when all the cores are pushed to 100% usage. Staying at that temperature for a long time may result in overheating and throttle if it crosses 95C as the max temperature limit of the 13700K is 100C.
The processor, however, runs fine in tasks like gaming where the CPU usage doesn't hit 80-100%. So, if you are buying the CPU just for gaming purposes, you can go with our recommended air CPU coolers but it is still better to invest in a better AIO cooler for having good thermals as the price difference between a great air cooler and AIO cooler is not that much.
Investing For The Cooler Realistically
Most people won't be spending over $200 on the CPU cooler itself. The Core i7 13700K is priced at $420 and it makes sense to assume that most users will opt for a cooling solution that is close to $100.
A lot of users will fall between a price range of $100-$150 which is, fortunately, filled with a lot of great cooling solutions that it makes it really difficult sometimes to choose the better one as many CPU coolers are close to each other in performance.
So, I tried to filter down only to the best options, and most of the coolers listed here will also be found on cooler recommendations for other processors on our site.
Best CPU Coolers For Core i7 13700K
Thermalright Peerless Assassin 120 SE
Buy at Amazon
Buy at Newegg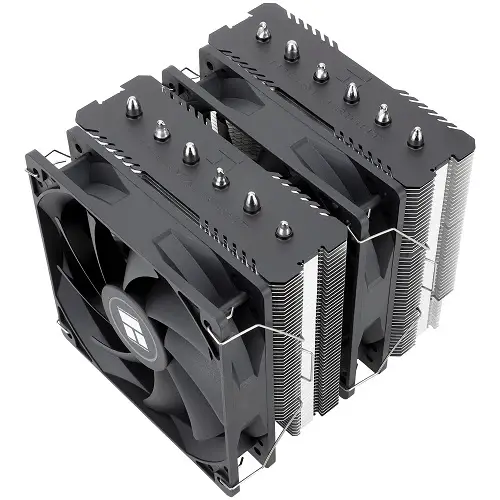 Surprisingly, Peerless Assassin 120 SE is the best budget CPU cooler and unfortunately, it didn't get enough recognition as Thermalright isn't as popular as some other cooler manufacturing brands.
For just $36, the Peerless Assassin comes with dual towers of aluminum heatsinks that is rare to find and these towers feature good quality fins for good airflow. To further increase the cooling capacity, the cooler uses 6x 6mm copper heat pipes and dual 120mm fans that create a push-pull configuration.
As tested by Tomshardware, the cooler is "Shockingly cool and quiet". It competes with some of the best AIO cooling solutions under $100 and if you just want to get the job done, look no further.
Noctua NH-D15 Chromax.Black
Buy at Amazon
Buy at Newegg
NH-D15 is a multiple award-winning CPU air cooler that has been the undisputed king of all CPU air coolers since 2014. NH-D15 features a beefy and heavy heatsink that weighs more than 1KG and is most effective in cooling high-end CPUs.
It features dual towers of the aluminum heatsink and two pre-installed 140mm NF-A15 fans that are excellent in airflow and quiet operation. Noctua fans are always at the top in bringing the best cooling without creating much noise and the Chromax.Black edition gives you a much better look to your cooler compared to the mustard fans we had in the past.
There are 6 copper heat pipes coated in black paint that go straight through the base and extend to the top of the aluminum heatsink towers. The cooler can also support one more fan on the other side if you want even better cooling but that can make some clearance issues in your case.
Arctic Liquid Freezer II 280 A-RGB
Buy at Amazon
Buy at Newegg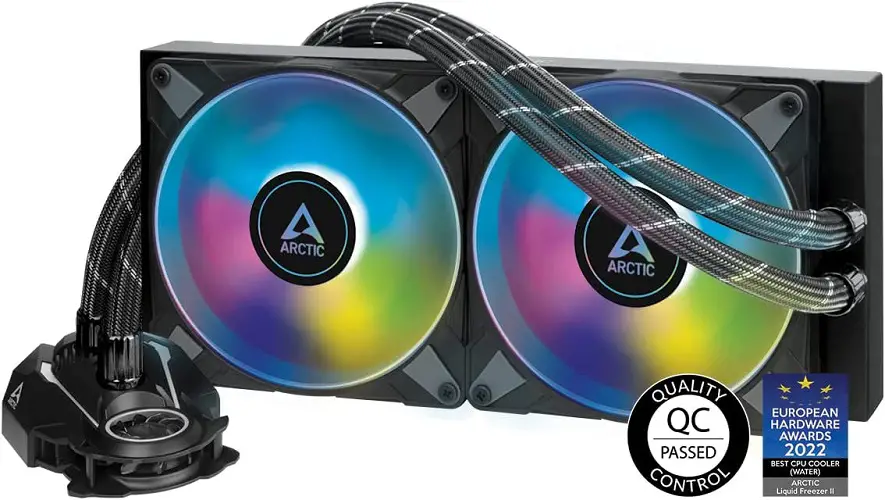 Liquid Freezer II is an excellent AIO cooler whether you are looking at the 240mm, 280mm, or 360mm editions. Third-party reviews have shown that the 280mm edition outperforms every other 280mm AIO cooler on the market and it is the AIO champion.
The cooler features a 280mm radiator with two 140mm PWM Arctic P14 A-RGB fans that are fantastic in cooling with a speed range of 200-1900RPM. So, you can configure the fans to work at very slow speeds when the CPU temperature is low or you can increase the fan speed to the max when overclocking.
It features its own proprietary pump design that helps it achieve quieter operation while maintaining better efficiency. For aesthetics, there is no doubt that it looks as good as some of the best ARGB AIOs out there and can be controlled via popular RGB software.
EK Nucleus CR360 Lux D-RGB
Buy at Amazon
Buy at Newegg

Important note- If you are buying it from Amazon, you will need to buy an LGA 1700 upgrade kit. 
In the 360mm AIOs, the EK Nucleus CR360 lux comes out to be the king of all the AIO coolers considering almost all the 240mm, 280mm, or 360mm coolers. It is the redesigned edition of the original 360 Basic AIO which is probably still among the top 3 best AIO coolers as reviewed by Gamers Nexus.
The cooler features a big 360mm radiator cooled by triple 120mm EK Vardar fans that are popular for high airflow and quiet operation. The fans have an operating speed between 550 and 2300RPM and create max noise of up to 36dBA at full speed.
It is sufficient for almost any CPU you throw at it and is available at a price of around $200 which is definitely not cheap but considering that it's a whole package, you won't regret your decision.
MasterLiquid ML360R ARGB
Buy at Amazon
Buy at Newegg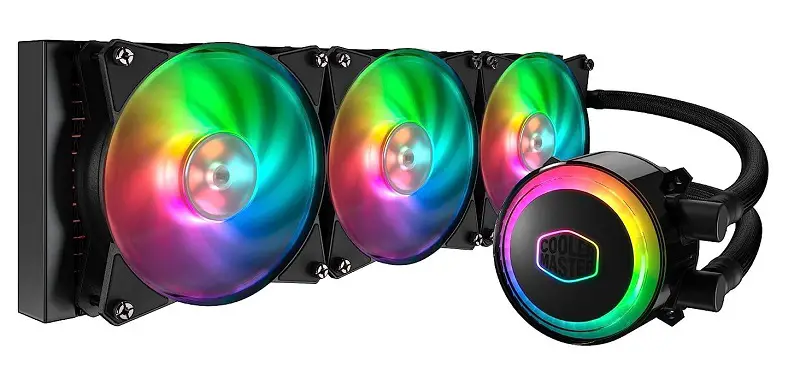 Finally, one of the best competitors to the top 360 AIOs is this cooler from Cooler Master. While it doesn't provide as good value as the EK cooler, it is a premium cooling solution with unmatched aesthetics. It features an ARGB CPU block as well as ARGB MasterFan fans for lighting up your rig from the inside.
The fans run at a speed of 650-2000 RPM with a max noise of up to 30dBA and a decent airflow of up to 66.7 CFM. It beats many great 360mm AIO coolers like Kraken X72 and the Corsair H150i Pro but costs around $160 which is something not everyone can afford or want to afford.
Alternatively, you can also go with the iCUE H150i Elite Capellix which I recommend for Raptor Lake CPUs but costs $20 more.
Which Cooler Will Be Ideal?
Even though the list contains 5 coolers, only one cooler can take the crown. Just as I recommend the EK Nucleus CR360 Lux for most high-end processors, I recommend this cooler for the 13700K too.
I find no reason to not recommend this cooler for these power-hungry processors as it is both cheap and provides enthusiast-grade cooling. However, if your only requirement is to play games, then you may go with the Peerless Assassin 120 SE or even any 240mm AIO from the popular cooler manufacturing brands.
For 100% workload and professional applications, you should definitely consider a 360mm AIO because anything less than that won't guarantee good thermals.
Final Words
To maintain stability in overclocking and to allow the CPU to operate on the highest clock speeds consistently, you will need a premium cooler. The i7 13700K is known to consume a lot of power as it is already rated at 251W of TDP at full load. This is the primary reason you shouldn't ignore the cooling factor.