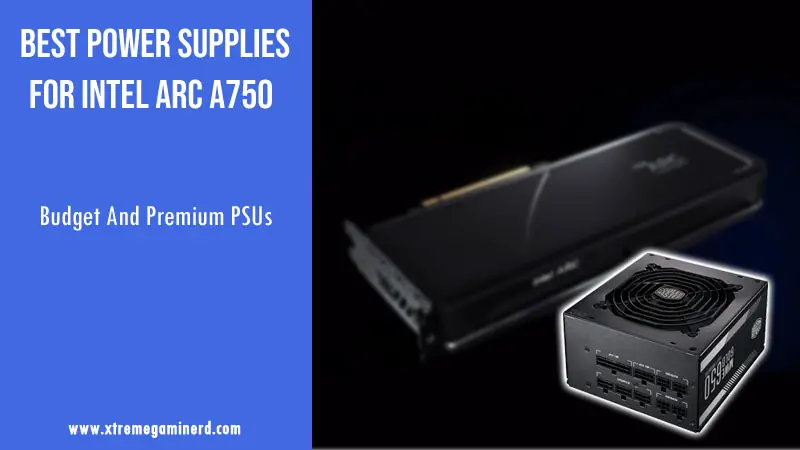 Intel's ARC A750 power requirement is not that big but you should never go with any generic cheap power supply. This may result in physical damage to your graphics card as well as other components.
Also, not every power supply is capable of providing reliable voltage regulation and good power efficiency which is very much needed for PCs' operation, particularly the graphics card. As Intel ARC A750 is a mid-end GPU, you should consider getting a reliable power supply more seriously than you would do with the ARC A380.
Intel ARC A750 Overview
A750 features 24 Xe Cores and 384 Execution units. It comes with a VRAM of 8GB GDDR6 on a 256-bit memory bus and is going to cost between $300-$350 which is the original price range of the RTX 3060. Therefore, naturally, the ARC A750 is a competitor to the RTX 3060 as well as the RX 6600.
The A750 is rated at 225W TDP and requires at least a 450W of reliable power supply for a no-hassle operation. It will feature a 6+8-pin power connector combination and we might some a different combination from the AIBs depending on what core clocks they will feature by default.
---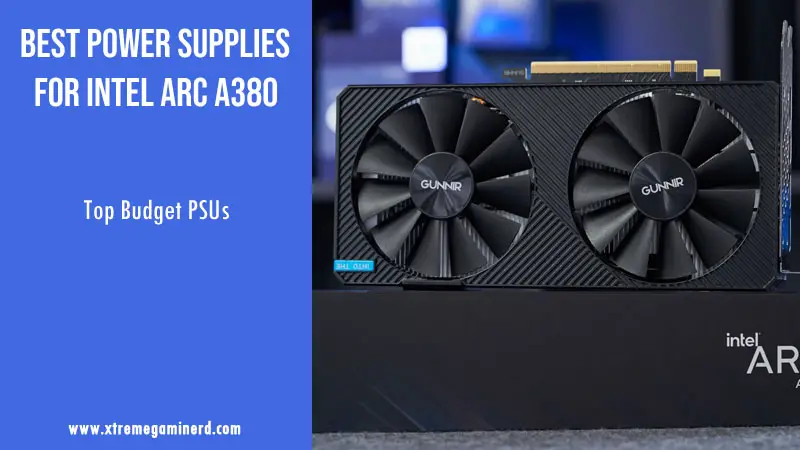 Intel's first discrete GPU lineup is almost ready for the gamers and it will be the third giant in the GPU market competing with Nvidia and AMD directly. Intel's first and the slowest GPU, the ARC A380 is aimed at gamers looking for a $150 GPU that can play games at 1080p resolution with medium […]
0 comments
---
What To Look In A Power Supply?
Before moving on to the list, it's important to clear a few things that are important when buying a power supply. Most users would simply take a look at a few things like wattage capacity and efficiency rating but neglect other performance numbers which matter a lot.
This means that not only do you need to have a PSU that provides you with an 80 Plus power efficiency rating and sufficient wattage capacity, but you also need to have sufficient PCI-E connectors, good voltage regulation, lower ripple noise, and less heat generation. On top of that, my preference goes for the one that has all the current and voltage protection features to avoid any damage to your PC components.
In this post, we will take a look at some of the best power supplies you can buy for the Intel ARC A750 that offer great performance without breaking your bank.
Related- Best CPUs for Intel ARC A750
Best Power Supplies For ARC A750
---
For under $50, the NZXT C550 is an ideal PSU for any budget GPU or mid-end GPU that requires 150-250W of wattage. NZXT is fairly new in the PSU industry but the C series has already gained respect. The C550 here is a Semi-modular power supply that provides you with pre-connected ATX and EPS cables and the rest of the cables can be connected as per need.
Unlike most 550W power supplies, it comes with 4x 6+2-PCI-E connectors for the GPU but you will get 2x 6+2 PCI-E cables in the package that are sufficient to power the A750 as well as GPUs that require more power connectors. It features an 80 Plus Bronze rating for up to 87% of efficiency on typical loads and ideal voltage regulation that has satisfactory deviation.
EVGA has several PSU series and one of the best is the SuperNova. The 550 GA is a premium power supply that offers 100% Japanese capacitors for better reliability and features an 80 Plus Gold rating for efficiency. While on Typical loads, the power efficiency reaches above 90%, it still doesn't go below 85% on different loads.
As it is fully modular, you will have less difficulty in cable management and you will need to connect only a few cables that you need. The PSU comes with all types of Protection features such as OCP, OVP, UVP, OPP, SCP, and OTP that will protect your PC from faulty currents/voltages.
The operation is also among the top of the charts with great hold-up time, tight voltage regulation, and less noise. EVGA is providing a good 10 years of warranty on the PSU which makes it worth the purchase.
---
---
GX1 RGB 600W is a full package of great performance and unmatched aesthetics. The Toughpower GX1 series provides exceptional PSUs that are way better than the competitors when it comes to the value for the price. Getting a 600W PSU will also be a little safer as you won't need to change it after upgrading your PC except if you are thinking of using an RTX 3090 TI.
The GX1 RGB 600W provides 80 Plus Gold power efficiency and as tested by many independent reviewers including eTeknix, it is consistently 90%+ efficient across all loads. The ripple noise is also incredibly low and the voltage regulation is also very tight.
The PSU stands out in aesthetics due to its RGB fan which has 16 lighting modes to choose from. You can cycle between those modes or switch it off completely from the button provided at the back. The only CON I see is the non-modular design that comes with thick cables.
Cooler Master's MWE is one of my personal favorites as I have them in my builds. The MWE with a Gold rating is definitely a premium and top-notch choice for any budget or high-end build. With 650W of wattage capacity, you won't be having any problem with upgrading your GPU or adding some more stuff.
It is fully modular and comes with flat cables for easy cable management which also makes it easier to close the back panel of the case. As tested by a lot of reviewers and obvious from the customers, MWE 650W is a very reliable PSU for the years to come.
There is hardly any PSU guide of ours where we left the list without including the most popular PSU series. The RMX from Corsair holds the most excellent PSU units of all time. They are definitely the top 3 when it comes to performance. The RM650X offers excellent voltage regulation where the deviation hardly reaches to 1%.
The hold-up time is significantly higher than what is needed and the operation is super quiet. It is fully modular and provides an 80 Plus Gold rating that reaches up to 92% of power efficiency on typical loads. The only drawback is the high pricing. Though it is on top of the charts, it is roughly 50% pricier than most of its competitors.
Wrapping Up
While the ARC A750 will run fine on a 450W PSU, it's wiser to have some room for little or significant upgrades. A 550W to 650W reliable PSU will be perfect for your build. Let me know which power supply you are going to use with the A750 in the comments below.