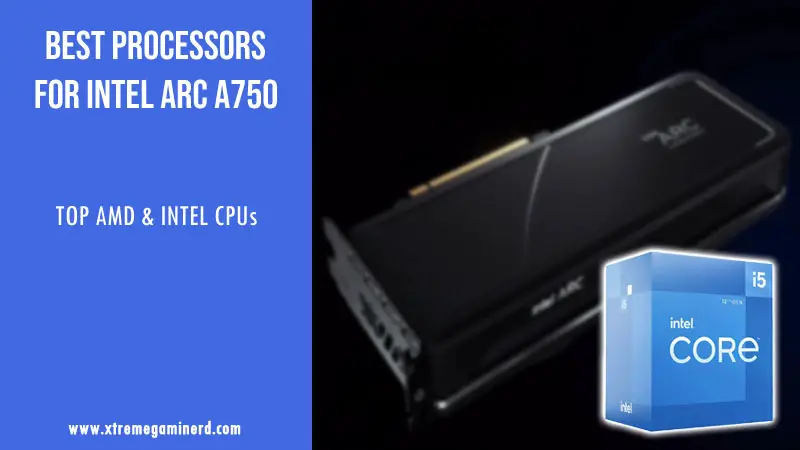 The ARC A750 is in talks as it is going to compete with the Geforce RTX 3060. The A750 falls in the ARC 7 family that has a couple of Tier 2 GPUs and is aimed toward an enthusiast gaming experience at 1080p resolution.
As per Intel, the A750 beats the RTX 3060 in games like Borderlands 3, CyberPunk 2077, Control, etc. with a small margin. That means you can't just throw it with any budget CPU thinking you can get the maximum performance out of the card.
Intel ARC A750 Overview
A750 features 24 Xe Cores and 384 Execution units. It comes with a VRAM of 8GB GDDR6 on a 256-bit memory bus and is going to cost between $300-$350 which is the original price range of the RTX 3060. Therefore, naturally, the ARC A750 is a competitor to the RTX 3060 as well as the RX 6600.
The A750 is rated at 225W TDP and requires at least a 450W of reliable power supply for a no-hassle operation. It will feature a 6+8-pin power connector combination and we might some a different combination from the AIBs depending on what core clocks they will feature by default.
---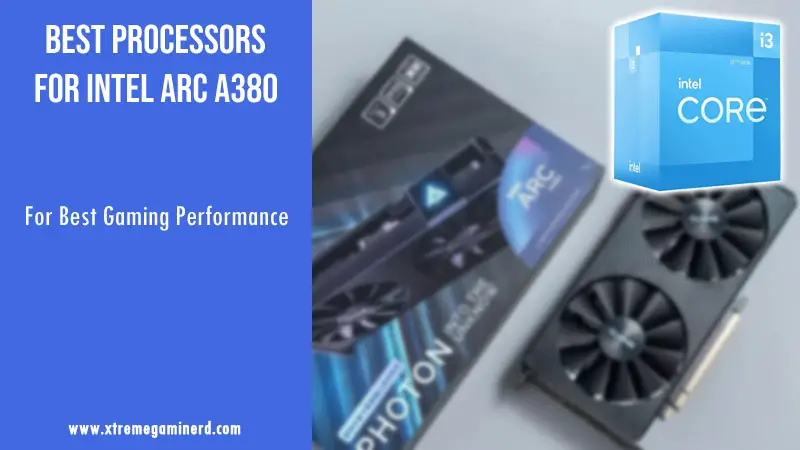 Intel's ARC A380 has officially hit the market in China and will soon enter the market in other parts of the world. This is the first entry-level Intel GPU in the Alchemist family that is aimed for entry-level gaming performance at 1080p resolution. The ARC A380 is a different kind of GPU if we compare […]
0 comments
---
What CPU will be the best for A750?
That said, you also need at least 4 cores on your CPU fast enough to handle its power to allow it to max out games at 1080p resolution. These CPUs shouldn't be very old or you will miss a lot of performance due to compatibility and slower single/multi-core performance of the CPUs.
To gain the maximum performance from A750 without spending several hundreds of dollars, we are going to pick up only those CPUs that provide the best value and yield performance as high as some of the high-end CPUs. This means we are going to look at a budget of around $100-$250 at max to search for the CPU that will be sufficient to keep A750s usage at 100%.
Best CPUs for Intel ARC A750
---
The minimum I recommend for A750 is the Core i3 12100F. This is a powerful 4-core/8-thread CPU that beats even the Core i5s of previous generations. It is made on the Intel 7 or 10nm process node and is compatible with the LGA 1700 socket.
The core clock speeds are decent with a 3.3GHz of base clock that can reach up to 4.3GHz with the Turbo boost technology. As tested by many reviewers, the CPU doesn't bottleneck most budget and mid-end GPUs which makes it an ideal budget choice for those who are looking to build a gaming PC with the A750 without spending over $700-$800.
However, it should be kept in mind that the upgrade path to higher-end GPUs won't be as good as other processors on the list as 4 cores start to struggle when combined with a higher-end GPU like the RTX 3070 Ti or 3080.
The Ryzen 5500 become a member of the Ryzen 5000 family in the second batch. It is certainly not faster than the i3 12100F when it comes to only gaming but there are a lot of reasons why it could be better for your PC. When compared to the i3, it is roughly 3-5% slower on average but some games see even less difference in performance.
Therefore, it is not as bad as you might think but its specs make it a good choice for any budget or mid-end gaming build. It comes with 2 more cores and 4 more threads compared to the i3 and is overclockable. While the base/boost clock speeds are set to 3.6/4.2GHz, you can certainly increase them to more than 4.2GHz with simple overclocking.
It also has more cache memory and comes with a better stock heatsink which is the AMD Wraith Stealth. It is, therefore, an ideal choice for the ARC A750 and you won't go wrong with it anytime.
The Core i5 12400F is currently the best budget gaming CPU for around $170-$180. It is significantly faster than the i3 12100F as well as the Ryzen 5500 especially when combined with a high-end GPU. With the ARC A750, you can expect easily more than a 5% performance increase with this CPU and on top of that, you are going to get faster and more cores than the i3 12100F.
It features 6 performance cores and a total of 12 threads clocked at 2.5 to 4.4GHz. Yes, it is non-overclockable but it doesn't hold it behind destroying most 6-core processors under $200. The cache is also decent at 18MB and one of the best advantages you will get is native support for both DDR4 and DDR5 memories.
---
---
AMD Ryzen 5600X stayed as the Gaming King for a while when it got released back in 2020. It is still one of the best CPUs for gaming and is currently cheaper than ever before. It is a few percent faster than the i5 12400F except when the latter starts to use DDR5 RAM, the performance difference disappears.
The 5600X features 6 cores and 12 threads clocked at 3.7/4.6GHz. As it is overclockable, it is easier to get past 4.6GHz and even 5.0GHz with a decent CPU cooler. The L3 cache is 32MB which is large enough and due to the new die design of Zen 3 CPUs, all the L3 cache can be accessed by the CPU immediately without any lag.
Related- Best CPU coolers for Ryzen 5600X
Last but not the least, the Core i5 12600K is currently the fastest gaming and productivity CPU under $300. Yes, it is overkill even for an Intel ARC A750 but will do well if you upgrade to a higher-end GPU. The i5 12600K easily takes the crown from the Ryzen 5600X despite being $70 more expensive as of now.
It features 10 cores and 16 threads where 6 are the performance and 4 are the efficient cores. This way, the CPU distributes the tasks to both the category and achieves faster processing. The clock speeds are 3.6 to 4.9GHz and can be overclocked to more than 5.0GHz so easily with the help of one of our recommended CPU coolers.
As it is an Alder Lake CPU, it is compatible with the LGA 1700 socket and it's best to use it on a Z690 motherboard for allowing overclocking.
---
---
Final Words
Intel ARC A750 is fairly a new GPU and won't have great availability like Nvidia or AMD GPUs. If in case you get your hands on one, then bookmark this list for future references as I regularly update the buying guides.
Let me know which processor you are going with in the comments below.