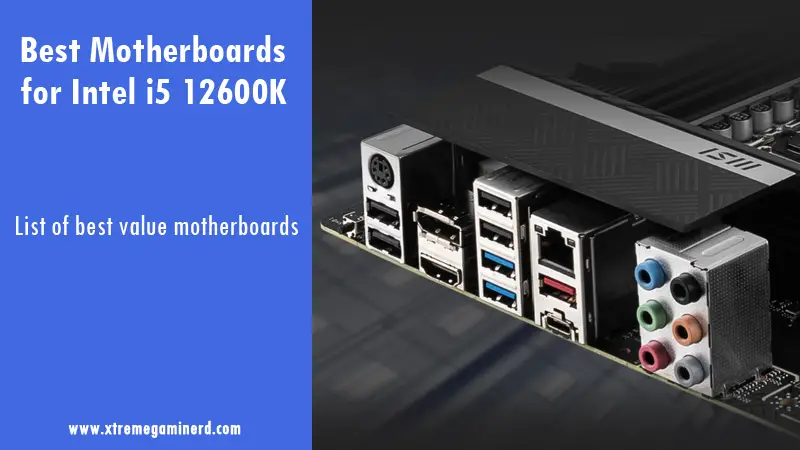 Getting the best motherboard for your processor is crucial for performance and having the ideal motherboard for i5 12600K is definitely necessary as it is far better than any i5s you could have.
While the Intel Core i5 11600K did not become much successful as the previous i5 processors, the Alder Lake Core i5 12600K did a great job in fulfilling demands in both gaming and productivity. However, this time Intel managed to upgrade the specs of i5 12600K more significantly than it ever did.
Up until now, the i5s used to come with a maximum of 6 cores but the i5 12600K comes with a whopping 10 cores and 16 threads making it a beast in both gaming and productivity beating even the mighty Ryzen 5 5600X in both the tasks.
That said, Intel Core i5 12600K is an overclockable processor and with so many cores now you need a much better motherboard for it than you would use for a Hexa-core processor. For Intel Alder Lake processors, you have to use the LGA 1700 socket motherboards and with that socket, you need to use the Z690 chipset for best results as it supports PCI-E 5 gen lanes from the CPU.
However, the list will be updated once the B660 motherboards are out. Among all the available Z690 motherboards from Asus, MSI, Gigabyte, ASRock etc., I recommend getting any of the following best motherboards for i5 12600K according to your budget and needs.
MSI PRO Z690-A Wifi DDR4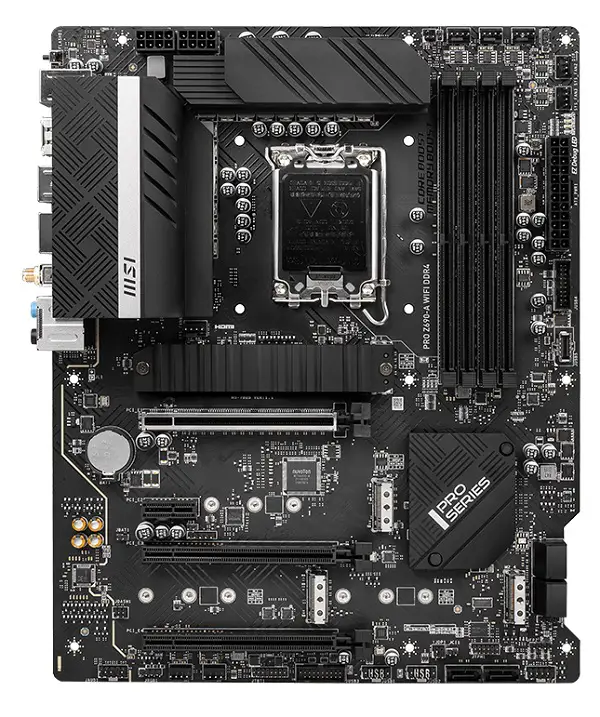 The Pro series from MSI is less expensive and is sufficient for most purposes. The MSI Pro Z690-A although seems to be a kinda entry-level motherboard if we consider the history of MSI Pro series motherboards, but it is really really good in terms of its features and specs.
It comes with a 14 power stage for handling the CPU which is pretty much what you need to overclock the i5 12600K and has dense heatsinks cooling those power phases underneath. Unlike most motherboards, it also comes with a lot of storage drive support. Here you will find 6x SATA ports and 4x M.2 slots that are hard to find on most budget motherboards.
The good thing is that three of the M.2 slots are controlled by the chipset and the primary one is controlled by the CPU which will get full bandwidth. Similarly, there are 3x PCI-E x16 slots that also support AMD CrossfireX and except for the primary slot, the other two slots are getting its lanes from the Z690 chipset. It is to be noted that the primary PCI-E x16 slot is gen 5 and will be on every Z690 motherboard which has significantly higher bandwidth than the gen 3 and gen 5 slots.
Looking at it closely, you can also see that it comes with the EZ Debug LEDs which are common on almost every MSI motherboard whether cheap or expensive making troubleshooting easy in case your system boots. Also, there is a bios flashback button at the I/O and a good amount of USB ports for peripherals. You will also find a 2.5G LAN there and an inbuilt wifi adapter that you can use for wirelessly connecting to the internet. Therefore, It's the best motherboard for i5 12600K overall.
---
Gigabyte Z690 Aorus Elite AX D4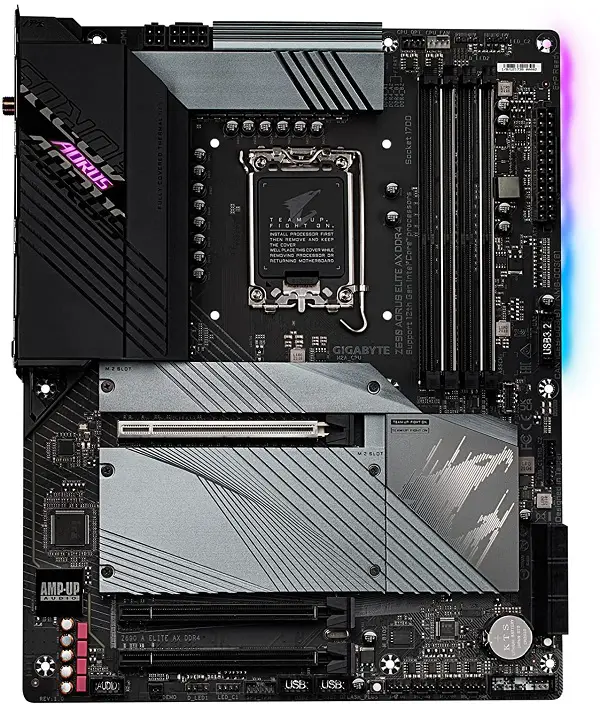 Going above the Pro Z690-A in the MSI Z690 lineup, you will find almost every motherboard identical to each other in features but very high in pricing with most boards costing above $300. So, going through Gigabyte we have some great boards for less than $300 that provide good features as much as the $300+ MSI Z690 motherboards.
The Gigabyte Z690 Aorus Elite AX in my opinion is the best companion on this list for 12600K. It features a solid 16+1+2 power phase VRM with each phase capable of handling up to 70A. Another board which is the Z690 Aorus Pro from the Gigabyte's Z690 lineup is also great as it features an overkill VRM with each phase having support for 90A, however, it will cost around $50 more which you don't need for the 12600K.
This board has Wifi 6 adapter and a 2.5G LAN for the internet which is common on most Z690 motherboards. For storage, there are 6x SATA ports and 4x M.2 connectors and for RAM, it supports DDR4 modules that are currently much cheaper than the DDR5 which is why I have mostly listed DDR4 motherboards on this list.
The only complaint I have with this is that even though it costs $40 more than the MSI Pro Z690-A, it doesn't have any Debug LEDs or postcode. So, if you need that, then go with the Z690 Aorus Pro that has a superior VRM and a postcode as well.
---
Asus Prime Z690-P Wifi D4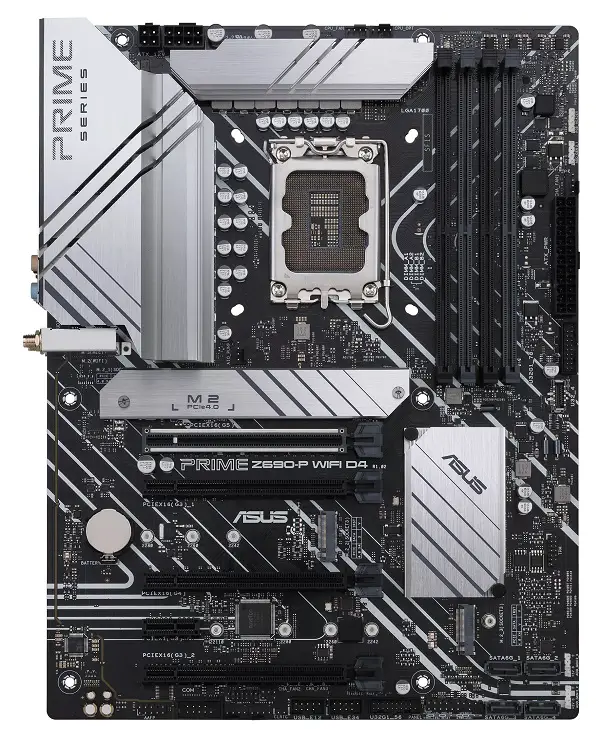 Asus Prime series is the most affordable and yet ideal series in the "Z" chipsets lineup. While they can't be recommended when it comes to older Intel processors that require high-end overclocking, the Prime Z690-P Wifi D4 is way ahead of them both in terms of overclocking and functionality. Except for onboard troubleshooting features, it doesn't have anything that you may complain about.
It comes with a powerful VRM with 14 power stages dedicated to the CPU over which sit big heatsinks that are grooved for sufficient airflow. There is also an aluminium heatsink on the primary M.2 slot too but other slots don't have those features. Also, if you want RGB LEDs or something fancy like that, then you should take a look at other boards like the Prime Z690-A but that will cost you around $100 more.
So, except for these aesthetical features, it has multiple PCI-E x16 slots for graphics cards, 4x M.2 connectors, 4x DIMMs and but unfortunately, only 6x USB ports including a Type C at the I/O for peripherals connectivity that although get the job done for many but at least 7-8 USB ports are recommended to have. Also, you will get a Realtek 2.5G LAN and an inbuilt Intel Wifi 6 module to connect to the internet and deliver super-fast speeds.
Now as the price of this one and the MSI Pro Z690-A Wifi DDR4 is the same, comparing both of them concludes the MSI motherboard as the better choice. This is my personal position but I have heard and read multiple opinions of different experts in the field where they declare the Pro Z690-A Wifi as the best motherboard for i5 12600K.
---
ASRock Z690 Pro RS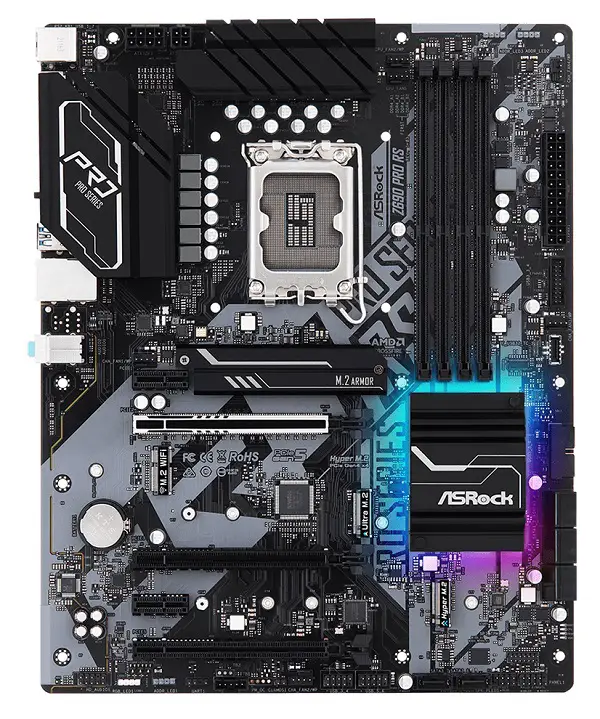 Analysing all the Z690 motherboards from ASRock, I found most of them good for their prices, however, some were really expensive compared to the features on other ASRock Z690 motherboards and that is because of aesthetics. Z690 Phantom, Steel Legend, Extreme and Pro RS are very impressive for their prices, however, they don't have much difference between their VRM performance based on the specs.
On the other hand, if we want significantly higher performance than the PG Velocita is the way to go but for its price, it's better to go with its counterparts from other manufacturers. Here, I chose the Z690 Pro RS for the i5 12600K because it has 13 power phases just like the Steel Legend, Riptide and Extreme. The amazing that I found is that it is just $10 more expensive than the Phantom Gaming 4 which only has 9 power stages.
Also, the Z690 Pro RS comes with RGB LEDs on board which you can customize through ASRock Polychrome software. It has triple PCI-E x16 slots as well as double PCI-E x1 slots for expansion cards for graphics cards and wifi cards which you should definitely install if you want to connect to the internet wirelessly as it doesn't come with an inbuilt wifi adapter.
Similarly, there are some minor cons like one less fan header than the other boards and no onboard troubleshooting feature but it does have a BIOS flashback button at the back that Asus Prime Z690-P lacks.
---
Asus TUF Gaming Z690-Plus Wifi D4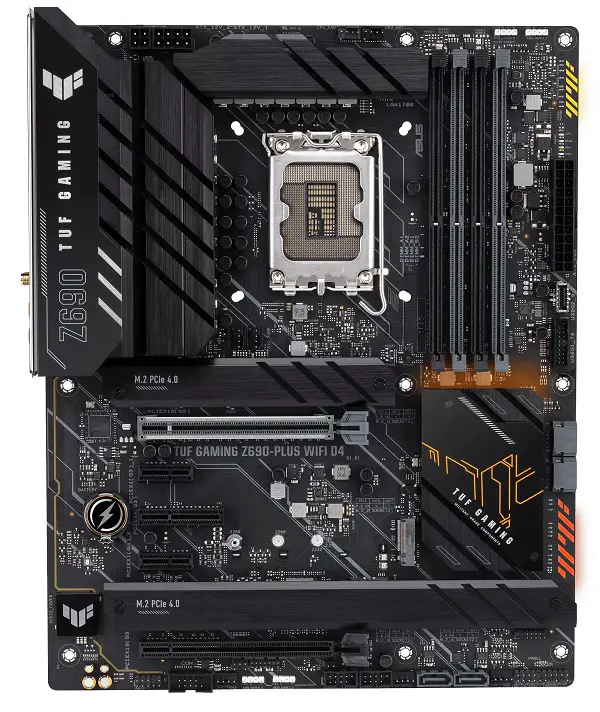 Another great option for those who want uncompromised performance without spending too much is the TUF Gaming Z690-Plus Wifi D4. It supports DDR4 memories which is currently the best thing you should go for and it also has Intel Wifi 6 adapter for super-fast data transfer. While it might not suit those who want a whitish build if you don't care about colours schemes that much, it still has got some decent looks that also include RGB lighting on the chipset.
It comes with a powerful 15 power phase VRM that hosts TUF grade components such as TUF capacitors and chokes which are highly reliable for a long time. The VRM is cooled by the dense heatsinks that have an I/O cover to achieve both cooler performance and looks. Unlike most Z690 motherboards, it has a different scheme of expansion slots where there are 2x PCI-E x16 slots for graphics cards, 2x PCI-E x1 slots for wifi/sound cards and one additional PCI-E x4 slot for older expansion cards.
Another great feature is the presence of Debug LEDs onboard which are absent on a lot of mid-end Z690 motherboards. This is definitely a point to consider when choosing a motherboard if you don't want to spend a lot of time finding the possible fault if your PC malfunctions.
---
Wrapping up
I could have added some high-end motherboards too but the already listed ones are sufficient for almost everything. Most of the listed ones are enough even for the i7 12700K. So, it makes sense not to overspend on higher-end Z690 motherboards.
Moreover, when the new B660 motherboards will launch officially, you will find the best of them added to the list as they will be more budget-friendly and possibly will feature some better aesthetics for their prices.