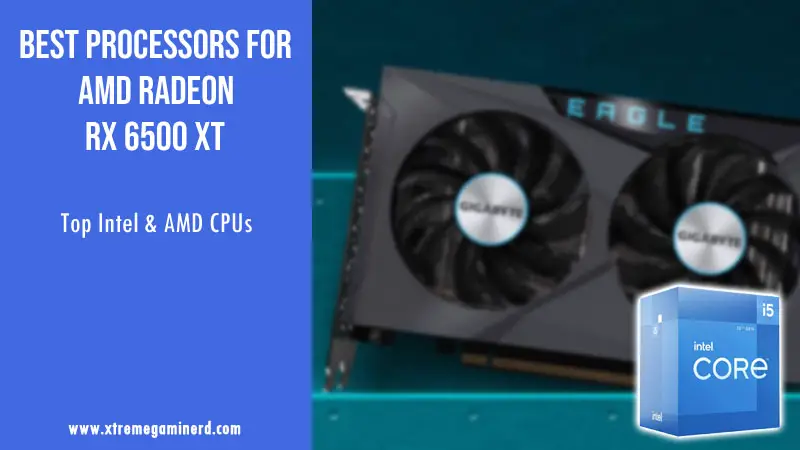 Getting the most out of your GPU should be your first priority if you bought a GPU to have the best gaming experience. The combination of the GPU and CPU matters the most in a gaming build and going with the wrong option will only result in a waste of money and inferior gaming performance that may also come with frequent stutters and significant fps drops.
Today we will take a look at one of the best budget GPUs under $200 which is supposedly also a poor GPU due to its PCI-E limitation. The Radeon RX 6500 XT is a decent choice for 1080p medium to high settings and the best way to maximize its performance is to get a CPU that doesn't produce bottlenecking and is fair in cost.
Let's take a look at RX 6500 XT's specs and figure out how powerful the CPU should be to run the GPU at 100%.
AMD Radeon RX 6500 XT Overview
The Radeon RX 6500 XT has two variants: 4GB and 8GB. The 4GB variant is currently the most common and easily available for around $200. The RX 6500 XT is based on the RDNA 2 architecture and uses TSMC's 6nm process node. It features 1024 Stream Processors with 16 Compute Units and 16 Ray Accelerators for Ray Tracing in supported games.
The memory is GDDR6 on a 64-bit memory interface resulting in a total memory bandwidth of 144GB/s. The GPU is rated at 113W of TDP and features a thickness of dual slot. The card doesn't support AV1/H265/HEVC/4K H264 Encode like most GPUs, leaving it solely for gaming purposes.
---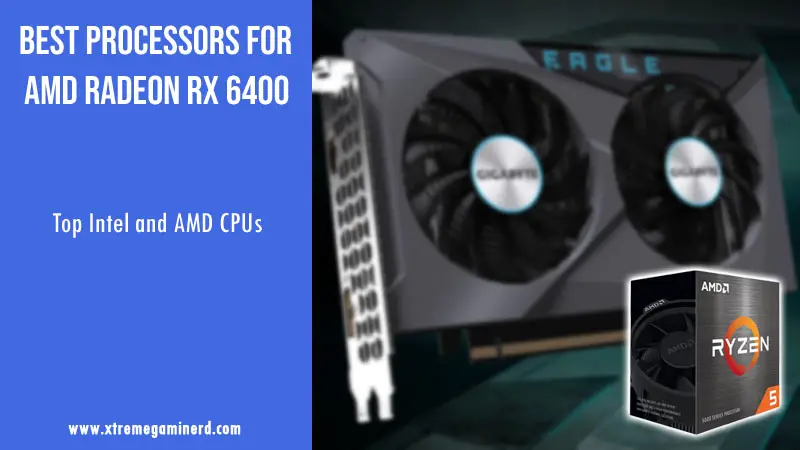 AMD's budget GPU catalog has a few GPUs that offer a decent gaming experience without spending hundreds of dollars. The Radeon RX 6400 is currently the slowest yet the best AMD has to offer for $150. The RX 6400 is one of the top entry-level GPUs as of now that is aimed toward providing a […]
2 comments
---
What CPU will be the best for RX 6500 XT?
As clear from the specs, the RX 6500 XT doesn't feature high-end specs particularly the VRAM specs and support for Encoding. When compared with GPUs from Nvidia, the RX 6500 XT is similar to the GTX 1650 Super in gaming performance. Therefore, a quad-core or a hex-core CPU will be an ideal choice for this GPU.
Currently, out of dozens of CPUs with 4 or 6 cores, we have only a couple that will go well with the RX 6500 XT. Taking the pricing, value, specs, performance, and compatibility into our account, I have listed the top 4 CPUs that range from below $100 to around $175. Going below the slowest CPU or above the fastest CPU in the list is discouraged unless you are looking to upgrade your CPU from an older generation without changing your motherboard.
Best CPUs for AMD Radeon RX 6500 XT
---
For almost every budget GPU, the Core i3 10100F is a feasible choice due to its performance at a cheap cost. The i3 10100F costs much lower than most 4-core processors and features absolutely fantastic performance for less than $100.
It comes with 4 cores and 8 threads clocked at a base frequency of 3.6GHz. This can reach up to 4.3GHz with the help of Turbo Boost technology which boosts the performance noticeably in gaming and non-gaming applications. One of the best things about it is that it doesn't require an overclockable motherboard and saves a good amount of cash in building a good budget gaming build.
Next, we have the Core i3 from the Alder Lake family that absolutely destroys every gaming CPU for less than $130. This is an absolute monster 4-core chip that beats even the previous generation Core i5s including the Core i5 11400F CPU for a much lower price while having 2 cores and 4 threads less.
It also features the exact core/thread count as of i3 10100F but features much faster single-core and multi-core performance due to better technology and more L3 cache. It is designed in such a way that it can consume up to 89W for a good performance boost that results in higher numbers in games and CPU-intensive applications. For the RX 6500 XT, the i3 12100F is currently our recommended choice unless you need extra cores for non-gaming purposes.
Sale
If you would like to stick with AMD CPUs for different reasons, then consider the Ryzen 5 5500 which features 6 cores and 12 threads. It is superior to Core i3s in multi-core performance because of more cores/threads and higher clock speeds.
While the base/boost clock is set to 3.6/4.2GHz, it can be overclocked even further using an overclockable chipset on an AM4 socket motherboard. Its cache memory is also big enough to execute several applications at the same time and all of this is just with a TDP of 65W.
Sale
Intel Core i5 12400F is incredibly powerful for its price and competes with the processors like Ryzen 5600X which is more expensive. It is currently the fastest locked Core i5 processor from the Alder Lake family that can max out the performance of any budget or mid-end GPU with no bottlenecks at all.
It comes with 6 cores and 12 threads sufficient for hardcore gaming and content creation. It is perfect even for streamers looking to have smooth gameplay while streaming without breaking their bank. The core clock starts from 2.5GHz all the way to 4.4GHz with a TDP of up to 117W which is certainly better than the i3 12100F as well as Ryzen 5500.
Core i5 12400F will be a flawless option even after you upgrade your GPU to a more powerful one in the future except if you are thinking about something like an RTX 3090 Ti where I recommend upgrading the CPU to a more powerful one to have a good balance in your configuration.
Final Words
By carefully analyzing every factor, I believe that any of the above-listed CPUs is worth the purchase for the RX 6500 XT. Let me know what CPU you are going to buy for your GPU. If you have any queries or need help in choosing PC components, feel free to use the comments section below.