Fans
Best budget RGB fans for PC builds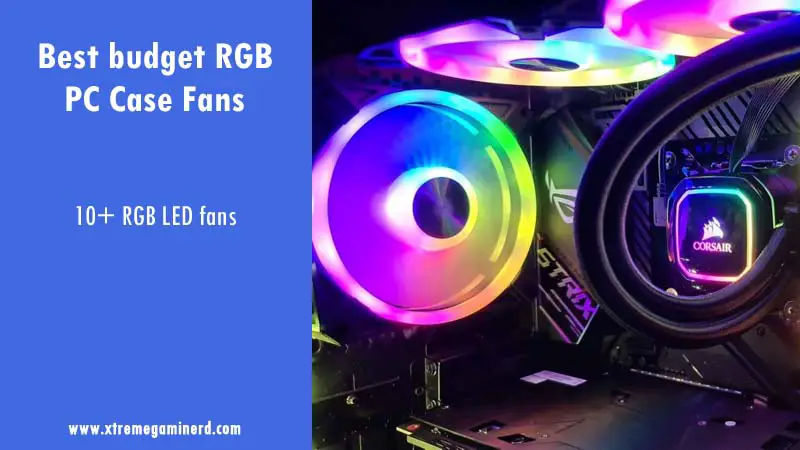 There is hardly any PC hardware or accessory left that you can imagine that didn't get RGB LEDs. RGB fan is surely the most popular PC component that people find easier to buy than RGB graphics cards or motherboards.
RGB fans not only cost much lower than the primary PC components but can provide lighting effects than any RGB component resulting in better aesthetics while maintaining cooler PC temperatures.
If you are familiar with the current RGB fans market, you must have known that premium RGB fans from popular brands cost a lot and as they don't increase PC's performance, many tend to prefer not to buy them.
But don't worry! we still have a lot of options from some of these popular manufacturers as well as local manufacturers who provide similar RGB fans but at a price that is almost half or less than half compared to premium editions.
Here, I have listed around a dozen RGB fans you can get your hands on right now and start illuminating your PC chassis from the inside.
Cooler Master SickleFlow 120 V2 ARGB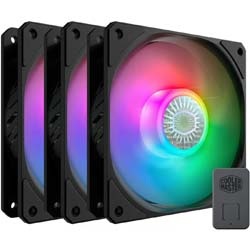 Specifications:-
3x 120mm fan pack
ARGB Lighting
650-1800 rpm speed
27dBA noise level
If you want a reliable solution for a long time and that doesn't cost too much, then Sickleflow 120 V2 ARGB is perfect that comes with an RGB controller for easy control. A single 120mm RGB fan will cost you $18 and this 3-fan pack is priced at a decent $48.49.
These fans are available with two different coloured frames- Black and White. So, depending upon your taste, you have options to choose from and unlike the RGB edition which cost the same, the ARGB fan pack will provide you with much more RGB effects.
ARCTIC P12 PWM PST A-RGB
Specifications:-
3x 120mm fan pack
ARGB Lighting
0-2000 rpm speed
22.5dBA noise level
Arctic's P12 PST ARGB fans are one of the best and cheapest on the market. The company makes great performing airflow and air pressure fans and this one is no different. With up to 2000RPM of speed, it can deliver up to 48.8CFM of airflow and a good 1.85 mmH2O air pressure.
The fans are semi-passive which means you can completely stop them from spinning at a particular temperature inside your chassis. It features ARGB lighting where each fan comes with 12 RGB LEDs and the 3-fan pack comes at a price of $42.99 that is some real deal.
Antec F12 Series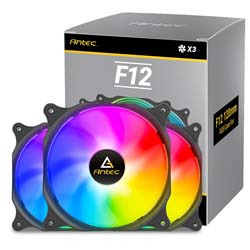 Specifications:-
3x 120mm fan pack
RGB Lighting
1000 rpm speed
21.5dBA noise level
Antec is another popular brand in the computer industry and produces some decent power supplies, cases and fans. The F12 series is one of the cheapest to buy for only $30 for three fan pack. These fans are actually RGB and not ARGB. Antec actually put the wrong type of images to show that they are ARGB but these fans can't show different colours in different sections at the same time.
You can change the colours in different modes using any major manufacturer software like Breathing, Cycle, Flash but they need to be plugged on the 12V header and not the 5V header. It is important to point these things out as customers may buy them thinking that these fans are using addressable RGB LEDs.
Apevia TL42-RGB Twilight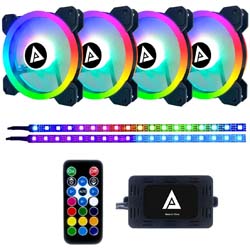 Specifications:-
4x 120mm fan pack
ARGB Lighting
1350 rpm speed
24.7dBA noise level
This is straight away the best deal on PC fans you can find. Apevia is a popular brand that mostly produces PC cases and with the TL42-RGB Twilight series fans, they are providing users with much more than you can think of.
At less than $40, this pack comes with 4 ARGB fans along with two LED strips, a fan hub and remote control. Each of these fans uses a total of 28 Addressable LEDs where 16 are in the outer ring and 12 in the inner. This creates bright and more colourful lighting effects.
GIM KB-23 RGB Case Fans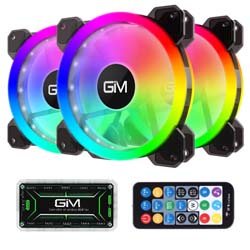 Specifications:-
3x 120mm fan pack
ARGB Lighting
1300 rpm speed
15dBA noise level
Now coming to some unpopular or you can say local manufacturers, here is a 3-fan pack from GIM that is unbelievably cheap and provides triple ARGB fans with a fan hub and controller.
Each of these fans uses LEDs in the outer ring just like the Corsair HD 120 fans and can be controlled via the controller that will allow you to choose effects and colours according to your taste. The fans are equipped with 3 Music modes and are compatible with popular RGB software such as MSI Light Sync, Gigabyte RGB Fusion, Asus Aura Sync etc.
The only disadvantage is small airflow compared to most RGB fans listed here.
GIM KB-24 RGB Case Fans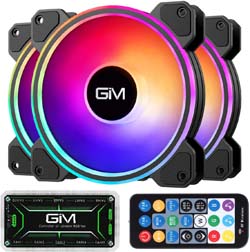 Specifications:-
3x 120mm fan pack
ARGB Lighting
1300 rpm speed
15dBA noise level
GIM KB-24 feature exactly the same specs as the KB-23 with the exception of looks. Here you will not only find RGB LEDs in the outer ring but also in the inner ring making these fans brighter and colourful. The price difference here is only $2-$3 and hence, my recommendation goes to this one.
upHere RGB Series RGB123-3 Case Fans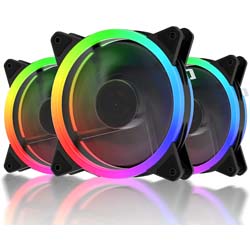 Specifications:-
3x 120mm fan pack
RGB Lighting
1100 rpm speed
17.6dBA noise level
UpHere is another unfamous local brand that competes very well in the PC fans category. These RGB series fans feature a design similar to Thermaltake Ring fans and feature double RGB LED rings. However, due to the fan blades being opaque, the light doesn't blend inside the fan and gives a totally different look than the others.
upHere 120mm Silent PF1206-3 Case Fans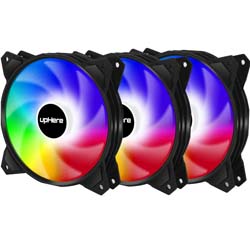 Specifications:-
3x 120mm fan pack
RGB Lighting
1100 rpm speed
14.8dBA noise level
upHere PF1206 case fans feature totally different lighting effects with 8 RGB LEDs each around the motor in the centre. In my opinion these are brighter are better than the upHere RGB123 fans. While maintaining almost the same specs, these are additionally more power-efficient and make less noise.
upHere T3SYC3-6 ARGB Case Fans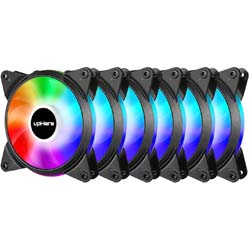 Specifications:-
6x 120mm fan pack
ARGB Lighting
1200 rpm speed
14.8dBA noise level
upHere also has ARGB fans that look way better than the standard RGB ones. Here the T3SYC3-6 ARGB fans are one of the best deals you can find for $40. And you will get not 2, not 3, not 4 but 6x 120mm ARGB fans that can be controlled via any major popular RGB software.
You will also get a controller to change the colours or effects if you want a real quick change in the looks and of course, for advanced customization, you can use the software.
Asiahorse FS-9002 Pro 20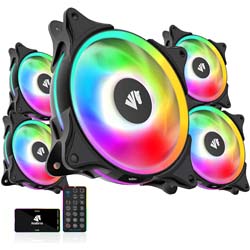 Specifications:-
5x 120mm fan pack
ARGB Lighting
Speed-?
14.8dBA noise level
Asiahorse FS-9002 Pro 20 is one of the most highly-rated PC case fans and although the fan-pack costs $60 which seems to be higher than the upHere or GIM fans, it is actually a decent deal. For $60, you will be getting 5x ARGB fans which equals to $12 for each fan.
You will get the fan hub and controller to control the LEDs which are present on the outer as well as the inner frame. With a total of 26 ARGB LEDs, they are bright, very bright. You can check out the customer reviews on Amazon.com where users have posted the pics and you will be impressed.
Asiahorse Magic-e Argb Case Fans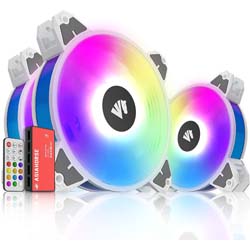 Specifications:-
3x 120mm fan pack
ARGB Lighting
1200 rpm speed
Noise level-?
Want something very cheap? Asiahorse also provides a 3-fan pack that comes for $20. And these fans are ARGB and not just standard RGB. Each of these fans looks so cool and there are 4 different coloured frames to choose from. These are Black, Pink, White-e, and White-i.
These might be the first fans on this list that feature colour changing borders. The colours seem to change when viewed from different angles. You will see colours like Green, Pink, Blue, Orange etc. depending upon viewing angles.
ABKONCORE HR120 RGB Spectrum Fans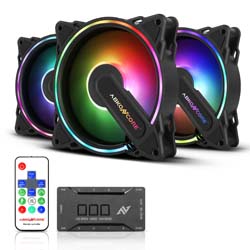 Specifications:-
3x 120mm fan pack
ARGB Lighting
1300 rpm speed
25dBA noise level
AbkonCore HR120 fans provide the most unique looks which I haven't seen on any PC fan till now. It provides a 3-fan pack for $45 and features ARGB lighting that is compatible with most RGB software. You will get a fan hub and remote control if you wish to change the effects quickly. These fans feature two different LED lights zones. One is the narrow outer ring and one in the centre.
CONISY 120mm PC Case Fan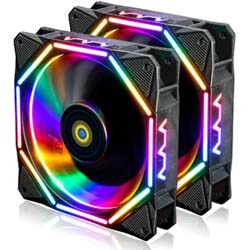 Specifications:-
2x 120mm fan pack
RGB Lighting
1200 rpm speed
23.5dBA noise level
Conisy provides a two fan-pack that costs only $16. These are, however, RGB and not ARGB fans but the design is exceptional and beautiful. Each fan features two LED rings. One is present inside the frame and the other on the side of the frame.
The best thing about these fans is that even though the LEDs are not addressable, each of the rings can feature multiple colours at the same time. You can just believe the image above to be the original or you can check customer reviews.
Moreover, at just 1200 RPM fan speed, these throw up to 48CFM of air which is impressive for cheap fans like this.